Welcome To Wonkette Happy Hour! This Week, We're Doing Tequila Shots!
Recipe Hub
April 08, 2022 04:20 PM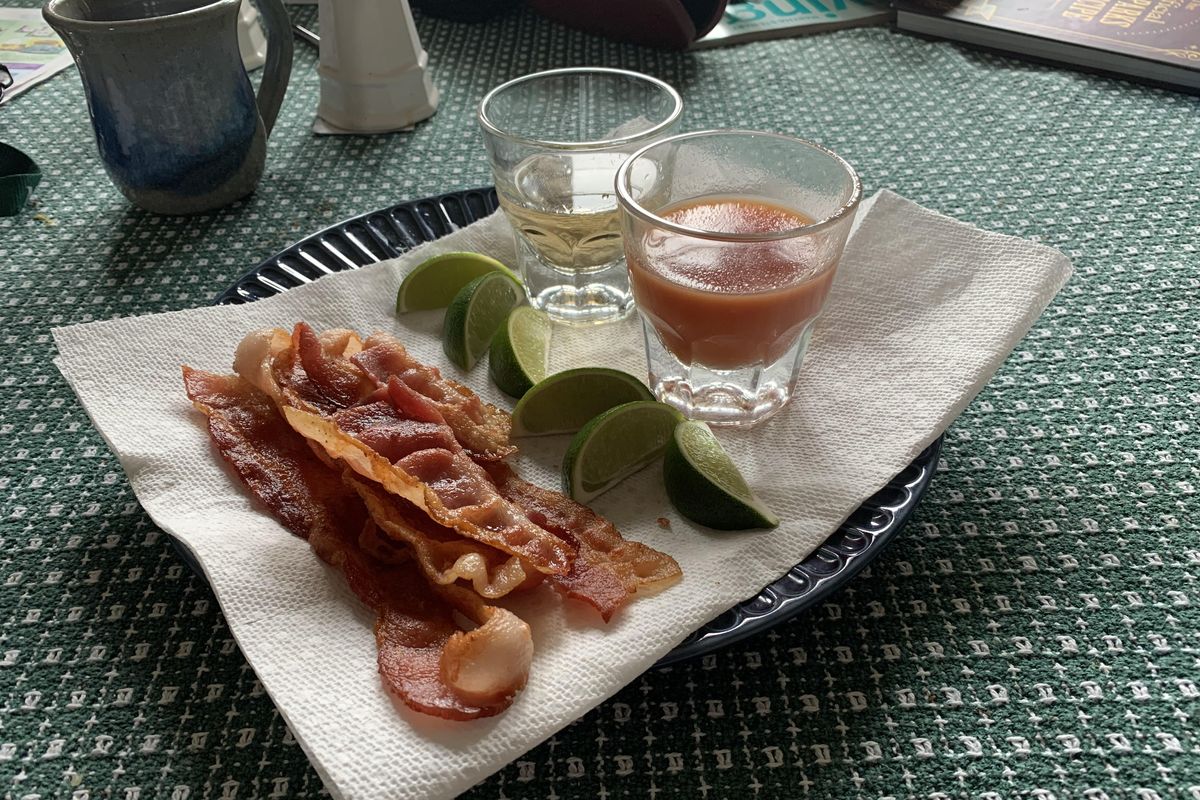 Matthew Hooper
Greetings, Wonketteers! I'm Hooper, your bartender. We've done some pretty complex drinks lately. Let's keep it simple this week. We're busy. 2022 is stressful. Sometimes you need to say "screw it," grab a bottle, and do some tequila shots. Here's the "recipe."
Tequila Shots
---
2 oz Olmeca Altos Reposado tequila (or your favorite brand)
Garnishes
3-4 strips cooked bacon
One lime, cut into wedges
2 oz sangrito (recipe below)
Eat some bacon. Sip some tequila. Bite a lime wedge. Sip some sangrito. Repeat as needed.
Sangrito
¾ cup tomato juice
¾ cup orange juice
¼ cup fresh lime juice
3-4 dashes hot sauce
Stir all ingredients together and serve chilled.
Okay, okay, it's a little more complex than just shots. You won't regret having bacon, lime, and sangrito on the side. But if you're not in the mood, a glass and a bottle are just fine.

I know many people look at tequila with horror. They drank it when they were teenagers, got sick, woke up with a killer hangover, and swore "never again." Tequila isn't like that anymore. When NAFTA was enacted in 1994, Mexico cleaned up its act on tequila. Read the label. Avoid lousy "tequila" with a ton of rotgut rum, glycerin, sugar, and brown food coloring. That's the stuff that got you sick as a kid. Don't drink that stuff. Drink the good stuff. You'll never go back.
Tequila has never been treated as "good" liquor. From its inception, tequila was a blue-collar drink. The ruling class of Mexico consistently sneered at tequila. They preferred Spanish wine and sherry over peasant swill. It's a shame, because tequila production is incredibly complex. It takes work to transform 60-pound agave stems into a drinkable spirit. There are so many parts of the process where you can choose quality over speed. It's only now that premier, artisanal tequila makers are finding a receptive audience. Tequila has never been better than it is right now. It'd be a shame to let past mistakes keep you away.

Let's talk ingredients:
Bacon: The classic "salt, tequila, lime" combo was a Mexican flu remedy. It's still a common way to do tequila shots, but licking salt off your hand is gross. Bacon is a tastier way to get your salt. Eat bacon. Drink tequila. You'll break your diet nine ways to Sunday. But you'll be happy.
Lime: Always fresh, no substitutions. I like to bite the lime after the bacon or sangrito. Lime wedges are acidic and bitter. Cleaning the palate after the fatty bacon or smooth sangrito is nice. But it's up to you to make it work.
Tequila: There's a lot of excellent tequila out there, and some pitfalls to avoid. Let's tour the liquor store.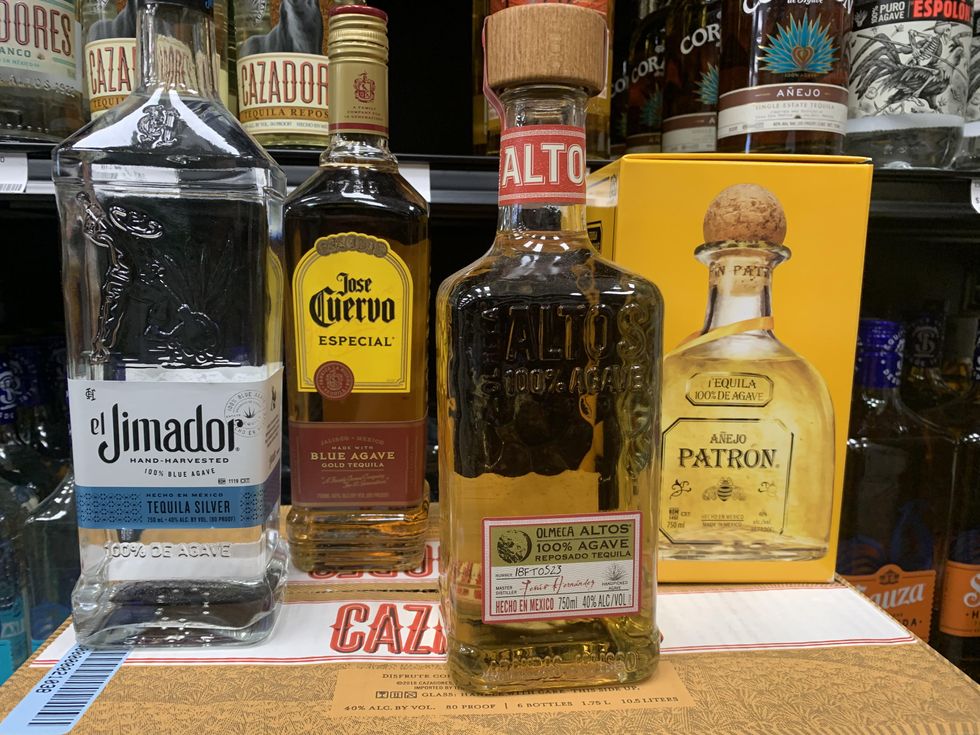 Thanks to the guys at North Court Beverage in Medina for letting me take this photo.Matthew Hooper
El Jimador Blanco: This is a wonderful blue-collar tequila. It's one of the top 10 sellers in Mexico. This bottle's a blanco tequila, which means it's unaged. It's crisp, citrusy, and a bit sharp, with a clear agave flavor. Really nice with the extras like the bacon and lime.
Olmeca Altos Reposado: I love this tequila. It's got a mellow, slightly honey-like texture, and has a strong agave scent without being overpowering. Reposado tequilas are aged in oak barrels for 48 days. That's just enough time to smooth out the harsh notes and give a little vanilla oak character to the glass. I love reposados. I could sip this by itself all evening.
Jose Cuervo Gold: AKA, The Devil's Armpit Squeezings. I'm pointing this out here to explain why, exactly, it's so bad. Cuervo doesn't say "100% Blue Agave" on the label. It just says "Tequila." That means it's 51% blue agave, and 49% cheap nasty rum. Despite the color, Cuervo Gold isn't a reposado. It's a "gold" tequila. That means it's a blanco tequila with glycerine, artificial color, and sugar added to make it taste like it's been aged. Sorta. Avoid tequila that isn't 100% agave. Avoid "gold" tequila. Avoid Cuervo.
Patron Anjeo: Patron is definitely premium tequila, and you can taste where the money goes. Patron's very old-school in its approach to tequila. They pulp their agave between volcanic rocks. They'll ferment it in wooden barrels instead of stainless steel ones. All these little touches make for an earthy, woody, smoky tequila that benefits from a long aging process. Anjeos get aged for 2-3 years before getting bottled. Too expensive for every day drinking, but a great birthday present.
If you love tequila, I'd firmly recommend you visit Tequila Matchmaker. This website will tell you how your favorite brand is made, what's great about it, and all the latest tequila news. It's well worth your time.
Sangrito: Sangrito is a traditional side drink with tequila. I'm amazed at how tasty the orange juice and tomato juice are together. It reminds of a bright, fruity bloody Mary mix, with none of the sour pickle that's common in American bloody Marys. It might be one of my favorite non-alcoholic cocktails. Try this with the bacon and lime. It's a great breakfast pairing.

This entire process of bacon, lime, juice, tequila, and sangrito tastes like a deconstructed bloody Mary. I'd encourage that notion. If you had a few avocado slices on the side, this would be an ideal brunch. I'd rather have tequila for breakfast instead of a hangover remedy.
In summary and conclusion, drink well, drink often, and tip your bartender — donate to Wonkette at the link below! And if you'd like to buy some bar gear or books from Amazon, please click here!
OPEN THREAD!
Matthew Hooper
Matthew Hooper, aka Samurai Grog, turned 50 in 2021 and decided to have a midlife crisis by leaving a boring sales and marketing job to tend bar at the local country club. He's never been happier. He's also a fencer, a dad, a husband, and a punk music fan. Overall, he's way cooler than he ever thought he could be when he was 16.