Welcome To Wonkette Happy Hour, With Gifts For The Bartender In Your Life!
Recipe Hub
December 03, 2021 04:20 PM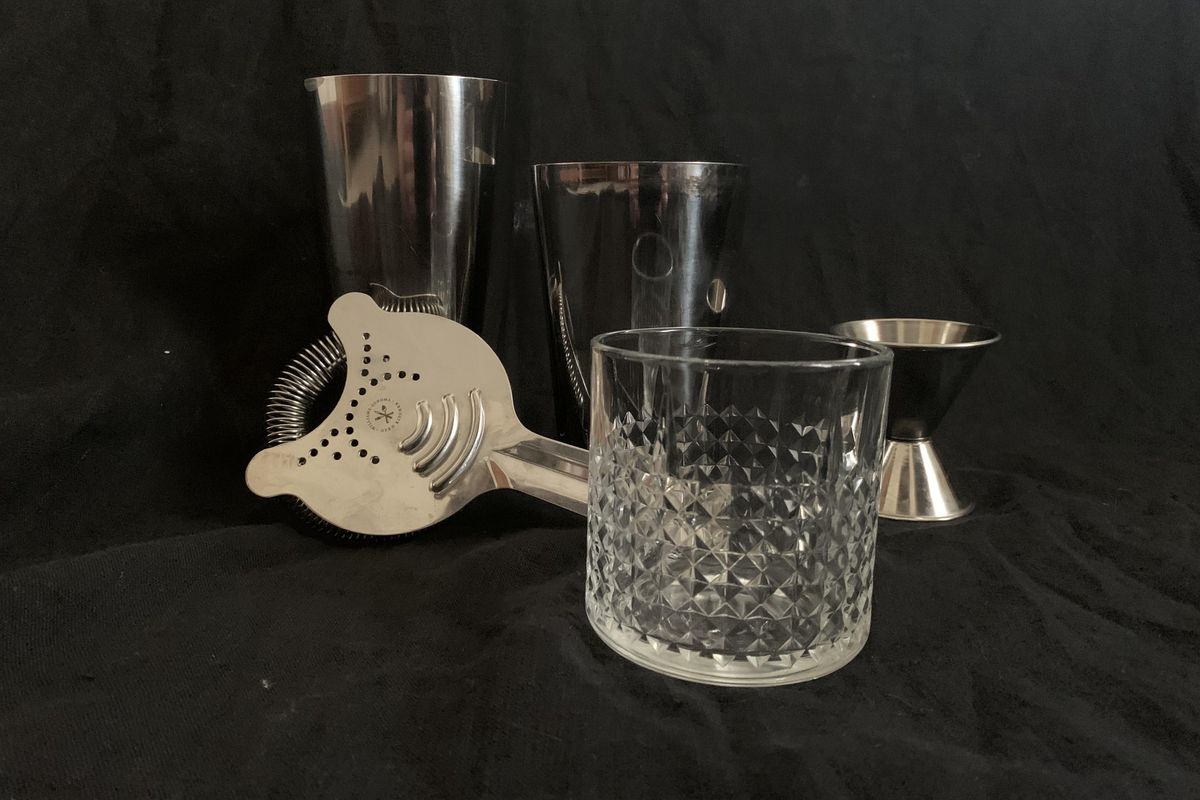 Matthew Hooper
Greetings, Wonketteers! I'm Hooper, your bartender. We're in the gift giving season, so I thought we'd take a quick break from recipes and talk about presents for mixologists. Here's my favorite bar gear and books. If you know someone who loves cocktails, these will be more than welcome in their stocking. Presents below.
---
First up: barware. Bar gear is coming down with a bad case of "gadgetitis" lately. No, you do not need a six-way shot dispenser or a robotic drink making machine in your life. Solid cocktail making only needs a few basic tools for success. As a rule of thumb, the more expensive a bar gizmo, the less you need it. Here's all you need.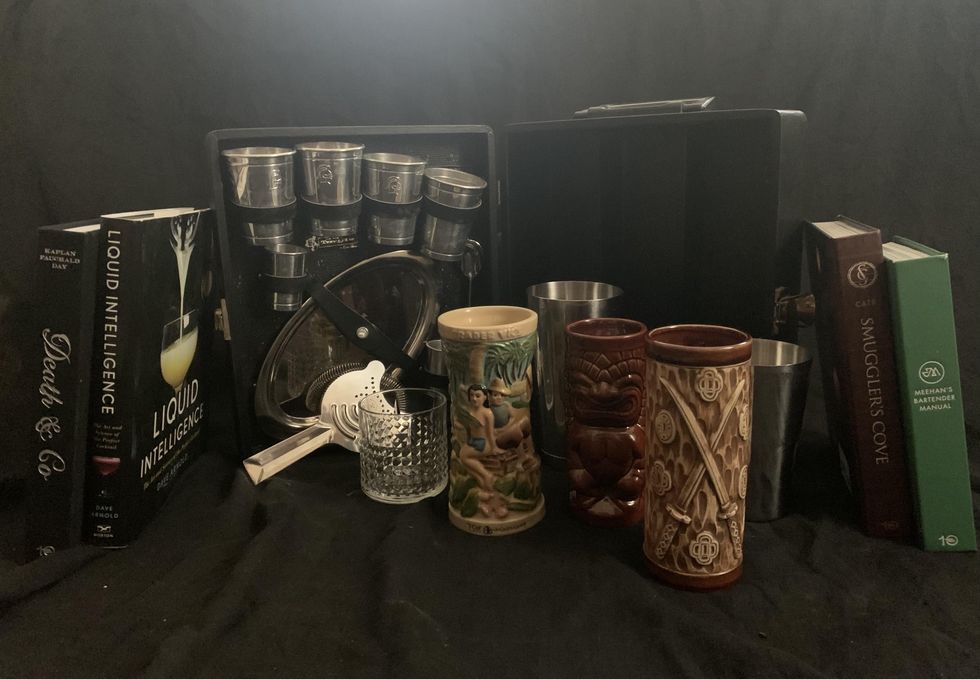 Mind you, if you do this long enough you get more stuff. A lot more. Matthew Hooper
Jiggers: You absolutely do need a jigger or measuring tool for successful cocktail making. I've trained to free pour. I can be pretty accurate most of the time. But using a measuring cup to make your cocktails versus free pouring is like painting a portrait versus finger painting. Precision matters, especially with cocktails like Manhattans, negronis, and everything in the world of tiki.

I'd recommend a Japanese style jigger with measurements inside the cup. Japanese style jiggers are taller and narrower than standard jiggers. That gives you a little more time to watch your measurements, and thus makes you a little more accurate.

The top-notch bars I work with are moving away from jiggers, though. Lately, I've been seeing graduated measuring cups like this one from OXO. You can read it from the top for precise measuring and layer small amounts of different ingredients in the cup with confidence. Best of all, these things stack if you get more than one. It's a nice, solid, precise tool that I heartily recommend.

Shakers: I've used two-part shakers ("tin on tin," or Boston shakers) and three part shakers ("martini" shakers). It takes some practice to use a Boston shaker, but it's worth it. I have a three-part shaker in my bar cabinet gathering dust now. The little cap welded itself to the top part of the shaker in the dish washing machine. I can't get it off for love or money. Two part shakers are simple, and once you get the hang of them you won't go back. Barfly is a great brand for this stuff; their shakers are weighted just enough to make sure they lock together solidly.

Strainers: A cheap cocktail strainer feels flimsy, is hard to manipulate, and doesn't have a very tight spring. Good ones sit comfortably on top of your large tin, won't slip off when you pour, and have a tight spring for fine straining. I'd go with this spring bar strainer from Barfly. A mesh strainer for double straining like this one is nice to have, but you won't use it often.

Martini stirring pitcher: There are some pretty etched glass ones out there. I prefer beefy thick-walled pitchers. This one fits the bill nicely.

Bar spoon: Honestly, it's hard to make a bad one of these. This is a nice one from Amazon, but you can find a cheaper one that's just as good at a decent liquor store.

Glassware: Honestly, I raid Goodwill and the thrift stores for most of my glasses. Every glass I've used in a photo this year cost me fifty cents. Thrift stores and flea markets are great for vintage stuff; my wife picked up my first tiki mug and a sweet travel bar kit during garage sale season this fall.

Other Stuff: Decent muddlers are cheap and easy to find – or you could just use a stick. Fancier bar gear like smokers veer into the realm of "gadgets." If you really want to smoke an old fashioned at home, a couple of wood chips, a kitchen torch, and a cookie sheet will work just fine. Professionally, I like tools like eyedroppers for saline and misters for sexy drinks like boulevardiers. But you'll probably only use those once a year. There's no reason to have them at home.
Shot Glasses: Rebecca's got those for you, the whole megillah.
Next: Books. Oh, I how love these books madly. I've referred to these once or twice over the year in my weekly cocktails. But it's past time to tell you about all these friends on my shelf in depth. Any of these would be a treasure for someone who loves cocktails.

Liquid Intelligence, by David Arnold: This is the book that started it all for me. Mr. Arnold said in his preface: "You'll see (here) what it means to run an idea into the ground," and boy howdy does he mean it. After reading this book, I understood the passion, the attention to detail, the restless drive for perfection that can make an amazing cocktail. I also decided I wanted to start a career as a bartender. So, please give this to anyone who loves cocktails and mixology. Just be careful if you give it to someone having a midlife crisis. They might change careers.
Death & Co: Modern Classic Cocktails, by David Kaplan: This is a Kitchen Confidential for bartenders, if Anthony Bourdain worked in the French Laundry and didn't swear as much. You'll get insight into how the best bar in America works, and how its bartenders think. You'll also get a ton of recipes that are becoming modern American classics. A delight, and a must read.
Smuggler's Cove, by Martin and Rebecca Cate: This book is at least as dangerous as Liquid Intelligence, if not more so. After reading this, I wanted to make tiki drinks for a living. A deep dive into rum, the invention of tiki, and its modern resurgence. Wildly entertaining. This book will also encourage you to make 10-ingredient monster cocktails that involve hand-making three or four house syrups and cordials. You have been warned.
Meehan's Bartender Manual, by Jim Meehan. A deep dive into the basics of spirits, some insight into what makes a great bar, some fantastic recipes, and some quotes by industry leaders that still inspire me. Read this book and you'll feel like part of the industry. Who knows? Maybe in a decade or so this will be the book I lean on when I open my own place.

In summary and conclusion, drink well, drink often, and tip your bartender — donate to Wonkette at the link below! I'm currently behind the pine at Dodie's Dockside in Lorain, OH. Swing on by if you're in the neighborhood. And if you'd like to buy some bar gear or books from Amazon, please click on the links above, or this one!
Matthew Hooper
Matthew Hooper, aka Samurai Grog, turned 50 in 2021 and decided to have a midlife crisis by leaving a boring sales and marketing job to tend bar at the local country club. He's never been happier. He's also a fencer, a dad, a husband, and a punk music fan. Overall, he's way cooler than he ever thought he could be when he was 16.