Welcome To Wonkette Happy Hour, With This Week's Cocktail, Blood Orange Margaritas!
Recipe Hub
March 17, 2023 04:20 PM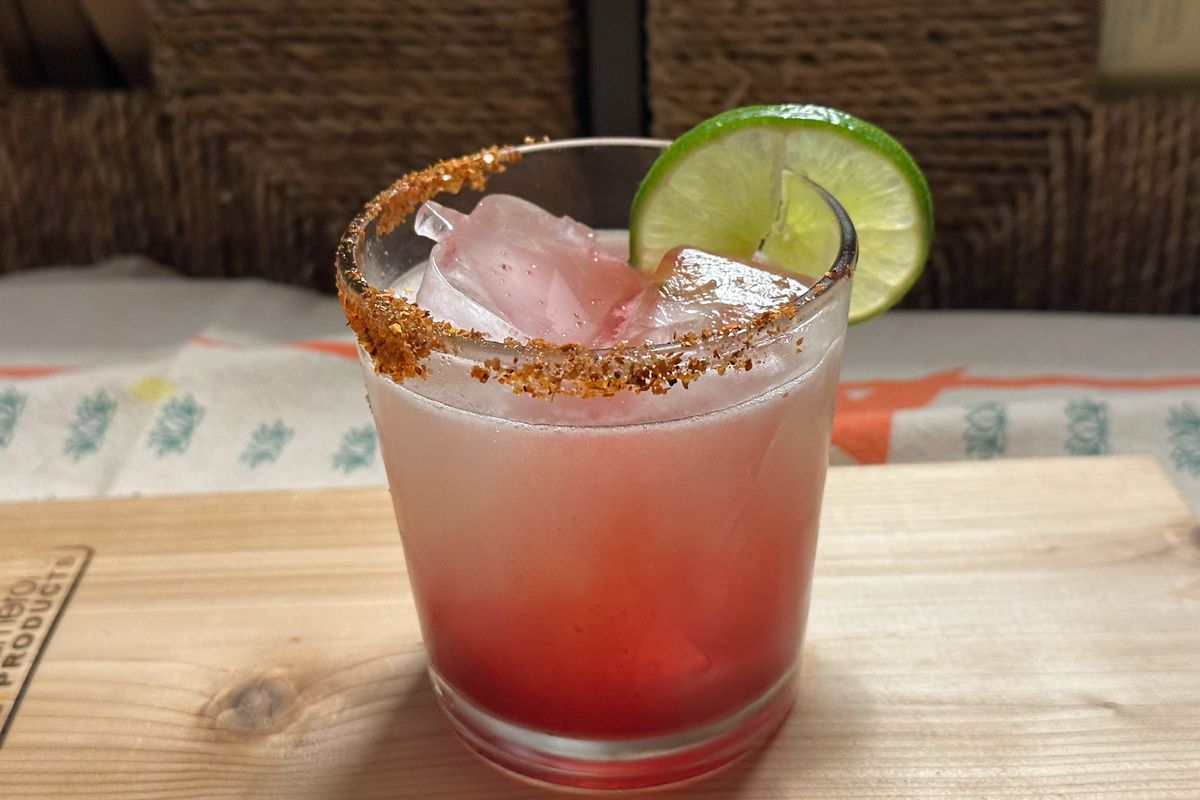 Greetings, Wonketeers! I'm Hooper, your bartender. At the moment, it is bitterly cold and snowy here in Ohio. I am desperate for warm weather, but March is having none of it. Time to pull out the big guns and start making some margarita variations. I've got a hankering for a rich, smoky, complex margarita, something that reminds me of barbecue. Let's make Smoky Blood Orange Margaritas. Here's the recipe.
---
Blood Orange Margarita
1 oz El Jimador Tequila
1 oz Peloton de la Muerte Mezcal
1 oz Stirrings Natural Triple Sec
½ oz lime juice
½ oz blood orange juice
1 oz honey syrup
Shake all ingredients but the blood orange juice. Pour into an old fashioned glass. Slowly pour the blood orange juice into the cocktail. Garnish with a lime wheel and a half rim of Tajin.
I haven't made a margarita like this since late summer, and I'm shamelessly indulging in my personal favorite twists on the classic. I love the combination of fruit, smoke, and honey. As with any of my recipes, feel free to omit or swap ingredients as needed. This drink leans hard into summertime flavors in defiance of early March snow and frost. If you're in warmer climes, you might prefer something more refreshing.
This is also an opportune moment to talk about the difference between mezcal and tequila. Tequila has to be made from the blue agave plant to be called "tequila"; mezcal can be made from different varieties of agave plant. Mezcal is also made in a more rustic manner than most tequila. In order to turn a 60 pound vegetable into booze, you need to start by cooking it. Tequila is generally steamed in huge brick ovens or autoclaves, but mezcal is barbecued in underground pits.
The upshot is that mezcal always tastes smokier than ordinary tequila. A balanced mezcal will carry a strong smoke note in the beginning, but maintain a mellow sweetness as you taste it. Unbalanced mezcal tastes like licking an ashtray. I love a straight mezcal margarita, but it's not for everyone. I've gone 50/50 tequila/mezcal for this drink, but feel free to adjust the proportions for your own taste.
Let's talk ingredients: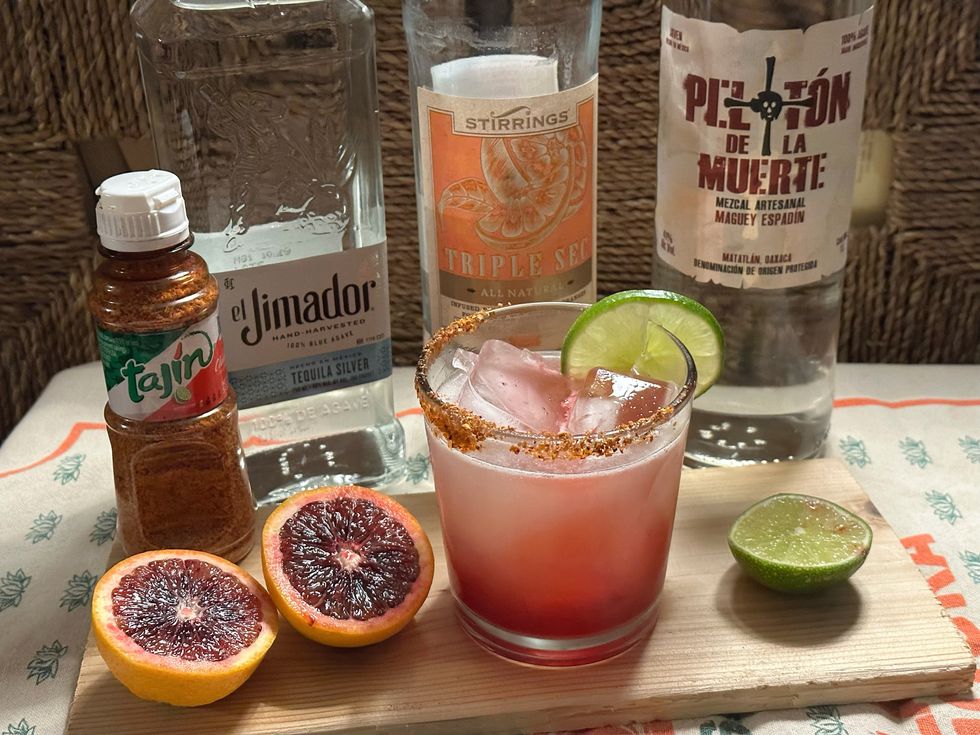 Ingredient shot. The margarita disappeared very very quickly after this photo was taken. Matthew Hooper
El Jimador Blanco Tequila: I love this brand of tequila shamelessly. It's inexpensive, authentic, and makes no excuses for itself. Tasting this gives you the straight, uncomplicated agave flavor that a good margarita deserves. The tequila tames the smoke from the mezcal without compromising anything. It's a perfect match.
Peloton De La Muerte Mezcal: This is the mezcal of choice at the bars I frequent, and it's still just within the price point I feel is acceptable for margaritas. Top shelf mezcal like Illegal or Casamigos (George Clooney's brand) are delicious, but $60 for a bottle is a bit rich for my blood. I still get a strong agave scent from this bottle, and the smoke is in balance with the sweetness. El Silencio is a brand I've also used in the past, but the smoke builds unpleasantly as you drink it. Mezcal is a liquor worth falling in love with, and if you like it, spend more. But if you're just beginning to explore mezcal, here is an excellent place to start.

Stirrings Triple Sec: There is a ton of garbage triple sec on the market right now. Montezuma and Juarez both make terrible rail tequila. They've also rolled out equally terrible triple sec recently, so they can completely corner the garbage margarita market. They are profoundly artificial in flavor. And while I can enjoy a beverage that tastes like Orange Crush when I'm in the right mood, it would be criminal to put that flavor in a glass with fresh orange juice. Stirrings is all natural and incorporates herbal notes like bergamot to build complexity. It's twice the price of the junk, but we're talking $15 instead of $7. Don't be penny wise and pound foolish.
Lime juice: Always fresh, especially in a margarita. Plastic limes give you plastic juice.
Honey syrup: Agave syrup is great in any margarita, but I like to add another flavor to the glass instead of more of the same. Honey cooperates beautifully with fruit, and deserves a place in any fruit-flavored margarita. Honey syrup is 1:1 honey to water, heated until dissolved. Without dilution, the honey is hard to pour and hard to shake into a cocktail.
Blood Orange Juice: Easily one of the most badass names for a fruit ever. I adore the wine-deep red color of blood oranges and the slightly sour notes of the juice. I would strain the juice of the fruit before adding it to the cocktail. The pulp of the fruit does you no favors in the glass. If you work fast, adding the juice to the margarita right before service can make a dramatic effect. Just pour the juice into the glass slowly. No blood oranges? Regular navel oranges work fine. Don't use bland, homogenous bottled OJ if you can avoid it. It's too boring to bother with.
Garnish: A salt rim is fine, but I adore spicy, tart Tajin to rim my margarita glasses. To rim a glass, roll the lip of the glass in a plate of water or honey at a 45 degree angle. Then, roll the glass in the tajin or salt. If you refrigerate the glass before service, the rim will harden up nicely and won't slide off as you drink.
In summary and conclusion, drink well, drink often, and tip your bartender — donate to Wonkette at the link below! Seriously, my boss is awesome, if you like reading my recipes please chip in! And if you'd like to buy some bar gear or books from Amazon, please click here!
OPEN THREAD!
Matthew Hooper
Matthew Hooper, aka Samurai Grog, turned 50 in 2021 and decided to have a midlife crisis by leaving a boring sales and marketing job to tend bar at the local country club. He's never been happier. He's also a fencer, a dad, a husband, and a punk music fan. Overall, he's way cooler than he ever thought he could be when he was 16.