Welcome To Wonkette Happy Hour, With This Week's Cocktail, Demon Semen!
Recipe Hub
February 25, 2022 04:20 PM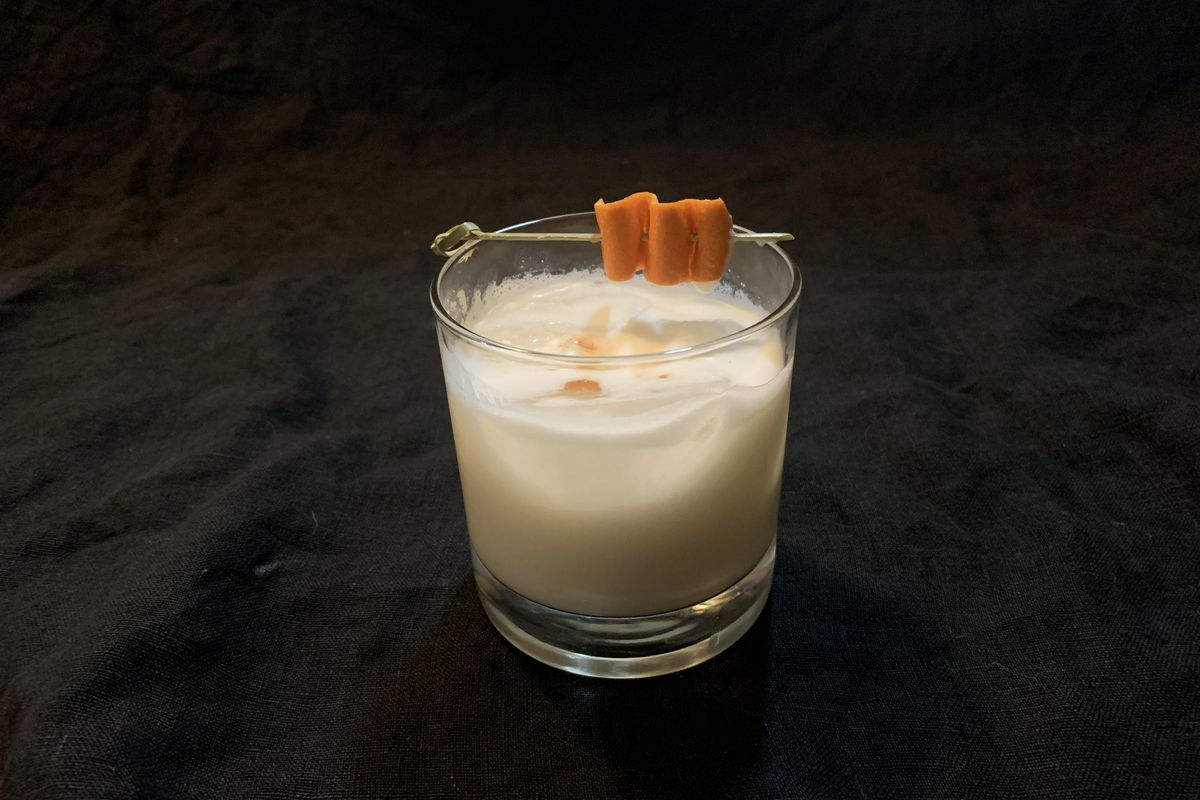 Matthew Hooper
Greetings, Wonketeers! I'm Hooper, your bartender. Last week, a few of you enthusiastic souls requested a cocktail based on Dr. Stella Immanuel's rather, ah, exciting theories on COVID-19. Unfortunately for you folks, there's a drink on the menu that fits the bill very nicely. And it involves egg whites. Let's make swallow shake up Okay, there's no way not to work blue here. Here's the recipe for Demon Semen.
---
Demon Semen
1 ½ oz Absolut Peppar
1 ½ oz Coco Lopez
½ oz lemon juice
½ oz simple syrup
1 egg white
1-2 drops Frank's Hot Sauce
Gently crack the egg on the side of a cocktail shaker tin. Add the egg white to the smaller cup of the tin. Add ice and add all other ingredients except the hot sauce to the egg white. Shake 8-10 seconds. Strain the cocktail into the larger tin. Discard the ice from the small shaker, and shake the cocktail once more, 10-20 seconds. Pour into a rocks glass with fresh ice. Garnish with an orange coin on a toothpick and 1-2 drops of hot sauce.
This drink is inspired by the Nosiest Pepper, one of the top sellers at my home bar, Crafted Cocktail Co. We use jalapeno-infused vodka and a few different ingredients to lean into the vegetal and floral notes of the peppers. I'm using Absolut Peppar and a little hot sauce instead, to save us some extra steps.
There are few ingredients in a cocktail that provoke an "ew" like raw egg whites. Trust me, the final result doesn't taste remotely eggy. After shaking, we end up with a fresh meringue on to top of the cocktail. It resembles nothing so much as a head of foam on top of a draft beer. The protein in the eggs provides body and depth to the cocktail. The head catches some flavors we don't want in the main part of the drink. It looks like a lot of work to make it happen, but it's easier than baking a cake. Let's talk ingredients.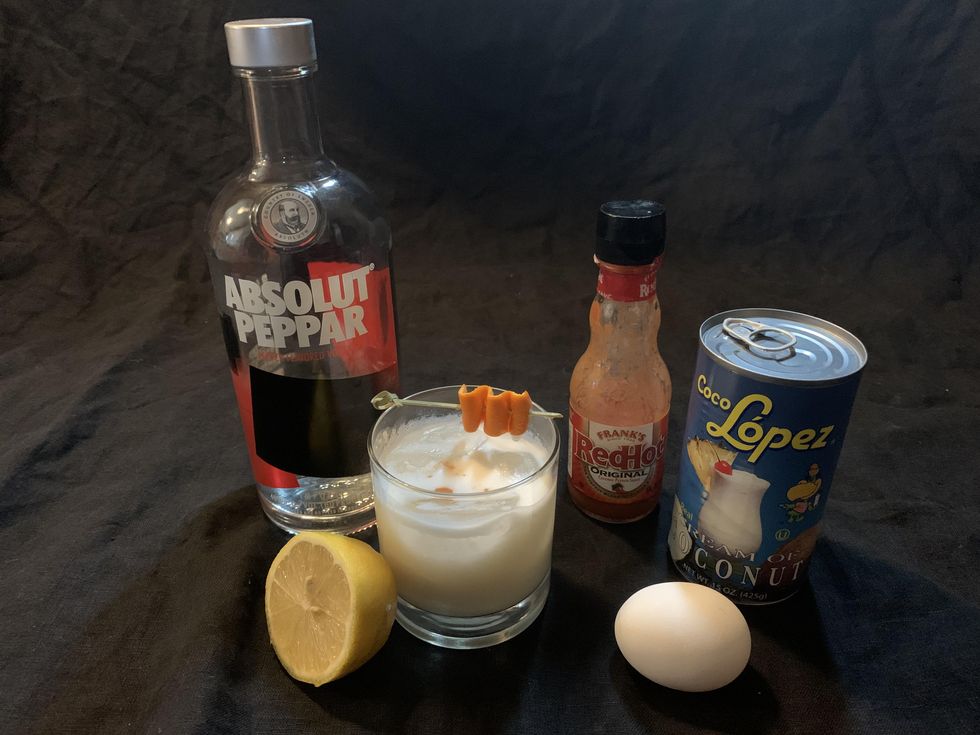 Ingredient shot. This cocktail vanished shortly after this photo was taken. Matthew Hooper

Absolut Peppar: This was the first flavored vodka Absolut made. It hit the market in 1986 explicitly for Bloody Mary use. I've played with it a few times. It is, indeed, a great Bloody Mary ingredient. It works with almost nothing else. However, this is another good home for this spicy, green-tasting spirit.
Coco Lopez: I've made my own crème de coconut from scratch before. It's nice to be able to control the sweetness, but in the end canned crème de coconut is easier to work with, thicker, and doesn't separate like the home made stuff. It's important to note that this is not the same thing as coconut cream. They're very different from each other. I'd suggest you buy the Coco Lopez brand name, or a similar product, from the liquor store instead of the grocery.
Lemon juice: Always use fresh juice. The little plastic squeeze lemon is terrible.

Simple syrup: Nothing fancy here. One part sugar, one part water, heat until clear. It'll keep for weeks in the fridge. Use any leftovers to sweeten your coffee or iced tea.

Egg white: Yr Beloved Exditrix talked briefly about egg whites in cocktails on Monday. Simply put, an egg white in a cocktail is like butter on toast. It smooths out the rough edges of harsh ingredients, tames acidity, and grants the drink a rich mouth feel. It's great. And let's be honest here, the rich foam on top of the pure white cocktail is the perfect look for a drink called "Demon Semen." You have to drink down the whole package to get the full experience. (I regret writing that sentence.)

Frank's Hot Sauce: The vodka provides some heat in this cocktail, but it needs more fire to live up to the name. I prefer to use Frank's for cocktails because it's a fairly simple hot sauce. It's easier to balance the flavors of the cocktail. I would definitely consider using sriracha in this drink. The vodka has a strong green, vegetal flavor that the rooster would play well with.

Technique: We want a big, attractive head of foam on this cocktail, so we're going to do what's called a "reverse dry shake," as opposed to a standard dry shake. There's a bit of debate among cocktail nerds concerning which is better. But let's not get that deep in the weeds. If we start arguing about the ins and outs of getting good head on your cocktail the innuendo police will come for me. (I also regret writing that sentence.)
So: Reverse dry shake. Order of operations is key here. Put the egg white in your little shaker cup first. Add the other ingredients. Shake with the ice. Strain the liquid into the big shaker cup. Dump out the ice from the little tin. Shake it again, a little longer. Strain it into the cocktail glass. A little complex, but not horrible. I might double strain if I wanted to get some egg shell bits or ice shards out of the drink. At home, it's not a big deal.
The orange coin is a must-include. There's a green scent from the cocktail that improves when you smell the orange in the glass. A "coin" of orange is just a big chunk of orange peel. Lemon or lime as an alternative would be fine. A little sea salt on top helps tame the sugar and draw out the heat.
For an NA variation, I'd skip the vodka, add an ounce of water, and shake 2-3 drops of your favorite hot sauce into the drink before shaking. It's not going to be perfect, in flavor or color, but it should still be foamy and tasty. The more complex the hot sauce the better. Sriracha would be fine. Frank's or Tabasco would be boring. Be bold. When you're drinking Demon Semen, it has to be creamy at the start and burn at the finish. (At this point, I got nothing.)

In summary and conclusion, drink well, drink often, and tip your bartender — donate to Wonkette at the link below! I'm currently behind the stick at Crafted Cocktail Co. in Wadsworth, Ohio. Drop by and share a drink with me. We pour an amazing birthday cocktail for birthday girls like OUR VERY OWN EDITRIX TODAY EVERYBODY SHOUT SURPRISE AND SING HAPPY BIRTHDAY!!
And if you'd like to buy some bar gear or books from Amazon, please click here!

Open Thread!
Matthew Hooper
Matthew Hooper, aka Samurai Grog, turned 50 in 2021 and decided to have a midlife crisis by leaving a boring sales and marketing job to tend bar at the local country club. He's never been happier. He's also a fencer, a dad, a husband, and a punk music fan. Overall, he's way cooler than he ever thought he could be when he was 16.