Welcome To Wonkette Happy Hour, With This Week's Cocktail, Hot Buttered Rum!
Recipe Hub
December 16, 2022 04:20 PM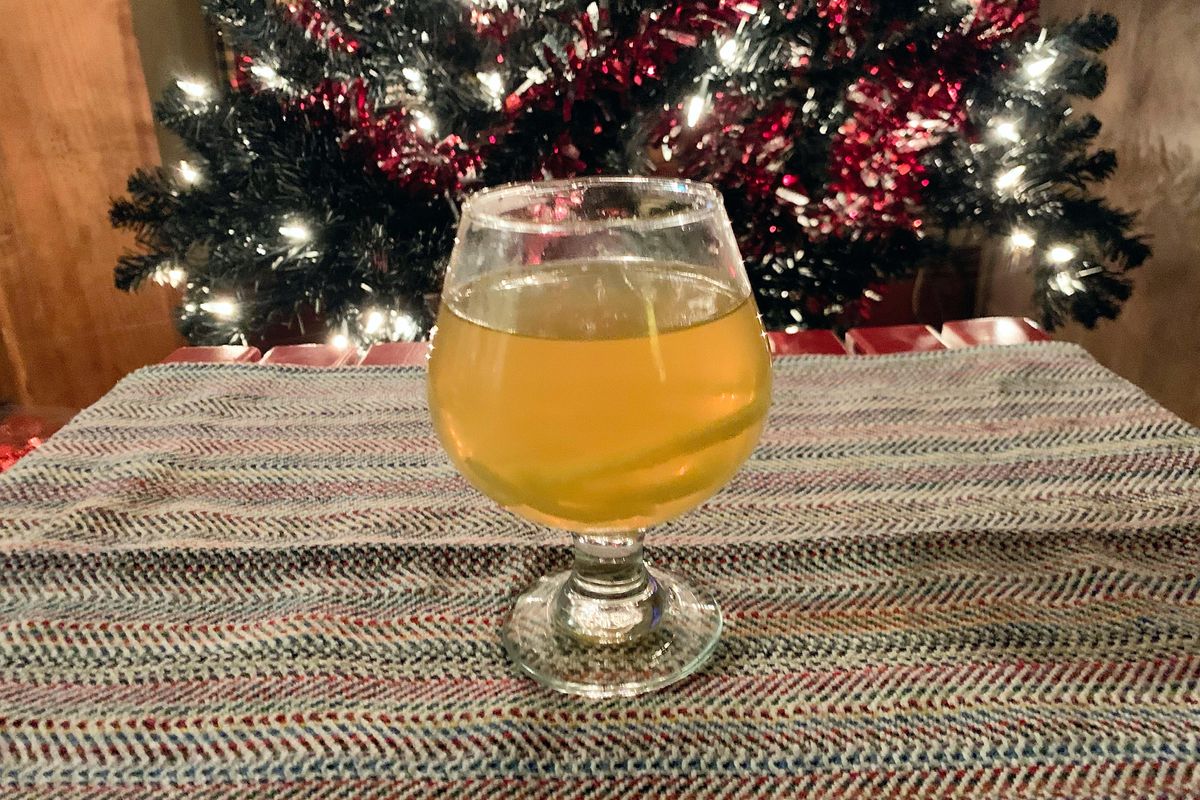 Matthew Hooper
Greetings, Wonketteers! I'm Hooper, your bartender. I decided to bring another Colonial-era classic to you today. This modern mixologist's twist offers all the flavor of the original without any heaviness or greasiness. Let's make some hot buttered rum. Here's the recipe.
---
Hot Buttered Rum
2.5 oz butter-washed rum (recipe below)
1 oz honey syrup
Boiling water
Lemon twist
Add honey syrup, rum, and hot water to taste to a brandy snifter. Top with a long lemon peel garnish. Serve at once.
Butter-washed Rum
750 ml Mount Gay Eclipse rum
½ cup (1 stick) good quality unsalted butter
1 small (1-1 ½") cinnamon stick
3 allspice berries
2 whole cloves
Melt the butter in a small saucepan over medium low heat. Add spices and stir gently. When the butter solids turn golden brown, remove from heat and let rest for 1 minute. Pour the butter and spice mixture into the bottle of rum. Shake the bottle gently 5-6 times. Place the bottle in the freezer at a 45 degree angle and let sit overnight.
The next day, slowly pour the rum through a fine sieve lined with a coffee filter. If needed, strain again to remove all the milk solids. Place the rum in a fresh bottle and refrigerate.
I've always loved buttered rum. As a kid, I adored Butter Rum Lifesavers. Most buttered rum cocktail recipes revolve around making some kind of butter and spice batter. That's probably the original Colonial version of this drink. However, I'm not a fan of drinking melted butter, even if it does have spice and sugar and booze in it. As the drink cools, it ends up becoming much less palatable. There's a really cool way to get all that butter flavor into a bottle of rum without retaining any of the fat.
Enter fat-washing. We've done this before with my Maple Bacon Old Fashioned recipe, but the technique works much better with butter. Oils build terrific suspensions, but they don't actually retain much flavor themselves. If we soak a flavorful fat in alcohol for a day or so, the booze will absorb most of the flavor from the oil as it rises to the top of the bottle. Then we can discard the oil and keep all the good things from the butter with none of the grease.
As long as we're melting butter, we might as well fry some holiday spices in the fat. Cooking whole spices in oil to release their flavor is an Indian cooking technique my wife taught me. It probably shaves a day off the infusion time for the rum. We can also gently brown the butter solids, letting them take on some toasted flavor. The end product is a flavor bomb — rum, with a round butter finish and lingering spice notes. Everything I wanted as a kid from those Life Savers, all grown up.
You can use the buttered rum in just about anything. Traditionally, buttered rum is served as a hot toddy, with sugar and hot water. Honey plays well with the spices, so I'm using that instead of brown sugar or molasses. A little lemon twist brightens the cocktail without adding acid. All in all, it's a perfect warming holiday drink.
Let's talk ingredients. I've got some tips on the infusion process we should run through.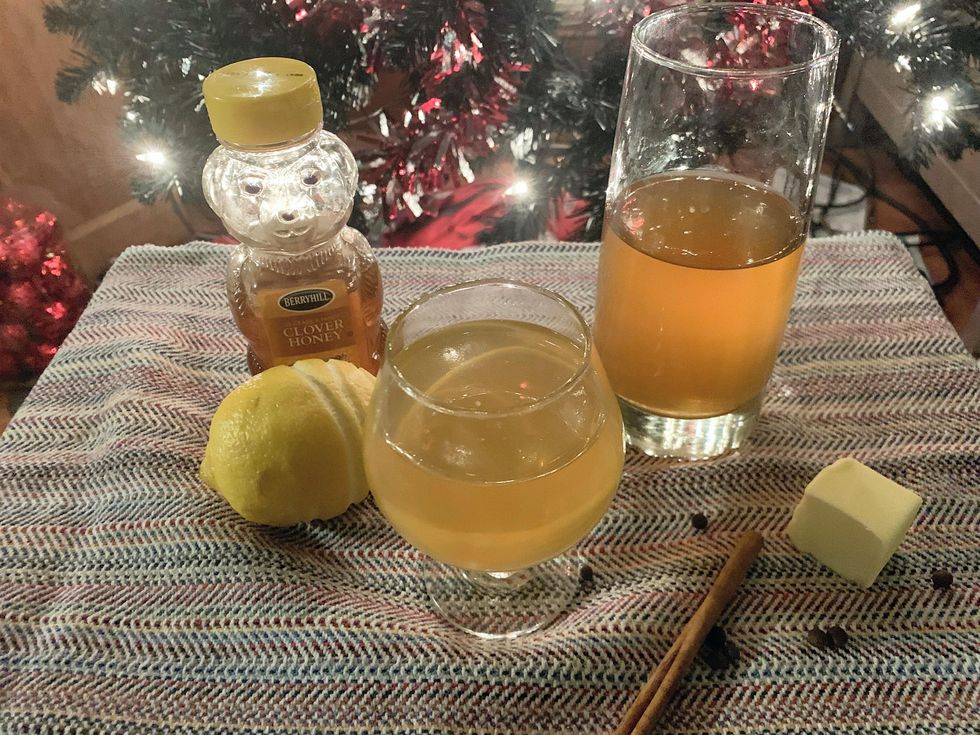 The remaining buttered rum proper is in the beer pint glass. Yes, I've been using it up that quickly. I kinda love this stuff. Matthew Hooper
Buttered Rum: So help me, if you use anything but good all-natural butter in here I'll scream bloody murder. Yes, I Can Believe It's Not Butter. Use the real thing here. You're tossing out all the cholesterol in the end step. You've got no excuse.
Use whole spices, not pre-ground. You'll never filter that fine dusty powder out of the finished rum. Watch the melting butter like a hawk as you're toasting the spices. When all the foam has dissipated, and you're starting to see just a little brown color at the bottom of the pan, pull it off the heat. The residual heat from the pan will finish toasting the butter solids. If they turn black, they're no good. Start over.

You'll probably need to remove 3-4 oz of rum from the bottle to fit the melted butter in. What you do with it is up to you; I suggest some lime and ice. Scrape the pan thoroughly. You want all that buttery, spicy goodness in the bottle. Traditionally, Colonial Americans got their rum from Jamaica, so a rum like Appleton Estate would be nice here. Use your favorite aged rum, no judgments. Skip Bacardi White or any clear rum.

Shake the bottle gently, and only a few times. If you blend it, you'll never separate the fat from booze. I find that setting the bottle at an angle makes the straining process easier; you don't have to push the rum through the solidified fat.
When you do pull the bottle out of the freezer, you'll see the milk fat has curdled and there's a bunch of nasty-looking cheese waiting for you. Relax. We're straining those out. Be patient as you're filtering the rum through the strainer and coffee filter. The end product has all of the rich whey, butter flavor, and spice. You didn't want all that oil anyway.
The final product is probably shelf-stable, but keeping it cold is safer. It'll disappear fairly quickly after you make it. I'm adding some to my weekday grog all winter long.
Honey Syrup: Honey syrup is just honey and hot water in a 1:1 ratio. If you want to squirt some honey directly into your drinking glass and top it with hot water, that works fine. I might try some buckwheat honey here. A lot of Colonial recipes used molasses as a sweetener, and buckwheat honey has some molasses notes that might be nice.
Lemon Twist: Skip it if you'd like, but a little lemon oil brightens things, and the twist makes the glass more attractive.
In summary and conclusion, drink well, drink often, and tip your bartender — donate to Wonkette at the link below! And if you'd like to buy some bar gear or books from Amazon,
please click here!
Matthew Hooper
Matthew Hooper, aka Samurai Grog, turned 50 in 2021 and decided to have a midlife crisis by leaving a boring sales and marketing job to tend bar at the local country club. He's never been happier. He's also a fencer, a dad, a husband, and a punk music fan. Overall, he's way cooler than he ever thought he could be when he was 16.