Welcome To Wonkette Happy Hour, With This Week's Cocktail, The Blood Money!
Recipe Hub
March 24, 2023 04:20 PM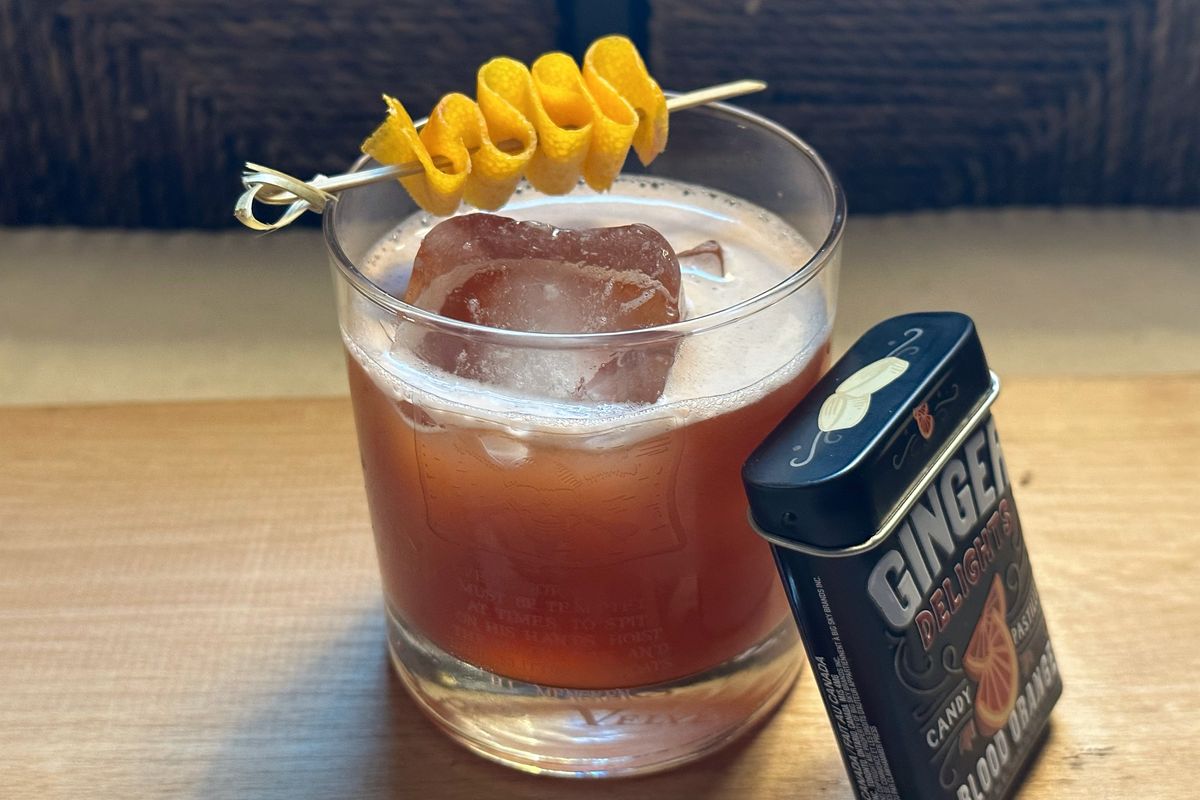 Matthew Hooper
Greetings, Wonketeers! I'm Hooper, your bartender. I had a little problem in the aftermath of last week's blood orange margarita recipe — leftover blood oranges. Some penny candy gave me the inspiration for a ginger blood orange rum concoction, and after some taste-testing I'm more than happy with the result. Let's make Blood Money cocktails together. Here's the recipe:
---
Blood Money
2 oz Pusser's rum
1 oz blood orange ginger syrup
½ oz Stirrings triple sec
½ oz lime juice
2 shakes Angostura bitters
Shake all ingredients together. Serve over ice with an orange peel garnish.
Blood Orange Ginger Syrup
1 small piece of fresh ginger, ¾- 1 inch long
½ cup demerara syrup
½ cup boiling water
2 oz fresh blood orange juice
Chop the ginger into small pieces; do not peel the ginger. Add ginger, syrup, and water to a blender and puree until the ginger has pulped. Let sit for one minute. Juice the blood oranges into the syrup. Strain into a container. The syrup will keep at least 1-2 weeks in the refrigerator.
When I'm playing with ingredients that have some water content, like citrus or fresh ginger, I prefer to make them into a cocktail syrup. It's a fairly simple process, and I can control the strength of the flavor by adjusting the amount of syrup in the cocktail. It does lock you into making some variation of a sour — booze, acid, and sugar. I don't consider that much of a hardship. Sours are extremely popular drinks; a good daiquiri is my favorite cocktail.
If you want to make a cocktail with flavors from dry ingredients — dried chiles, coffee, spices — you probably need to make an infusion. That takes time and commitment, and the courage to make mistakes. I have screwed up coffee vodka more than once. Your best bet is to use whole ingredients and let the alcohol do its work. Alcohol is a solvent, after all; with enough time, it can pull the essential oils and essences from nearly anything to make a solid drink.
Ginger is an ingredient you can handle more than one way in the cocktail bar. If you cook ginger in a heated syrup, you'll get a mellower ginger flavor, similar to ginger snaps. If you use the raw ginger syrup technique I outlined here, you'll get a more fiery syrup. I stole the recipe from Jeffrery Morganthaler a few years ago and have been a committed fan ever since. Both syrups have their place. As a rule of thumb, I like the raw ginger variation. It's easy to make, and I can balance the heat from the ginger against citrus easily. I'm not a fan of peeling ginger, either, so it's a win-win scenario.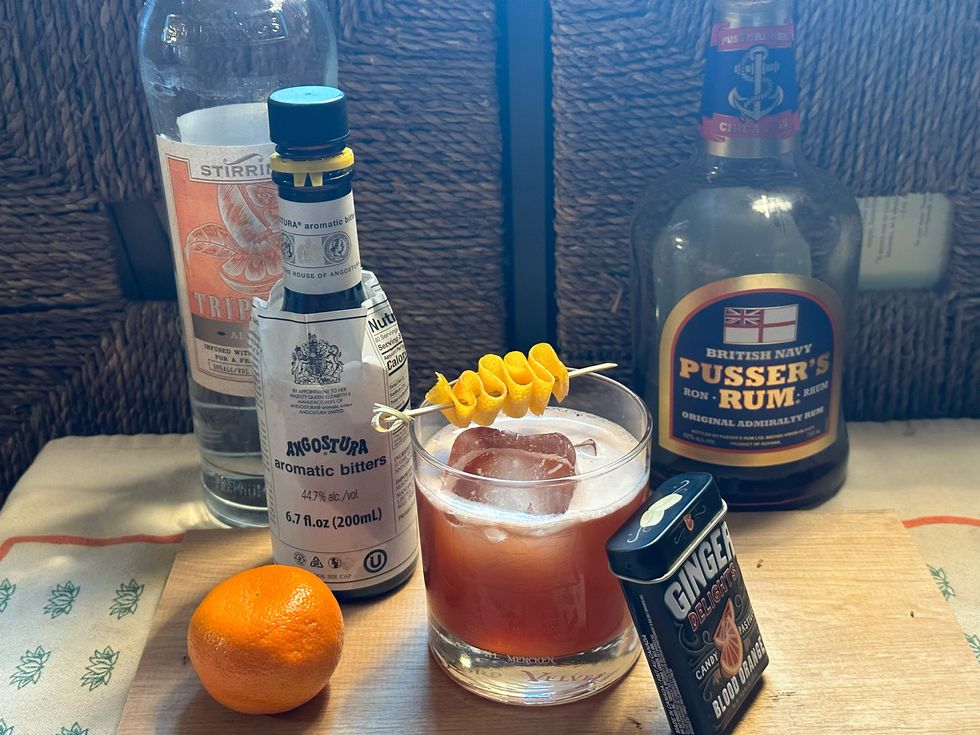 Ingredient shot. That's a stunt tangerine in the photo; I used up all my blood oranges perfecting the syrup. Matthew Hooper

Pusser's Rum: My favorite liquor, hands down. This is the most obvious starting point for any cocktail I make. The rum cooperates very nicely with the orange and ginger, adding caramel and tropical notes. A blended Scotch would also be great here. Pusser's is the closest thing we have to old-school British Navy rum. As you can tell by my glassware choice, I have a thing for pirates, so Pusser's has a soft spot in my heart. Never, ever use Bumbu in a cocktail recipe. It's marketed as a premium rum, but there's so much sugar and flavoring in it that it might not qualify as rum at all.
Blood orange syrup: I would never have thought of this flavor combination if I hadn't picked up these tasty ginger pastilles while waiting in line at the drugstore. They're much better than I expected — similar to lemon and ginger, but less acidic and harsh. Order of operations matters here; let the syrup sit, then add the orange juice, and then strain. You don't want bits of ginger or orange pulp in the cocktail.
Stirrings Triple Sec: To boost and support the blood orange flavor. Don't use a cheap triple sec; a tiny bottle of Cointreau or Grand Marnier would be better than artificial orange garbage.
Lime juice: Fresh limes only. You know the words by now, sing along – plastic limes produce plastic juice.
Angostura bitters: The Angostura supports the ginger and adds complexity to the spice notes in the drink. Orange bitters would also be great here.
Garnish: As tempting as it might be, don't skip the garnishes on your drinks at home. A good garnish always serves a purpose in the cocktail. In this drink, we're boosting the orange scent of the cocktail to the max with a candy-ribbon coil of blood orange peel.
You don't need many tools to make a professional-looking garnish. I find a perpendicular vegetable peeler to be a big help in cutting fat slices of citrus peel. A channel knife can help you cut long spaghetti strings of peel. I generally clean up any ragged edges on peels with a paring knife before service. Whatever you choose, take your time and make your drink look pretty. It's worth the effort.

In summary and conclusion, drink well, drink often, and tip your bartender — donate to Wonkette at the link below! Seriously, my boss is awesome, if you like reading my recipes please chip in! And if you'd like to buy some bar gear or books from Amazon, please click here!
OPEN THREAD!
Matthew Hooper
Matthew Hooper, aka Samurai Grog, turned 50 in 2021 and decided to have a midlife crisis by leaving a boring sales and marketing job to tend bar at the local country club. He's never been happier. He's also a fencer, a dad, a husband, and a punk music fan. Overall, he's way cooler than he ever thought he could be when he was 16.