Welcome To Wonkette Happy Hour, With This Week's Cocktail, The Blueberry Shrubbery!
Recipe Hub
April 01, 2022 04:20 PM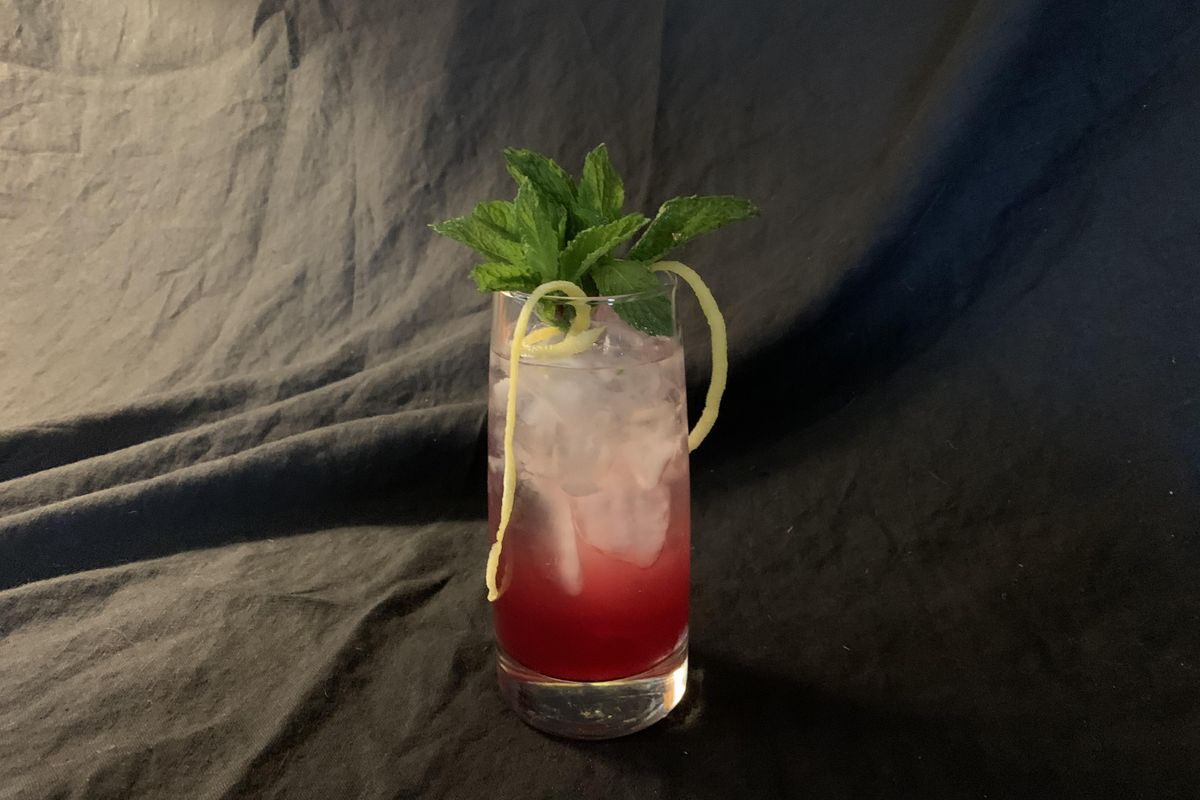 Matthew Hooper
Greetings, Wonketeers! I'm Hooper, your bartender. As I promised last week, I'm leading off with a non-alcoholic cocktail.. I hope you made the blueberry shrub I published earlier. If you did, we're in for a treat. Let's make a Blue Shrubbery. Here's the recipe.
Blue Shrubbery
2 oz Blueberry Shrub (see below)
1 oz cinnamon simple syrup
1 oz fresh lime juice
5-6 drops orange blossom water
Mint and lemon twist
Shake all ingredients except soda water, mint, and lemon. Pour into an iced highball glass and top with soda water. Garnish with lemon and mint. This drink is 0 ABV.
Blueberry Shrub
1 cup blueberries
1 cup sugar
1 cup apple cider vinegar
Place the blueberries and sugar in a glass jar. Muddle the blueberries. Cover with a loose lid or cheesecloth and let sit in a cool dark place for 3 days. Add vinegar and let rest for 1 day. Strain through a fine mesh strainer or nut bag and refrigerate.
Shrubs have been a secret ingredient in cocktails since the 17th century. Originally, they were a means of preserving fruit flavors through the winter. They fell out of favor with the advent of refrigeration. Lately, they're turning up again in crafted cocktail bars. Shrubs provide a different acidity to a cocktail that might otherwise use lemon or lime. Shrubs are very tart, but once you get used to them you'll be hooked.
A really good shrub needs time to sit and reflect. If you taste a shrub on the day you make it, it will be drinkable, but sharp. Give it a week or two, and the acids will start breaking down. As time goes on, it gets softer and mellower. It's perfect after a week.
Of course, you aren't limited to blueberries for your shrub. Soft fruit with a high moisture content won't take more than a few days to make a great shrub. Strawberries, raspberries, peaches — all of them would make excellent beverages. Harder fruit like apples or pears will take more fermentation time, but the end results will be worth it.

Let's talk ingredients: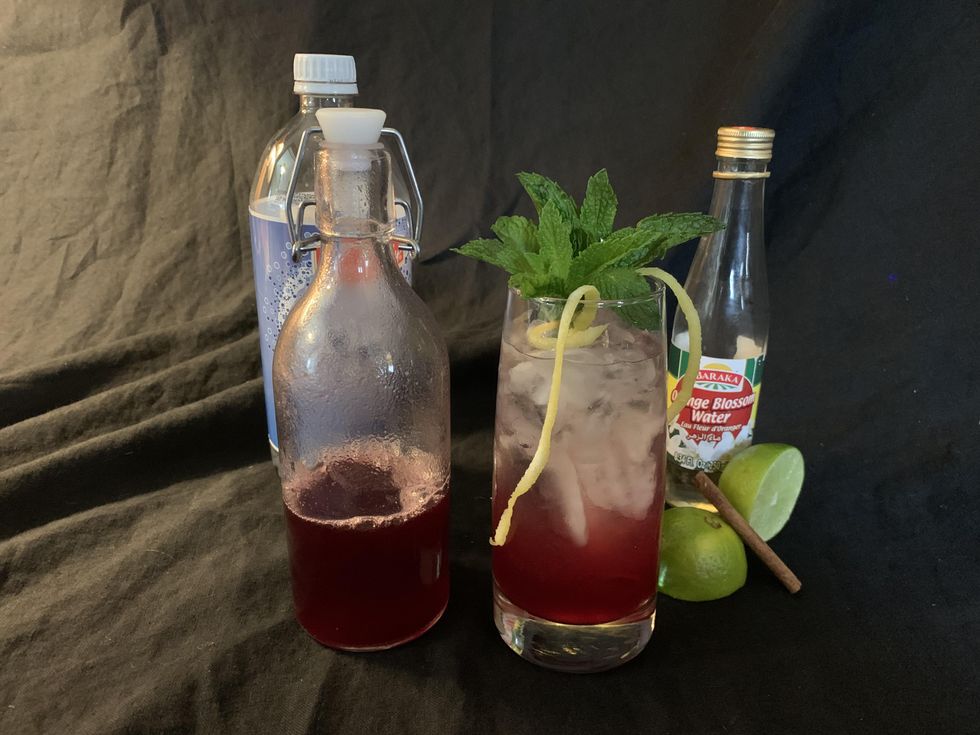 Look, Mom! No liquor!Matthew Hooper

Blueberry Shrub: The key in building this cocktail is paying attention to the acidity. A shrub is still a vinegar, and if you don't balance it properly it will be too sharp to enjoy. As a rule of thumb, you want to go big on any flavor in an NA cocktail, but taste as you go and feel free to correct.
Lime Juice: This is where the cocktail balance gets tricky. Limes bring a second acid into the glass. The brightness of lime is welcome here, but too much will make the drink a train wreck. This is the first ingredient I would reduce if the drink tastes too acidic.
Cinnamon Simple Syrup: This is an easy ingredient to make at home. One part sugar, one part water, one roll of cinnamon bark. Add them to a pot, heat until the sugar's melted. Done. The syrup is here for sweetness, but it also carries spices and other flavors to complement the shrub. Cinnamon and blueberries are naturals. I'd make a basil syrup for a strawberry shrub. Use your creativity and see what happens.

Orange blossom water: I generally don't use this much orange blossom in a drink, but NA cocktails demand a lot of flavor. Scale this back if the drink tastes like perfume to you.
Soda Water: Bubbles are nice, but soda water has a way of muting harsh flavors that's very useful in this cocktail. The size of your glass has a lot to do with how much soda you add. I don't think you should use more than 3-4 oz, however. Above that, the drink may be too diluted.
Garnishes: Please don't skip the mint or lemon peel here. The scent of the mint and lemon brighten the cocktail as you drink it. You taste with your nose as well as your tongue. The layers on this drink are lovely, but please stir it before drinking.
If you are devoted to making NA cocktails, I would consider making the investment in some bottles of Seedlip NA spirits. Seedlip doesn't make "fake" booze. Instead, they make botanical infusions that can stand in for a spirit in a given cocktail, without tasting exactly like it. Seedlip Garden 108 would bring a ton of complexity to this beverage that would boost the core strength of the simple shrub beautifully. Modern mixologists have started exploring the idea of "clean" cocktails in earnest. There's no reason not to play along at home!
For an alcoholic version of this drink, I'd replace 1 oz of soda water with vodka. A soft, fruity gin like Hendricks also works wonderfully. I'd also reduce the amount of shrub and lime juice by a quarter ounce each. Alcohol transmits and boosts flavors. There can be too much of a good thing.
In summary and conclusion, drink well, drink often, and tip your bartender — donate to Wonkette at the link below! And if you'd like to buy some bar gear or books from Amazon, please click here!
OPEN THREAD!
Matthew Hooper
Matthew Hooper, aka Samurai Grog, turned 50 in 2021 and decided to have a midlife crisis by leaving a boring sales and marketing job to tend bar at the local country club. He's never been happier. He's also a fencer, a dad, a husband, and a punk music fan. Overall, he's way cooler than he ever thought he could be when he was 16.