Welcome to Wonkette Happy Hour, With This Week's Cocktail, The Fancy Pineapple Daiquiri!
Recipe Hub
September 10, 2021 04:20 PM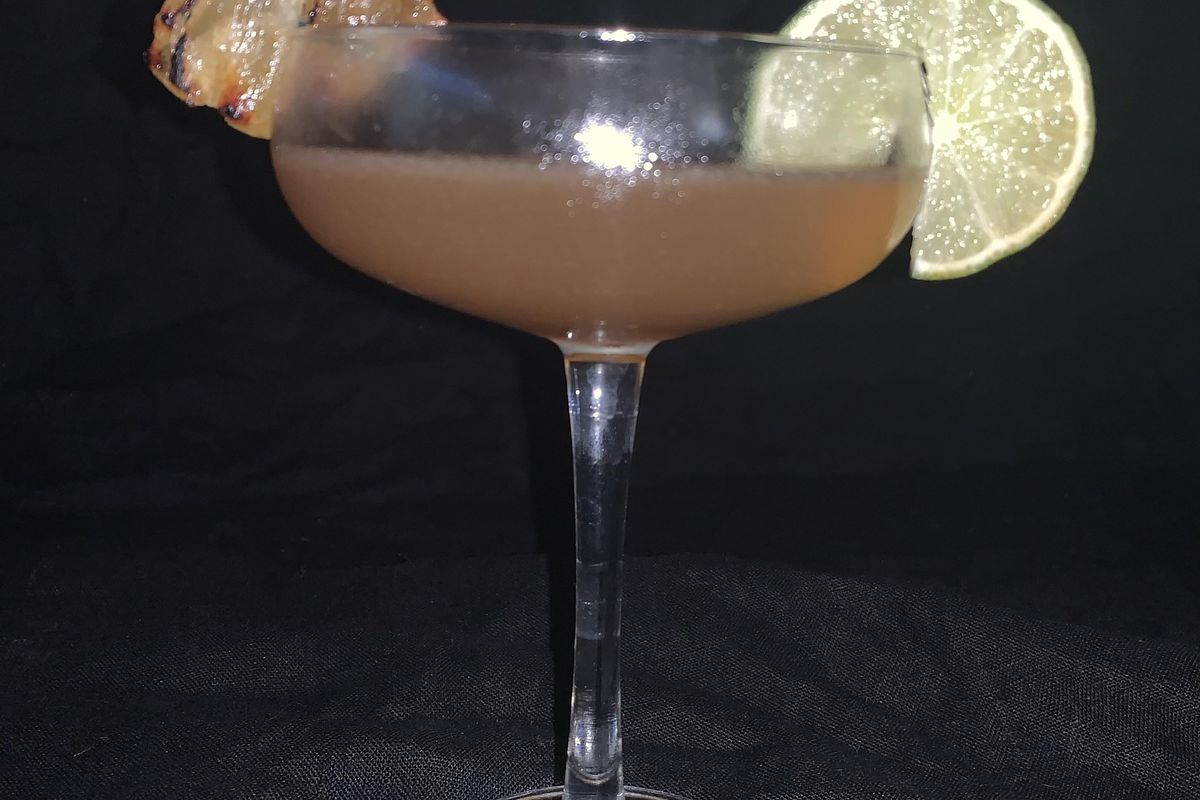 Matthew Hooper
Greetings, Wonketteers! I'm Hooper, your bartender. I've got a fun little variation on the daiquiri here. It took me a whole bottle to get the balance right on this one, but I think I nailed it. (Oh, the sacrifices I make for you people.) Let's make up a Fancy Pineapple Daiquiri. Here's the recipes. Yes, plural.
---

Fancy Pineapple Daiquiri
2 oz. Plantation Stiggins' Fancy Pineapple Rum
1 oz. Spiced demerara syrup (Recipe follows)
¾ oz. Fresh lime juice

Shake and strain into a chilled coupe or martini glass. Garnish with toasted dried pineapple on a cocktail sword and a lime wheel.

The daiquiri is one of the oldest cocktails in the book, a fundamental drink that's right up there with the old fashioned. Booze, acid, sugar – you don't get more basic than that. But making a proper daiquiri is a challenge to a skilled bartender's judge of proportions and palate. The bartenders at Death and Company make up a daiquiri as their first drink of the day. It's the bartender's version of tuning up before the concert.
The pineapple rum proved to be a real challenge to balance. The first rum I tried was fiddly and funky, with too many Jamaican notes to settle down properly. (Testing these cocktails is a lot less fun than you'd think, by the way. After the fourth bitter, unbalanced drink of the night, you feel like you've gotten a hangover without any of the fun. I never thought I'd get angry at a martini glass.) Eventually, I was able to get my hands on a more forgiving rum. I also realized that the pineapple needed to be sweeter than my go-to daiquiri recipe. "Dry pineapple" is a flavor profile I like, but it's certainly not for everyone. If you are a serious cocktail nerd – and you want to kill a weekend – try making up this recipe with less syrup and more lime juice and see what happens.

Let's review the ingredients: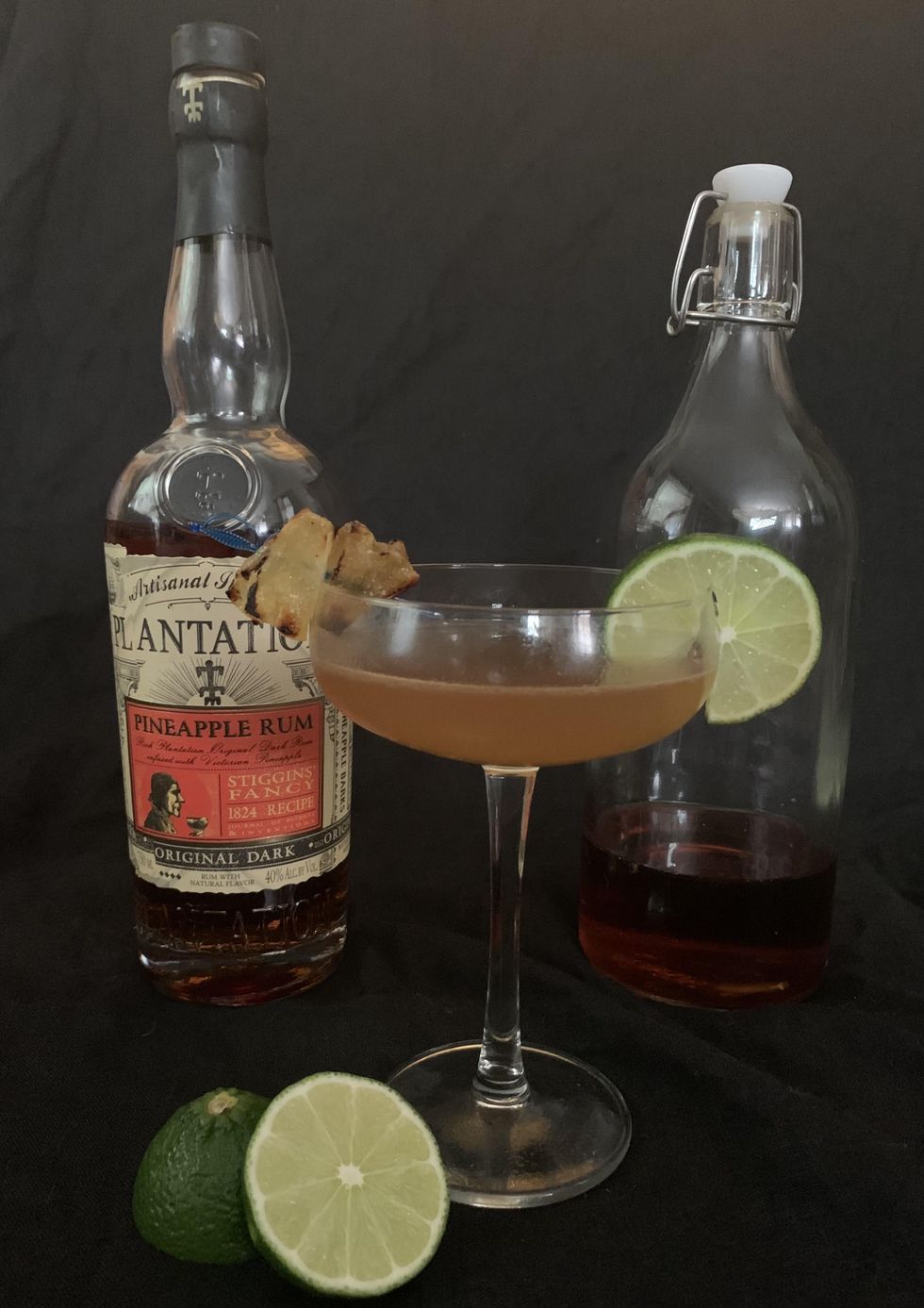 Better photo. Hmmm, I need more spiced syrup. Matthew Hooper
Plantation Stiggins' Fancy Pineapple Rum: I'm not a fan of this rum's name. Plantation said they were thinking about a name change a year ago; nothing's happened since then. I'm hoping. On the other hand, all of Plantation's rums are excellent, and this bottle is a standout. It is the only pineapple rum I've found that gets its flavor from infusing rum with real pineapples, instead of extracts or (blech) artificial flavor. It's a little medicinal when you smell it neat, but add it to just about anything and it tastes fantastic. And the bottle is a hoot – it's got more text than a Dr. Brommer's soap bottle.

My backup rum is Tiki Lovers Pineapple Rum. This tastes wonderful neat, but it drove me crazy when I tried to balance it. And it uses pineapple extract. If you make a mistake, the sulfates of the pineapple rear up and the drink turns bitter. The proportions I'm giving you should work, but add more syrup if it's needed.

Spiced Demerara Syrup: I don't normally like giving recipes for things you need to make recipes, but you'll use this again. Basically, this syrup turns any rum into Captain Morgan. I don't trust Captain Morgan, or Kraken, or any other spiced rum. I have no idea what spices or other additives they're using, and I can't escape the suspicion that most of them came from a laboratory instead of a spice rack.
Spiced Demerara Syrup
1 cup demerara sugar (Sugar in the Raw)
1 cup white sugar
1 cup water
½ cinnamon stick
½ inch fresh ginger, sliced into matchsticks
12-16 whole black peppercorns
4-6 whole cloves
¼ t vanilla extract
¼ t sea salt
Add all ingredients to a saucepan over medium head. Stir frequently. Remove from heat when the sugar has completely melted. Let sit until cooled. Syrup will keep in the refrigerator for 4-6 weeks.
You have complete freedom on the spice proportions – use whatever you'd like. Don't be surprised if this ends up in your morning coffee on occasion. It's addictive. Toss some allspice berries in here and you've got a very nice "pumpkin spice" syrup, if that's your kick.

Lime juice: My go-to acidic element to balance a sweet cocktail, especially when rum's involved.
Garnish: Look out, here's another sub-recipe. This one's worth it too.

Caramelized Dried Pineapple
Dried Pineapple, 2-3 pieces
Spear chunks of dried pineapple on a long bamboo skewer. Hold the chunks 1-2 inches over a burner set on high temperature. Turn frequently. When the edges of each piece blacken slightly, the sugar bubbles on the pineapple, and a light brown color starts to develop, remove from heat. Let cool before running the pieces on a cocktail sword and garnishing.
Dried pineapple is practically candy in its own right, and caramelizing the sugar turns it into a serious treat. Dump this garnish into the cocktail right after you serve it. Rum soaked caramelized pineapple is so good it gives me shivers. A lime wheel makes the drink pretty, and lets you up the acid on the cocktail to your taste.
The spiced syrup is a great element for non-alcoholic beverages, too. Here's a Fancy Pineapple Soda for NA drinkers. I'm finding that the club soda mutes the spice, but it does build over time. Swapping in ginger beer wouldn't hurt.


Fancy Pineapple Soda
4 oz. Pineapple juice
4 oz. Spiced demerara syrup
½ oz. Lemon juice
1 oz. Club soda

Shake all ingredients and strain into an iced highball glass. Top with club soda.
In summary and conclusion, drink well, drink often, drink with your friends. And tip your bartender – please donate to Wonkette at the link below! I'm currently behind the stick at Tiki Underground; it's a slow month for tiki, come on by and keep me company. And if you'd like to buy some dried pineapple or Death and Company's amazing book, please use the links above for a small Wonkette cut, or for any other shopping needs please use this link.

OPEN THREAD!
Matthew Hooper
Matthew Hooper, aka Samurai Grog, turned 50 in 2021 and decided to have a midlife crisis by leaving a boring sales and marketing job to tend bar at the local country club. He's never been happier. He's also a fencer, a dad, a husband, and a punk music fan. Overall, he's way cooler than he ever thought he could be when he was 16.