Welcome to Wonkette Happy Hour, With This Week's Cocktail, The Gin Daisy!
Recipe Hub
May 13, 2022 04:20 PM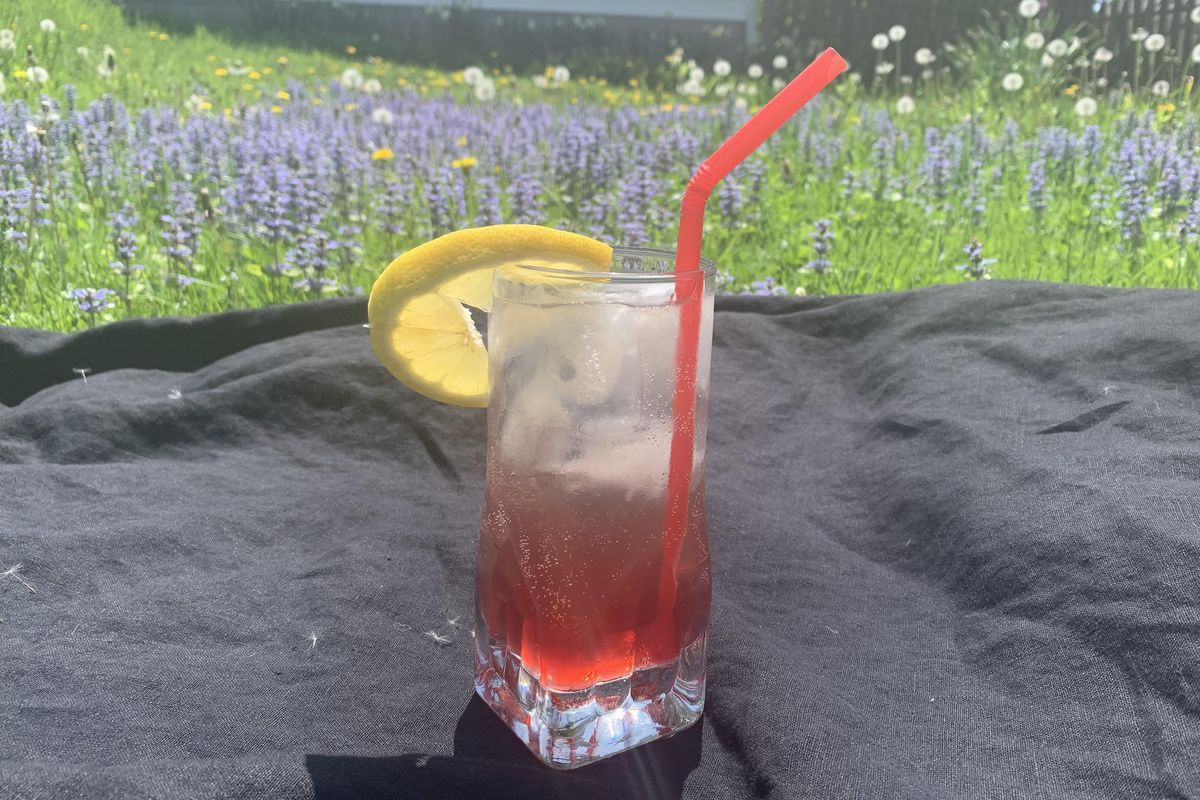 Matthew Hooper
Greetings, Wonketteers! I'm Hooper, your bartender. Summer's finally on its way in Ohio. Time to play a little catch-up and share the light, summery cocktail I had planned for Mother's Day. This one's worth the wait. Let's make a Gin Daisy. Here's the recipe.
---
Gin Daisy
1 oz Boodles Gin
1 oz Grand Marnier
1 oz house grenadine
½ oz fresh lemon juice
Soda water
Whip-shake (instructions below!) all ingredients but the soda. Pour into a highball glass and top with soda water. Garnish with a lemon wedge.
The interesting thing about this cocktail is that there's a documented "old school" and "new school" version. An old school Daisy is a sour with some seltzer on top — in other words, a spirit, an acid, some booze, and soda water to fill the glass. The margarita was descended from the daisy — after all, "margarita" means "little daisy" in Spanish. The cocktail first gets mentioned in an 1866 novel entitled Gay Life in New York, or Fast Men and Grass Widows by Henry Llewellyn Williams, and hoo boy do I have something on my reading list now. "Daisy" was slang for something extraordinary around the turn of the century. "Daisy" and "Doozy" are the same thing.

"New school" Gin Daisies dial back the gin, drop the orange liquor, add a little more sugar, and top with seltzer. It's a light, sweet, refreshing drink, less boozy than the old school version. I decided to split the difference for this recipe. The orange liquor comes back, the sugar goes out, and the drink gets rebalanced for a gentle summer day.
Generally I follow a "more is more" philosophy when building a drink that asks for seltzer. The bubbles mute flavors in addition to diluting the drink. But this cocktail wants to be light and genteel — not enough seltzer, and the cocktail feels crowded and boozy. Add the ingredients with a light hand, and the end result will be tastier.

Let's talk ingredients: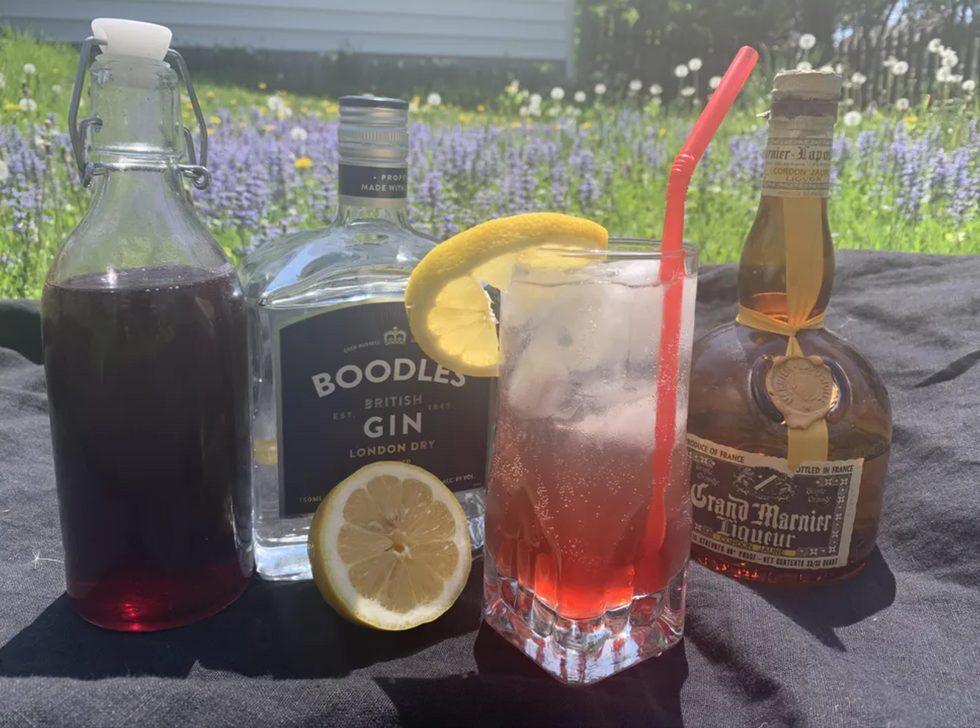 Boodles Gin: Inflation's starting to hit the liquor stores. I'm trying to be mindful of cost in my recipes. Boodles is still your best value for the money when it comes to gin. This is a perfect recipe for Hendricks gin, if it's in your budget. The cucumber and rose play wonderfully with the grenadine. A citrus forward gin, like Tanqueray rangpur lime, would also be fantastic.

Replacing the gin with tequila could be a lot of fun. I'd want to use a mild reposado to keep the agave notes under control. I'm not convinced that tequila and grenadine would play well together, but give it a go if you don't have gin in the liquor cabinet.

Fresh lemon juice: I tried some of the lemon sherbet in this recipe, but we need a strong acid to cut through the sweet elements of the drink and the soda. Fresh juice, always.
Grand Marnier: I was recently gifted a vintage bottle of this stuff from a friend. I've been sneaking it into my cocktails ever since. Cointreau or bottom-shelf triple sec will do in a pinch.

House grenadine: Never, ever use Rose's Grenadine. It's red food coloring and sadness in a bottle. Make your own instead: one part POM pomegranate juice, one part sugar, heat until the sugar melts. Add a ¼ teaspoon of orange blossom water. It'll keep in the fridge for weeks.

Technique: I've been playing with a different style of shaking my cocktails. Standard cocktail shaking means filling your small tin with ice and shaking the tumblers back and forth until the small tin is painfully cold to the touch. I'm whip-shaking this cocktail instead. A "whip shake" only needs one ice cube. Instead of shaking back and forth, you spin the shakers in a tight circle. Imagine a washing machine on spin cycle. The ice cube is a pair of stinky blue jeans. Keep spinning your tins until the ice cube melts. Then strain into the highball with ice.
The whip shake creates more dilution and less aeration in a drink. More importantly, it uses less ice. Being environmentally friendly while you make your cocktails is a good thing. Not having to fill your ice cube trays all the time is even better.
You could make an NA version of this cocktail by omitting the gin. But if you're committed to a zero proof lifestyle, I'd go ahead and invest in some Seedlip spirits alternative. This drink needs some herbal notes to be complete, and Seedlip will definitely fit the bill. You can find it readily on Amazon, or order directly from their website.
In summary and conclusion, drink well, drink often, and tip your bartender — donate to Wonkette at the link below! Come see me at The Spotted Owl at Tremont! And if you'd like to buy some bar gear or books from Amazon, please click here!
OPEN THREAD!
Matthew Hooper
Matthew Hooper, aka Samurai Grog, turned 50 in 2021 and decided to have a midlife crisis by leaving a boring sales and marketing job to tend bar at the local country club. He's never been happier. He's also a fencer, a dad, a husband, and a punk music fan. Overall, he's way cooler than he ever thought he could be when he was 16.