Welcome To Wonkette Happy Hour, With This Week's Cocktail, The Gingerbread Latte Martini!
Recipe Hub
December 23, 2022 04:20 PM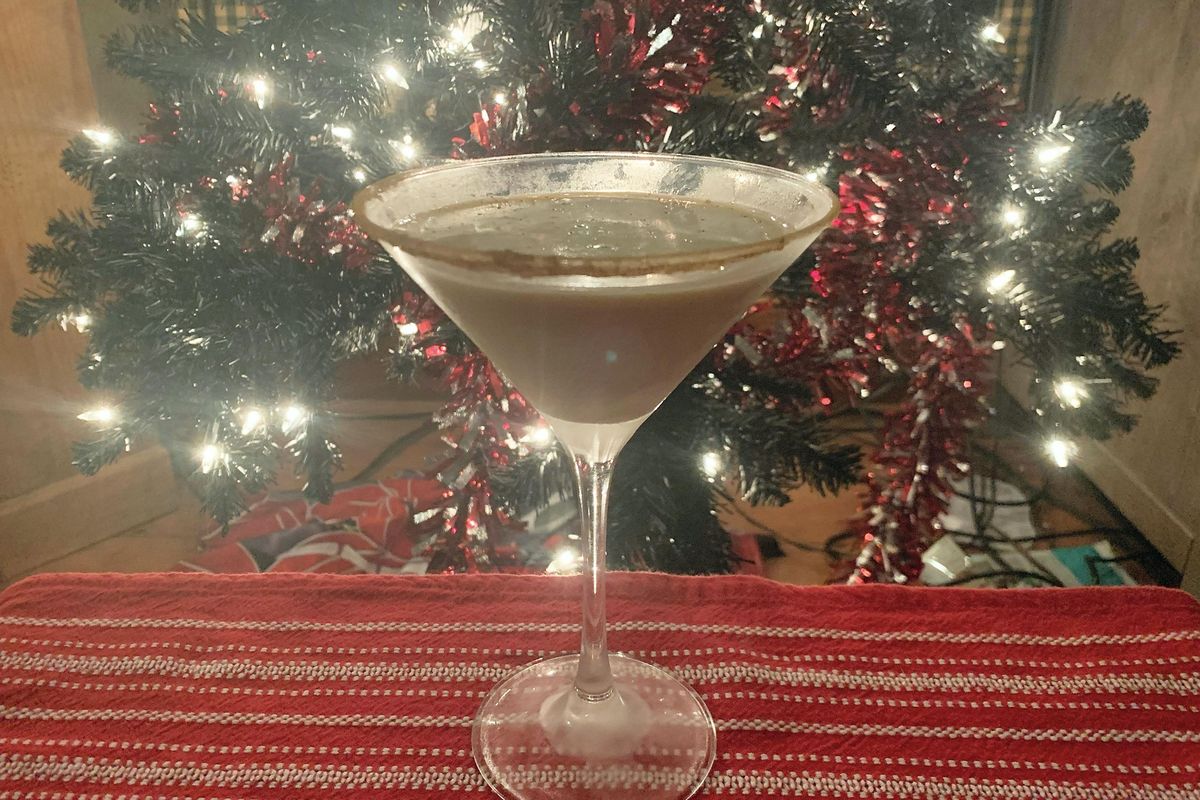 Matthew Hooper
Greetings, Wonketeers! I'm Hooper, your bartender. Christmas is just a few days away, and I haven't made a sweet, over-the-top dessert cocktail in a long time. Let's salute the season properly and make a martini based on one of my favorite holiday treats. Time to make a Gingerbread Latte Martini. Here's the recipe.
---
Gingerbread Latte Martini
2 oz Gingerbread Cream Liqueur
1 oz House Cold Brew Coffee Vodka (recipe below)
1 ½ oz Stoli Vanilla Vodka
Cinnamon sugar
Simple syrup
Fresh nutmeg, for garnish
Pour the syrup into a small dish. Roll half the edge of the martini glass in the syrup. Pour the cinnamon sugar into a second dish. Roll the coated edge of the martini glass in the cinnamon sugar. Place the martini glass in the freezer until ready for service.
Shake the liqueur, coffee vodka, and vanilla vodka over ice. Strain into the chilled martini glass. Garnish with fresh nutmeg and serve at once.
Cold Brew Coffee Vodka
½ cup whole bean coffee
750 ml (one bottle) 80 proof vodka (such as Stoli)
Remove 2-4 oz of vodka from the bottle. Add the coffee beans. Let sit 2-3 days in a cool dark place. After all the coffee beans have sunk to the bottom of the bottle, begin tasting until desired flavor has been reached. A small, but tolerable, bitter flavor is preferable. Strain the beans out of the vodka and use as needed.
True confession: I do love Starbucks coffee. I managed a Starbucks some 20 years ago when I lived in Atlanta, and I still have a fondness for complex, slightly over-roasted, delicious coffee. Christmas has always been my favorite time to visit a Starbucks; I love gingerbread lattes, eggnog lattes, and the annual Christmas brew.

I was horrified to see that Starbucks skipped all my favorites this year. They aren't making gingerbread lattes or eggnog lattes, and the Christmas brew is adding weird ingredients such as aged cacao nibs and spruce tips to their grind. It's depressing to see how much a place I loved has changed, but it does make it that much easier to support the unionization efforts at the local Starbucks branches — and to support the nearby locally owned coffee joint, which still makes all my favorites.
Let's talk ingredients: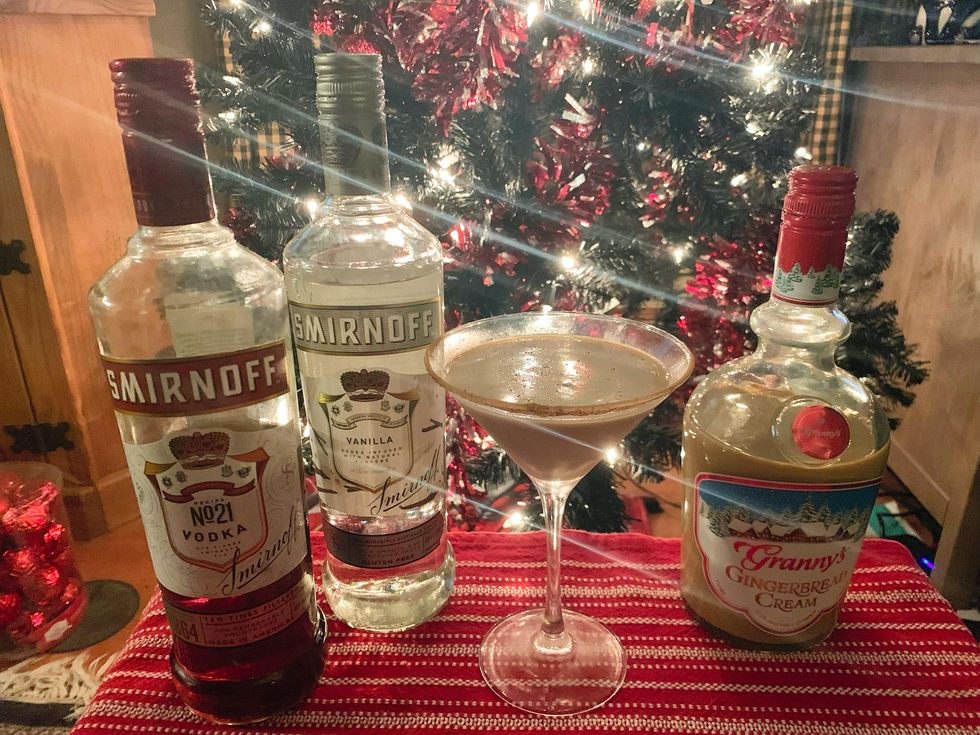 The cold brew coffee is disappearing very quickly in this house. Might need to make more soon. Matthew Hooper
Gingerbread Cream Liqueur: I am a bit shocked at how hard it was to find this on the shelves this year. I stumbled across this bottle in the dusty back corners of my liquor store. Maybe there was a shortage of artificial gingerbread flavor this year? Whatever the reason, if you can find this ingredient, use it shamelessly. If not, feel free to use your favorite creme liqueur — Bailey's and Rumchata are both fine, although I'd lean toward the Rumchata for spice notes.
House Cold Brew Coffee Vodka: I dislike Kahlua with a passion. It's far too sweet, barely tastes of rum, and the coffee flavor is weak. If you start right now, you can make your own coffee vodka in time for Christmas. If you need a drink immediately, I'd recommend a brand such as Van Gogh Double Espresso Vodka or Mr. Black.
Coffee beans are very, very good at infusing liquid, and vodka picks up flavor quickly. I learned the hard way that using ground beans, or 100 proof vodka, will make an unusably bitter beverage. Whole beans give you enough time to taste the vodka and judge when it's right for you. The vodka took on some color and flavor after only one day of infusion; three days was almost too long. Taste and shake the bottle regularly. It's a sacrifice, I know, but it lets you make exactly what you want from a marriage of coffee and booze. Use your favorite choice of bean; I used Dunkin' here because it's our coffee of choice, but some espresso beans would be fantastic.
Stoli Vanilla Vodka: If you love dessert martinis, you need to keep this in your pantry at all times. It's the backbone of all good after-dinner drinks — the vanilla flavor melds with and harmonizes the flavors in the cocktail, and the sugar content is relatively low. The challenge with any dessert drink is the sugar level. If you add multiple sugary liqueurs to the same glass, the end result can become unbearably sweet. Using vanilla vodka as your base ingredient helps to tamp down that sweetness.
Garnish: A good sugared rim needs to be ice cold, to form a hard crust on the edge of the glass. Chilling the rim ahead of time makes for a sugar crust that won't slide off the glass midway through the drink. I never coat more than half the rim in sugar. It lets a guest decide how much sugar they want with each sip. I use a 1:1 ratio with my cinnamon sugar, but feel free to use more sugar if you like. The fresh nutmeg adds more spice to the glass, which is very welcome.
Make up this holiday-in-a-glass and drink it with those you love as you celebrate whatever you choose. To your health, and Happy Holidays!

In summary and conclusion, drink well, drink often, and tip your bartender — donate to Wonkette at the link below! And if you'd like to buy some bar gear or books from Amazon, please click here!
OPEN THREAD!
Matthew Hooper
Matthew Hooper, aka Samurai Grog, turned 50 in 2021 and decided to have a midlife crisis by leaving a boring sales and marketing job to tend bar at the local country club. He's never been happier. He's also a fencer, a dad, a husband, and a punk music fan. Overall, he's way cooler than he ever thought he could be when he was 16.