Welcome to Wonkette Happy Hour, With This Week's Cocktail, The Hell To Pay!
Recipe Hub
March 31, 2023 04:20 PM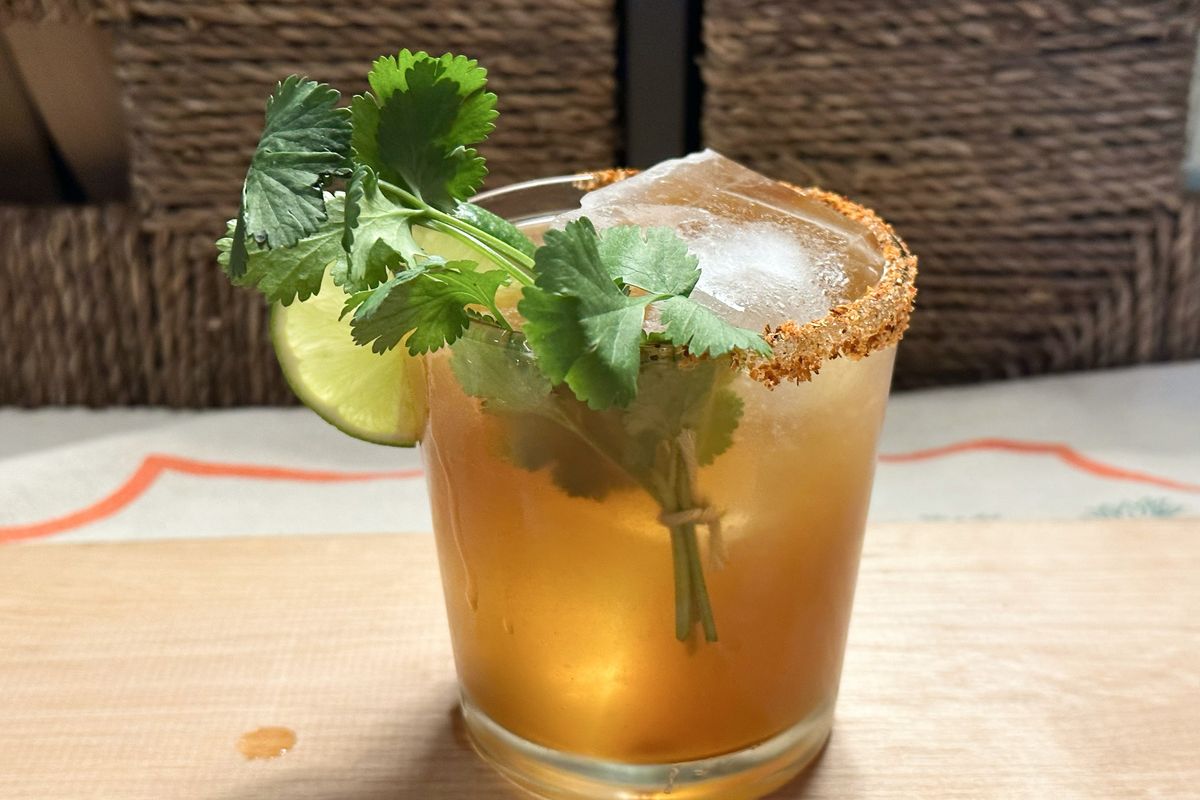 Matthew Hooper
Greetings, Wonketeers! I'm Hooper, your bartender. I'm still in spring-cleaning mode when it comes to my liquor cabinet. Last week, we used up the blood oranges. This week, I've got a new way to use up leftover mezcal. Yes, it's a bit complex, but the end result is the ultimate Tex-Mex cocktail. Let's make a Chipotle Pineapple Margarita ... aka, the Hell To Pay (or Hell Toupee, your call). What can I say, I was stuck for a good name for the drink until current events hit. Here's the recipe:


---
Hell To Pay
1 ½ oz ancho chile infused mezcal (see below, or use Ancho Reyes chile liqueur)
1 ½ oz pineapple juice
1 ½ oz light agave syrup
1 oz Stirrings Triple Sec
1 oz fresh lime juice
5 cilantro leaves
Tajin for rimming
Add the mezcal and cilantro leaves to a mixing tin. Muddle the leaves gently. Add remaining ingredients and ice. Shake and strain into a double old fashioned glass. Rim half of the glass with Tajin. Garnish with a lime wheel and cilantro sprig.
Ancho Chile Infused Mezcal
3 cups Peloton de la Muerte mezcal
1 dried ancho chile, stemmed, seeded, and chopped into 1 inch pieces
Put the ancho chile and mezcal into a large Mason jar and shake well. Let sit for one week, shaking every day. Strain the mezcal into a bottle through a fine sieve. Keeps indefinitely in a cool, dry place.
I have fallen deeply in love with infusing liquor to make a unique house creation. This infused mezcal is absolutely terrific. The smoke and spice come through wonderfully, and the sweetness of the agave still holds true. Best of all, infusions like this take no work at all. The alcohol does all the heavy lifting. Soak something dry but flavorful in liquor, and the solvent does its thing. I've made house coffee vodka and spiced rum this way, and I've almost always been pleased with the result. It's something completely unique to my bar that no one else can duplicate.

It's worth noting that I muddle an herb and use an infusion here, for a good reason. Some ingredients take to infusion better than others. As a rule of thumb, something with a significant water content, like fresh herbs or fruit, won't infuse well. Cilantro or sage won't look particularly pretty after a week in a bottle, and I'd worry about the final color of the product. Muddling does a better job of expressing oils from a fresh herb into a cocktail. Mint, cilantro, and sage all muddle successfully. Basil is another; I made a ton of basil honey gin and tonics last summer, and people loved them. (Yes, I'll share that recipe when basil's in high season; be patient.) Rosemary would infuse well. I don't know what I'd use it for, but it would work. What about pine? Could you infuse a good vodka with fir or spruce sprigs and make something tasty for the winter? Don't know. Might be great. Might end up with Pine-Sol. But you won't know just staring at the bottle. Once you buy the booze, it's yours. Don't be afraid to make it into something uniquely your own.

Let's talk ingredients: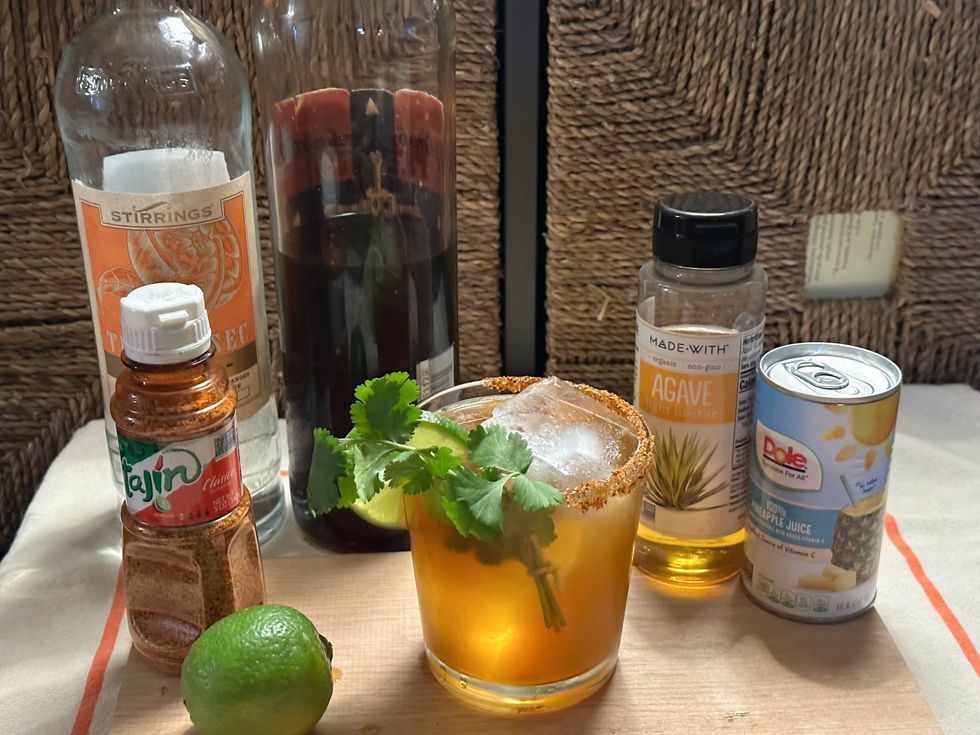 Ingredient shot. The cocktail disappeared shortly after this photo was taken. Matthew Hooper

House Ancho Chile Mezcal: If you cannot wait a week to try this cocktail — or you abruptly changed your weekend plans to involve celebratory drinking — I'd recommend Ancho Reyes Chile Liqueur. The flavors carry through just fine, and you'll have a lovely cocktail. Be advised, though, that this is a liqueur; the sugar content is high. Skip the agave syrup if you go this route.
Pineapple juice: The ancho chile mezcal really does need to be paired with something else to be drinkable; it's a wonderful ingredient, but it's too spicy on its own. Pineapple juice is just the thing. Smoke, spice, and fruit are terrific combinations, and pineapple juice is a mixer that can stand up to the intensity of the mezcal and still contribute to the flavor profile.
Agave syrup: Unlike honey, agave syrup is thin enough to pour directly into the mixing glass without dilution. With all the intense flavors in this glass, I wanted to reinforce the core tequila flavors; agave fit the bill nicely. Honey syrup is also a strong choice here; honey and spice are a terrific pairing.
Stirrings Triple Sec: Still my go-to triple sec for any margarita. Cointreau would be great here too, if your budget allows.
Lime juice: Always fresh limes. Plastic limes make plastic juice. I squeeze the limes right into my mixing jar along with the agave syrup; swirling them together helps me get all the syrup out.

Cilantro: Order of operations is key here. If there's too much fluid in the mixing tin, it's difficult to muddle the leaves. Add the mezcal first, then muddle, then add everything else. If you're the kind of person who hates cilantro, it's OK to skip this.

In summary and conclusion, drink well, drink often, and tip your bartender — donate to Wonkette at the link below! Seriously, my boss is awesome, if you like reading my recipes please chip in! And if you'd like to buy some bar gear or books from Amazon, please click here!
OPEN THREAD!
Matthew Hooper
Matthew Hooper, aka Samurai Grog, turned 50 in 2021 and decided to have a midlife crisis by leaving a boring sales and marketing job to tend bar at the local country club. He's never been happier. He's also a fencer, a dad, a husband, and a punk music fan. Overall, he's way cooler than he ever thought he could be when he was 16.