Welcome To Wonkette Happy Hour, With This Week's Cocktail, The Key West Mai Tai!
Recipe Hub
May 27, 2022 04:20 PM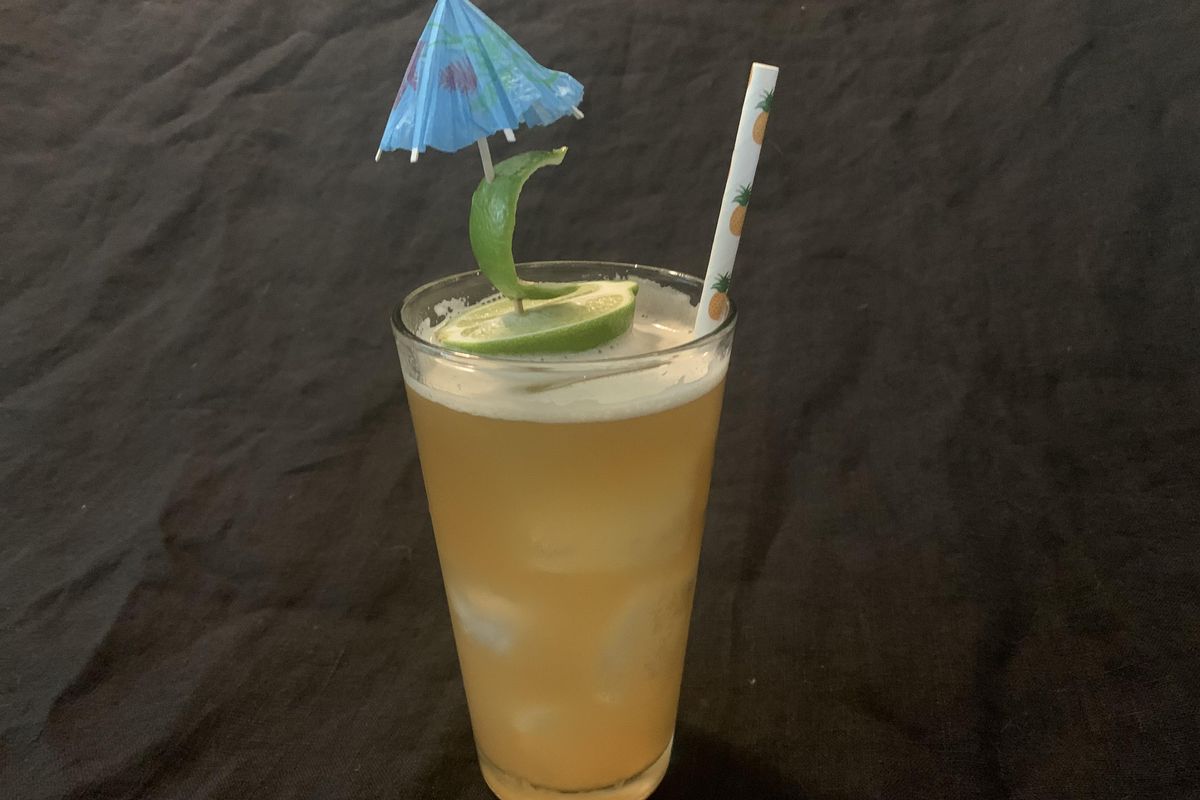 Matthew Hooper
Greetings, Wonketeers! I'm Hooper, your bartender. It's been rough, but the Memorial Day weekend is finally here. Summer means tiki season for me. I'm too tired and frazzled to play by the rules, though. Let's recreate a tasty drink that I found in Florida before America went crazy. Here's a Key West Mai Tai. Recipe's below.
---
Key West Mai Tai
2 oz Plantation Special Dark Rum
1 oz fresh lime juice
2 oz pineapple juice
½ oz spiced syrup
½ oz Pierre Ferrand Dry Curacao
2 dashes Angostura bitters
Shake all until ice cold. Pour into a highball glass over ice. Garnish with a lime wedge, or a lime umbrella boat if you're feeling fancy.
I wrote up a proper, historically accurate Mai Tai for Wonkette back in October. It's a lovely drink, but it's not this drink. A lot of drinks have been called "Mai Tais" over the years. Trader Vic's 1944 recipe is often forgotten. If you order a "mai tai" at a cheap restaurant, you'll probably get a glass with some Bacardi and a random assortment of fruit juices. (I have no idea what's in a $1 Applebee's Mai Tai. I'm scared to find out.)
This is not a "real" mai tai. It's pretty similar to a not-mai tai I had in Key West with my family before the pandemic. It was a warm, sunny, gorgeous day. My wife and kid had visited the cats at the Hemingway House. I'd been sampling the booze and cigars along Duval Street. We'd landed at a pretty nice taqueria for supper. They poured me this. It was a good night.
Sometimes, you want a drink that reminds you of happy times. For me, this is that drink. Well, a version of it. It's tweaked to my palate. This is spicier and drier than the Key West original, but it's my favorite.
And you should make your favorite mai tai. If you put rum and juice in a glass, and call it a mai tai, that's fine. At your home bar, cocktail recipes should always be considered guidelines. If you know what things go together in a glass well, put those things in a glass and drink it. Tinker, adjust, find the right balance, and make your own favorite.
Let's talk about ingredients. This time, I'm making a point of focusing on why a liquid is in the glass, and what you can swap out for it. Consider this a "master recipe." The variations are endless.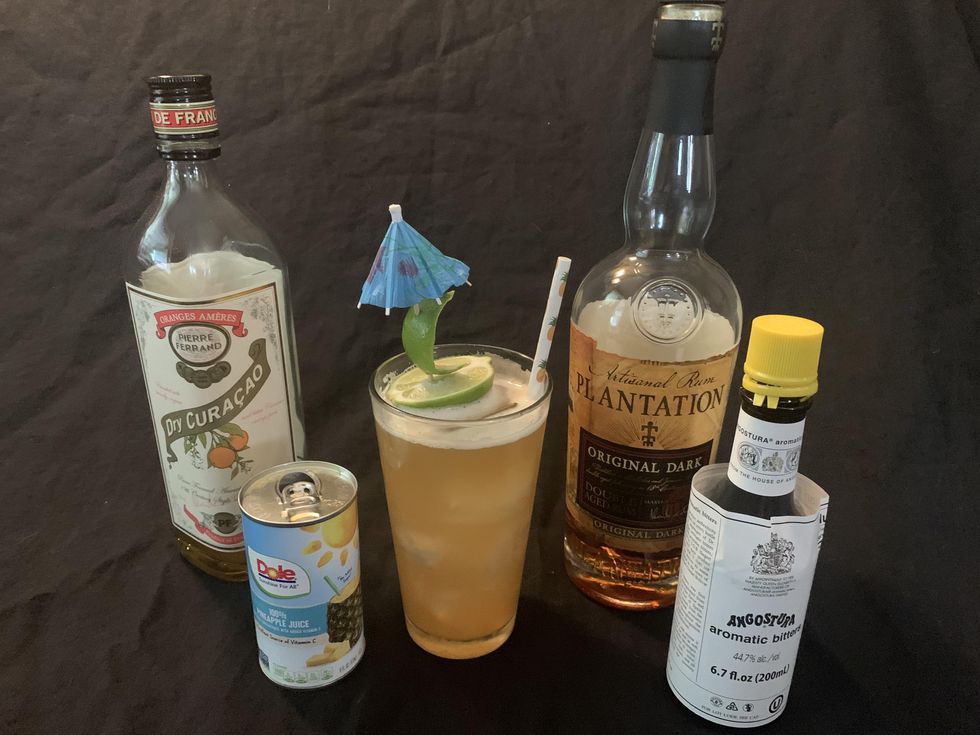 Ingredient shot. The Mai Tai vanished very quickly after this photo was taken. Matthew Hooper

Plantation Special Dark: This is, simply, my favorite rum. I've talked in depth about all the variations of rum out there, and how one bottle is different from another. Suffice to say, this rum is awesome. You should try it.

If you're not a rum fanatic, and you've only got Bacardi in the cabinet, that's fine. Silver Bacardi is pretty mild. Puerto Rican rum has a unique funk all its own. Taste the rum. Think about what would taste good with it. (Then, taste it again. It's Memorial Day Weekend. You're allowed.)
Pineapple Juice: Pineapple always goes well with rum. You shouldn't put it in every rum cocktail, but you could and it would probably turn out good. Pineapple juice is just acidic enough to make the drink lively without being overwhelming. It's a go-to for the summer.

No pineapple juice in the fridge? Well, what juices do you have? Cranberry is very tart, and won't cooperate with a funky or earthy rum. It'll play fine with white rum. Orange juice has a strong flavor that can be hard to balance. Add some other juices along with the orange juice and build a fruit punch. We're far afield from a "real" mai tai, but if you like what's in the glass that's fine.

Lime juice: Lime juice is fairly non-negotiable. Most shaken cocktails rely on acid, sugar, and booze to be great, and this one's no exception. You could use lemon juice in a pinch. It's more acidic than lime, so up your sugar level accordingly. Balancing sweet and acid in a glass is the big challenge in bartending. Play with the ratio of syrup to citrus. Find what you like best. I like 3:4 sugar to acid. What tastes best to you is correct.

Spiced Syrup: Your favorite baking spices in a pan with equal parts sugar and water. Heat until the sugar's melted. Rum loves juice, but it also loves warm Christmas spices. Cinnamon, allspice, and cloves all go well with rum. Think "fruitcake." You'll get the idea. I added a bunch of black pepper to my syrup, because I love black pepper. Use whole spices, or you'll get grit in the cocktail.
If I'm using Bacardi, I'd toss some vanilla in here. Think "Duncan Hines yellow cake" instead of "fruitcake." Most of all, use the spice you like. It's your drink.
Pierre Ferrand Dry Curacao: Or your favorite orange liquor. Grand Marnier, Cointreau, cheap triple sec from the bottom shelf of the liquor store. They're all fine. These liquors are "orange spice" flavored, not orange flavored. They bring orange oil, bergamot, and other mild spices to the mix. Swapping orange juice for triple sec won't work.
Bitters: Angostura adds yet more baking spice, and tamps down excess sweetness. Orange bitters are fine, but don't bring much to the party. I'd shake some in if you had to skip the triple sec. I've used chocolate bitters for a wintertime version of this drink. The earthiness is nice, and chocolate plays well with the baking spice.

Technique: Taste as you go. Feel free to add a dash of this and a shake of that to correct the taste. Write down what you end up with, so you can make it again — or change it. I floated more rum on top of this cocktail because I love rum. Don't bother with a mild rum like Bacardi.
Enjoy your Memorial Day. Drink the drink you love. Tinker with it until it's better. It's a nice day in a hard year. Enjoy it, one hour at a time.
In summary and conclusion, drink well, drink often, and tip your bartender — donate to Wonkette at the link below! Come see me at The Spotted Owl at Tremont! And if you'd like to buy some bar gear or books from Amazon, please click here!
OPEN THREAD!
Matthew Hooper
Matthew Hooper, aka Samurai Grog, turned 50 in 2021 and decided to have a midlife crisis by leaving a boring sales and marketing job to tend bar at the local country club. He's never been happier. He's also a fencer, a dad, a husband, and a punk music fan. Overall, he's way cooler than he ever thought he could be when he was 16.