Welcome To Wonkette Happy Hour, With This Week's Cocktail, The Ming Of Harlem!
Recipe Hub
February 04, 2022 04:20 PM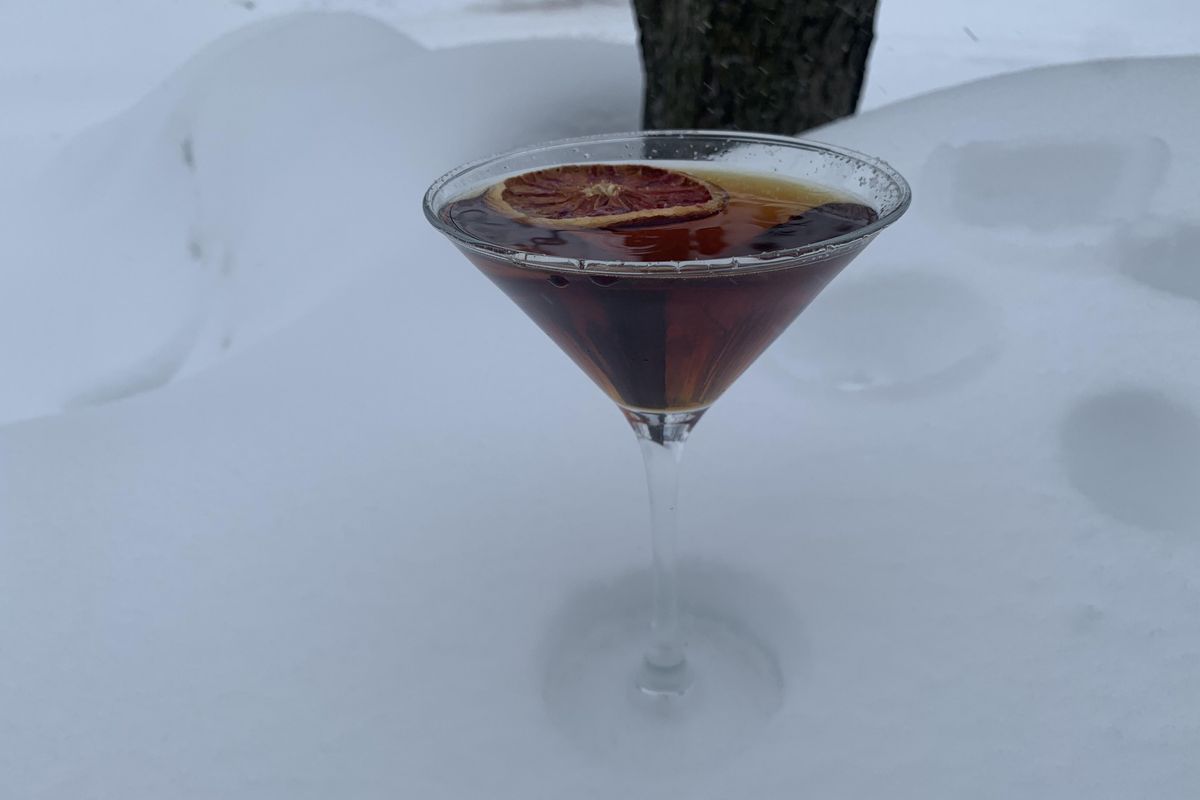 Matthew Hooper
Greetings, Wonketteers! I'm Hooper, your bartender. We're slogging through some nasty weather here in Ohio, which seems like a fine excuse to drink a strong cocktail. Here's my take on the Manhattan — an orange and oak version that's great for the Year of the Tiger. Let's make some Ming of Harlems. Here's the recipe.
---
Ming of Harlem
4 oz Old Forester 100 proof (yes, four ounces)
1 oz Orange Tiger Liqueur
1 oz Martini & Rossi Sweet Vermouth
1 shake Angostura Bitters
1 shake Orange Bitters
Stir all ingredients in a cocktail pitcher with ice for 8-12 seconds. Strain into a martini glass and garnish with a dehydrated blood orange slice.

Dehydrated Blood Orange Slices

Slice 1 blood orange into 1/8" slices. Place on a wire rack over a sheet pan. Gently roast in a 200 degree oven 2-1/2 to 3 hours, or until completely dry and firm. Store in an airtight container at room temperature.
I've always considered the Manhattan to be one of the best bourbon cocktails ever. Bourbon, sweet vermouth, and bitters play together like peanut butter, jelly, and bread. But bourbon's a very pricey spirit these days. I thought I'd write a "blue collar" Manhattan that uses quality, inexpensive ingredients to make something beautiful.
The garnish was the hard part. Most Manhattans use a top-notch cherry as a garnish. High end Luxardo cherries can cost more than the vermouth. Dehydrated citrus wheels are pretty popular at craft cocktail speakeasies. I tried making some, but discovered they were a lot more subtle than a cherry. Fortunately, I already had a tool to orange-ify this drink nicely in the liquor cabinet. The end result is sweet, has strong orange notes, and keeps the wonderful depth and complexity of a good Manhattan.

It's common to name Manhattan variations after other New York neighborhoods. I wanted something here that involved New York City and tigers (both for the Year of the Tiger and my secret ingredient). A little research brought me to the astonishing story of Ming, a 425 pound tiger raised in a Harlem apartment. It's a sad, crazy story with a happy ending. Even if your Year of the Tiger starts rough, here's hoping things finish as smoothly as this cocktail.

Let's talk ingredients: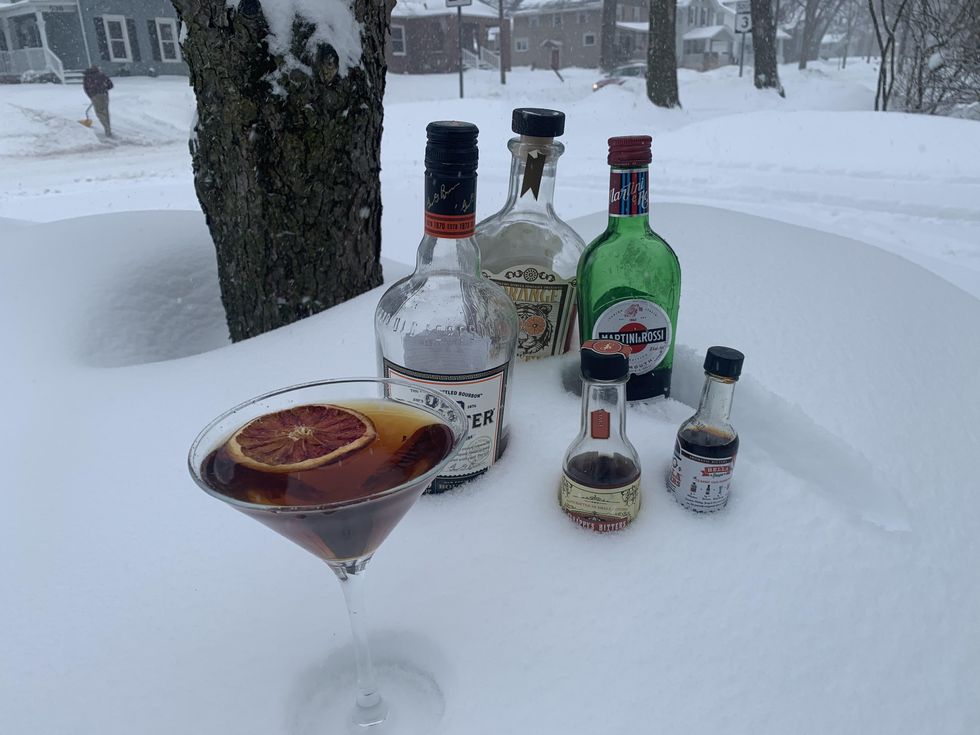 Ingredient shot. The photographer disappeared rapidly after this photo was taken, along with the cocktail. Matthew Hooper
Old Forester 100 Proof: I like Old Forester a great deal. The 100 proof is just a little more money that the standard 86 proof, which is nice. I'd prefer to buy the bourbon and not the water used to dilute it. I'd heartily recommend Woodford Double Oaked if you can afford it, especially if you can't get your hands on Orange Tiger.
Orange Tiger Liqueur: Here's another secret weapon of mine from Toledo Spirits. Orange Tiger is similar to Cointreau, but it's been aged in used bourbon barrels. It reinforces the oak notes in the bourbon and gives the entire drink a boost in tannins and oak character. It's a clever way to make a great bourbon better. If you can't get this, I'd recommend Pierre Ferrand dry curacao or Aperol as solid alternatives.
Martini & Rossi Sweet Vermouth: There are much pricier vermouths out there, but if you keep your vermouth in the fridge even the run of the mill stuff tastes great. Carpano Antico is my favorite sweet vermouth, but it costs just as much as a bottle of Old Forester. For an everyday Manhattan, I'd rather use the Martini & Rossi.
Bitters: Angostura and orange bitters define this as a "real" orange Manhattan. Alternatives like cocoa bitters or spiced cherry bitters would provide a different drink, but undeniably a tasty one.

Garnish: Making citrus slices like these for cocktails is so simple – slice them thin, place them in a barely warm oven, and go take a nap. They'll be ready in a few hours. If you store them in an airtight container, they'll last for weeks. They look beautiful, and release a subtle perfume in the drink as they re-hydrate.

Presentation: Six ounces of booze in a glass can be a little daunting. It's the ratios that matter here: 4 parts bourbon, 1 part vermouth, 1 part orange, 1 part water, 2 dashes of bitters. It's easier to scale that up instead of down. Make up a full bottle, chill it in the freezer or a convenient snow bank, and serve whatever portion you like. Here's an example:
Batched Ming of Harlem


2 cups Old Forester 100
½ cup Orange Tiger
½ cup Martini & Rossi Sweet Vermouth
½ cup water
6 shakes Angostura bitters
6 shakes orange bitters
Refrigerate and serve.
For an NA cocktail, I'd suggest that dehydrating orange slices – or better yet, lemon slices – would be an excellent addition to a cup of tea. You'll get that same deep citrus aroma, have lemon that lasts forever, and make your favorite cup look wonderfully elegant. The warm liquid should release the oils in the citrus even faster than a cold cocktail. Experiment with different fruits and see what works best for you.

In summary and conclusion, drink well, drink often, and tip your bartender — donate to Wonkette at the link below! And if you'd like to buy some bar gear or books from Amazon, please click here!

Open Thread!
Matthew Hooper
Matthew Hooper, aka Samurai Grog, turned 50 in 2021 and decided to have a midlife crisis by leaving a boring sales and marketing job to tend bar at the local country club. He's never been happier. He's also a fencer, a dad, a husband, and a punk music fan. Overall, he's way cooler than he ever thought he could be when he was 16.