Welcome to Wonkette Happy Hour, with This Week's Cocktail, The Moscow Mule!
Recipe Hub
August 06, 2021 04:20 PM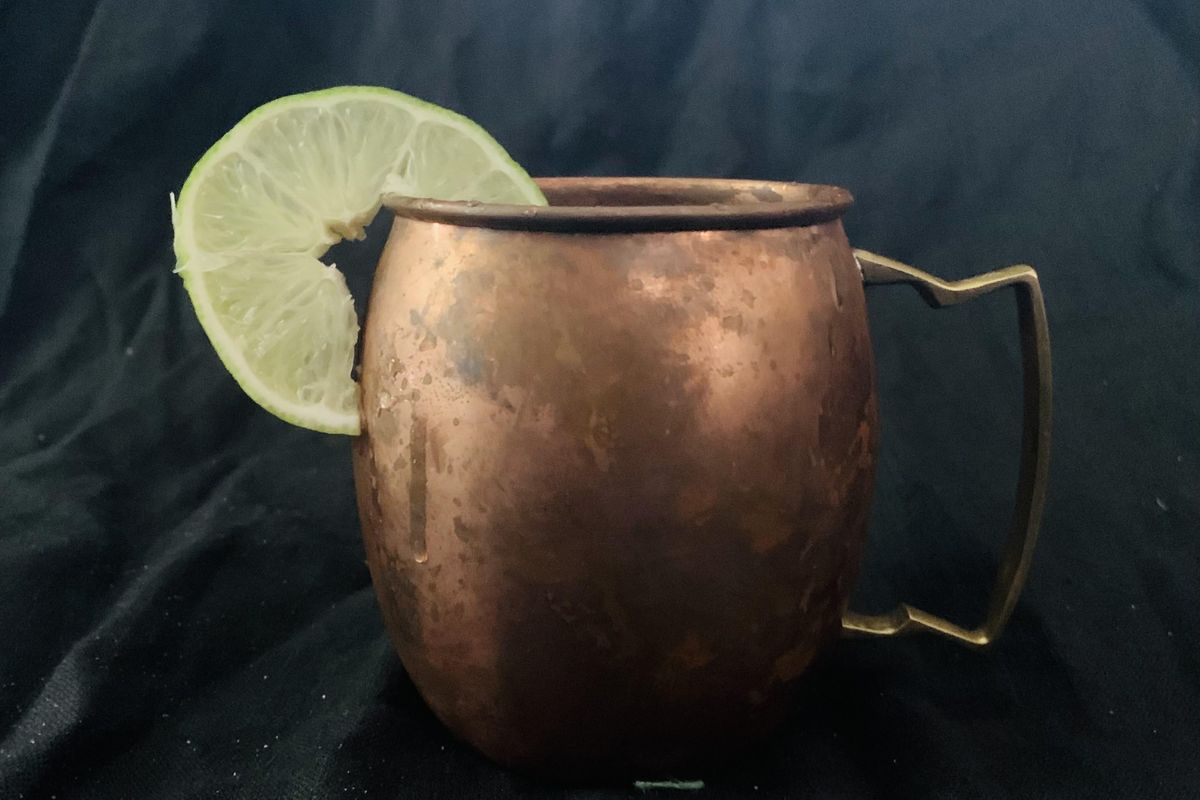 Matthew Hooper
Greetings, Wonketeers! I'm Hooper, your bartender. I'm back from my vacation and hip deep in a huge event at the country club. It's my last hurrah before starting full time at Tiki Underground. I thought I'd cover an easy classic, the Moscow Mule. While we're on the subject, let's review a few more one-and-ones. Here's the recipe.
---
Moscow Mule
2 oz. Tito's
1 oz. Lime juice
4-6 oz. Cock n' Bull Ginger beer
Pour all ingredients into a copper mug. Garnish with a lime wedge.

This is far and away the simplest recipe I've given to date. Not too surprisingly, it was created out of necessity rather than of craft. Wes Price, the head bartender of the Cock n' Bull, needed to "clean out the basement," in his own words. He had a hard time selling Smirnoff vodka in the '30s, and had overstocked on ginger beer. His girlfriend owned a shop that made copper products. It was a marriage made in heaven.
A quick rundown of the ingredients: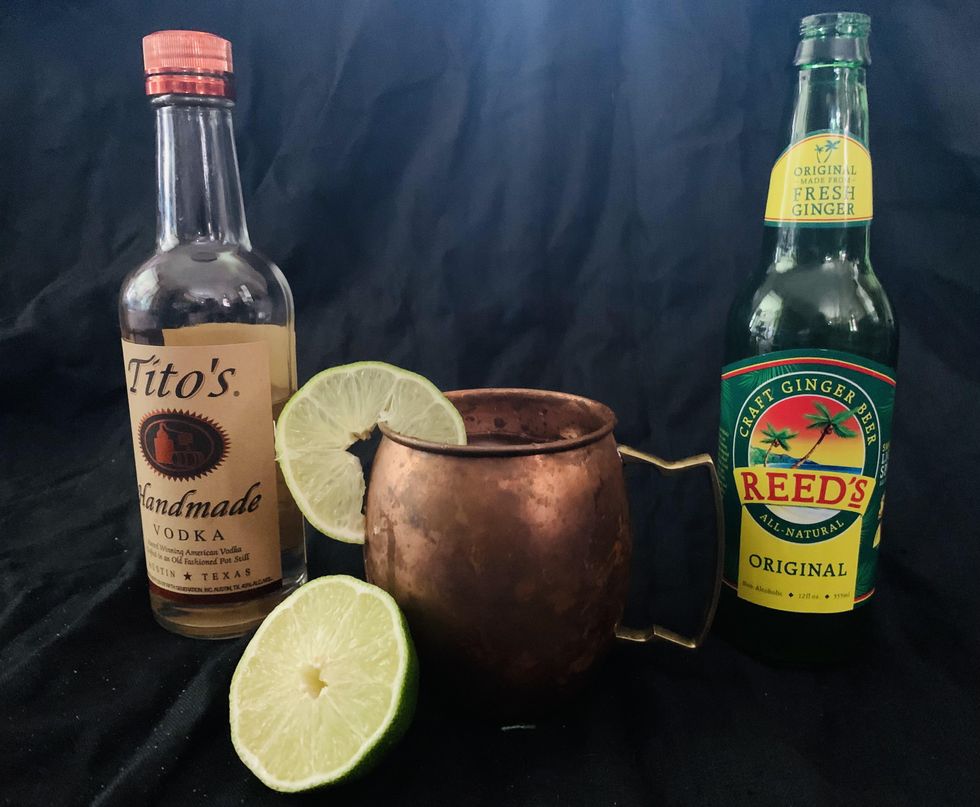 Ingredient shot. The Moscow Mule vanished mysteriously after this photo was taken. Matthew Hooper
Tito's Vodka: Traditionally, the historically accurate vodka to use here would be Smirnoff. But feel free to use your favorite vodka instead – at the country club it's Tito's all the way.
Lime Juice: Some acid is absolutely necessary here – this recipe is simple enough that you can try it with and without the lime juice to see the difference. Experiment. The lime doesn't register as "lime," per se, but it does cut through the sweetness of the soda.
Reed's Ginger Beer: Traditionally, Cock n' Bull Ginger Beer is the correct soda to use in this cocktail. And I do like Cock n' Bull. It's mild, but not bland — a real crowd pleaser. But I would definitely try other ginger beers and find one to your liking. They vary in sweetness and spiciness to a huge degree. My favorite is Reed's Original. It's got a great sour funk that would pair well with Wray and Nephew Overproof. Feel free to use your favorite.
It's easy to swap liquors in this recipe and rename it. Swap bourbon for the vodka, and it's a Kentucky Mule. Use a dark rum and it's a Dark and Stormy. A Moscow Mule, when you get down to it, is just a "one and one" in a fancy cup – a liquor, a soda, a lime wedge, done. I've poured a ton of "one and ones" at the country club. They bore me to tears. Still, people do like them, and they pay the bills. I'll run down the most common ones below, with some quick thoughts on how to make them better.

Jack and Coke: Use real, authentic, American Coca Cola here. It's the best mixer available, bar none. A "Lemmy" is a dive bar drink, and overthinking the mixer just doesn't stay true to its roots. Add a lemon wedge as a garnish. This drink really needs a strong acid component to sing.
Gin and Tonic: Probably the oldest "one and one," with a ton of history behind it. This one will get its own article some day. Use a strong London Dry gin, like Ford's, and a quality tonic from Fevertree. And don't skimp on the lime.

Texas Branch Water: I kind of like this one – blanco tequila and Topo Chico grapefruit seltzerwith a lime. I'm making a version this weekend for the club guests with a splash of mezcal and fresh grapefruit juice.
Wray and Ting: Feeling brave? Try this Jamaican favorite – Wray and Nephew Overproof rum and Ting grapefruit soda with a lime. It's memorable. I want to like it, but the best I can manage is "memorable."
Bourbon and Branch: Bourbon snobs insist on drinking their bourbon neat, or with a big chunk of ice. But some expensive bourbons benefit from having a little water added. It unpacks the flavors and gives everything space to breathe. I'd recommend Fiji bottled water. Fiji is iron-free, just like the water used to make the bourbon. It doesn't make a colossal difference, but it does help.

Whiskey Highball:Suntory Japanese whiskey and soda water, no fruit. It's a classic you can find everywhere in Japan. I've seen super-detailed versions of this cocktail; I've also seen canned versions that come from vending machines. It's a sararīman's cocktail at heart; don't overthink it.
Vodka Soda: Far and away my least favorite cocktail on earth. Vodka and soda water – with a lime and a lemon, if you're feeling daring. The blandest thing I've ever put in a cup, up to and including water. Golfers chug a ton of these, seven or eight in a sitting. [Rebecca here: Rich old white men told me they drink these because tonic has too many calories.] They're probably the inspiration for the other drink I hate passionately, White Claw. Don't get me started on how much I loathe those tiny white cans.

For a non-alcoholic option in the dog days of August, I'd recommend an alternative to the one-and-one – soda and sorbet. A dollop of lemon sorbet in dry tonic water sounds utterly delightful. Lime sorbet in ginger beer? Grapefruit sorbet in Ting? Cherry sorbet and Coke? All solid options. Garnish with a slice of fruit on the rim of the glass, just like the cocktail. Think of the soda as an ingredient to the ice cream, not as a filler. And use an old fashioned glass, not a sundae glass. This is a drink, not desert.
Please tip your bartender – donate to Wonkette below. Also, you can buy all these sodas and mixers online from Amazon (the links above give Wonkette a small cut); for other Amazon cocktailery purchases, please use this link.

OPEN THREAD!
Matthew Hooper
Matthew Hooper, aka Samurai Grog, turned 50 in 2021 and decided to have a midlife crisis by leaving a boring sales and marketing job to tend bar at the local country club. He's never been happier. He's also a fencer, a dad, a husband, and a punk music fan. Overall, he's way cooler than he ever thought he could be when he was 16.