Welcome to Wonkette Happy Hour, With This Week's Cocktail, The Northumbria Toddy!
Recipe Hub
January 14, 2022 04:20 PM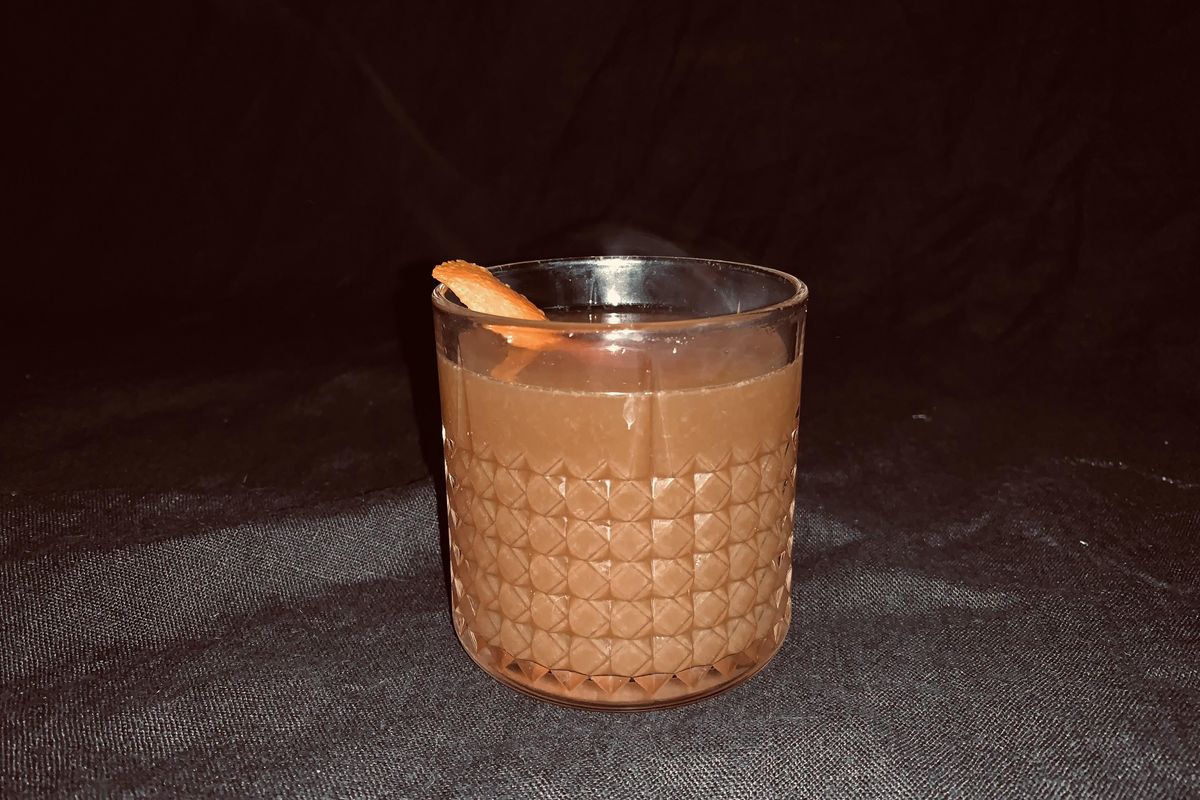 Matthew Hooper
Greetings, Wonketeers! I'm Hooper, your bartender. The Ohio winter is getting bitter, and most of the family's got a cold or a cough or the general ick. Time to pull out some heavy artillery. Here's my take on a hot toddy. I call it the Northumbria. Here's the recipe.
Northumbria
1.5 oz Pusser's Rum
.75 oz raw ginger syrup (recipe follows)
1 oz demerara syrup
1 oz fresh lemon juice
.25 oz Bitter Truth Pimento Dram
3-4 oz hot English Breakfast tea
Boil a kettle of water. Fill the large tin of a two-part cocktail shaker halfway full with boiling water. Float the small tin in the large tin. Pour boiling water into an old-fashioned glass.
Add rum, lemon juice, demerara syrup, pimento dram, and raw ginger syrup to the small mixing tin. Stir thoroughly until warmed through. Pour the hot water out of the old fashioned glass. Pour the cocktail into the old fashioned glass. Top with hot tea. Garnish with a large piece of orange peel.
Raw Ginger Syrup:
6-9 oz fresh ginger
1 cup demerara sugar
1 cup boiling water
Roughly chop the ginger into quarter-inch chunks. Do not peel the ginger. Put ginger, sugar, and water into a blender and puree until smooth. Strain the ginger puree into a container with a fine mesh sieve, pressing down on the solids.

The hot toddy dates all the way back to 1862, from Jerry Thomas's Bar-Tender's Guide. Mr. Thomas's recipe used brandy; I've seen bourbon, scotch, and rum used in the drink. All of them are roughly similar; hot water, liquor, sugar, and lemon juice. Recently, I was introduced to Jeffrey Morganthaler's recipe. I was amazed by the technique and the ingredients. Mr. Morganthaler's been a part of the modern craft cocktail scene since its inception, and the little hacks he brings to the hot toddy blew my mind. The proportions needed some work to satisfy my palate, but overall I loved the tricks he pulled off to make a potent, flavorful hot toddy.
I know that this recipe looks a little daunting, but it really does come together very well once you get started. For me, the hardest part about this cocktail was naming it. I didn't want to name it after the grim, addictive sea shanty from the Dreadnoughts. The song played on my feed while I was doing the research on the cocktail, and it just stuck. The original Northumbria didn't sail cold waters. It wasn't even a good or interesting ship. But the name stuck in my head, and it wouldn't let go. I guess it's because I've chosen some very British ingredients… and navigating this winter often feels like trying to steer a fragile, ungainly monster through rough seas.
Let's talk ingredients: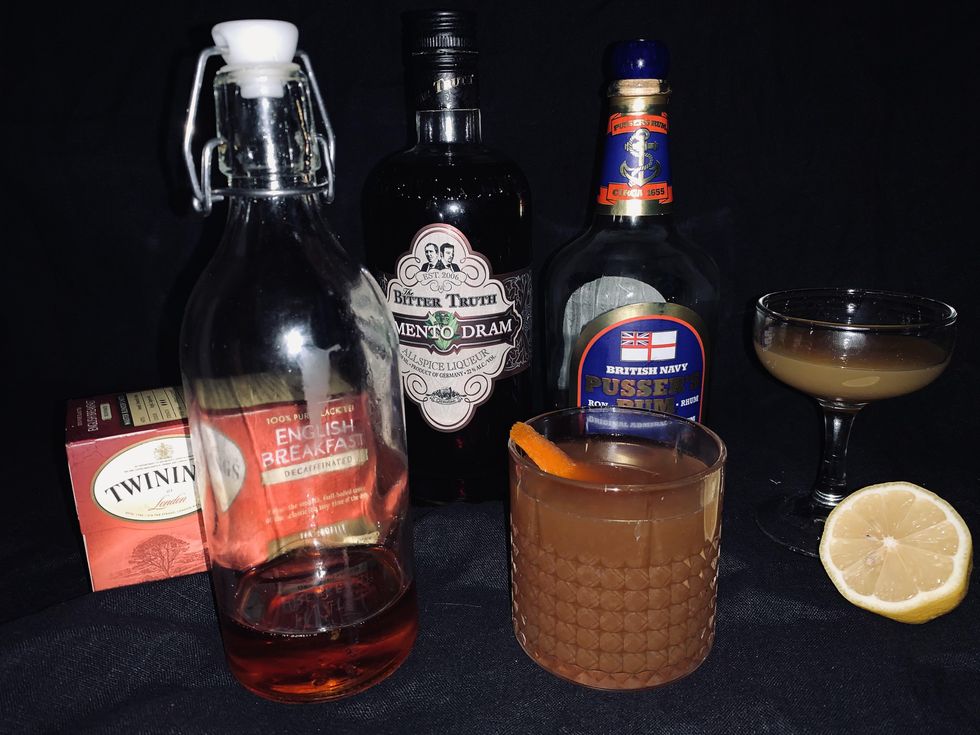 The ginger syrup's in the coupe glass. It's not pretty, but it is tasty. Matthew Hooper
Pusser's Rum: Pusser's is wonderfully warming, and on cold nights it's my favorite. However, there are a ton of strong ingredients here, and it's not easy to pick out a specific alcohol in between the ginger, spice, and lemon. Bourbon and brandy are classic alternatives. If it's a nasty night outside and you're desperate, even vodka will work.

Raw ginger syrup: Make this. Seriously. Even if you don't want to make the cocktail, this syrup is liquid gold in the wintertime. There's no better tool for getting pure ginger flavor into, well, anything. Most ginger syrups involved cooking the ginger in hot syrup. This method preserves all the fire and spice of raw ginger in a bottle. The syrup is barely sweet, and intensely flavorful. Just pouring some into a glass of water will ward off sniffles and give you the punch to power through a cold day. It's amazing. Make some.

Demerara syrup: The raw ginger syrup isn't terribly sweet, so I added my favorite cocktail syrup to balance things. Once again, this is 1:1 sugar in the raw and water, heated on the stove top until the sugar dissolves.

Lemon juice: It wouldn't be a hot toddy without this, really. Always fresh, no exceptions. You'll get just enough juice out of one medium to small lemon for the cocktail.

Bitter Truth Pimento Dram: Pimento dram doesn't taste like pimentos, exactly. The predominant note is clove, followed up by other warming Caribbean spices. You could use a fernet if you wanted. In a pinch, omit this, but garnish the cocktail with a cinnamon stick and a piece of star anise.
English Breakfast Tea: Traditionally, hot toddies use hot water to finish the cocktail. I'm using tea because it's a natural with the rum, and I wanted some body and tannins to reinforce the cocktail. Earl Grey would be great here. Lipton would be fine. Green tea might get weird, but if you swap the rum for sake you might get a completely different but really interesting cocktail. Roobios? Is that tea, even? I'd give it a pass.

Technique: I am in awe of this "bartender's bain-marie" technique. I've never seen such an easy, efficient way to warm a cocktail. It's genius. Only fill the large tin halfway. Too much hot water, and you'll slosh hot water everywhere. If you don't have a two part tin, pour the cocktail into a small glass and microwave for 30-45 seconds. It should be hot, but not boiling.

The size of your glass for the final cocktail matters. I tried this with my glass coffee cup at first, and the lemon and ginger were too intense. An old fashioned glass seems to work best. Use a larger cup if you want a cocktail that's not as strong.

For an NA version, I'd simply add lemon juice and the raw ginger syrup to your favorite tea and garnish with spices. I can't say enough good things about this raw ginger syrup as a winter warmer. I've poured it into some hot water to kick start my sinuses on cold days, and it works like a dream. It's worth your time, alcohol or no.

In summary and conclusion, drink well, drink often, and tip your bartender — donate to Wonkette at the link below! And if you'd like to buy some bar gear or books from Amazon, please click this link!

Open Thread!
Matthew Hooper
Matthew Hooper, aka Samurai Grog, turned 50 in 2021 and decided to have a midlife crisis by leaving a boring sales and marketing job to tend bar at the local country club. He's never been happier. He's also a fencer, a dad, a husband, and a punk music fan. Overall, he's way cooler than he ever thought he could be when he was 16.