Welcome To Wonkette Happy Hour, With This Week's Cocktail, The Piña Colada!
popular
February 24, 2023 04:20 PM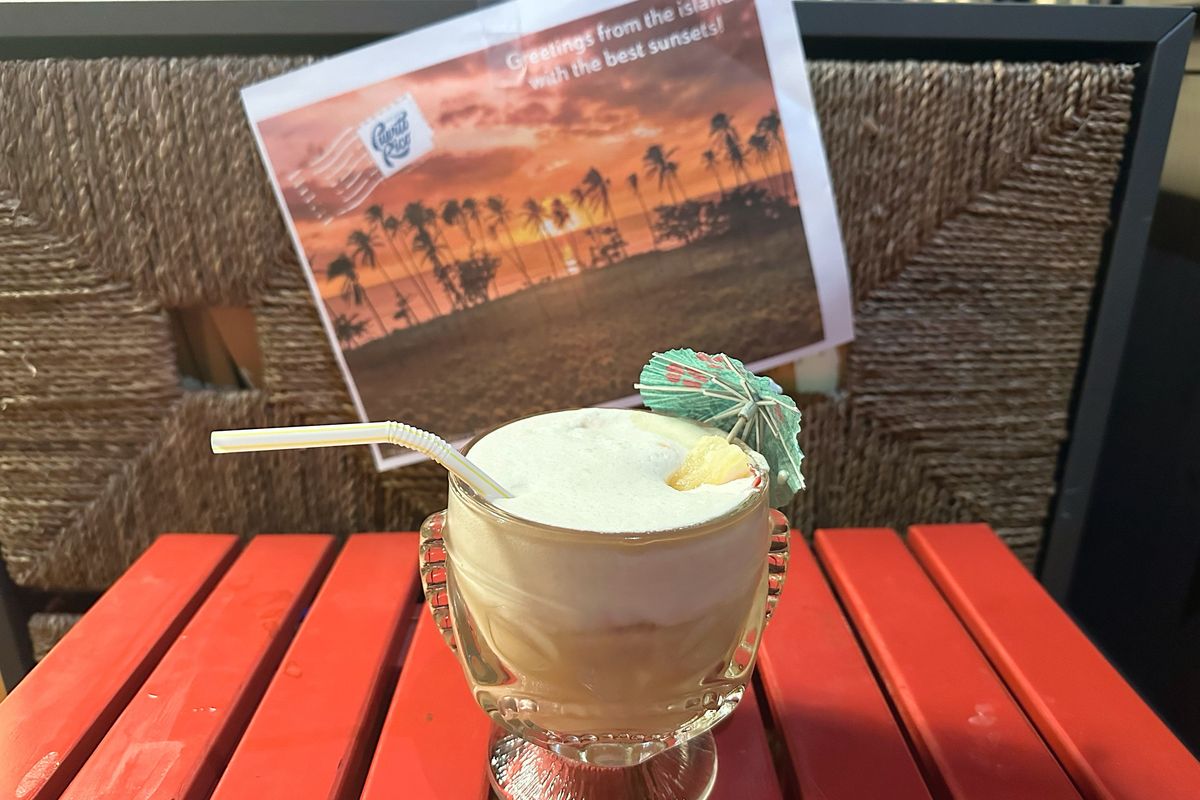 Matthew Hooper. Postcard courtesy https://www.discoverpuertorico.com/info/postcards-puerto-rico
Greetings, Wonketeers! I'm Hooper, your bartender. And I am sick to death of winter. It's cold, rainy, and gloomy in Ohio, and I'm desperate for warmth and sunshine. Late winter calls for spirit-forward cocktails, mostly with gin and vermouth, and I am mostly tired of all of them. Can't I have something simple, and straightforward, and juice-centric? Can I please have my rum bottle back? I know it's not a winter drink, but can I please have a freaking piña colada?
Yes, yes, I can. Because it's my bar, and I make the rules, and sometimes you have to ignore the calendar and drink what you like. And right now, I would like a piña colada very much. Here's the recipe.
---
Piña Colada
2 oz. Bacardi Dark Rum
1 ½ oz. creme de coconut
1 ½ oz. pineapple juice
1 oz. fresh lime juice
Dried pineapple
Maraschino cherry
Combine all ingredients in a blender with ice. Blend until a head of froth forms. Serve in a glass garnished with dried pineapple wedge, maraschino cherry, and a small umbrella.
This drink is so very, very good when you make it from scratch. Most "piña colada mix" has only a passing familiarity with coconut or pineapple, and intimate knowledge of high fructose corn syrup. If you've never had the real thing, please make this. In an interview about this drink, Tony Cecchini of the Long Island Bar in New York said, "If you put your hand to it and do it with care, almost anything can be made well." That applies to every cocktail I've given to you, and it certainly applies here. A well made piña colada is a glass of sunshine, worth every ounce of effort.
Conversely, the large number of cheap, slapdash piña coladas out there have ruined this drink's reputation. The '80s were the dark ages of cocktails, when artificial ingredients and low-rent fern bars came to the fore. That Song - you know the one - was released in 1979. After it hit #1, every bar was serving frozen piña coladas from a slushie machine filled with premade mix and dirt-cheap rum. And those piña coladas were uniformly terrible.
I'm not averse to frozen drinks per se. They're lower proof than cocktails on the rocks, but they're wonderful beachside in scorching weather. What's better than an alcoholic slushie on a hot summer day? But it's difficult to get that icy texture at home without a dedicated machine. A well made piña colada on the rocks at home is still delightful, and well worth the effort.
This is a drink that scales up well for a party. Equal parts creme de coconut and pineapple juice make your "piña colada mix". Add one part lime juice, two parts rum, and three parts mix to your blender and you're ready to go. The last time I made these by the blenderful, I was tending bar for my extended family in the Florida Keys, just before the pandemic. If we're lucky, maybe we'll all go back again.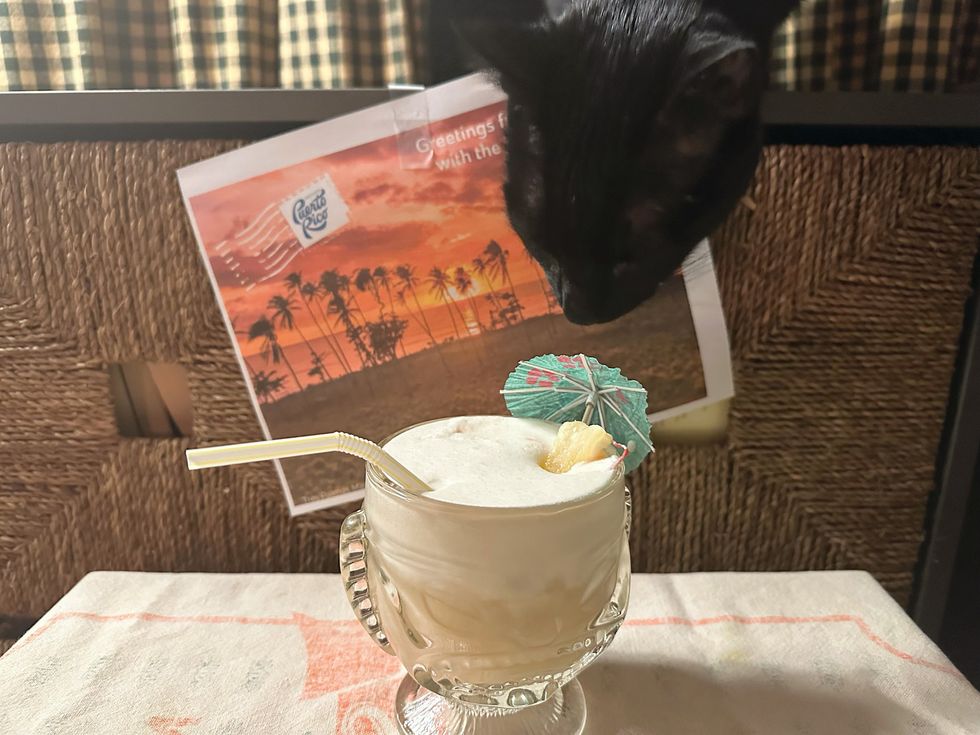 Kitteh shot. Nightshade, my photography assistant, approves of the garnish. Matthew Hooper
Let's talk ingredients:

Bacardi Dark Rum: I love dark rum in my piña coladas. The spice and caramel notes add character to the coconut and pineapple, and I'm fond of the cafe au lait color of the final drink. This is a Puerto Rican drink, and as such it deserves Puerto Rican rum. I've used Bacardi Anejo four-year in this recipe before, and it's great. However, Bacardi is making a dark rum that's also quite good here. They force the aging process, which makes for a less sophisticated product. However, Bacardi Dark is half the price of four-year-old Puerto Rican rum. If you're hosting a midwinter luau, the budget option is terrific. Choose based on your price point and your taste.
Creme de coconut: Creme de coconut is heavily sweetened and emulsified coconut milk. There's really no substitute; "real" organic coconut milk isn't sweet enough, and it separates out quickly in a cocktail. You will probably need to stir together the creme de coconut you find canned at the grocery. It's not a product that's flying off the shelves in midwinter. I ended up pouring the entire can into my blender and pureeing it until smooth. Odds are good you'll end up using the whole can soon; this stuff is spoonable coconut frosting, and it's totally addictive. La Preferida is my brand of choice.
Pineapple juice: Use canned. Fresh pineapple juice isn't acidic enough, and it doesn't hold in the fridge well. I use the small cans from Dole, so I don't waste much.
Lime juice: For a party, go ahead and use bottled stuff. You're working in bulk, you're excused. If you're a party of one, use fresh. But don't omit this entirely; the acid is needed to cut through the unctuousness of the coconut.
Garnish: At the bar, I'd use fresh pineapple chunks to make my "flag." Here, I used dried pineapple chunks. They're much more likely to be eaten than a whole jar of fresh pineapple lurking in the fridge. I don't normally use maraschino cherries, but sometimes you need that pop of candy-apple red on a garnish… and I have designs on the cherry juice for a later cocktail.
In summary and conclusion, drink well, drink often, and tip your bartender — donate to Wonkette at the link below! Seriously, my boss is awesome, if you like reading my recipes please chip in! And if you'd like to buy some bar gear or books from Amazon, please click here!
OPEN THREAD!
Matthew Hooper
Matthew Hooper, aka Samurai Grog, turned 50 in 2021 and decided to have a midlife crisis by leaving a boring sales and marketing job to tend bar at the local country club. He's never been happier. He's also a fencer, a dad, a husband, and a punk music fan. Overall, he's way cooler than he ever thought he could be when he was 16.