Welcome To Wonkette Happy Hour, With This Week's Cocktail, The Sage Counsel!
Recipe Hub
November 05, 2021 04:20 PM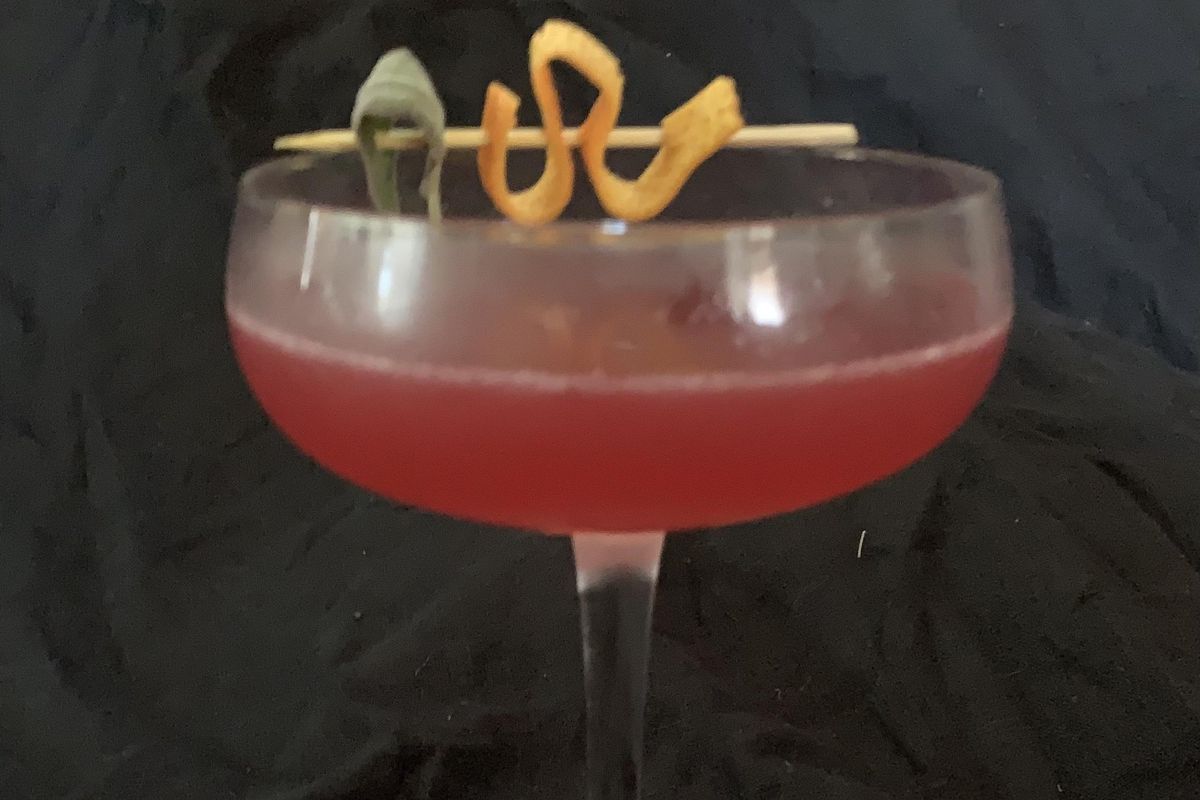 Matthew Hooper
Greetings, Wonketteers! I'm Hooper, your bartender. I've been dying to play with harvest flavors for fall. Finally, it's November, and I can't hold back. I was skimming a book that I use to spark my creativity, and came across the kernel of this original cocktail. Let's make a Sage Counsel. Here's the recipe.
---
Sage Counsel
2 oz Mezcal
1 oz Cointreau
1 oz pomegranate juice
.75 oz agave syrup
½ oz lime juice
½ oz orange juice
2 sage leaves
2 dashes Angostura bitters
In a tumbler, muddle sage leaves, juices, and syrup. Add remaining ingredients and shake over ice 8-10 seconds. Double strain into a chilled coupe glass and garnish with an orange twist and a sage leaf.
One of my go-to resources for creative cocktails is The Flavor Bible. It's not a cookbook; it just lists flavor pairings. If you look up, say, "Pancakes," it'll rattle off things like bacon, and maple, and berries. Often it's pretty obvious stuff, but sometimes you run into something from left field. This summer, I was thinking about doing an herbaceous cocktail. Under "sage," I spotted "tequila." I kept that idea in the back of my head for fall. It's not easy to come up with solid Thanksgiving cocktails, and that combo had my attention. Orange and pomegranate show up around the holidays as well. Get those flavors into a glass. Add some acid and sugar to balance the cocktail. Use a few dashes of bitters to smooth out the connections between ingredients. The end result – a brand new cocktail.
We've got a boatload of ingredients this time, so let's get to it: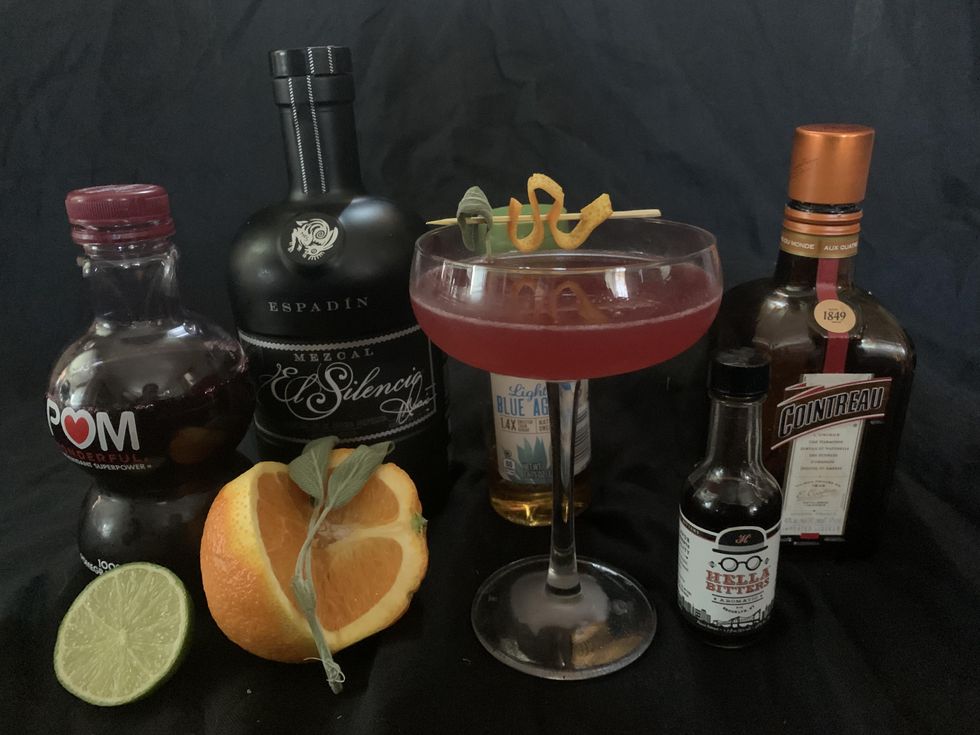 Nicer picture for the ingredient shot. If you drop the garnish into the cocktail, the sage gets really strong by the end of the drink. Matthew Hooper
Mezcal: I'm steadily falling in love with mezcal for fall. It's similar to tequila, but it isn't necessarily made with blue agave, just agave plants. The agave's heavily roasted before distillation, more so than tequila. It's aggressively smoky, with some agave notes that define it as a relative of tequila. Mezcal demands to be used in a complex, fruity cocktail. Make it into a simple margarita, and you'll end up with something that tastes like licking a campfire. But in the right environment, it's wonderful. El Silencio mezcal is affordable and tasty, but you can easily find $60 bottles of mescal that are worth every penny.
If you're looking to clean the liquor cabinet, a blanco tequila will substitute here. Exotico Blanco is a personal favorite. But if you've never tried mezcal, please give it a go. Among other things, mezcal is more environmentally friendly than tequila. Tequila is made exclusively from one variety of agave. Mass monoculture farming can have nasty consequences for the environment. Do the world a favor and drink diversely.
Cointreau: A clear herbal orange note is needed here, and Cointreau fits the bill. In a pinch, garbage triple sec will do. Curacao like Grand Marnier doesn't work quite as well. Curacao is made with a brandy base, while Cointreau uses a neutral spirit. There's enough going on in this glass – we don't need distractions.
Pomegranate: I originally wanted to use cranberry juice in this cocktail. But the more I looked at the juice aisle in the grocery store, the less I liked my cranberry options. Most cranberry juice has a ton of high fructose corn syrup. (Don't get me started on the "cranberry juice" on the soda gun at the local bar.) You can find bottles of "100% juice" out there … but it's a cocktail of cranberry juice, apple juice and pear juice. Pure cranberry juice is expensive and overwhelmingly sour. Pure pomegranate juice, on the other hand, is easy to find, and it's more complex and interesting than cranberry.

Agave syrup: The sweetener of choice for any mezcal or tequila, hands down. Bear in mind that it's one and a half times sweeter than sugar, so dial this back if the cocktail seems overly sweet to your palate.
Lime and orange juice: You could probably drop the fresh orange juice here. It's not terribly acidic, and tends to get lost in the strong flavors we've seen so far. However, we've been mauling a few oranges in the name of orange twists for cocktails by now, so waste not want not. The lime is still needed for acid to balance the cocktail.
Sage leaves: Obviously, you'll need to use fresh sage leaves. Dried would be ... just no. When you're muddling the sage, be relatively gentle – you want to bruise the leaves to release the oils, not shred them.

Bitters: I've been playing with odd flavors of bitters enough that I'd forgotten about good old Angustora. This is the most common kind of bitters, found in every liquor store, and they bridge the disparate elements of the cocktail wonderfully.

Technique: It's important to double-strain the cocktail – pour it out from your mixing tin through the Hawthorn strainer, through a tiny little sieve, into the cocktail glass. If you don't, you'll inevitably end up with little green bits of sage floating in the glass.
This cocktail has enough going on that you could drop the mezcal and boost the other ingredients to get an excellent NA cocktail. Feel free to balance this to your palate; it should straddle the line between sweet and tart. I'd try something along these lines:
Sagacious Virgin
3 oz pomegranate juice
1 oz fresh orange juice
1 oz fresh lime juice
.75 oz agave syrup
2 sage leaves
2 shakes Angostura bitters (optional)

Muddle the sage with lime juice and syrup. Add the remaining ingredients, shake, and double strain into a chilled coupe glass. Garnish with an orange twist and sage leaf.
In summary and conclusion, drink well, drink often, and tip your bartender — donate to Wonkette at the link below! Tiki Underground is winding down in anticipation of moving. I'm currently behind the pine at Dodie's Dockside in Lorain, OH. Mmm, lobster rolls. And if you'd like to buy some ingredients or bar gear from Amazon, please click on the links above, or this one!
Matthew Hooper
Matthew Hooper, aka Samurai Grog, turned 50 in 2021 and decided to have a midlife crisis by leaving a boring sales and marketing job to tend bar at the local country club. He's never been happier. He's also a fencer, a dad, a husband, and a punk music fan. Overall, he's way cooler than he ever thought he could be when he was 16.