Welcome to Wonkette Happy Hour, With This Week's Cocktail, The Sidecar!
Recipe Hub
October 08, 2021 04:20 PM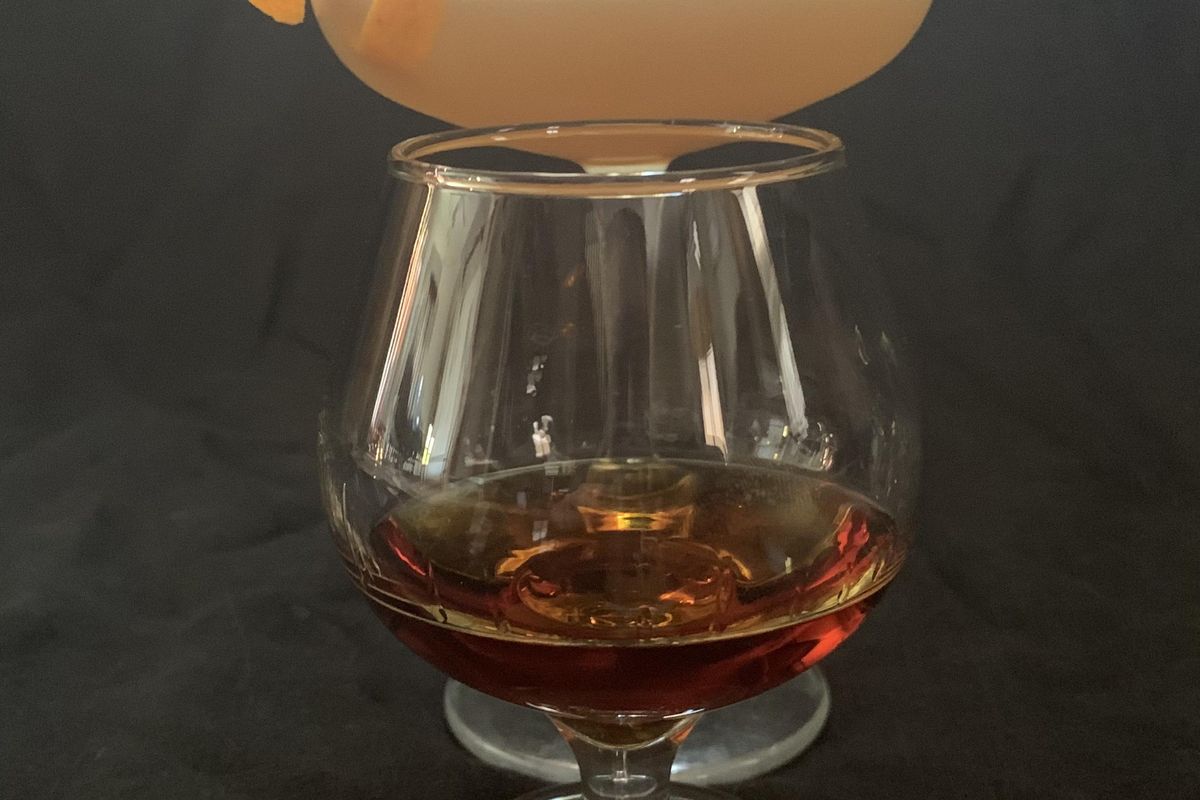 Matthew Hooper
Greetings, Wonketteers! I'm Hooper, your bartender. Thanks to the wonders of Facebook advertising, I learned the Brandy Sidecar is 100 years old! Unsurprisingly, because Facebook, this isn't exactly true. It's 99 years old. Close enough. It's a tasty drink and we haven't played with cognac yet. Here's my take on the classic.
---
Modern Sidecar
2 oz Remy Martin 1738 Accord Royal Cognac, plus 1 ½ oz.
1 oz Pierre Ferrand Dry Curacao
1 oz fresh lemon juice
1 oz enriched demerara syrup
Line a plate with superfine sugar. Run an orange slice over the rim of the coupe glass. Dip the coupe glass in the sugar to create a sugar rim. Wait 10-15 minutes.
Shake 2 oz of cognac and remaining ingredients. Double strain into a chilled coupe glass. Garnish with an orange twist. Serve remaining cognac in a brandy snifter on the side.
The first recipe for the sidecar was written down in 1922, in Harry MacElhone's book. It's a classic Parisian cocktail, the sort of elegant decadence Hemingway or Sartre would have sipped on. According to legend, it's named after one particular barhound who arrived at Harry's Bar in a motorcycle sidecar. I have heard a more charming explanation of the name: The "sidecar" is a shot served on the side of the main cocktail, the dregs from the shaker poured out as a treat for the customer. I've decided to play with that idea and serve a little snifter of cognac on the side. Down the snifter like Hemingway would drink a shot, or slowly enrich the coupe glass and analyze the drink a la Sartre. Alternately, omit the snifter and make snarky comments about people who drink shots with their cocktail, a la Dorothy Parker. A cocktail from the City of Lights deserves a laissez-faire approach.

This is my updated version of Harry's original. Initially, the cocktail used a 1:1:1 ratio of brandy, curacao, and lemon juice, with a sugar rim. Modern interpretations use a 2:1:1 ratio, with a little sweetness added to balance the drink. Technically, this makes the sidecar a sour, like a daiquiri or margarita. With any sour, balancing sweet to tart is crucial. I always strive for a perfectly balanced sour, but feel free to add a small splash of juice or sugar to your own cocktail to make it right.
On to the ingredients!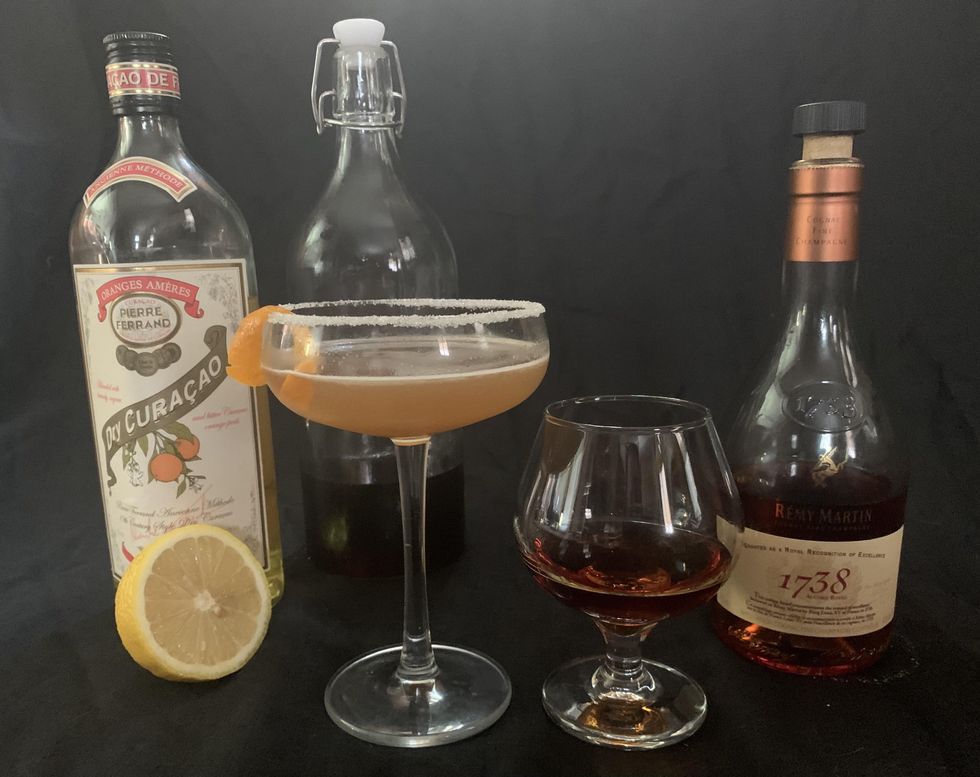 Ingredient shot. I poured the cognac into the sidecar bit by bit as I disappeared the cocktail and it was AMAZING.Matthew Hooper

Remy Martin 1738 Accord Royal Cognac: Remy Martin is marketing this cognac as a spirit particularly suited for mixing. I think they've got a point – this cognac is incredibly smooth and buttery, a nice counterpoint for citrus. If you'd like to use a different cognac, please feel free. One of the reasons I included the snifter "sidecar" in this recipe was so that I could taste more cognac neat.

Pierre Ferrand Dry Curacao: I prefer this orange liqueur over Cointreau or Grand Marnier. It gives me a little more control over the sugar content of the cocktail. It's also far less expensive than Cointreau or Grand Marnier.
Lemon juice: I tried a fiddly sidecar recipe from a Martha Stewart magazine for this article. It involved muddling ginger slices, maple syrup, and a fat orange twist. After all the flourishes, the lemon juice somehow managed to take over the entire cocktail. Too much lemon juice in any sour can devour the drink. Be precise in your measurements here.

Enriched Demarara Syurp: Still got some of this in my fridge from last week – and the week before – so no reason not to use it. It fits into any cocktail with aged spirits beautifully, and like any homemade cocktail syrup it stays good for months in the fridge.

Technique: My friends at Speak of the Devil in Lodi, Ohio, double strain most of their cocktails, and I think it's a great move when fresh lemon juice is an ingredient. Getting rid of the excess lemon pulp isn't easy, and lemon seeds can be pernicious. Cocktail strainers are cheap on Amazon. They really are worth the money if you love daiquiris and sours.

I generally don't like a sugar rim (or "crusta"). It's a sticky mess, and it screws up the sweetness of the drink. But it's traditional on sidecars, so I've included it here. Go light on the sugar when creating the rim, and try to dip the coupe glass straight down into the sugar. If you roll the glass in the plate, inevitably you'll end up with big sugar blobs clinging to the rim. Letting the sugar rim set before mixing the cocktail makes a huge difference. A set "crusta" tastes like orange flavored rock candy and lasts more than one sip from the coupe glass. Rush the crusta, and it's just sugar floating in the drink.

Don't skip the orange twist. The scent of fresh orange, and extra orange oil in the cocktail, really enhances the flavor. The sidecar really loses a crispness without it.
My non-alcoholic cocktail this week isn't technically non-alcoholic, but it's close enough to count. I've been serving soda water with a few dashes of cocktail bitters to customers lately. It's a nice chaser after a sweet tiki drink. Bitters are 100 proof or more, but we're only adding a few drops to a full glass of soda. That's far too small an amount of alcohol to affect anyone. I'd recommend getting a good quality sparking water, like San Pellegrino, and adding 2-3 dashes of Angostura orange bitters. Garnish with an orange wheel. You might want to sweeten this with a touch of simple syrup (1 part white sugar, 1 part water, heat until clear). Personally, I like serving this bone dry. Most NA cocktails end up becoming soda pop, and it's nice to get away from the sugar for a bit.

In summary and conclusion, drink well, drink often, and tip your bartender — donate to Wonkette at the link below! I'm currently behind the stick at Tiki Underground; come by and say hello. And if you'd like to buy some ingredients or bar gear from Amazon, please click on the links above, or this one!
OPEN THREAD!
Matthew Hooper
Matthew Hooper, aka Samurai Grog, turned 50 in 2021 and decided to have a midlife crisis by leaving a boring sales and marketing job to tend bar at the local country club. He's never been happier. He's also a fencer, a dad, a husband, and a punk music fan. Overall, he's way cooler than he ever thought he could be when he was 16.