Welcome To Wonkette Happy Hour, With This Week's Cocktail, The Sinister Force!
Recipe Hub
October 15, 2021 04:20 PM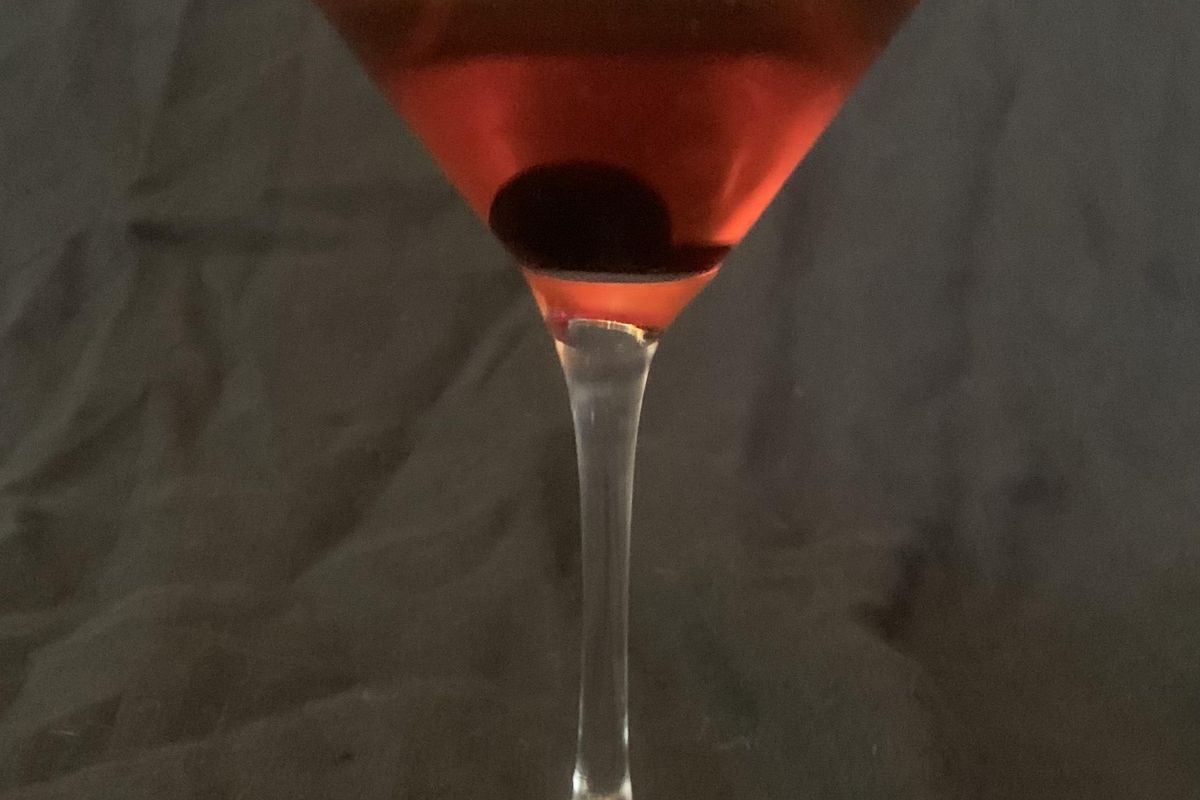 Matthew Hooper
Greetings, Wonketteers! I'm Hooper, your bartender. I've covered a lot of classic cocktails in recent months. This time, I'm going out on a limb and giving you a drink entirely of my own creation, very much in the style of modern craft cocktails. I call it the "Sinister Force." Here's the recipe.
---
Sinister Force
2 oz Old Forester 86 Proof
1 oz Carpano sweet vermouth
½ oz 360 Double Chocolate Vodka
¼ oz Campari
2 shakes chocolate bitters
1 shake creole bitters
Add all ingredients to mixing tumbler and stir over ice until chilled. Strain into a chilled martini glass. Garnish with a luxardo cherry.
The Sinister Force was inspired by another great cocktail, The Left Hand. That drink was authored by Sam Ross. He's a modern legend in craft cocktails – one of the first bartenders to look back at the classics, bring them out into the light, and make them better. The Left Hand is itself a twist on The Boulevardier, a bourbon negroni that dates back to Harry's Bar in the 1920s – the same place we got The Sidecar last week.
I like Sam's cocktail, but I wanted to add more cocoa notes and rebalance the drink. I also thought I'd play around with the name a bit for Halloween. Alexander Haig said that a "sinister force" was responsible for erasing 18 minutes from Nixon's tapes. Drink enough of these, and I'm sure the Sinister Force will erase 18 minutes from your memory too.

On to the ingredients: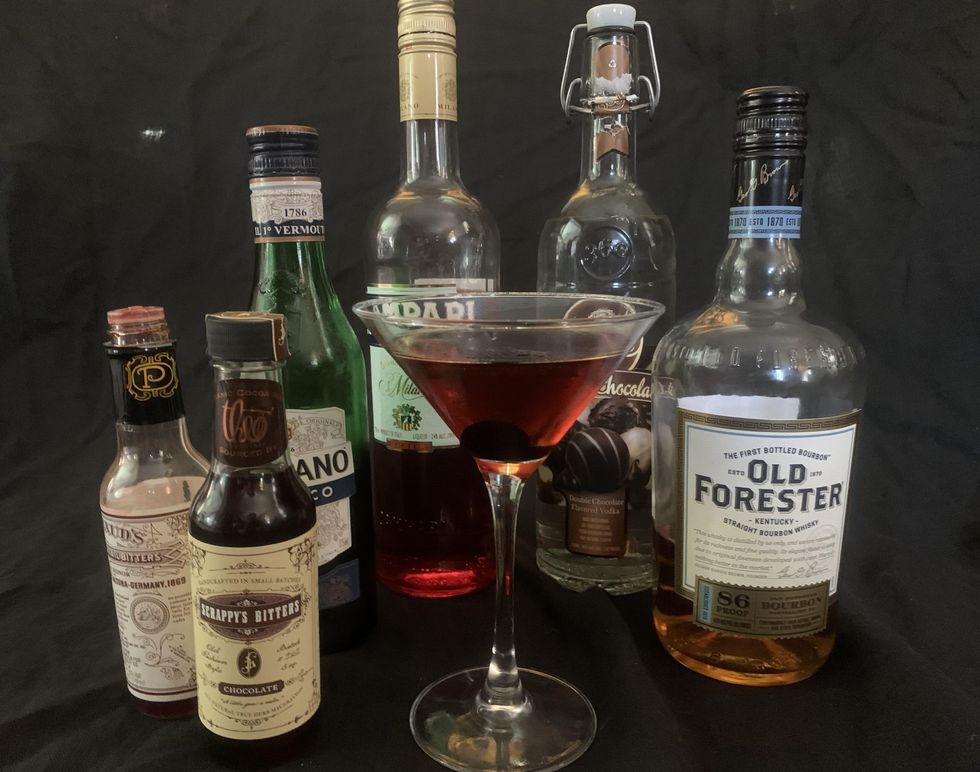 The Sinister Force disappeared, in a sinister fashion, shortly after this photo was taken. Matthew Hooper
Old Forester 86 Proof: The Old Forester sales rep was a guest at the US Bartenders Guild meeting last week. He raved enough about this bourbon to make me try it. The base line bourbon is light, sweet, and mild – a little thin, but we've got enough things going on in this cocktail to make up for it. Budget permitting, I'd upgrade to Old Forester 1910. According to the rep, Old Forester's bottling plant went up in flames that year, and the distiller had to put the bourbon back in the barrels. The 1910 we taste today is double-oaked to commemorate the date. Some extra vanilla and tannin in this cocktail would be fantastic.
Carpano Sweet Vermouth: DO NOT PUT YOUR VERMOUTH IN THE LIQUOR CABINET. So many home bartenders and lousy bars make this mistake, and it drives me crazy. Vermouth is wine – wine with herbs and extra liquor, but wine. Leave it out at room temperature, and it'll taste as nasty as that three-week old bottle of red wine that's lingered on your kitchen counter. Put it in the fridge and it'll keep for months. I'm using Carpano here, but there are a ton of tasty vermouths worth exploring.
360 Double Chocolate Vodka: I know you can get this just about anywhere. It's cheap and has a ton of chocolate flavor. It's a far better choice than crème de cacao, which is basically chocolate syrup. But I'd rather recommend an amazing bottle made right in here my neighborhood. West Branch Malts in Brunswick, Ohio, has been distilling its malted barley into whiskey and vodka. Their base vodka still has a strong, pleasant malt note. Their chocolate vodka has a clean chocolate and malt flavor that's rather like alcoholic Ovaltine. It's amazing. But West Branch doesn't have nationwide distribution, so unless you're my neighbor you're probably out of luck.
On the other hand, it's very likely that there's a microdistillery near you that's worth checking out. Some of my favorite gins come from Columbus, Ohio. Pilar Rum out of Florida is a fantastic sipping rum. State liquor laws make it hard for these companies to gain traction nationwide, but there are little gems hiding in every state worth finding. Just about every microdistiller makes a vodka – it's easy to make. And flavored vodka, like a chocolate vodka, is the next logical step. Look around, find what's out there, and give your neighbors some time and money.
Campari:Campari is a bitter Italian apertif. Very, very bitter. I should like Campari as a professional bartender, but it's not easy to like. I've used a tiny amount here to overwrite a weird chocolate finish from the vodka. Aperol is a less chalky alternative with orange notes that would work as well.

Bitters: I'm using two different bitters here to get spice and chocolate notes into the glass. The most common brand of "creole bitters" is Peychaud; several brands, including Scrappy's, supply chocolate bitters. Amazon is my go-to source for both.
I was stumped for a non-alcoholic cocktail this week. Fortunately, my wife keeps a stock of Middle Eastern ingredients for times like this. Pomegranate molasses definitely qualifies as a "secret ingredient" – it's thick, very tart, and just barely sweet. Try it in this recipe for some super pucker power.
Pomegranate Molasses Beer
1 oz Pomegranate Molasses
½ oz fresh lime juice
½ oz enriched simple syrup
Add all ingredients to a tumbler with 2-3 oz soda water. Stir to dilute and combine. Top with ice and additional seltzer.

In summary and conclusion, drink well, drink often, and tip your bartender — donate to Wonkette at the link below! I'm currently behind the stick at Tiki Underground; come by and say hello. And if you'd like to buy some ingredients or bar gear from Amazon, please click on the links above, or this one!
OPEN THREAD!
Matthew Hooper
Matthew Hooper, aka Samurai Grog, turned 50 in 2021 and decided to have a midlife crisis by leaving a boring sales and marketing job to tend bar at the local country club. He's never been happier. He's also a fencer, a dad, a husband, and a punk music fan. Overall, he's way cooler than he ever thought he could be when he was 16.