Welcome To Wonkette Happy Hour, With This Week's Cocktail, The Snowdrop!
Recipe Hub
March 10, 2023 04:20 PM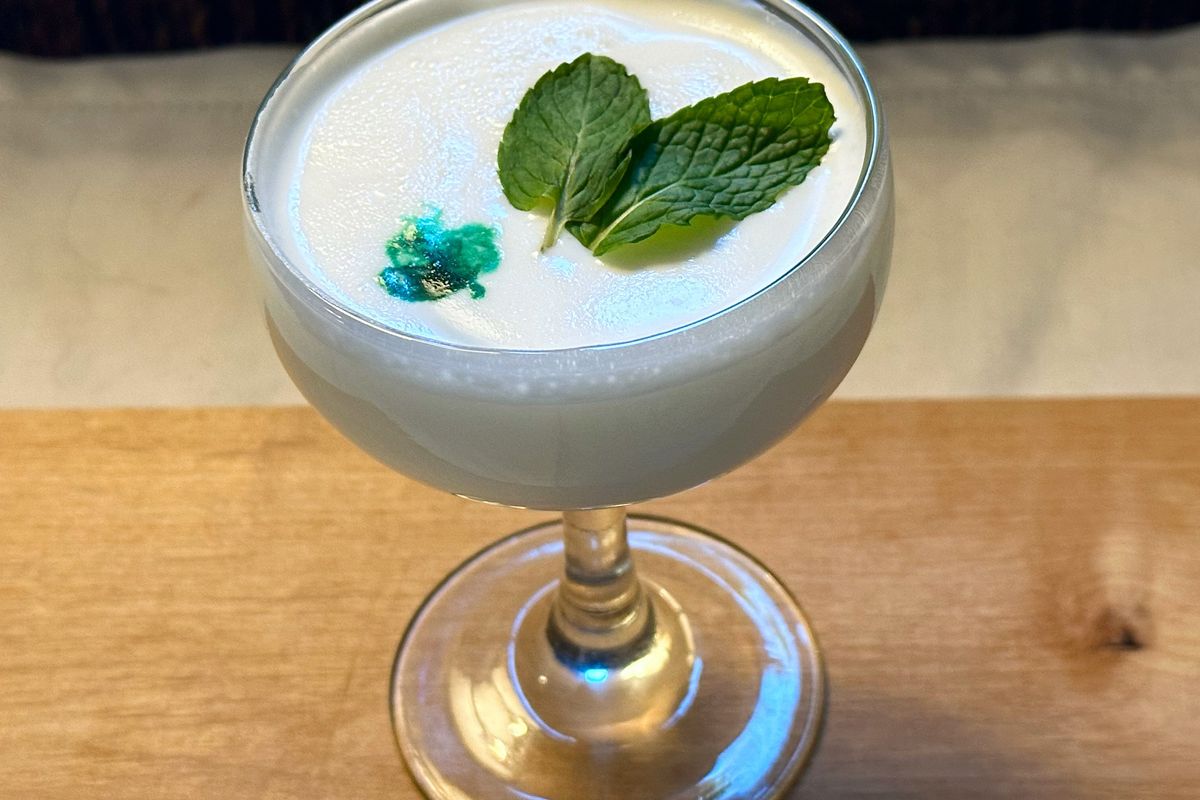 Matthew Hooper
Greetings, Wonketteers! I'm Hooper, your bartender. True confession: I hate "green" drinks for St. Patrick's Day. Green cocktails? Yech. Green beer? Don't get me started. Green just isn't an appealing color for a drink, in my opinion. I suppose there are some rather nice cocktails that happen to be green; I just think they'd be better if they were a more appealing color. With that in mind, I thought I'd give you my twist on the Grasshopper … with the option of turning it green if you're a purist. Let's make a Snowdrop. Here's the recipe:
---
Snowdrop
1 ½ oz heavy cream
1 ½ oz peppermint schnapps
1 ½ oz white creme cacao
3-4 drops Jagermeister
2 fresh mint leaves
1 drop green food coloring (optional)
Shake all ingredients except food coloring well and strain into a chilled coupe glass. Garnish with fresh mint leaves and a drop of food coloring.
The Grasshopper has a fairly illustrious pedigree for such a simple (and occasionally abused) drink. Born in New Orleans in 1919, the drink was an awarding-winning cocktail before Prohibition shut things down. Apparently you could get a sip of minty goodness on the sly at certain New Orleans restaurants once the teetotalers took over, poured into your cup from a waiter's convenient hip flask. The drink roared back to life in the '50s, but not entirely in a good way. America had stopped making high quality liqueurs after Prohibition, and artificial ingredients ruled the day.
The "grasshopper" is a very robust flavor profile that shows up in all sorts of formats. Grasshopper pie is a classic Southern treat that holds up very nicely. The Wisconsin Supper Club transformed the Grasshopper into a boozy milkshake — a great after-cheeseburger treat. I still can't quite get behind the green color, though. I've always preferred York Peppermint Patties to Andes mints. I think that this all-white version is tastier than the original "mint" green, and I couldn't resist a chance to add a little complexity to the glass with some Jager. However, if you want to go green for St. Patty's Day, feel free. The best cocktail is the one you enjoy drinking.
Let's talk ingredients: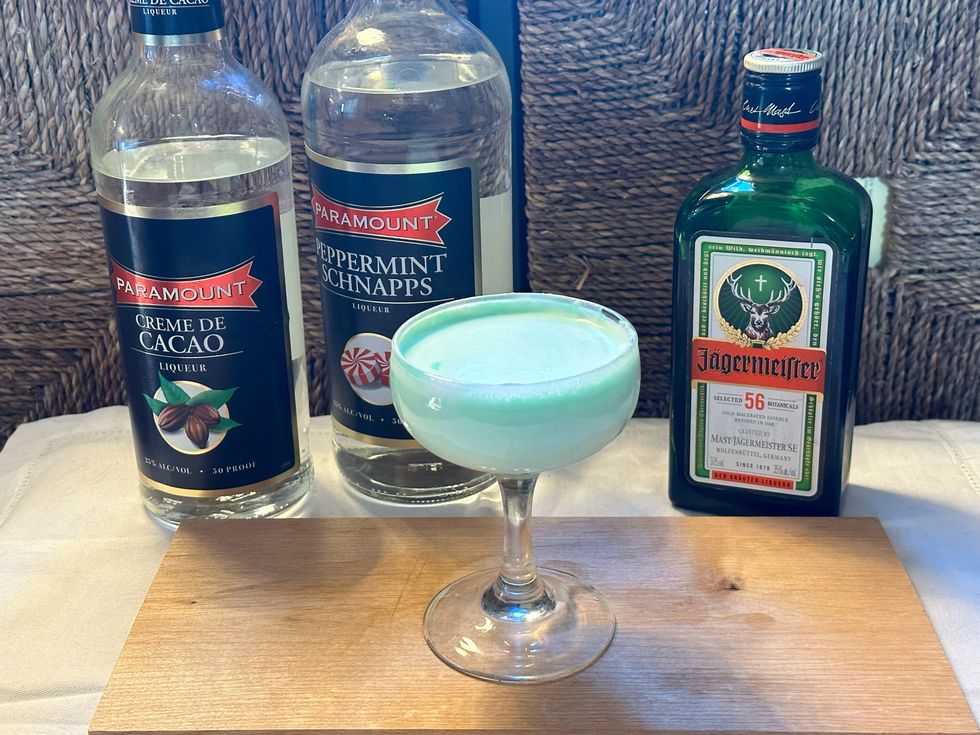 Ingredient shot, such as it is. This is the same cocktail, given a quick stir with the mint leaves fished out. Matthew Hooper
Peppermint Schnapps: I used the standard from the rail — Paramount isn't a good brand by any stretch, but as I built this drink I resigned myself to the fact that artificial peppermint and chocolate flavors were inevitable. If I wanted to upscale the drink, I'd probably use Rumple Minz. I tried approaching this from the direction of a mojito and muddling fresh mint into the drink, but the grassy notes from the herbs didn't cooperate with the other ingredients. If you're passionate about this drink, I'd recommend making some homemade creme de menthe when summertime rolls around and mint plants are growing like weeds.
White Creme de Cacao: This humble little bottle off the rail is an unsung hero for many sweet drinks. The deep chocolate notes become earthy and mellow when combined with other powerhouse ingredients. I would hunt for a better brand than Paramount if possible. Gifford is a terrific brand for all sorts of modern, upscale liqueurs. But if you can only find the rail standard stuff, Paramount or De Kuyper will do.
Heavy cream: There is nothing wrong with replacing the cream in this recipe with a healthy scoop or two of vanilla ice cream. I would make sure to use vanilla ice cream, as opposed to vanilla bean ice cream. You'll end up with little black flakes at the bottom of the glass.
Jagermeister: When I say drops, I mean it. Get an eyedropper and measure it out, or use a toothpick to coax a few drops off a plate. Jaeger is very intense; a little goes a long way, both in terms of flavor and color. Think of the Jaeger as bitters in a Manhattan. You're seasoning the cocktail, not adding an ingredient. But don't skip this step, either. The Jaeger mellows out some chalky notes in the drink, adds complexity to the menthol flavors, and leaves you with some faint baking spices on the finish. Fernet Branca would also be fantastic here.
Garnish: A fresh mint leaf will perfume the cocktail well, and bring more depth to the mint flavor. Chocolate shavings are nice here too. White chocolate isn't the best choice; it won't read well in the glass.
Green food coloring: One drop only, or you'll regret it. Sometimes, you need to bow to tradition. Happy St. Patty's Day!

In summary and conclusion, drink well, drink often, and tip your bartender — donate to Wonkette at the link below! Seriously, my boss is awesome, if you like reading my recipes please chip in! And if you'd like to buy some bar gear or books from Amazon, please click here!
OPEN THREAD!
Matthew Hooper
Matthew Hooper, aka Samurai Grog, turned 50 in 2021 and decided to have a midlife crisis by leaving a boring sales and marketing job to tend bar at the local country club. He's never been happier. He's also a fencer, a dad, a husband, and a punk music fan. Overall, he's way cooler than he ever thought he could be when he was 16.