Welcome To Wonkette Happy Hour, With This Week's Cocktail, The Tokyo Rose!
Recipe Hub
March 03, 2023 04:20 PM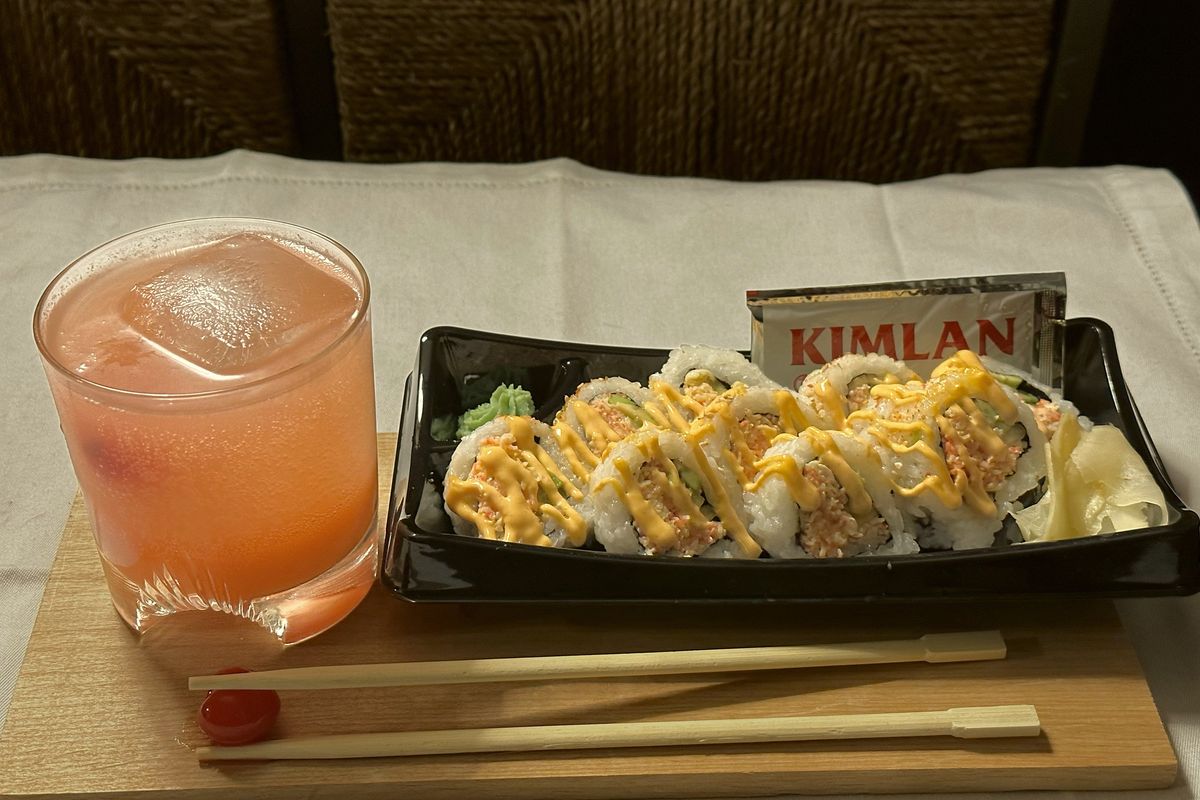 Matthew Hooper
Greetings, Wonketeers! I'm Hooper, your bartender. I've been searching for a spring cocktail with some flavors off the beaten path. A sake company reached out to me with a cocktail I'd never tried before. Their recipe wasn't all that great, but it gave me inspiration for something truly unique for the home bar. I've never tried these combinations of flavors, and I'm still enthralled with it. Be brave and try something new with me. Let's make a Tokyo Rose. Here's the recipe:
---
Tokyo Rose
2 oz Nigori Sake
½ oz rose syrup
3 dashes Angostura bitters
Lamarca Prosecco Sparkling Wine
Shake the bitters, sake, and syrup with ice. Pour into a rocks glass over ice. Slowly pour the champagne into the glass to fill. Garnish with pesticide-free rose petals or a maraschino cherry.
I was a little hesitant to call this drink a "Tokyo Rose," considering the infamous history of the moniker. As it turns out, the truth behind that WWII propaganda icon is more complex than the myth. From what little research I've done, it seems that most of the women GIs branded as "Tokyo Rose" were significantly less complicit in the corruption of America than your average blonde Fox News anchor. Most GIs recognized The Zero Hour as propaganda, listened to it with a sense of humor, and generally found it entertaining. Iva Toturgi, the only named Tokyo Rose, was crucified by Walter Winchell and conservative firebrands when she tried to return home to the US. She was subjected to a sham trial in 1945 and imprisoned, only pardoned in 1977 by Gerald Ford. We'd do worse than to raise a glass in her memory.

The original cocktail forwarded to me wasn't even rose-flavored. Nigori Sake sent me a cocktail recipe they called a "cherry bomb," and it featured the juice from a maraschino cherry jar instead of rose syrup. It's easy for a bartender to get syrup like this; it's ubiquitous at the bar. However, the brilliant red syrup is pretty flavorless (much like the cherries that soak in it). There are some tricks in a professional bar to fix that, but I was reluctant to recommend a $40 bottle of Luxardo liqueur for a pretty simple drink.
The rose syrup had been floating around my pantry for a few months, and it seemed like a fun alternative. It turns out that cloudy Nigori sake supports floral and fruit flavors beautifully. The dry sparkling wine keeps the syrup from taking over the drink. The final result is a perfumed, complex sipper that makes for a nice after-dinner drink to follow some takeout sushi.

Let's talk ingredients: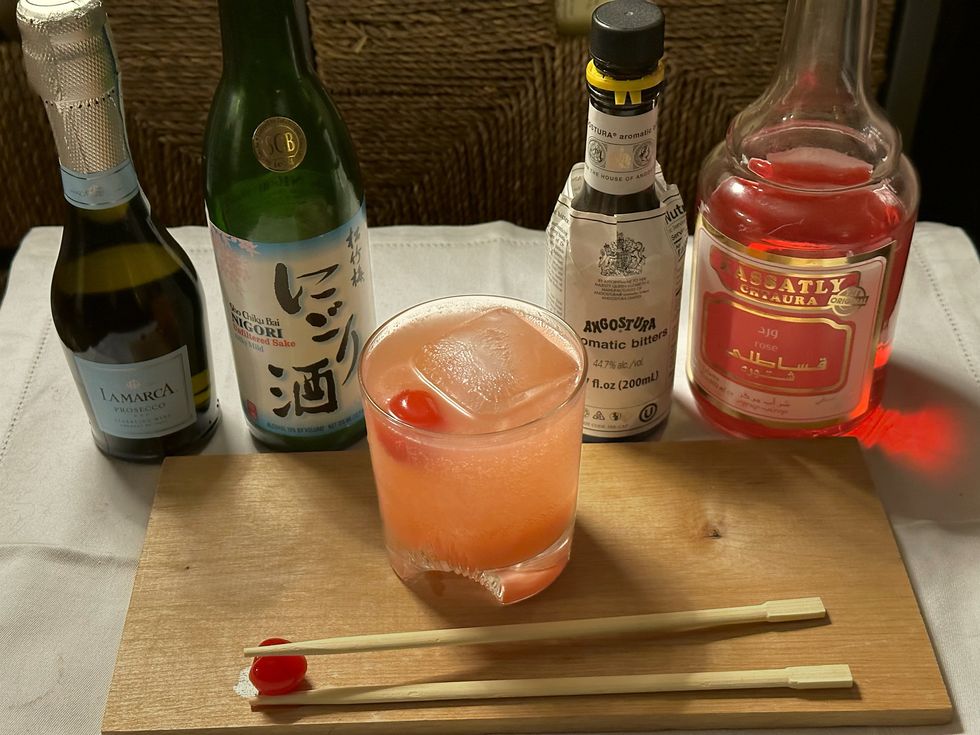 Ingredient Shot. The sushi vanished shortly before this photo was taken. Matthew Hooper
Nigori Sake: I need to broaden my horizons and talk about something other than gin, rum, and bourbon. This sake was a revelation. It retains a small amount of rice sediment from the brewing process, which gives it a ton more flavor than the cheap stuff I drank hot at the discount sushi bars of my youth. This is probably going to be my sake of choice for cocktail making going forward. The milky color is also a big bonus. I'm still a novice when it comes to sake, though. I'll need to explore and see what else I might discover.
Rose Syrup: It's easy to find this at any Mediterranean grocery store. Amazon is always a choice as well (and that link kicks back some spare change to Yr Editrx, so shop away). This particular syrup glows with artificial pink coloring. If you'd prefer something more natural, I'd suggest making up a simple syrup and adding a few drops of rose water. The end result isn't as spectacular, but it's still delicious. If you're not a fan of rose flavored drinks, I'd suggest that you roll back the recipe and use 1 oz of syrup from a maraschino cherry jar. It's still bright red and quite tasty; it's just not as intensely cherry-flavored as the color promises. A sweet fruit liqueur works here too. Got leftover limoncello from the winter? Try it here. It'll be awesome.
Lamarca Prosecco Sparkling Wine: I prefer to work with splits (the little bottles) when bartending. It's painful to watch a whole bottle of bubbly go flat because you couldn't kill it in time. I wanted a fairly dry sparkler; adding syrup to sweet bubbly can be overwhelming. This prosecco hits the spot, producing a barely sweet drink.
Angostura Bitters: The drink needed a touch of spice and complexity. Angostura provides "salt and pepper" for the cocktail, enhancing but not dominating the glass.
In summary and conclusion, drink well, drink often, and tip your bartender — donate to Wonkette at the link below! Seriously, my boss is awesome, if you like reading my recipes please chip in! And if you'd like to buy some bar gear or books from Amazon, please click here!
OPEN THREAD!
Matthew Hooper
Matthew Hooper, aka Samurai Grog, turned 50 in 2021 and decided to have a midlife crisis by leaving a boring sales and marketing job to tend bar at the local country club. He's never been happier. He's also a fencer, a dad, a husband, and a punk music fan. Overall, he's way cooler than he ever thought he could be when he was 16.