Welcome to Wonkette Happy Hour, With This Week's Cocktail, The White Lady!
Recipe Hub
December 30, 2022 04:20 PM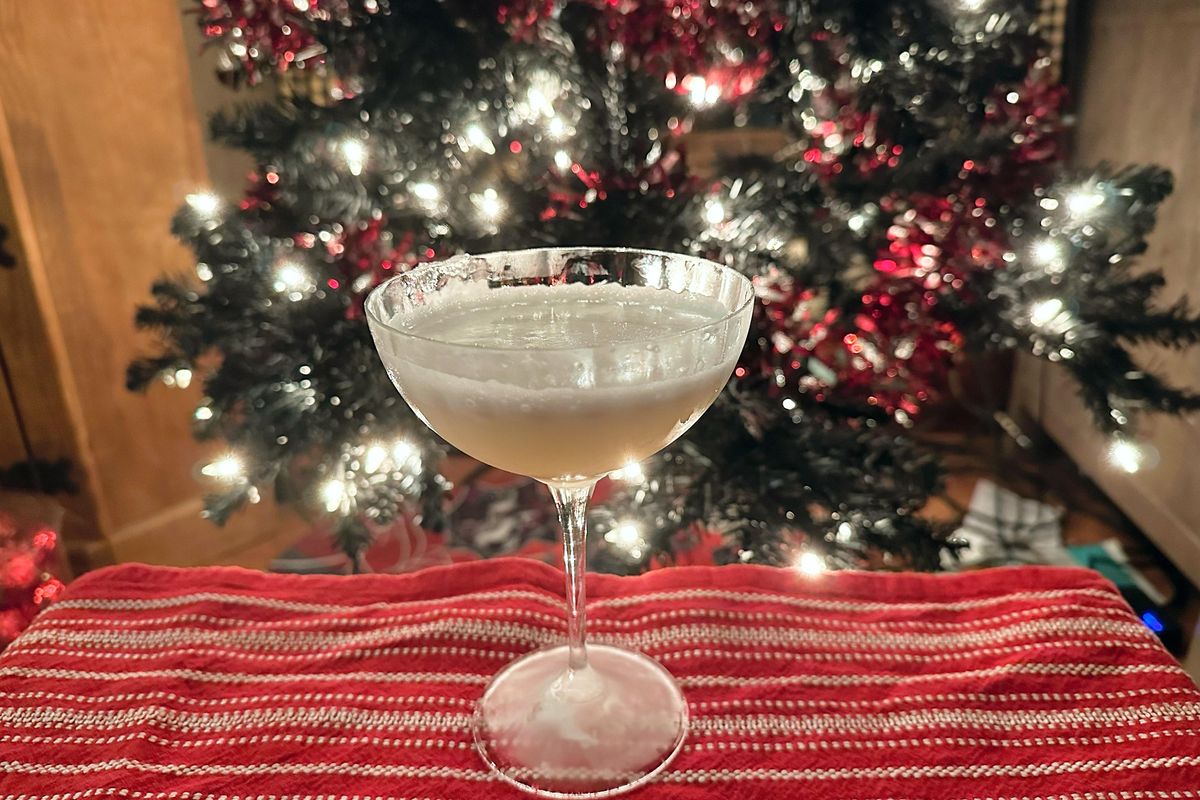 Matthew Hooper
Greetings, Wonketeers! I'm Hooper, your bartender. Hopefully you've got champagne (or another sparkling delight) awaiting the stroke of midnight on Saturday night. In the meanwhile, let's finish out the year with an elegant classic (and a Wonkette staffer's favorite). [Editrix: IT ME! HE MEANS ME!!!] This beauty is called a White Lady. Here's the recipe:
---
White Lady
2 oz Citadelle Jardin D'Ete gin
1 oz Stirrings All-Natural Triple Sec
½ oz lemon juice
1 egg white
Add all ingredients to a cocktail shaker tin. Shake without ice, 30-45 seconds. Add ice to the shaker and shake for an additional 20-30 seconds. Strain into a chilled cocktail coupe.
Harry MacElhone wrote the original cocktail in 1919 while he was working at Ciro's Club in London. In its original incarnation, it was a very different beast. Instead of gin, Harry used creme de menthe, triple sec, and lemon juice. When Harry opened the legendary Harry's New York Bar in Paris, he changed his own recipe and swapped the minty, syrupy stuff for dry gin. I haven't tasted the mint version of a White Lady, but sources I trust have tried it and prefer the gin. I find it hard to believe that you could put two sugary ingredients into this glass and balance it properly. Feel free to experiment and try it, but you're going into dangerous territory in my book. (Just don't use the artificially green gunk that gets passed off as "creme de menthe" at some liquor stores. A Grinch-green White Lady would be a tragedy.)
Shaking an egg white cocktail without ice, then adding the ice to chill, is called a "reverse dry shake." It's become the popular mixologist's method for making egg white cocktails. You get the maximum foamy goodness from the drink this way without diluting it overmuch. I've experimented with shaking with ice, straining out the ice, and shaking again. You don't get as much foam, but the bubbles are a little tighter and firmer. It's not too important one way or the other, but the reverse dry shake is less fiddly. If the idea of drinking raw egg whites makes you nervous, use pasteurized eggs. They don't seem to make quite as much foam, but they work fine. There are vegan alternatives to egg white, such as aquafaba (the liquid from a can of chickpeas) or chemical foamers. Neither one of these appeals to me, but try them if you want.
Let's talk ingredients: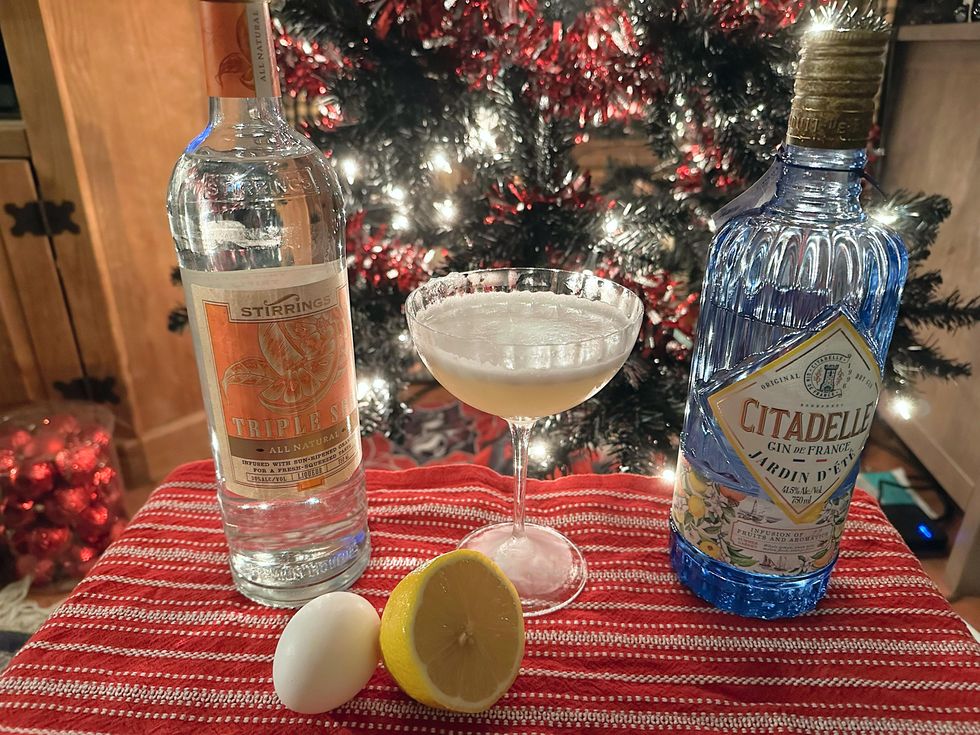 Ingredient shot. The cocktail sauntered off elegantly after this photo was taken. Matthew Hooper
Citadelle Jardin D'Ete Gin: It's hard to resist the temptation to use a French gin in a cocktail from Harry's Bar. It helps that this gin is tasty, affordable, and citrus-forward. I'm very confident that Harry used Beefeater back in the day, and there's a case to be made for a crisp, London dry gin here instead of a citrus one. But I think that leaning into the lemon and orange in the glass is the right call.

Stirrings All Natural Triple Sec: There is so much garbage triple sec out there. Most of it is artificially orange flavored. Montezuma makes a garbage triple sec to go with their garbage tequila these days. It tastes for all the world like a syrupy flat orange soda. Great for dollar taco night margaritas, terrible in this glass. Please, we're aiming for some sophistication here. Cointreau is the absolute top-notch choice here, but it's extremely pricey. I'm in love with this Stirrings product as an alternative. It tastes of real oranges and bergamot, and there's no junk in the glass. Use DeKuyper if you must, but it's worth hunting down the good stuff.
Lemon juice: If you have learned nothing else from watching me make a weekly cocktail for you this year, learn this: Use fresh juice in your drinks. Plastic fruit only makes plastic juice. Always use fresh juice.
Egg white and Technique: Here's the best way to get an egg white from a fresh egg into a cocktail shaker: Gently crack the egg over the tumbler. Peel the top of the eggshell off, while holding the bottom of the shell. Pour the egg from one shell cup to the other, letting the white spill out into the tumbler. It doesn't take long, and you don't have to wash a strainer afterward. If you get yolk into the tumbler, it won't foam properly when you shake. Dump it out and start again. If you fear there's eggshell along with egg white, the Hawthorne strainer should catch it when you pour the cocktail into the glass.
You can't overshake this cocktail in the first step. The more you shake it, the more foam you'll get and the longer the cocktail will stay together. The drink will want to separate eventually, but if you don't shake this well, you (or your server) will have to rush to get it to the table. Take this opportunity to get a workout. Elegance has a price.
In summary and conclusion, drink well, drink often, and tip your bartender — donate to Wonkette at the link below! And if you'd like to buy some bar gear or books from Amazon, please click here!
OPEN THREAD!
Matthew Hooper
Matthew Hooper, aka Samurai Grog, turned 50 in 2021 and decided to have a midlife crisis by leaving a boring sales and marketing job to tend bar at the local country club. He's never been happier. He's also a fencer, a dad, a husband, and a punk music fan. Overall, he's way cooler than he ever thought he could be when he was 16.