Welcome To Wonkette Happy Hour, With This Week's Cocktail, Ti' Punch!
Recipe Hub
February 18, 2022 04:20 PM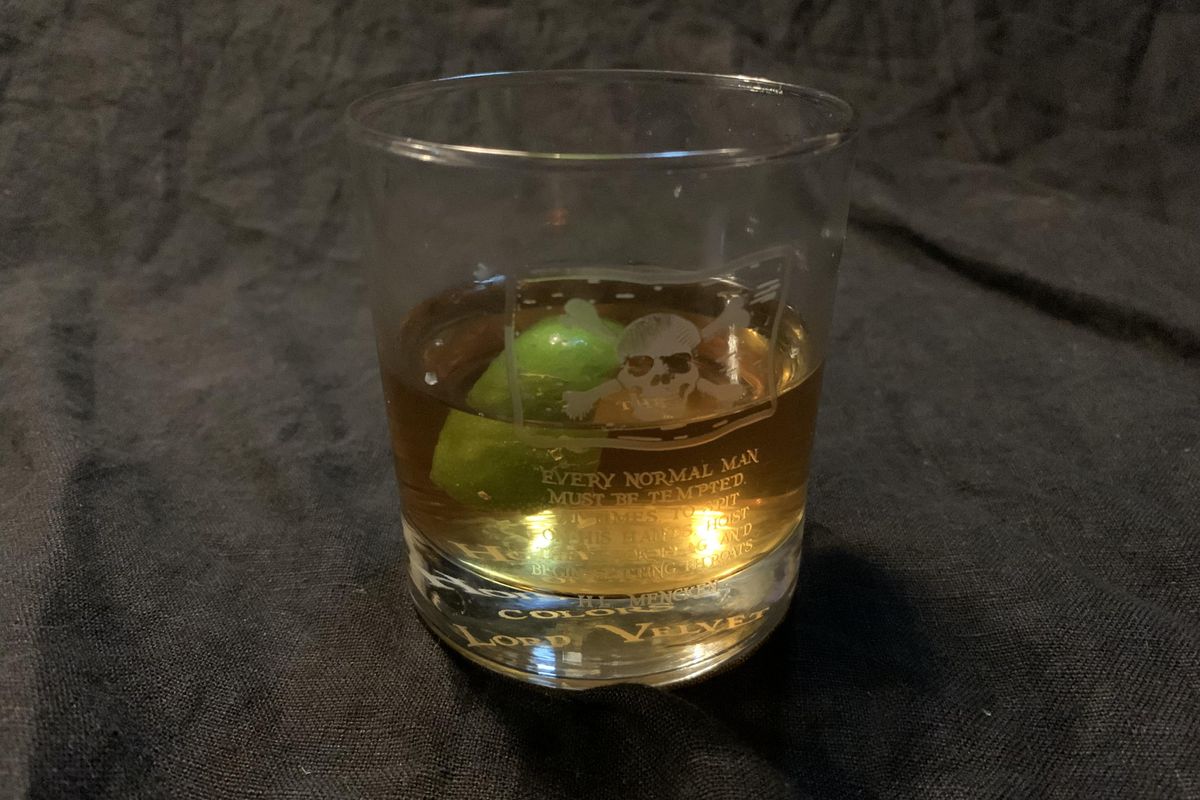 Matthew Hooper
Greetings, Wonketteers! I'm Hooper, your bartender. I'm starting a new job at THE BEST BAR EVER this week. I'm keeping it simple while I get my feet wet. Let's make a Ti' Punch. Here's the recipe.
---
Ti' Punch
½ oz demerara syrup
Small lime coin
4 oz Plantation Barbados 5 Year Rum
Add syrup and rum to an old fashioned glass. Swizzle the rum with a bar spoon. Squeeze the lime coin over the glass and add to the cocktail. Serve neat.

This is a very, very simple and elegant way to enjoy rum. It originates in Martinique, where they bring the cocktail ingredients to your table and let you make it yourself. It's assumed that you're a decent person and that you won't drink the whole bottle in one go. And if you do overindulge … well, per the Cates in Smuggler's Cove, "chacun prepare sa propere mort" — each prepares his own death.
I like this cocktail because I like rum. Rum is my absolute favorite spirit, hands down. Partly it comes from working with tiki drinks at Tiki Underground. Partly it's because I love pirates. I grew up in Beaufort, NC, Blackbeard's stomping ground. But mainly, it's because rum is such a wonderfully diverse spirit. This cocktail really should be made with Martinique rhum, but it's the perfect platform to enjoy the dry, funky flavor of Haitian rum, or the mellow butter notes of Barbados rum, or the dark caramel flavor of Guyana rum, or … well, you get the idea. Rum from one place in the Caribbean can taste completely different from rum made somewhere else. Exploring the different flavors can take a very long time, and it's an amazing, glorious voyage.
The hardest part of exploring rum is categorizing this complex, chaotic beast. Rum is made from molasses, but sometimes it's made from sugar cane juice. Crystal clear rum is bland if it comes from Puerto Rico, but funky if it comes from Jamaica. Several experts have tried to categorize rum, but none of the definitions they come up with quite agree with each other. Rather than get bogged down by categories, I'd like to review some bottles that are easy to come by and let you choose what kind of ti' punch you'd like to make. After all, "chacun prepare sa proper mort." Here's some options to try.

Bacardi Gold: Bacardi is the top-selling rum in America. That doesn't make it bad per se. Bacardi was originally a Cuban rum. The Bacardi family fled when Castro took over. [Fabulous required reading here! — Editrix] They've been based in Puerto Rico ever since. Bacardi blanco and gold are bland, but their 3- and 5-year aged rums are much better. The extra aging brings much needed vanilla and tannic notes to the classic "rum" profile you expect from Bacardi. The less said about artificially flavored Bacardi rums, the better.
Appleton Estate: This is a fairly relaxed Jamaican rum that's easy to drink on its own. However, the flavor profile is very different from Puerto Rican rum. It's got a fruity, tropical, ripe taste that I enjoy. Appleton Estate provides aged bottles as well, and like the aged Bacardi they're worth your money.

Plantation Barbados 5 Year: Barbados rum takes to aging beautifully. This rum has been aged for only five years, but the butter, marshmallow, and baking spices leap out from the glass. It's an interesting contrast with Mount Gay, another Barbados rum. Their Black Label rum is dry, earthy, and tannic. Point of origin matters a great deal to rum, but the way it's distilled and fermented is also important.
Wray and Nephew: This is hardcore Jamaican rum, make no mistake. It's crystal clear, but it's completely different from Bacardi white rum. Clocking in at a monstrous 125 proof, Wray and Nephew blasts your nose and taste buds with funky, overripe mango and banana flavors. It's a unique taste all its own, referred to as "hogo" by rum snobs. I always describe hogo as being similar to truffles. You'll either love this smelly, earthy flavor or you'll hate it. There's no in between. I use Wray and Nephew very, very, sparingly, as a second rum in a cocktail, to bring depth and character to a mild rum like Bacardi or Mount Gay. I love hogo… but only in moderation.
Hamilton 86: One of my favorites. This rum originates in Guyana, near the Demerara river. Demerara rums like this are extremely dark, with rich caramel notes and little to no Jamaican hogo. I'd recommend trying this in a heartbeat.
Plantation Special Dark: My absolute favorite rum, hands down. Plantation takes Jamaican rum and Demerara rum, ages them separately, and then blends them to build a rum that has the best of both worlds. Oh so slightly funky, rich, dark, and well-aged. Try this. Please. You'll love it.
El Presidente Rum: If you have a bottle of this in your hands, skip the lime and sugar and drink it neat. El Presidente is a Venezuelan rum that's aged in sherry casks, adding sweetness and character that makes it a treat straight from the bottle. There are a few sipping rums out there that provide this level of character. Zaya's a nice Trinidad rum that's super sweet on its own. Overall, I'm not a fan of rums like this. They're too sweet for me. But if you like simple, sweet, rich rums, this is the way to go.

I could go on for days, but let's finish up with some quick notes on technique: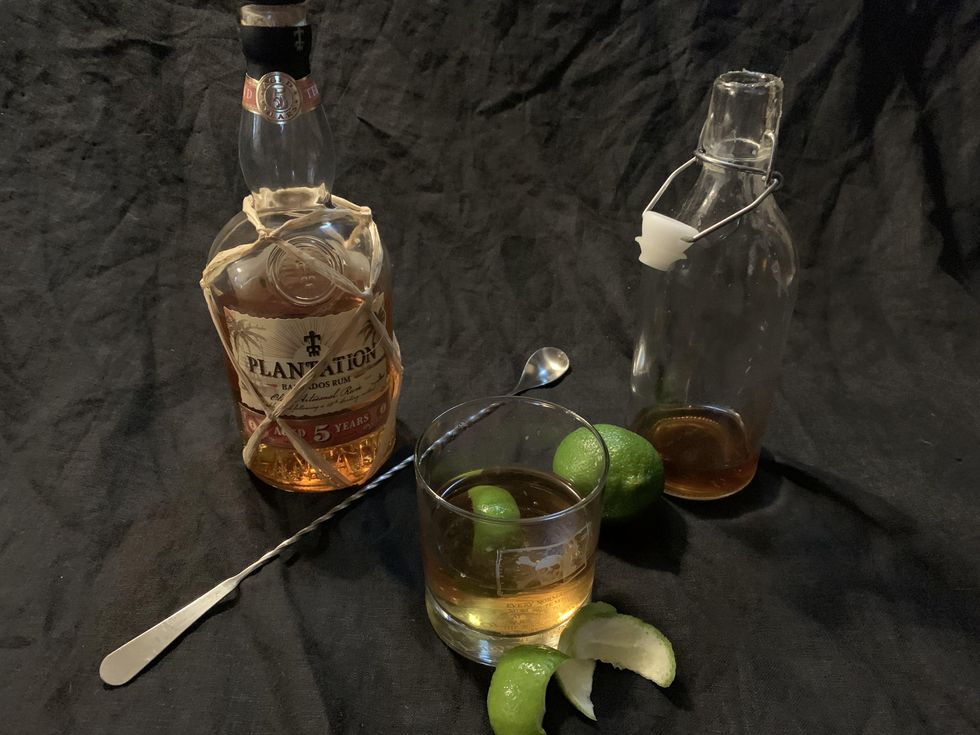 Ingredient shot. Shortly after this photo was taken, the rum was all gone. Matthew Hooper
Swizzle the rum: To do this properly, dip the bar spoon into the rum and syrup. Hold the spoon with the palms of both your hands flat together. Rub your palms together back and forth, like you were warming them up on a cold day. The spoon should spin like a washing machine agitator. It's a simple, elegant way to stir a cocktail without adding ice.

Lime coin: This is a large, deep lime peel. It's cut from the entire side of the fruit, with all the pith and little to no flesh It's a great way to get a ton of lime oil, but little lime juice, into the cocktail.
In summary and conclusion, drink well, drink often, and tip your bartender — donate to Wonkette at the link below! I'm currently behind the stick at Crafted Cocktail Co. in Wadsworth, Ohio. This place is GORGEOUS and the drinks are amazing – expect pics soon, stop by and share a drink with me. And if you'd like to buy some bar gear or books from Amazon, please click here!
Open Thread!
Matthew Hooper
Matthew Hooper, aka Samurai Grog, turned 50 in 2021 and decided to have a midlife crisis by leaving a boring sales and marketing job to tend bar at the local country club. He's never been happier. He's also a fencer, a dad, a husband, and a punk music fan. Overall, he's way cooler than he ever thought he could be when he was 16.