What Does Michele Bachmann Hear In Her Mind?
News
August 26, 2010 12:31 PM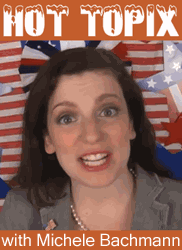 Official Wonkette Vlogger-er Rep. Michele Bachmann had a big week, what with that sexxxayJim the Election Guy video and also being newly-crowned as Queen of Constitutional Law. Michele has earned a Vacation Break, which is why she's wearing her favorite novelty earrings while she stares into your very soul from within this vloggingness. Kick back, grab a cup of Kozy Shack, and get ready to chillax with America's greatest human.
---
She's even got some hot summer jams to share with you! (Warning: if you are a homosexual, watching this video will burn your eyes/butthole.)