What If Michele Bachmann Loses?!
News
August 10, 2010 07:32 PM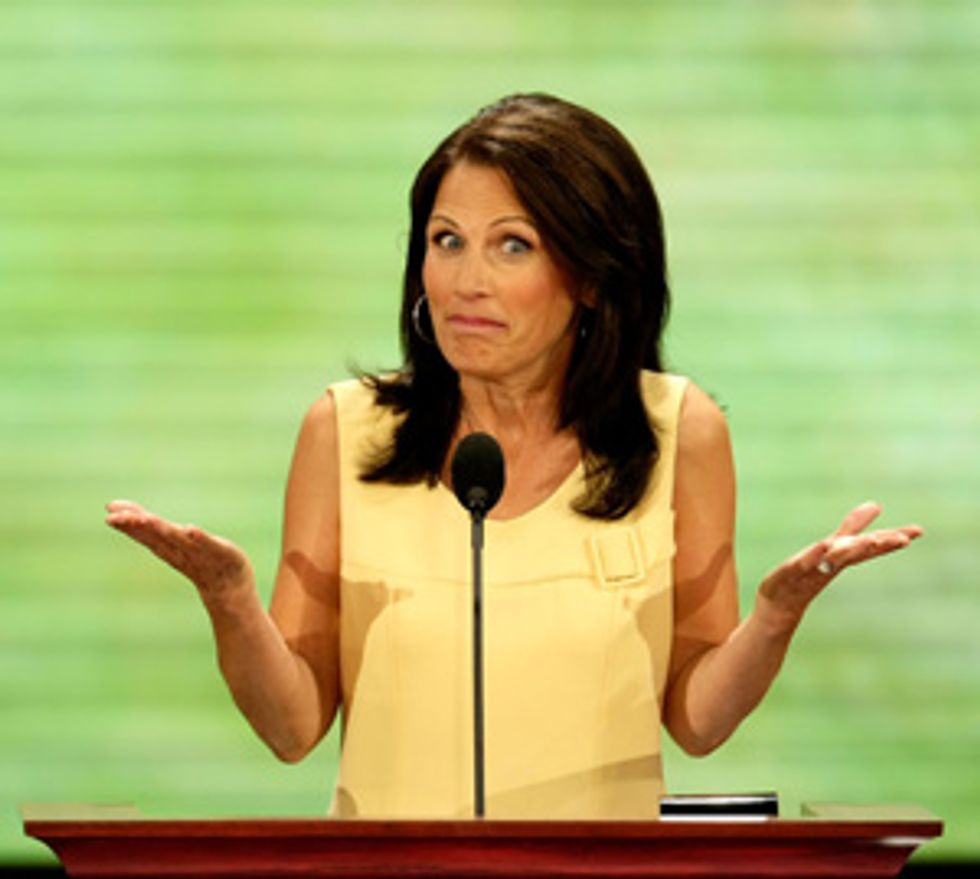 Liveblogging coverage of tonight's exciting/terrible primaries will begin very soon now! But just like on the Cable TeeVee News, your Wonkette Political Team must sit around with their laptops engaged in pre-game punditry. What, for example, are we supposed to do if Our Blessed Lady of Wingnuttery actually loses her suburban wingnut congressional seat? WHAT WILL HAPPEN TO AMERICA? How will it feel to be gay married in a burqa, at illegal gunpoint, by Imam Nobama, using stimulus money for agnostic socialism?
---
Ken L.
oh jeez can you imagine if bachmann loses? what are we gonna do?
Lauri A.
I know
Ken L.
we can hope for a tight race, and a protracted, increasingly crazy recount battle
Ken L.
at least
Ken L.
and god knows we didn't lose palin just because she lost/quit all political offices
Ken L.
it is a wonderful new era when actually being in office is secondary to being a political celebrity idiot
Ken L.
god, time was somebody like walter mondale would run & lose and then you could say, Good riddance, loser, won't be seeing you around again
Aug 10
7:20 PM
Lauri A.
I don't think Bachmann has Palin's staying power
Lauri A.
Unless her foster kids start doing fun things
Ken L.
she is more of a local phenom, it is true
Ken L.
but so was palin until walnuts said RISE UP
Lauri A.
We can hope that someone chooses her as a running mate in 2012
Ken L.
/the way bruce springsteen said that, to 9/11
Ken L.
yeah i could see a romney or some other blueblood moderate picking her for a loony teabag chance
Ken L.
newt, he's so fucking shameless
Lauri A.
Oh man that would be a ticket
Ken L.
he will drop her off the ticket when she immediately gets cancer
Ken L.
put nikki haley on the ticket. "sorry she's hotter even though she's muslin"
Lauri A.
yeah, because he'll give her cancer and then make her go
Ken L.
if a woman touches newt "down there" (his jowls) they get the cancer
Lauri A.
Right, sex-rabies.