What Parts Of Fox & Friends Is President Best Brain Live-Tweeting Today?
Russia
February 05, 2018 01:35 PM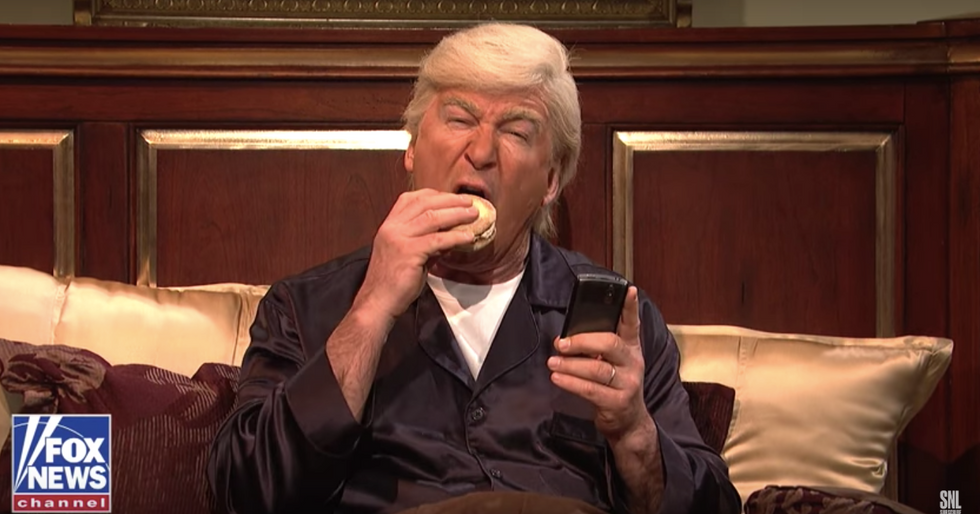 ---
Executive Time was LIT this morning, y'all! Poppy may not be out there turning cars over in Philadelphia, but he is ready to start some shit. After a rough weekend of golf and football, the president hunkered down for an important meeting with the Murdoch brain trust.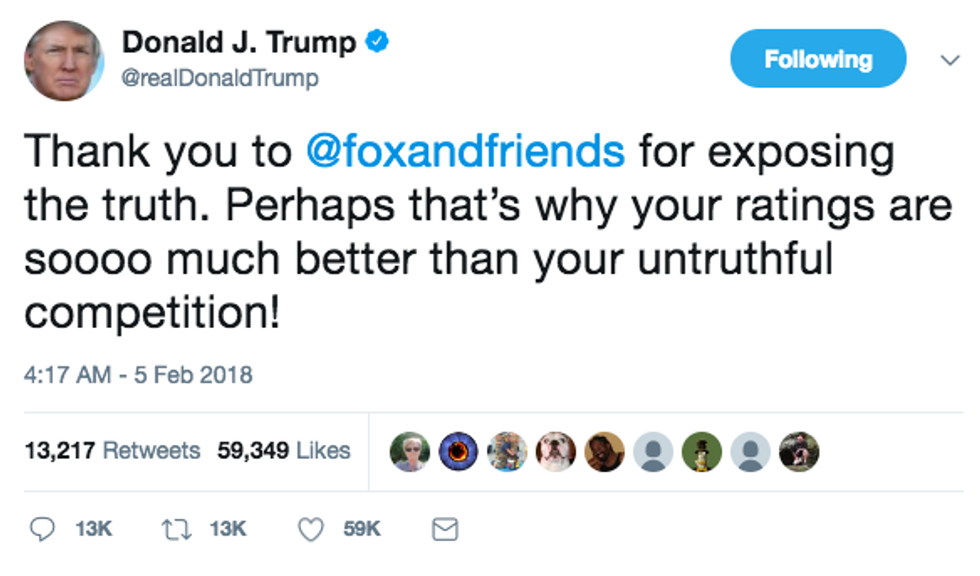 And they are here to give their Number One Fan his Daily Intelligence Briefing.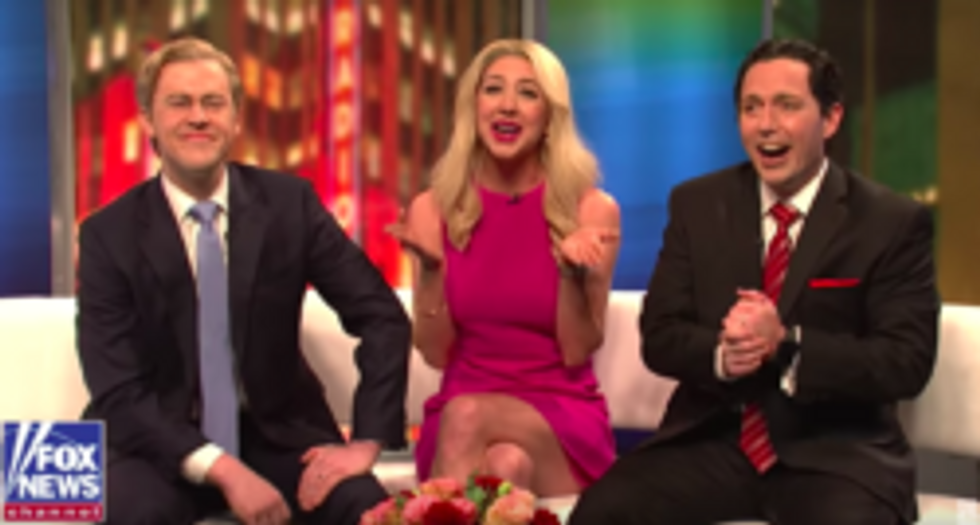 Let's Derpsplore!!!!
Act 1: Lies About Not America
Saturday, thousands of demonstrators gathered in London to protest funding cuts to the National Healthcare System (NHS). They carried signs reading, "Keep Your Hands Off Our NHS" and "More staff, More beds, More funds." But after Nigel Farage appeared on Fox'n'Friends to decry the evils of government benefits, President Reading Comprehension decided that this was a protest against universal healthcare.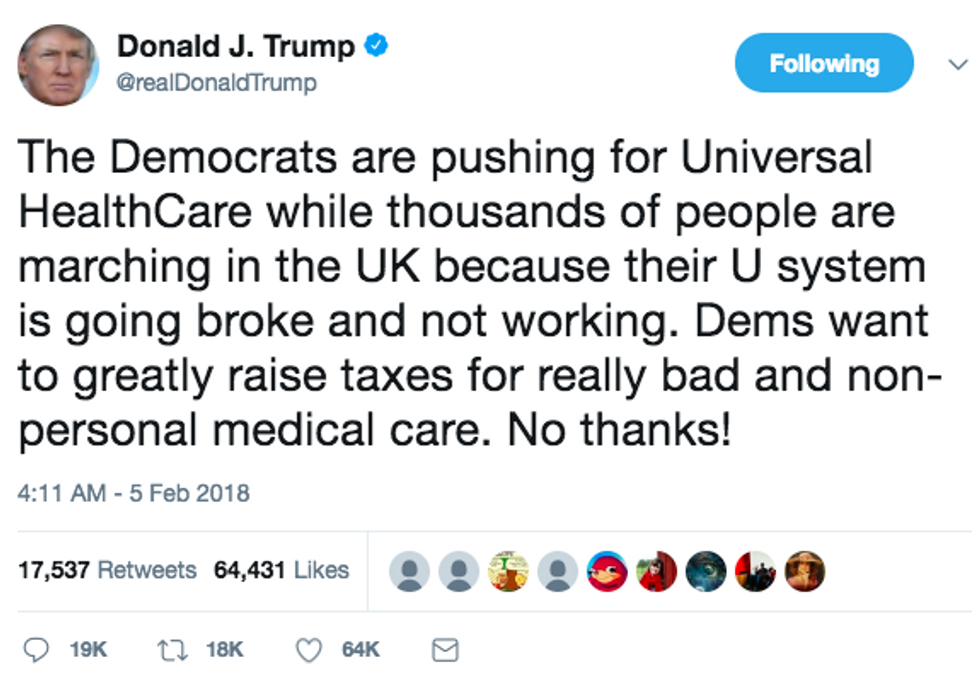 Well, that's fucking embarrassing! What else you got for us, Donny?
Act 2: Accuse Political Enemies of Treason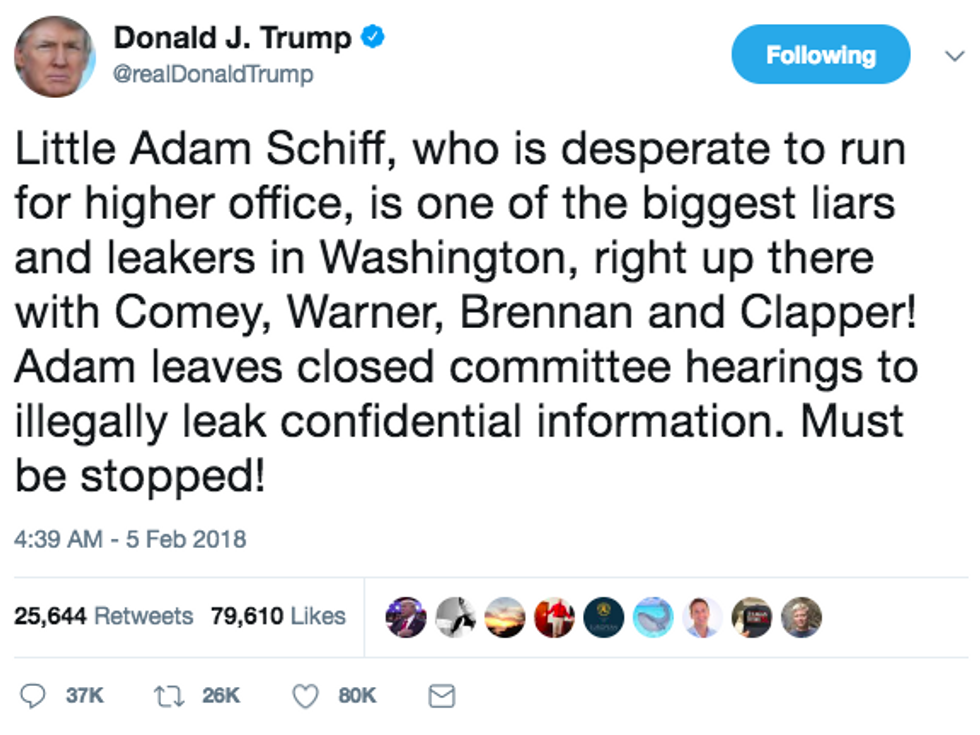 Bringing the country together as he promised in last week's SOTU by accusing a Congressman, a Senator, the former head of the FBI, the former Director of the CIA, and the former Director of National intelligence of lying and revealing classified data. That train is never late!
Looks like someone's a little grumpy that the Nunes Memo isn't making Rachel Maddow cry sad liberal tears cause she knows there's NO COLLUSION, NO RUSSIA, NO OBSTRUCTION, and also, too no reason to get a FISA warrant on literal actual foreign agent Carter Page.
"Little Adam Schiff," who is close to six feet tall, was similarly dry-eyed.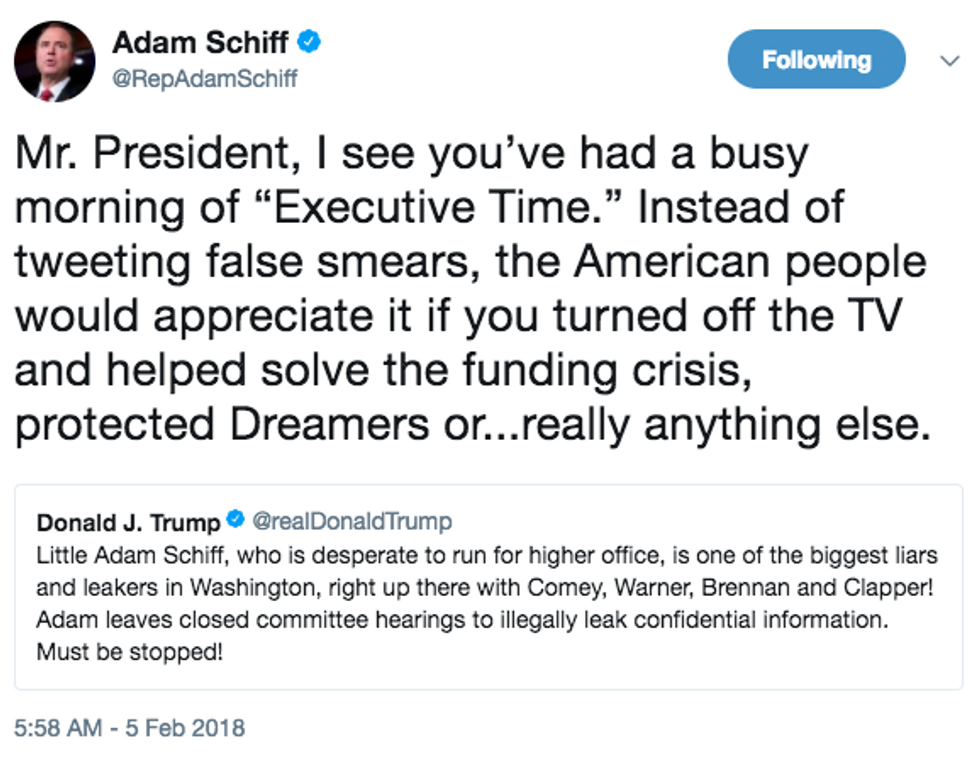 You know what this morning needs? MOAR WALL!
Act 3: "Fuck off Dreamers! You, too, John McCain!"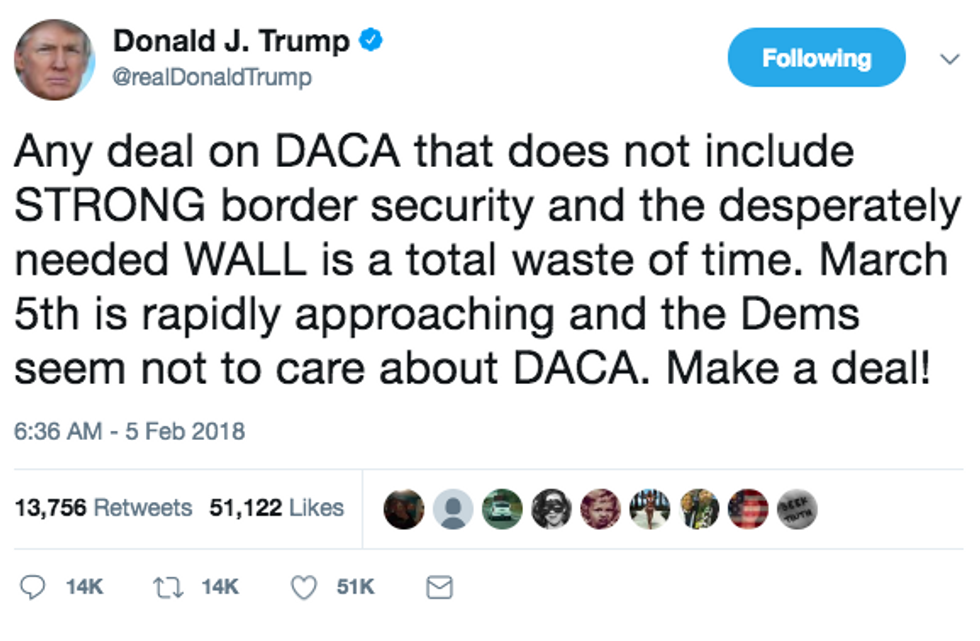 It would be a damn shame if anything happened those Dreamer kids! Don't make the President have to send the ICE goons out to round them all up and deport them. This means you, John McCain and Chris Coons. Don't be coming to the White House with any plan that doesn't spend $30 billion on WALL and end family reunification. Bigots, or GTFO!
Act 4: Who's a Good Boy? That's Right, Devin, YOU ARE! Here's a Treat!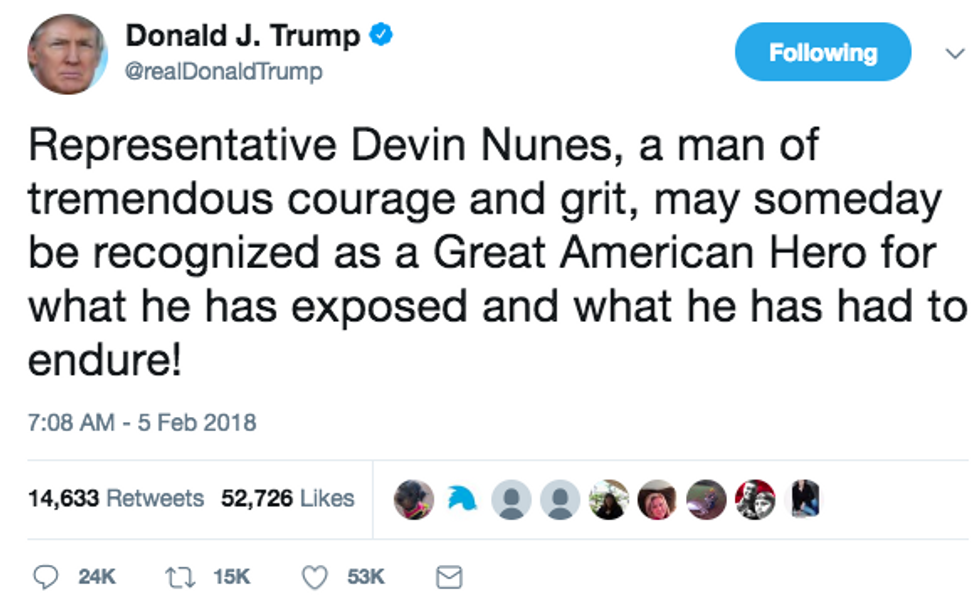 One day America's school children will compete to play Devin Nunes, Great American Hero, in the school play. They'll be rolling out of cars like ninjas, racing to the White House to get leaked data, only to reappear moments later for a press conference on the White House lawn shouting to the media about the important data they're bringing to the White House. Truly, saints walk among us and the lord's revelation continues in our own time.
FIN
Amen. Praise White Jesus, who stands for the National Anthem, casts out the brown children from our midst, and will surely protect the sacred stock market on this holy day of obligation.
Follow your FDF on the Twitters!
Please give us money so we can buy our Devin Nunes Great American Hero costume! Also, pay for salaries and servers!
Liz Dye
Liz Dye lives in Baltimore with her wonderful husband and a houseful of teenagers. When she isn't being mad about a thing on the internet, she's hiding in plain sight in the carpool line. She's the one wearing yoga pants glaring at her phone.