What Stew Is It You Wanna Taste? Your Open Thread!
Culture
February 13, 2017 04:45 PM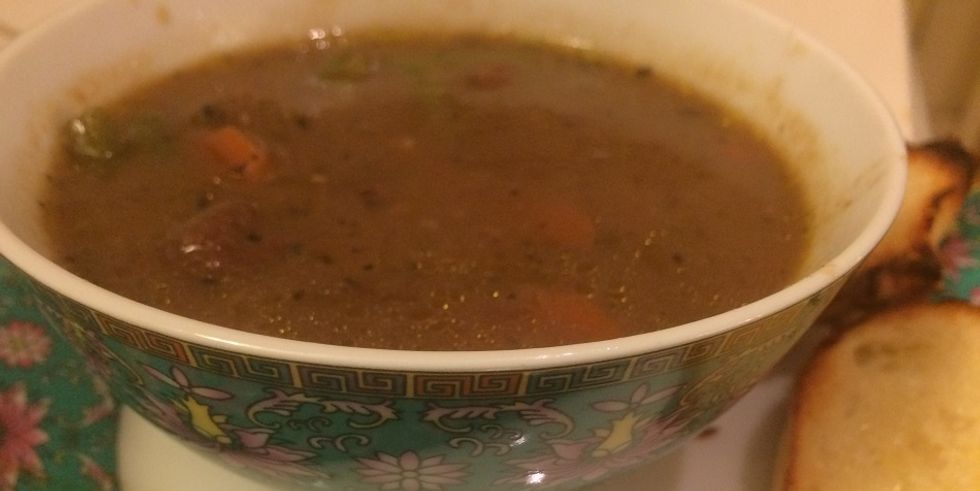 It's trendy to laugh at it, and them, now that they're pretty much a cover band of themselves, and their stereotypical fanbase is mullet-wearing mouthbreathers, but love it or hate it, we're all familiar with the absurdly overplayed, iconic, live version of Lynyrd Skynyrd's Freebird*. If you aren't, FFS, familiarize yourself. Scoff at it if you must, but this is basic Americana that youneed to know!
---
And, even if you are familiar, take another listen. It only takes about 15 minutes. I'll wait.
Since trying to be fancy and embed the video had less than optimal results, let's just go with an old fashioned link to the video at YouTube instead.
Yeah. It's almost like three or four songs, based on a common theme, combined into one, yet still retaining their individual identities. There's good reason it's so overplayed: In composition and execution, it's a true masterpiece.
That's what today's recipe is. A complex, nuanced masterpiece. Beef stew is a comfort food, because we all know what to expect, but this one has some surprises for you! It'll bring back memories of 11 year old you, but it'll also satisfy the more adventurous palate today's you has developed. You're gonna say:
Super Savory Stew? SWEET!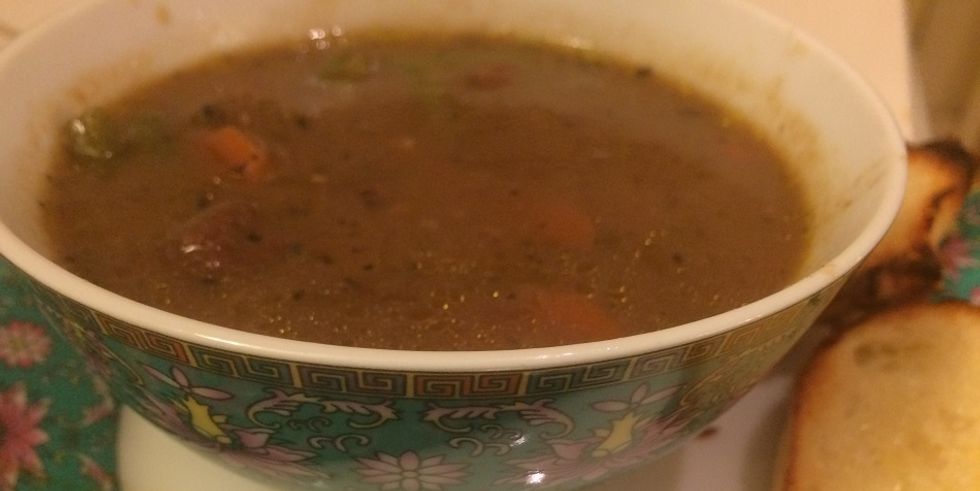 Queued up, ready to ROCK!
Intoxication level: Pack a bowl, dude or dudette. You're gonna want to have the munchies when this comes off the stove!
Time: 15 minutes prep: 3 1/2 hours cooking: 3 3/4 hours total.
Difficulty level: 3/10
Serves 6 - 8
WHAT YOU NEED!
1 -1 1/2 lb cubed beef stew meat
1/2 cup flour
1 1/2 teaspoons salt
1/2 teaspoon pepper
1/4 cup olive oil
1 onion, chopped fine (1 cup)
1 carrot, shredded, or chopped fine (1 cup)
1/2 cup finely chopped celery, with a few minced leaves
2 cloves garlic, minced
1 cup red wine
1/2 cup Hoisin sauce
1 can tomatoes (14.5 oz), with juice
1 tablespoon dried parsley
1/4 tsp thyme
1/2 tsp oregano
1/2 tsp basil
2-3 bay leaves
2 cups beef broth
2 medium potatoes, diced
1 1/2 cups chopped green beans
Hardware: Y'know, I think I'm gonna stop listing this part, unless you need something weird or specific. If you can't figure out that you need a couple of knives and a cutting board to cut things up, and measuring cups and spoons, and whatnot, you should probably just "cook" prepared food products in the microwave.
WHAT TO DO WITH WHAT YOU NEED!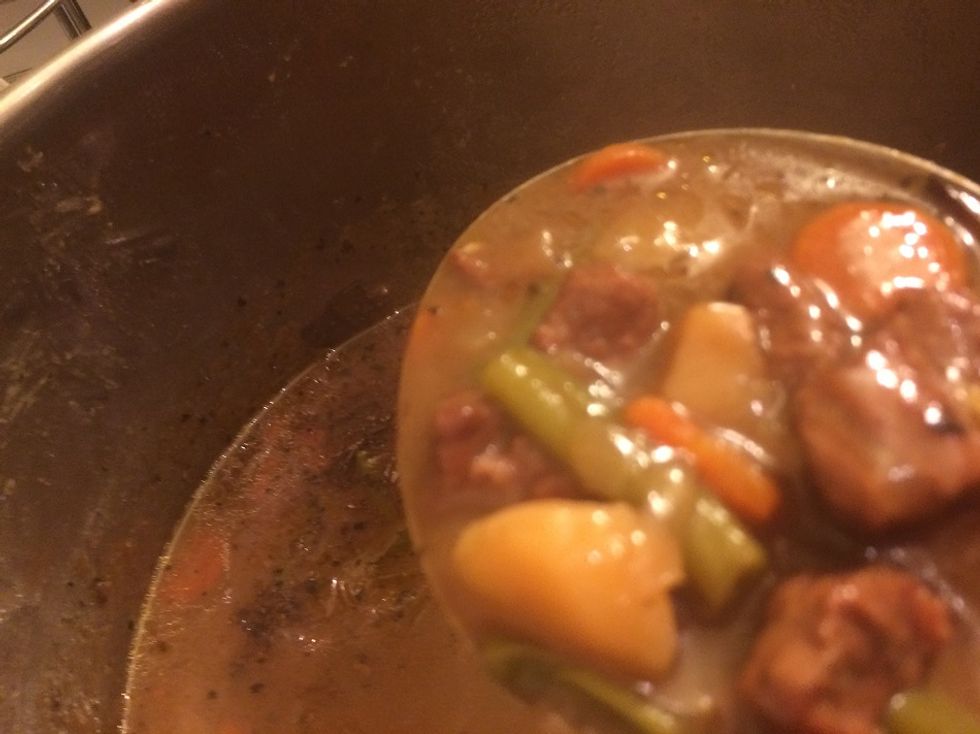 In the mixing booth.
Heat oil over medium heat in a large dutch oven.
Put flour, salt and pepper in a large ziploc bag.
Place meat in bag with the flour and shake until well coated.
Shake off meat pieces and add them to the oil and stir until slightly browned
Add finely chopped onion,carrot, celery and garlic. Cook, stirring occasionally, until onion is soft and translucent.
Add remaining flour from the bag, stir. If needed, add additional olive oil to make a roux.
Pour in red wine, hoisin sauce, beef broth, tomatoes and spices.
Cover and cook over low heat for 2 1/2 hours (stirring every 15 or so minutes).
Add potatoes. Continue cooking another half hour.
Add green beans. DO NOT adjust spices. Continue cooking, another half hour.
Serve with crusty bread. And a bottle of good red, or a rich dark beer. Sit down and eat to appreciate. And there's a lot to appreciate, from the first bite to the last!
That first bite? It's going to take you by surprise because, like the song, it's sweet. Sweet enough, and unexpected enough, that you will wonder if you made a mistake somewhere. You didn't.
It's rather intriguing. A few more bites in, and it seems much more familiar, with that great umami mouthfeel and the rich flavors of the beef and veggies that you expect from a good stew.
THEN it gets interesting: The sweetness, the beef, the soothing veggies and the awesome umami lay down a solid base over which the spices, the tomatoes and the hoisin sauce alternate between blending and harmonizing, and each taking center stage in turn, reminiscent of the extended jam in the song.
And finally, the finish. Still mimicking the music, it changes yet again. That base of traditional stew flavors returns to front and center, somehow stronger and richer than before, the savory sweetness taking a supporting role now, as a spicy heat comes out of nowhere in a final, unexpected twist sure to please the mouth part of your face.
It'll never be as wildly popular as Freebird, but I'm betting a lot of you put this on heavy rotation.
* Yes. Yes, I am a fan. Unapologetically. Them mofos could play!