When Even Donald Trump Thinks You're Stupid, You're Probably GA Gov Brian Kemp
coronavirus
April 23, 2020 11:24 AM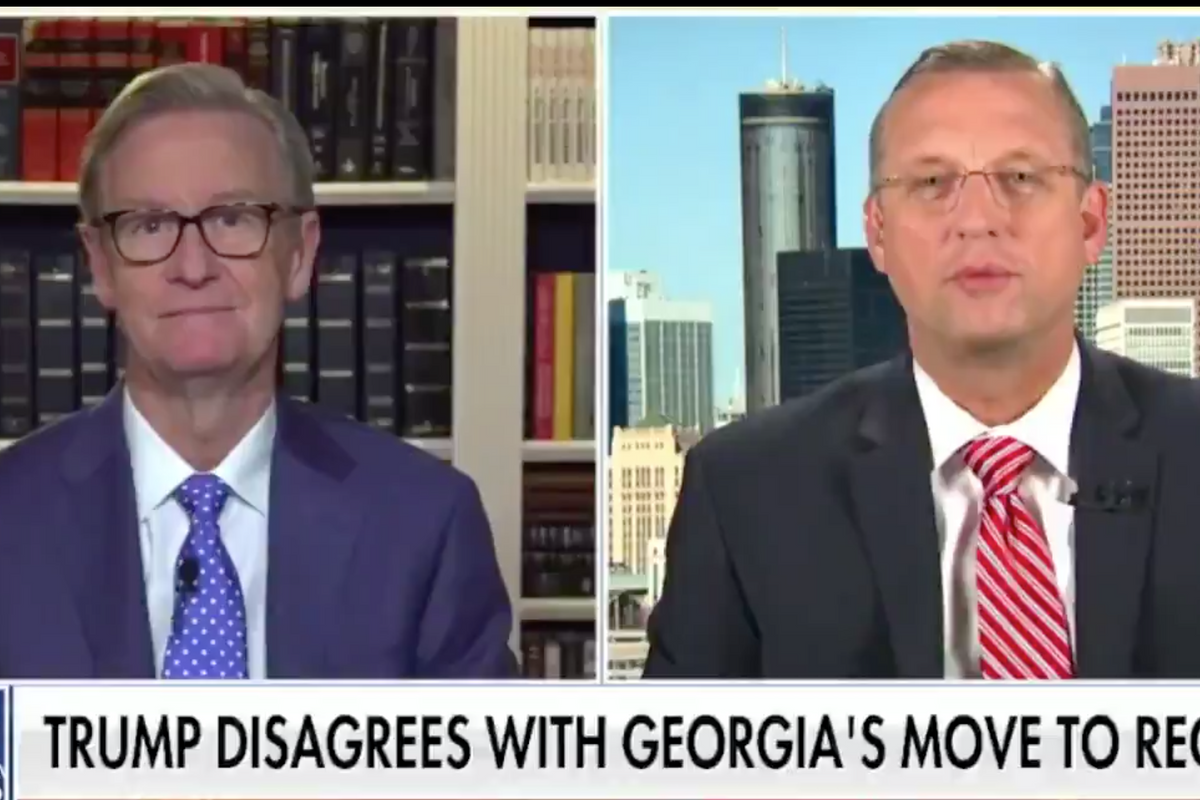 Fake Georgia Gov. Brian Kemp's decision to reopen the businesses most likely to spread coronavirus — salons, bowling alleys, tattoo parlors??? — was so stupid only the Las Vegas mayor was able to top it. Even Donald Trump has hung Kemp out to dry. Yesterday, during his coronavirus briefing, the president, who never met a mad scheme he didn't like, denounced Kemp's plan to turn Georgia into a statewide morgue — even though Kemp was clearly, obviously, transparently reopening ridiculous businesses that will most spread coronavirus in order to butter up Trump. Trump's the man who egged on the protesters demanding we "reopen" the states. Now all of a sudden, when a sycophant does what he demanded, he's President Measure Twice Cut Once.
TRUMP: I told the governor of Georgia, Brian Kemp, that I disagree strongly with his decision to open certain facilities, which are in violation of the Phase 1 guidelines, for the incredible people of Georgia. They're incredible. I love those people. They're great. They've been strong, resolute. But at the same time, [Kemp] must do what he thinks is right. I want him to do what he thinks is right. But I disagree with him on what he's doing.
C'mon now, Trump is never that measured when he disagrees with someone. He didn't call Kemp a "snake" or anything. Trump was reading from a somewhat prepared statement, and it seems like he's trying to reassure older voters, who are abandoning him, that he's not a reckless death monger — at least not in the way that would threaten the residents of Florida's finest retirement communities.
Trump, again reading from the Idiot's Guide To Governing During A Pandemic, said that it was "too soon" to reopen spas, beauty salons, tattoo parlors, and barbershops.
TRUMP: I love those people who use all those things ... I love them. They can wait a little bit longer ... just a little bit, not much. Because safety has to predominate.
---
Earlier today, I discussed Georgia's plan to reopen shuttered businesses for limited operations with @POTUS. I appr… https://t.co/NeVjPduT4Z

— Governor Brian P. Kemp (@Governor Brian P. Kemp) 1587598824.0
Just like the thousands of businesses currently operating throughout Georgia, I am confident that business owners w… https://t.co/ZgvC4OxQL4

— Governor Brian P. Kemp (@Governor Brian P. Kemp) 1587598824.0
Kemp dropped his load of crazy on Monday. The very next day, Trump said Kemp was "a capable man who knows what he's doing." Obviously, Trump has seen the polls. Voters want steady leadership during a crisis, and a president who promotes "miracle drugs" and encourages civil unrest doesn't fit the bill.
Atlanta Mayor Keisha Lance Bottoms said Monday she was "perplexed" by Kemp's choice to reopen now and didn't think it was "based on anything that is logical." Savannah Mayor Van Johnson slammed Kemp as "reckless." Stacey Abrams also read Kemp for filth, but now Kemp has lost his fellow white dudes. That's quite a blow because he can hear white men when their lips move.
South Carolina Senator Lindsey Graham realized Georgia was a neighboring state and tweeted, "I have great respect for Governor Kemp and believe that future re-openings can occur rather quickly but we must get Phase I right."
Trump and Graham both referenced "Phase 1" from the White House guidelines for a phased reopening of the economy. Georgia hasn't yet confirmed a two-week downward trend in reported COVID-19 cases. The state's still counting to 20 with its fingers and toes but wants to go to law school next week.
We all want to open back up. That's what the President wants, that's what Georgians want, and that's what I want.… https://t.co/J5Z5lfEytM

— Doug Collins (@Doug Collins) 1587648262.0
Georgia Rep. Doug Collins dragged Kemp on "Fox & Friends" Thursday. He's had it in for the governor ever since Kemp appointed insider-trading Disney villain Kelly Loeffler to the Senate seat Collins had on his Amazon wish list. My advice is that when Georgia Republicans beat up on each other, don't bother trying to pick sides, just sit back and enjoy the carnage.

COLLINS: Leadership is about communicating, and when you are not communicating clearly — look, the governor did not take away the stay-at-home order, but yet selectively decided certain businesses are going to open up.
Yep, Georgia's stay-at-home order doesn't end until April 30, but Kemp is reopening nonessential businesses almost a week earlier, which would encourage Georgians to break his own order. Collins also pointed out that Kemp didn't bother informing mayors about decision before making Monday's public announcement.
COLLINS: My concern was not having local input into that — in my area north of Atlanta we're having a rapid increase in cases. It's made people nervous. Clear communication is what needs to happen.
Look at Collins showing consideration for "local control" and his own constituents like the kind of senator or governor Georgia needs! This is a good time for voters to remember that Collins wants to be senator.
Loeffler hasn't yet abandoned Kemp to his fate, but it's probably only a matter of time. Still, Kemp remains undaunted. He's going to kick those deadbeats off the unemployment rolls if it kills them.
Follow Stephen Robinson on Twitter.
Do your Amazon shopping through this link, because reasons.
Yr Wonkette is supported entirely by reader donations. Please click the clickie, if you are able!
Stephen Robinson
Stephen Robinson is a writer and social kibbitzer based in Portland, Oregon. He writes make believe for Cafe Nordo, an immersive theatre space in Seattle. Once, he wrote a novel called "Mahogany Slade," which you should read or at least buy. He's also on the board of the Portland Playhouse theatre. His son describes him as a "play typer guy."