Where Were You During the Great Blog Attacks of 2009?
News
August 07, 2009 12:26 AM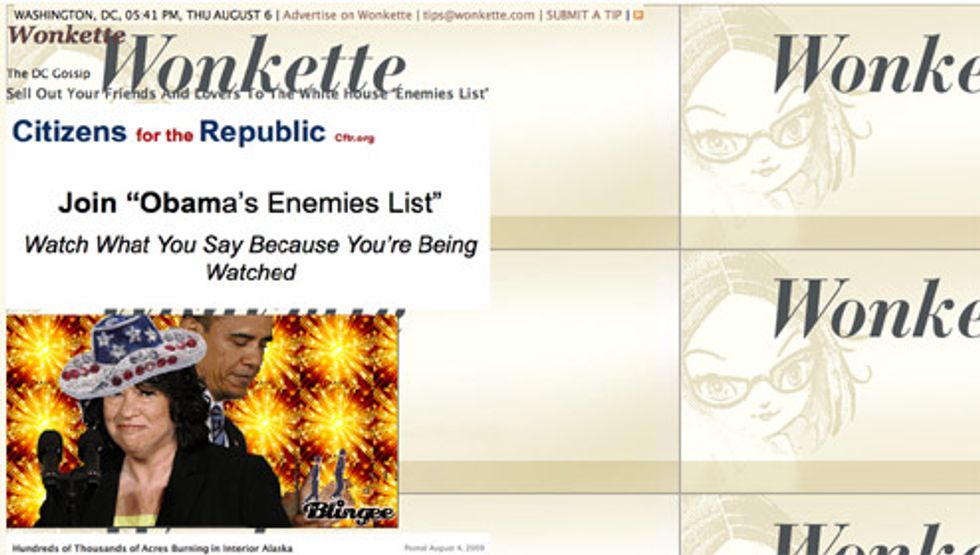 The last thing your editor saw online Thursday morning was a Facebook update from Gawker Media boss Nick Denton -- something about how his websites were getting these "Denial of Service" attacks, and also how Twitter was being attacked by computer monsters. Twitter! Ha ha, who would miss that?
---
The other thought was, "Hooray for Wonkette no longer being part of the mighty Gawker Media empire, because nobody will launch some Russian-Korean-space-weasel attack on this friendly little warblog."
Well, that turned out to be untrue. We got hAx0redZ : through the non-hacker technique of flooding a web server with requests for web content. Sort of like getting lots and lots more readers! But nobody is really trying to read the site, they are just trying to be annoying.
So, hmm, ENEMIES LIST? What sort of polarizing figure has a role in each sacred pizza slice of the unholy trio of Twitter, Gawker and Wonkette? MEGHAN McCAIN.
Also, maybe, North Korea? The Birthers? Robert Gibbs? Sotomayor? We would add "Lou Dobbs" to this list but unless "Denial of Service" is something that spontaneously occurs while an old idiot is yelling about Mexicans, we are probably safe from the Orange-Headed Jackhole's impotent rage.
(Thanks to loyalist Wonkette operative "Extemporanus" (that is his/her/its real name) for capturing this important visual evidence and sending it to HQ.)