White House Declares Bolton Book Classified, Invites Him To Publish It NEVER
News
January 30, 2020 03:42 PM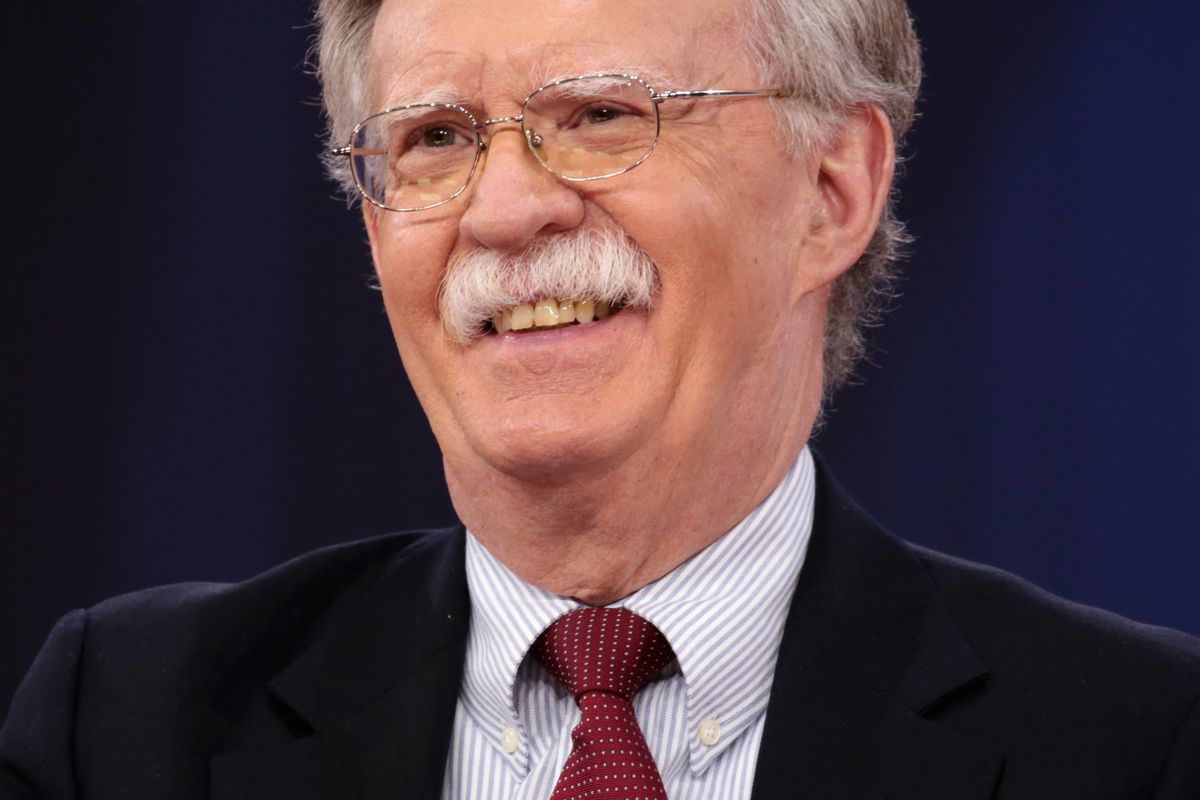 The Cover Up Express Train just keeps rolling along. Yesterday we suggested that perhaps a March 17 release date for John Bolton's book was a tad optimistic, since he needs the White House to sign his permission slip before going to press. Bolton is willing to deliver Donald Trump's Ukraine extortion plot on a silver platter, so God only knows what embarrassing tea he's ready to dish on everyone else in the Trumpland. So if you think White House Counsel Pat Cipollone won't drag that classification review out past the election, then you should probably hand your ATM card to a grownup until your judgment improves.
Yesterday morning, Donald Trump tweeted that John Bolton was a loser with lousy judgment who begged Trump for a job and then wrote a nasty book, full of untrue lies that are also somehow "Classified National Security."
And right on cue it emerged that the National Security Council sent Bolton's lawyers a letter last week saying that "the manuscript appears to contain significant amounts of classified information," some of which rises to the "TOP SECRET level." Surprise!
---
This was widely reported as a "formal threat," because of its warning that "the manuscript may not be published or otherwise disclosed without the deletion of this classified information." But it's probably more accurate to interpret it as a signal that the White House is buckling in for the long haul, and they plan to make this fight as expensive and time-consuming as possible for Bolton and his publishers at Simon & Schuster.
You can also color us highly skeptical that a man who served multiple tours in the State Department, Justice Department, and National Security Council would carelessly include highly classified information in his memoir. The guy may be a warmongering loon, but he's not an idiot. Former Justice Department Inspector General Michael Bromwich agrees with that assessment, although perhaps not the warmongering part. (Or perhaps he does!)
The idea that Bolton would draft a manuscript that contains "significant amounts of classified information" is ridi… https://t.co/glAVbD8sJn

— Michael R. Bromwich (@Michael R. Bromwich) 1580321949.0
Bolton's lawyer Charles Cooper responded in a collegial email saying that the NCS need to step up their review pronto and say what they think is classified because his client is warming up to shout that Ukraine stuff to the rafters next week if the Senate votes to call witnesses: "We do not believe that any information could reasonably be considered classified, but given that Ambassador Bolton could be called to testify as early as next week, it is imperative that we have the results of your review of that chapter as soon as possible."

But the reality is, the White House can draw this out almost indefinitely. As national security lawyer Brad Moss told Politico, these cases can drag on for years, even if authors sue to force the government to complete the prepublication process: "There is a loophole some of us try to exploit—which is to bring an Undue Delay Claim, but that is just a mechanism to get them to finish the review." That still leaves spurious claims of classification to be litigated.
And speaking of spurious, Trump's impeachment lawyers are acting squirrelly as hell about whether they knew about the Bolton manuscript before it broke. Mitch McConnell was reportedly blindsided and PISSED to find out that the White House knew for a month now that Bolton had the goods on Trump. Trump's dork lawyer Pat Philbin said last night that no one on the defense team knew about the Bolton revelations, because review of the book was confined to National Security Counsel staff. Which, even if it were true, is not exactly reassuring. The NSC's chief lawyer, John Eisenberg, is the one who put Trump's shakedown transcript on the classified server, participated in burying the whistleblower complaint both before and after it was officially filed, and then refused to testify to Congress. So let's just assume that Bolton's book is going to stay locked in that classified server until the end of time if Eisenberg has anything to say about it.
As to whether the entire White House has read Bolton's book, former head of the Office of Legal Counsel, Jack Goldsmith, says that it's entirely routine for these documents to make their way around the building.
@jacklgoldsmith @bradheath I've seen this happen often. Which is why I've sued USGOVT more times than any lawyer ev… https://t.co/Y5WrtTL5V3

— Mark S. Zaid (@Mark S. Zaid) 1580098452.0
So feel free to take Philbin's word for it that the NSC kept the manuscript locked up and no one on Trump's defense team has seen it. But if you do, you better hand over your bank card STAT.
[Politico]
Follow Liz Dye (FKA your FDF) on Twitter!
You cannot make us read that book, but you can money us anyway!
Liz Dye
Liz Dye lives in Baltimore with her wonderful husband and a houseful of teenagers. When she isn't being mad about a thing on the internet, she's hiding in plain sight in the carpool line. She's the one wearing yoga pants glaring at her phone.