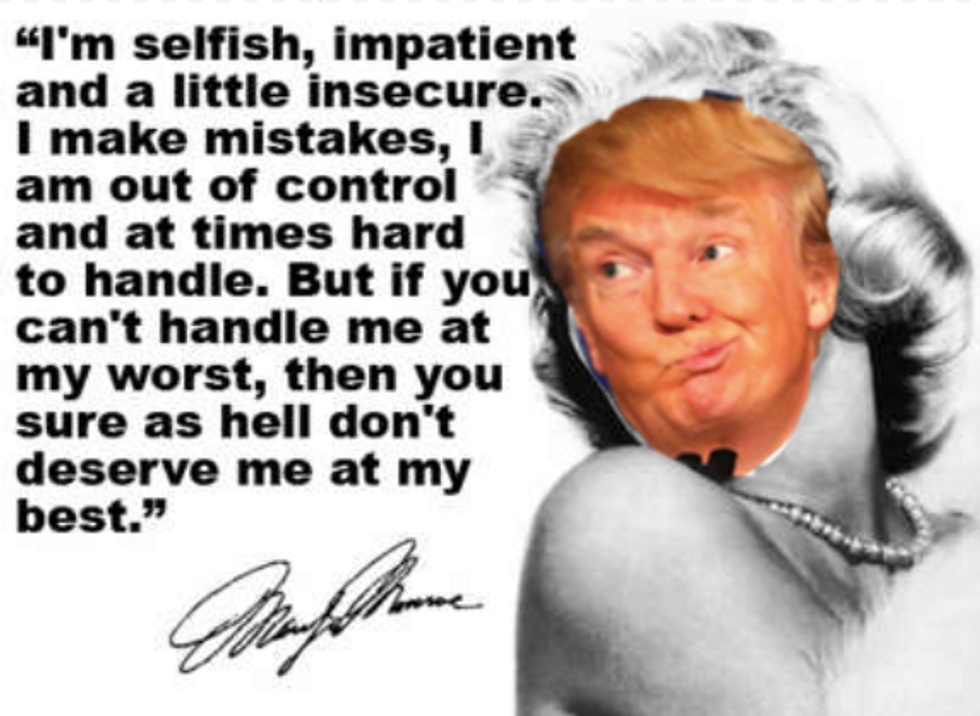 ---
Who wants to hang out with a bunch of elitist CEOs and artists and preachers anyway! Not Donald Trump, that's for sure! Like Marilyn Monroe always said, if they're not going to stick by you when you defend Nazis, then they don't deserve you at your best! What Trump's best might look like is anyone's guess, but this week was most assuredly NOT IT.
None of Your Business!
This week, American business did the math and noped the hell out of the Trump administration. CEOs aren't paid to have a conscience -- that is not their job. If they're bailing on a seat at the Trump table, it's because Trump has become toxic for business.
After Trump's first mealy-mouth statement Sunday on the Nazi riot, Merck CEO Ken Frazier quit the President's Manufacturing Council. Under Armour CEO Kevin Planck and Intel's Brian Krzanich tapped out shortly after.
Whatever, Losers! Trump tweeted. It's not like there aren't a hundred other hotties lining up for a date with the Prom Queen!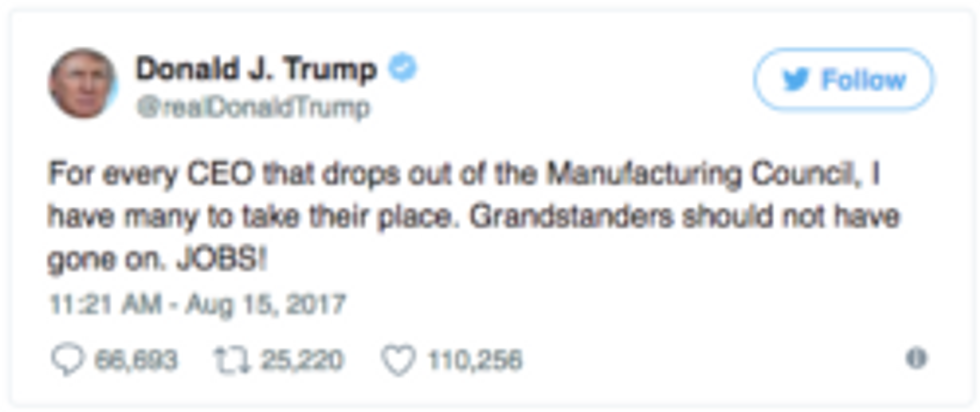 Then on Wednesday, reporters stuck a mic in his face to discuss Infrastructure Week, and Donald Trump took advantage of the opportunity to lose his damn mind on live television. Some of those Nazis are very fine people, doncha know!
At which point the remaining CEOs on the President's Strategy and Policy Forum huddled up and decided it was time to GTFO. But before their press release went live, Donald Trump hopped on his Twitterphone to say, You can't break up with me, because I'm breaking up with you!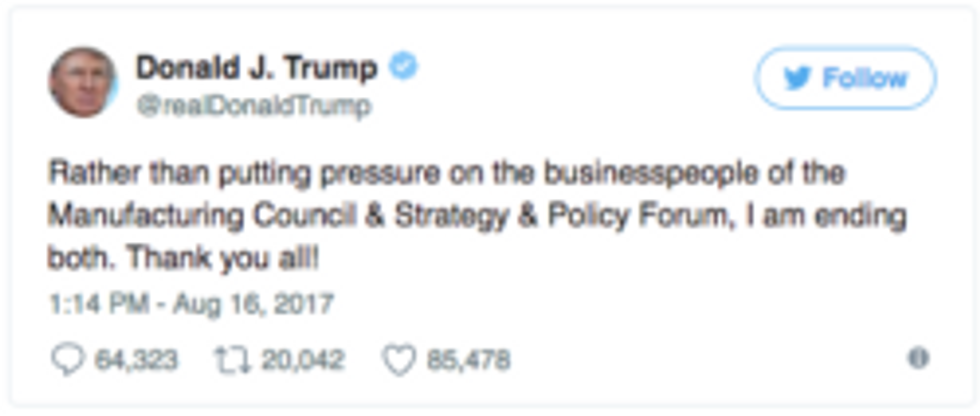 Baller move, Dude! If you're in the seventh grade. But if you're the 71-year-old President of the United States, you just provoke a dozen CEOs to issue separate press releases saying exactly why they did too break up with you first. Per CNN,
Some top executives sought to make clear that they resigned from the advisory councils before Trump stepped in to dissolve them.

"Alex Gorsky had made his decision to resign from the council earlier today before the president's tweet. As we said in our previous statement, the president's remarks yesterday equating those who are motivated by race-based hate with those who stand up against hatred were unacceptable," Johnson & Johnson (JNJ) said in a statement Wednesday afternoon.

pre

[JPMorgan CEO Jamie] Dimon also put out a statement to show that he "personally supported" breaking up the Strategic and Policy Forum.

"I strongly disagree with President Trump's reaction to the events that took place in Charlottesville over the past several days," Dimon said.

And General Electric (GE) chairman Jeff Immelt said he notified members of the manufacturing council this morning that he "could no longer serve."
And the President's Committee on Arts and Humanities said, HOLD MY BEER!
Donald Trump had appointed Melania as honorary chair of the committee and asked the members to stay on in January. But this week, all sixteen members submitted a scathing letter of resignation.
Reproach and censure in the strongest possible terms are necessary following your support of the hate groups and terrorists who killed and injured fellow Americans in Charlottesville. The false equivalencies you push cannot stand. The Administrations refusal to quickly and unequivocally condemn the cancer of hatred only further emboldens those who wish America ill. We cannot sit idly by, the way your West Wing advisors have, without speaking out against your words and actions.
And they left him a hidden, secret love note!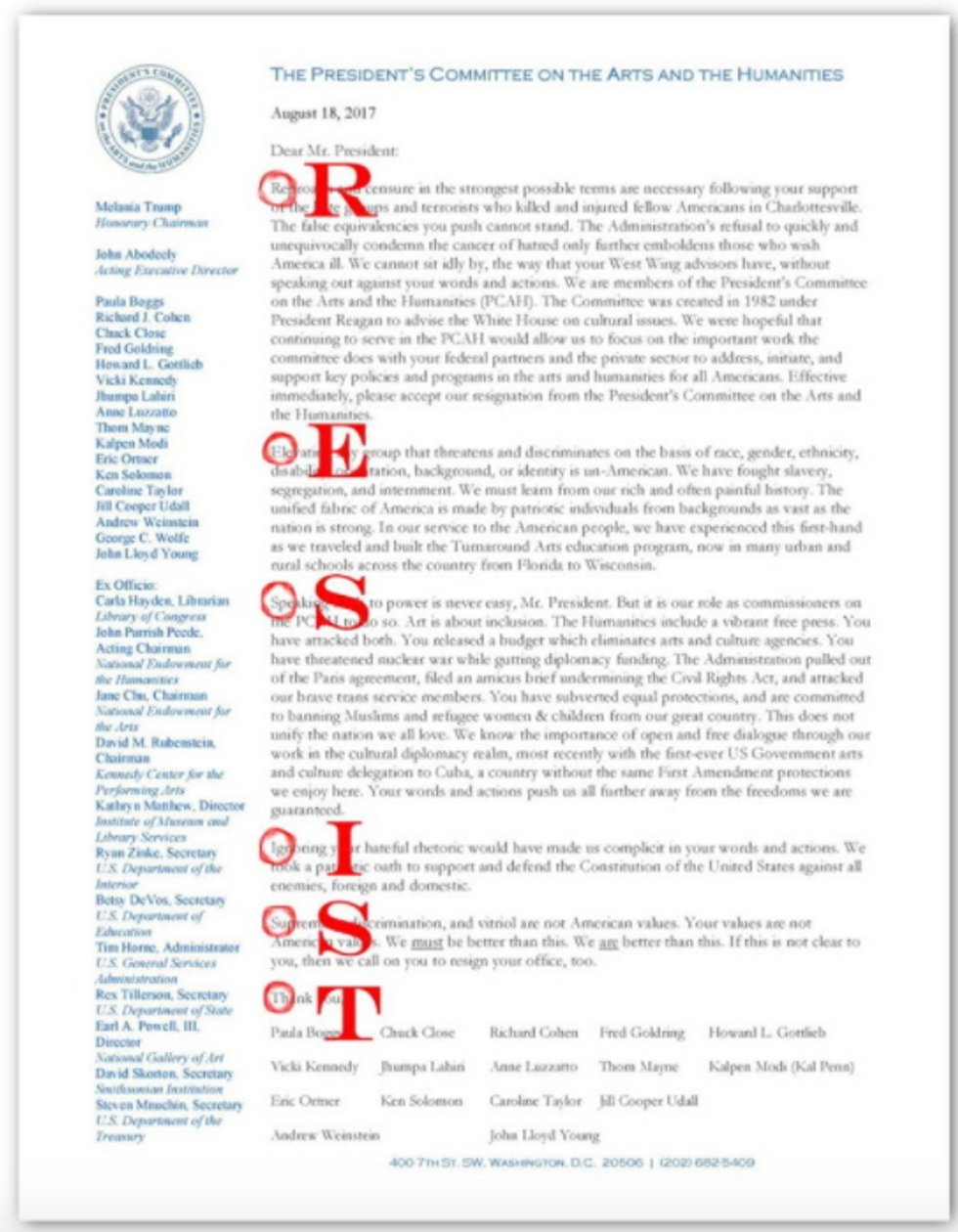 SUBTLE.
Donald Trump tried again to play it off like he was the one dumping those moocher artists.
Earlier this month it was decided that President Trump will not renew the Executive Order for the President's Committee on the Arts and Humanities (PCAH), which expires later this year. While the committee has done good work in the past, in its current form it simply is not a responsible way to spend American tax dollars.
Because he doesn't understand how Twitter works, we guess?

Anyone Else?
OF COURSE THERE IS!
Yesterday, the first member of Trump's informal evangelical advisory council jumped ship as well. Let's not get sidetracked on the fact that Big Business showed more spine than the country's "moral leaders." Brooklyn Megachurch Pastor A.R. Bernard announced that he's off the Trump Train, and we are grateful.
My statement regarding my resignation from the President's Evangelical Advisory Board. pic.twitter.com/Ocae6SQxjZ

— A. R. Bernard (@ARBernard) August 18, 2017
Also on Friday, billionaire investor Karl Icahn decided that chitchatting with Trump while Hannity cuts to commercial wasn't worth the headache. Who knew that advising the government on deregulation that might benefit your gazillion dollar business might present an ethical conflict!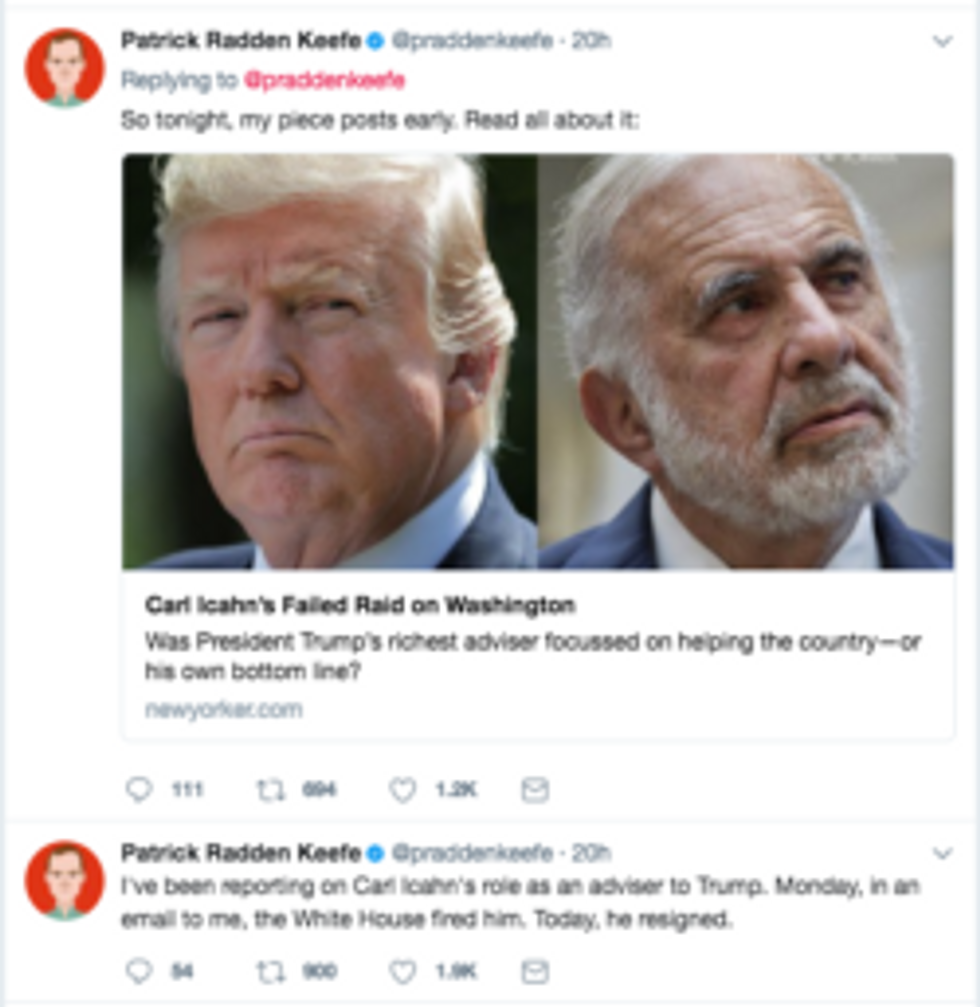 Or maybe he was actually fired? Poppy, if you want to make it clear that you're the dumper rather than the dumpee, you're going to have to try harder!
Fiftieth Time's A Charm!
But finally on Saturday Donald Trump managed to successfully You're Fired someone first. Who says you can't teach an old dog new tricks!
Of this year's five Kennedy Center honorees, Norman Lear, Lionel Richie, and dancer Carmen de Lavallade had already announced that they were boycotting the White House reception. LL Cool J was on the fence. And Gloria Estefan said she was going just to ask the president to be less of a raging asshole on immigration - well, she didn't use the word asshole, but we assume she was thinking it. Who could have predicted that three African Americans, a Latinx and a Jew would get so pissy about a guy who hangs out with white supremacists!
Sarah Huckabee Sanders issued a statement this morning saying that Mr. and Mrs. Trump were going to just order up some takeout and watch Netflix instead of going to the Kennedy Center Gala, "to allow the honorees to celebrate without any political distraction."
MIGHTY WHITE OF THEM INDEED.
[CNN / NYTimes / VICE / The Hill/ WaPo / CNN, again / WaPo, again]
Snarkin' all weekend, ad-free! Fund us, please!
Liz Dye
Liz Dye lives in Baltimore with her wonderful husband and a houseful of teenagers. When she isn't being mad about a thing on the internet, she's hiding in plain sight in the carpool line. She's the one wearing yoga pants glaring at her phone.