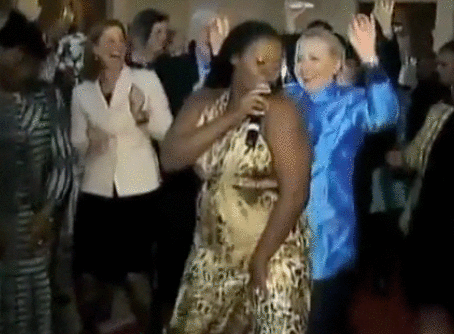 Get it girl
---
[contextly_sidebar id="3UjeZAikICrCkbDQstI18JxYj6kYI4R6"]Oh hey, Wonketticia, how you doin'? You ready for your Wednesday Wonkette Dance Party, which we will be dedicating this week to one Hillary Clinton, who pretty much did a clean sweep in Tuesday's Super "Toosday" primaries? WELL GOOD. We love Bernie too, but you know how elections work, children. Somebody wins, and somebody loses.
So, how's about this week for our Dance Party we have TWO playlists, one created by Hillary off the iPod she keeps in the Secret Email Pocket of her pantsuits, and one made by yr Wonkette? Yes let's.
This isn't breaking news or anything, but International Women's Day was last week, and Hillary tweeted out this Spotify playlist featuring ALL THE LADIES, starting with Wonkette BFF of our dreams Beyoncé singing about #girls running the world. And OH YEAH we are an '80s child, so we are very glad Wilson Phillips is also on the list.
Sticking with the same theme, ANOTHER #girl who runs the world is our lovely first lady Michelle Obama, who has
gathered
together some of HER best gal pals, like Missy Elliott, Janelle Monaé and Kelly Clarkson, to make an all-girl power anthem called "This Is For My Girls." And lest you think Michelle is only dropping singles because she's famous, you should know it's for a good cause:
Michelle Obama saluted all female go-getters in her new all-star anthem "This Is For My Girls" featuring Zendaya, Kelly Rowland, Lea Michele, Kelly Clarkson, Janelle Monae, Jadagrace and Chloe & Halle. The track is described as a "global call-to-action" in support of the Obamas' Let Girls Learn initiative as well as the First Lady's #62MillionGirls campaign, targeted towards helping young ladies around the world complete their education.
[contextly_sidebar id="mJg7YWBbZzKozJV3Lxm6cTEYTZzkTVXH"]How nice! We mentioned in our first Wonkette Dance Party post that the Obamas were doing big speeches at SXSW. Well, Michelle's is happening today and it is about this and Missy Elliott will be there and it's all just VERY exciting! Here is Missy's part of the new #girls song:
All righty! Now let's do our OWN Wonkette Dance Party. By now you know how this works. We click the "shuffle" button on our iTunes machine and we post the first 10 songs that come up, EVEN IF our iTunes embarrasses us. Luckily, this week, it has decided to be TERRIFIC, JUST TREMENDOUS. And there are #girls on it, too, so it works thematically we guess JUST FUCKING LISTEN.
Snakadaktal - "Dance Bear" (Chad Valley remix)
The Holy Roman Army - "Here" (Pavement cover)
Lukah Luciano - "My Blue Note"
Himanshu ft. Despot & Kool AD - "Kate Boosh"
Lucero - "The Last Pale Light In The West" (live from Daytrotter, originally by Ben Nichols)
The 4onthefloor - "Workin' Man Zombie"
Asobi Seksu - "Trance Out"
Animal Collective - "Leaf House"
Philip Glass: Orphée Suite: II. Orphee's Bedroom (Paul Barnes, piano)
Joy Division - "Love Will Tear Us Apart"
Hooray for dance parties! Tell us what you're listening to in the comments, which are not allowed.
Evan Hurst
Evan Hurst is the managing editor of Wonkette, which means he is the boss of you, unless you are Rebecca, who is boss of him. His dog Lula is judging you right now.
Follow him on Twitter RIGHT HERE.