Who Wants To Play Guess The Mueller Manafort Redactions?
Russia
January 16, 2019 11:30 AM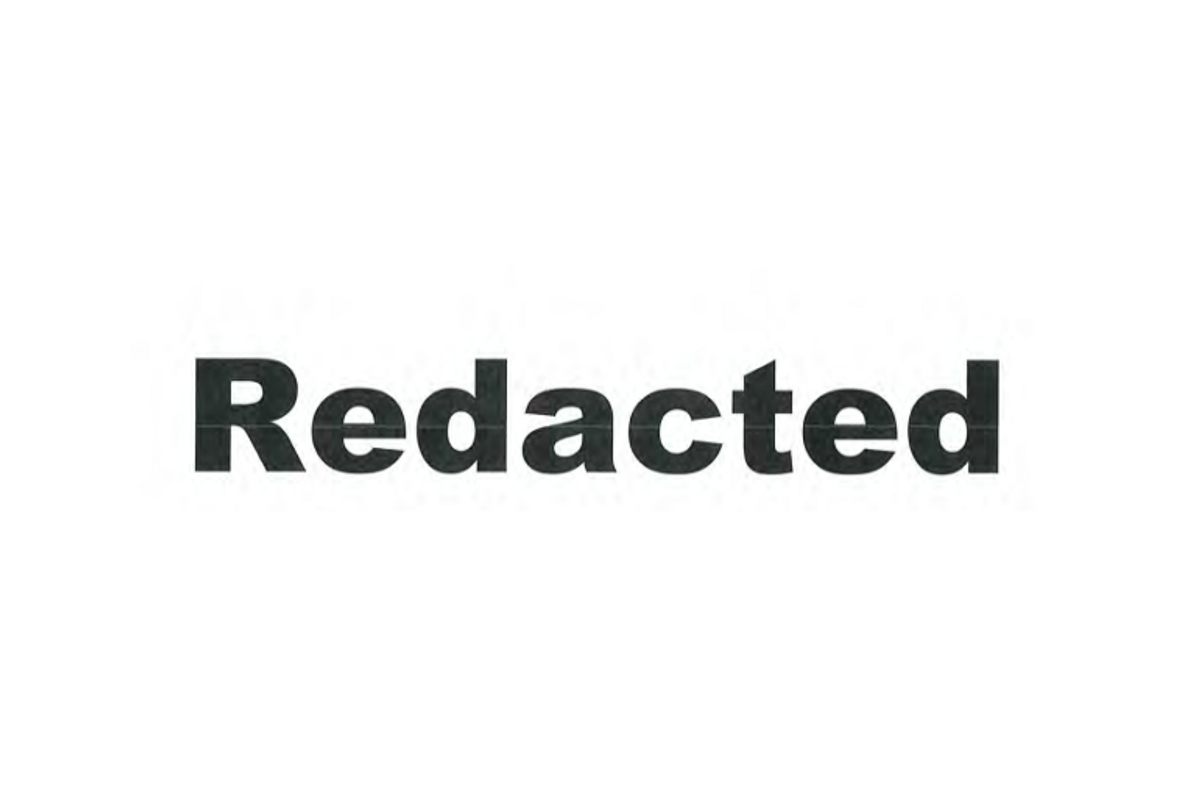 Paul Manafort has been a very bad boy. You don't need to read the latest filing in his case, an FBI agent's affidavit buttressed by 100 pages of exhibits, to know that he's going to jail for a long, long time. And that's a good thing, because most of the affidavit looks like this.

But we can still piece together a lot about a hustler who figured he was always the smartest guy in every room. Spoiler alert: HE WASN'T.
---
Witness Tampering
Remember that Paul Manafort was charged for violating the Foreign Agents Registration Act (FARA) by lobbying in the US for pro-Russian political parties in Ukraine. He needed to tell the world that it was totally fine that oligarch Viktor Yanukovych had imprisoned his political rival and gone on to loot the Ukrainian treasury, so the Obama administration should pretty please treat the Yanukovych regime as legitimate. Manafort secretly hired a group of European luminaries, known as the Hapsburg Group, to shill for Yanukovych by writing editorials under their own names praising him as an ideal, modern leader.
But when Robert Mueller came calling, Manafort needed to bury his tracks. So he reached out to his Kremlin-linked pal Konstantin Kilimnik so that he could get the story straight with Hapsburg Group witnesses. Because if he could get them to say the Group's activities were primarily centered in Europe, Manafort could defend himself against a charge of violating FARA.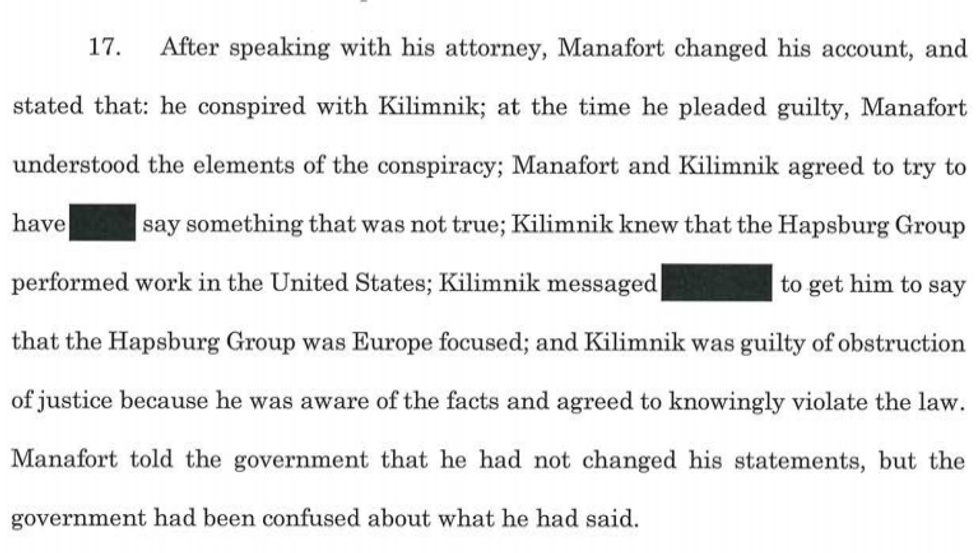 Remember when the Judge ordered Manafort to get his sorry as to jail last June? It was because he tampered with witnesses to get them to say he wasn't an unregistered foreign lobbyist working in the United States.
Ukrainian Peace Plan
There will never be a redaction fail like Manafort's lawyers last week -- we can just retire Kevin Downing's number right now. But even Mueller makes mistakes, which is why you can see that Exhibit 213 is a document entitled "New Initiative for Peace." Whoops!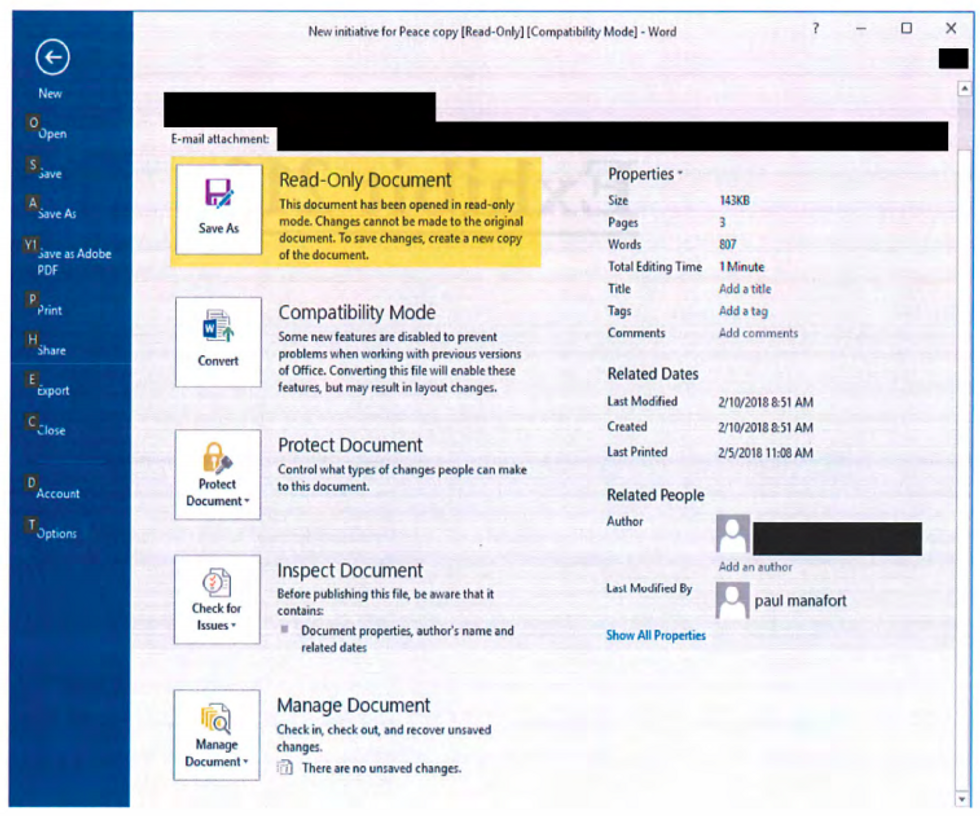 The FBI says that Manafort and Kilimnik continuously discussed the Ukrainian "peace plan" between August of 2016 (right after the RNC changed its platform to a more pro-Russian Ukraine stance, go figure) and March of 2018. Which is ballsy, considering Manafort was first arrested and charged by the special counsel in October of 2017. There is a lot of black ink over this section of the filing, and we're guessing it's not to keep Kostya's mama's prize potato varenyky recipe under wraps.
And While We're Guessing ... Is That You, Dana Rohrabacher?
Remember when Rick Gates was so freaked out about a meeting that Manafort had with then-Congressman Dana Rohrabacher in March of 2013 that he lied at his proffer and almost blew up his plea deal? Whatever happened at that meeting, Gates risked going to jail to lie about it five years later. And it looks like Manafort might have made the same mistake, for some reason.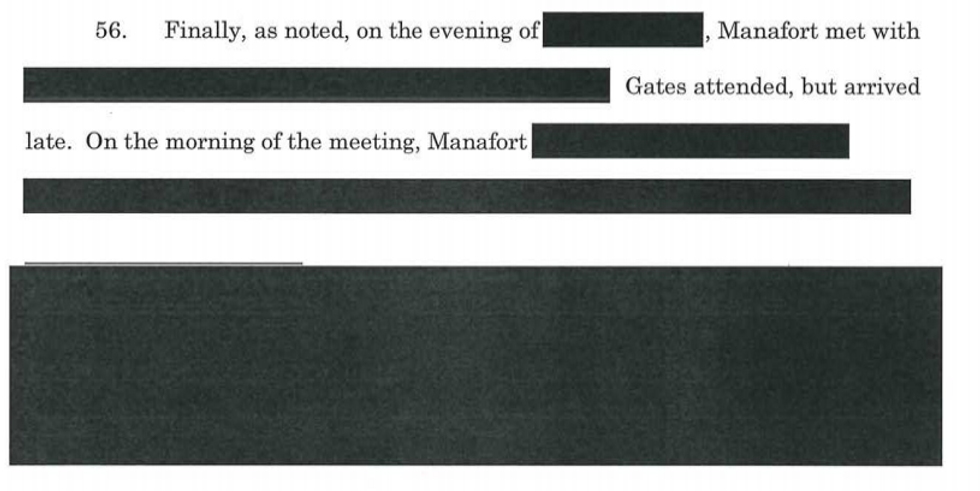 HUH.
Trump's Rotten PAC
What's that smell? Oh it's just Rebuilding America, the PAC that Trump's billionaire pal Tom Barrack set up to collect cash from rich people who maxed out their donations to the campaign, but still wanted to shower the King of Grift with gifts. Manafort sent two of his closest friends from the campaign, Laurance Gay and Ken McKay, over to run it -- FEC rules requiring a 120-day "cooling-off period" be damned -- and the money came rolling in. KA-CHING! So nice of Linda McMahon to kick out $6 million before she was coincidentally appointed to head the Small Business Administration. But we digress.
Manafort gave the FBI several different stories about a $125,000 payment made on his behalf in June of 2017 -- sometimes it was a loan, sometimes it was a commission, sometimes it was a contribution. This one's going to take bit of educated guessing, but just hang with us here for a second.
Remember how Manafort was supposedly working FOR FREE on Trump's campaign? Well, funny story! Looks like Manafort may have been getting a 3% cut of all the ad buys from Trump's PAC.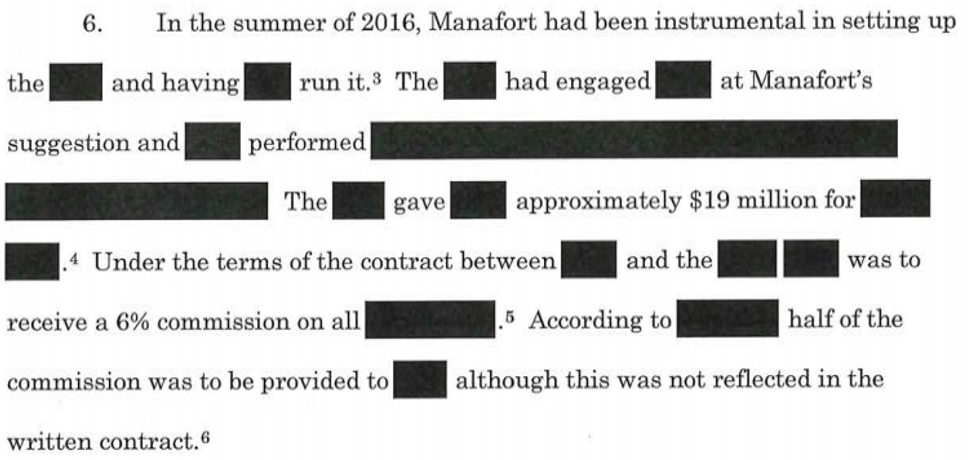 Let's guess that this says something like:
In the summer of 2016, Manafort had been instrumental in setting up the [PAC] and having [Gay] run it. The [PAC] had engaged [Multi Media Services, aka MMS] at Manafort's suggestion and [MMS] performed [digital media services in support of candidate Trump]. The [PAC] gave [MMS] approximately $19 million for [cutting ads]. Under the terms of the contract between [Manafort's lobbying firm Davis Manafort Partners, DMP] and the [PAC], [the PAC] was to receive a 6% commission on all [ad buys.] According to [a witness, possibly Ken McKay], half of the commission was to be provided to [DMP], although this was not reflected in the contract.
Major hat tip to the Campaign Legal Center's Brendan Fischer, who worked a lot of this out a week ago. Open Secrets confirms that Rebuilding America paid MMS $20.2 million in the 2016 campaign cycle, which is more than $19 million -- but we'll get to that in a minute. If Manafort was getting a 3% cut, then Trump's donors were paying him $570,000, which is not a bad day's work. Particularly if you can use internal campaign data to pay down your debt to scary Russian oligarchs.
In June of 2017, someone made that $125,000 payment on Manafort's behalf to a third party. We think that MMS paid Manafort's lawyers at WilmerHale directly because they owed $1.1 million in unused ad money to the PAC. Which sounds absolutely insane, we know, but take a look at this.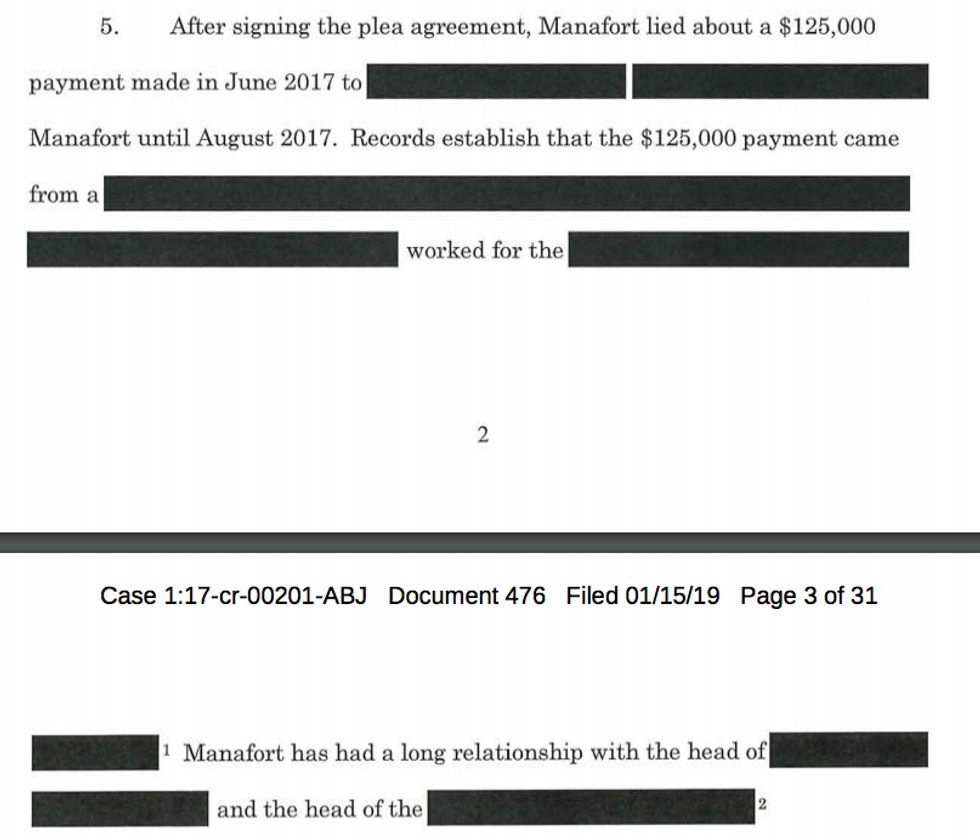 How about:
After signing the plea agreement, Manafort lied about a $125,000 payment made in June 2017 to [WilmerHale, a law firm which represented] Manafort until August 2017. Records establish that the $125,000 payment came from a [digital media company known as Multi Media Services which] worked for the [Rebuild America PAC. Manafort has had a long relationship with the head of [Rebuild America] and the head of [Multi Media Services.]
Because Manafort did in fact fire WilmerHale in August 2017. And Manafort told his tax preparer that he had the "vendor pay directly to [REDACTED], due to "complications in my banking." And MMS refunded $1.1 million to Rebuild America in 2017, including a $625,000 payment on June 15. So we wouldn't swear to it on the witness stand, but it sure as hell looks like MMS paid Manafort's lawyers directly. (Why WilmerHale would take money in a hinky transaction like this is a question for another day.)
But wait, there's more! In an attempt to hide this payment from the FBI, Manafort and someone, possibly his buddy Laurance Gay, came up with a "promissory note" in 2018 to cover their tracks, thus converting the MMS payment to a "loan."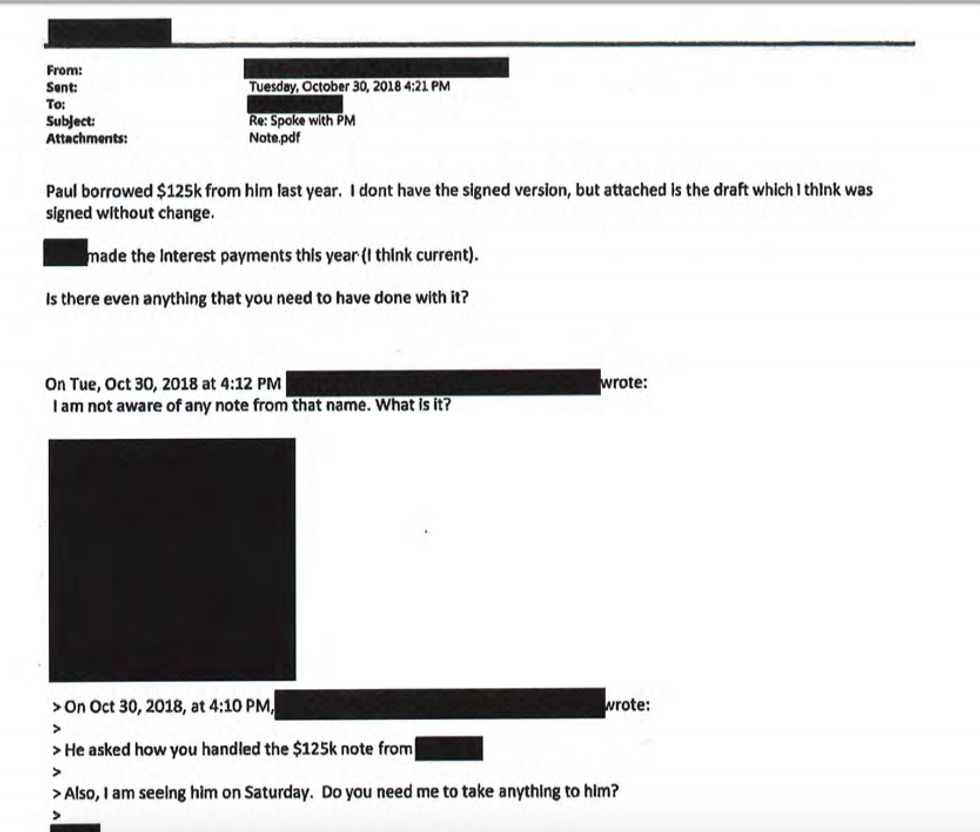 Which is an unorthodox move when the FBI's forensic accountants are all the way up your ass, but Manafort has never been accused of strict orthodoxy.
Look, we don't know why he told so many lies about this transaction -- $125,000 is a lot of money, but at the same time it's not that much money. Maybe this is the key to the NO COLLUSION. Or maybe Manafort figured a pissant $125,000 payment wouldn't matter in the end if he wound up getting a presidential pardon. He was simultaneously lying to prosecutors about his myriad contacts within the administration. Indeed, there was a whole lot of black ink over the section about Manafort's contacts in Trumpland. But we do know that he was flogging his pals for jobs as late as May 2018.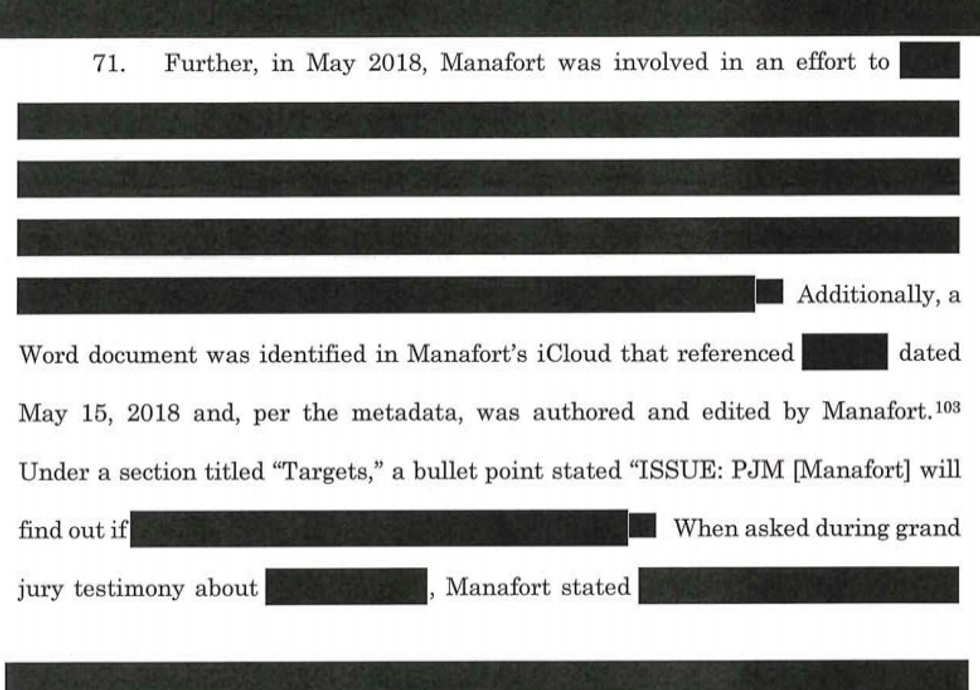 Sneaky little bastard, ain't he? Okay, that's enough for now. LOCK HIM UP, &c.
[Declaration in Determination of the Government's Breach Determination and Sentencing / Campaign Legal Center / Open Secrets / FEC]
Follow your FDF on Twitter!
Please click here to keep Your Wonkette staring at legal filings for hours on end. We love you!
Liz Dye
Liz Dye lives in Baltimore with her wonderful husband and a houseful of teenagers. When she isn't being mad about a thing on the internet, she's hiding in plain sight in the carpool line. She's the one wearing yoga pants glaring at her phone.