Why Does Chris Rock Hate Slavery So Much?
News
July 05, 2012 04:14 PM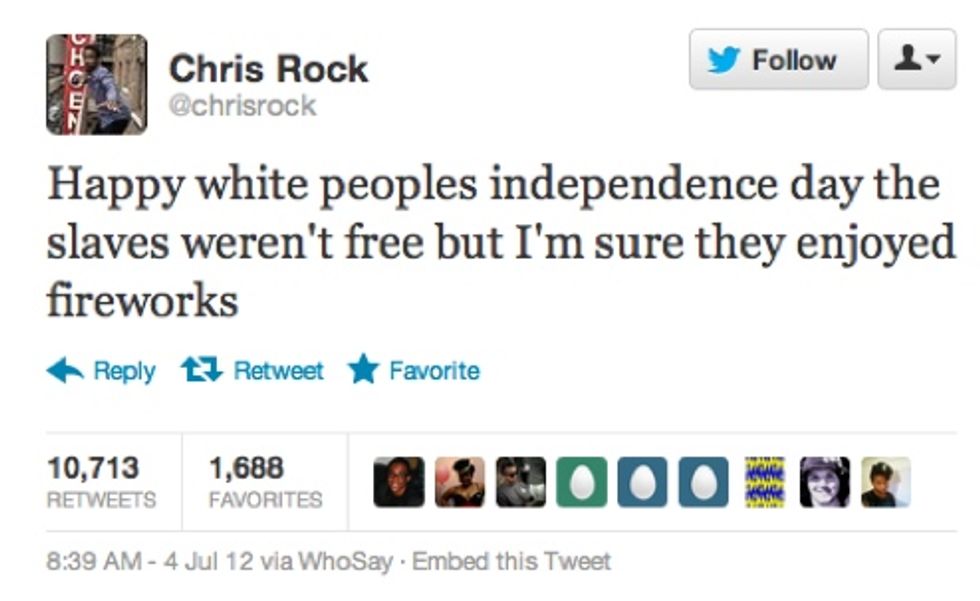 Because we hate ourselves, your Wonkette spent the early part of its Fourth of July Holiday surfing for wingnuts yelling at unpatriotic celebrities criticizing the Birth of America.This thing, "Shameful: Aaron Sorkin, Left celebrate Independence Day by slamming America; Update: Chris Rock joins in: 'Happy white peoples independence day'; Don Cheadle laughs along; Zach Braff piles on," really hit the spot. Did you know that Chris Rock and Don Cheadle are true traitors for noting that the enslavement of black people was very much "a thing" during the signing of the Declaration of Independence?
---
What Chris Rock did... onee must never do this, let's just say:
Chris Rock seems to have tweeted up a bit of controversy over the July 4th holiday.

The comedian, whose latest project is executive producing Totally Biased with W. Kamau Bell for FX, ruffled more than a few feathers after sending out this message to his followers: "Happy white peoples independence day the slaves weren't free but I'm sure they enjoyed fireworks."
AND THEN WHO JOINS IN, CHEADLE. Laughing like a clown!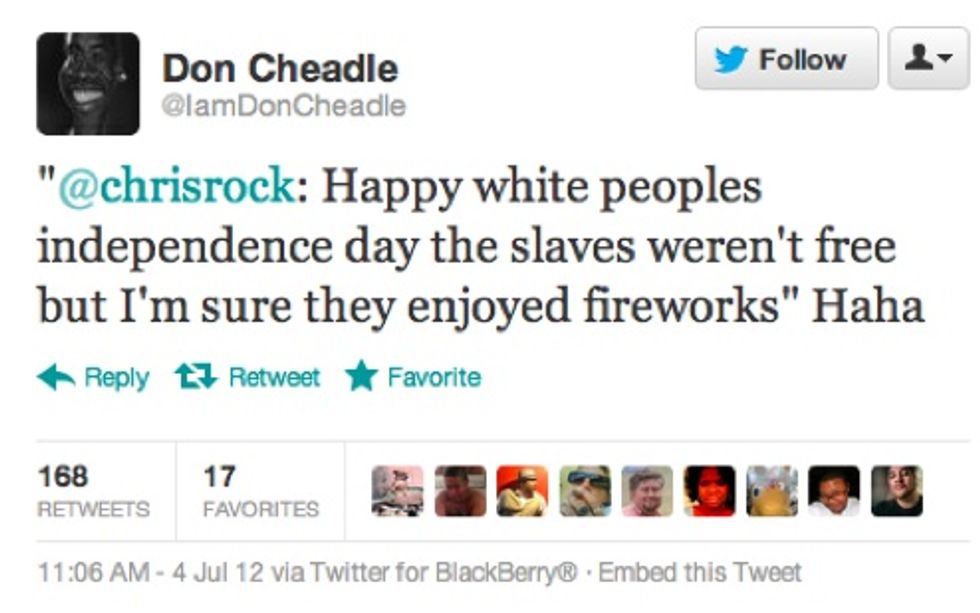 This all led to waves of nutters shouting at the black celebrities to stop being such sourpusses. Why don't you live in another country if you don't like it! Stop having your own perspective, adopt mine! FOR FUCK'S SAKE, THERE ARE CHILDREN READING TWITTER.