Why You Must Never Google-Image 'Man Boobs'
News
August 15, 2008 12:27 PM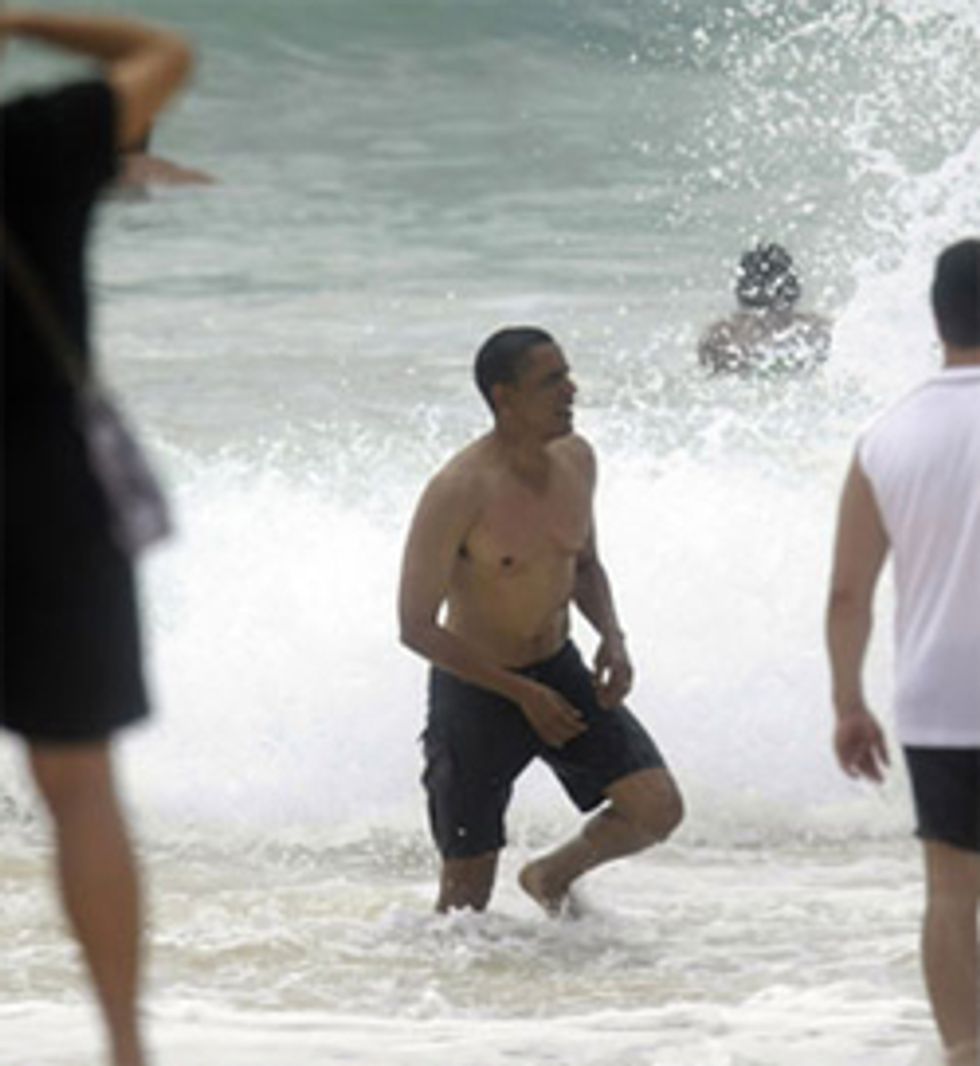 Barack Obama publicly taking off his shirt in Hawaii -- or as Reuters puts it in a headline, "Obama takes shirt off again" -- is such a cheap topic of discussion that we had to make it, in fact, a topic of discussion, between yours truly and Sara K. Smith, in a chat, after the jump.
---
Jim N.
The tanline.
Sara S.
So, uh, I don't know, I don't really have any complaints about Barack Obama's body.
Sara S.
The tanline is tricky...maybe it's just a shadow?
Jim N.
That's racist, but maybe.
Sara S.
Or does he have maybe a wifebeater tanline? Check out the shoulder.
Jim N.
Yeah, where did that even come from?
Jim N.
Can you IMAGINE if Barack Obama was captured, in a photograph, wearing a wife beater?
Sara S.
He wears v-necked wifebeaters all the time, in Hawaii
Sara S.
Ha ha ha! With the caption HAMBURGA HAMBURGA HAMBURGA
Sara S.
He works out in a Hawaiian spider hole, with his poi
Jim N.
New smear e-mail: "I saw in tha picksher that moozy obamma beats his lady wife"
Sara S.
OK here is a question: News reports indicate that he works out pretty much constantly, and lifts insane weights. Shouldn't he be in *better* shape?
Jim N.
Do black people wear sunscreen? This is one of those questions that I always wanted to "Ask Jeeves" when that website was starting up. "This would be a perfect question for the white elitist Internet butler engine," I thought.
Jim N.
We should answer these one at a time.
Jim N.
So let's go with yours.
Sara S.
OK well YOU ANSWER IT, then.
Sara S.
Meanwhile I will research the sunscreen issue.
Jim N.
He should, absolutely, be in better shape. He always looks skinnier in his dumb jeans or suits. BUT his torso is so pale that it's hard to see the definition, ya know? This is a problem for many of us "fair-skinned" types, which is why we usually don't even try building definition.
Jim N.
HIS NIPPLES ARE SO BLACK CONTRASTINGLY DARK.
Sara S.
All that matters, for men, is that their shirts hang off their shoulders well, and his do.
Jim N.
What does that even mean?
Sara S.
Like from the back, you want to see a little shoulder blade.
Sara S.
I will look for a foto.
Jim N.
We're skirting the main issue here.
Sara S.
Which is what?
Jim N.
Can Barack Obama, even if he works out six times a day, ever get rid of his man boobs?
Sara S.
How awesome John McCain looks in a swimming costume?
Sara S.
Ha ha ha ha
Jim N.
His body wants to have man boobs.
Jim N.
But Barry is like "goddamnit no"
Jim N.
And yet?
Sara S.
I don't think those are fatty boobs, though. They look firm to me.
Jim N.
His pecs may just be "puffy."
Jim N.
It is not fat or anything.
Jim N.
Just a vaguely conical tip for which there is no hope.
Sara S.
Oh god that is so sad...it reminds me of this guy I knew in high school, who I think probably has that what do you call it, the large man boob problem, but we all just thought he was hefty.
Sara S.
GYNECOMASTIA
Sara S.
I see no evidence of that with Obama, though.
Jim N.
You were so mean to everyone in high school, always.
Jim N.
Check out old Barry:
Jim N.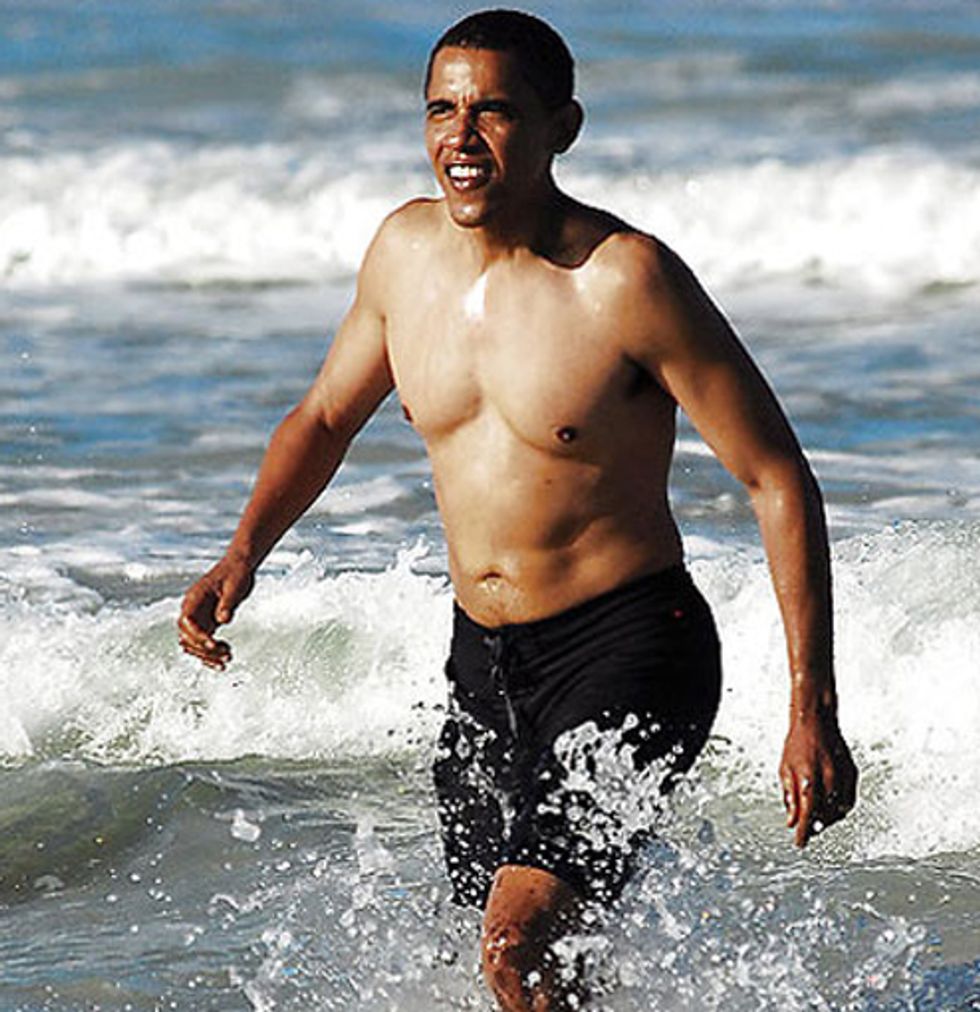 Jim N.
Don't you see the traces of unfortunate genetics in those pecs?
Sara S.
I was not mean to anybody in high school! I was a terrible dork who did not go on a SINGLE date.
Jim N.
Yeah, because you were always calling all the boys hefty, to their faces.
Jim N.
But anyway ha ha no Barack Obama does not have man boobs.
Sara S.
That is exactly right. I was mean to everyone because I love confrontation.
Jim N.
He is not Phil Mickelson.
Jim N.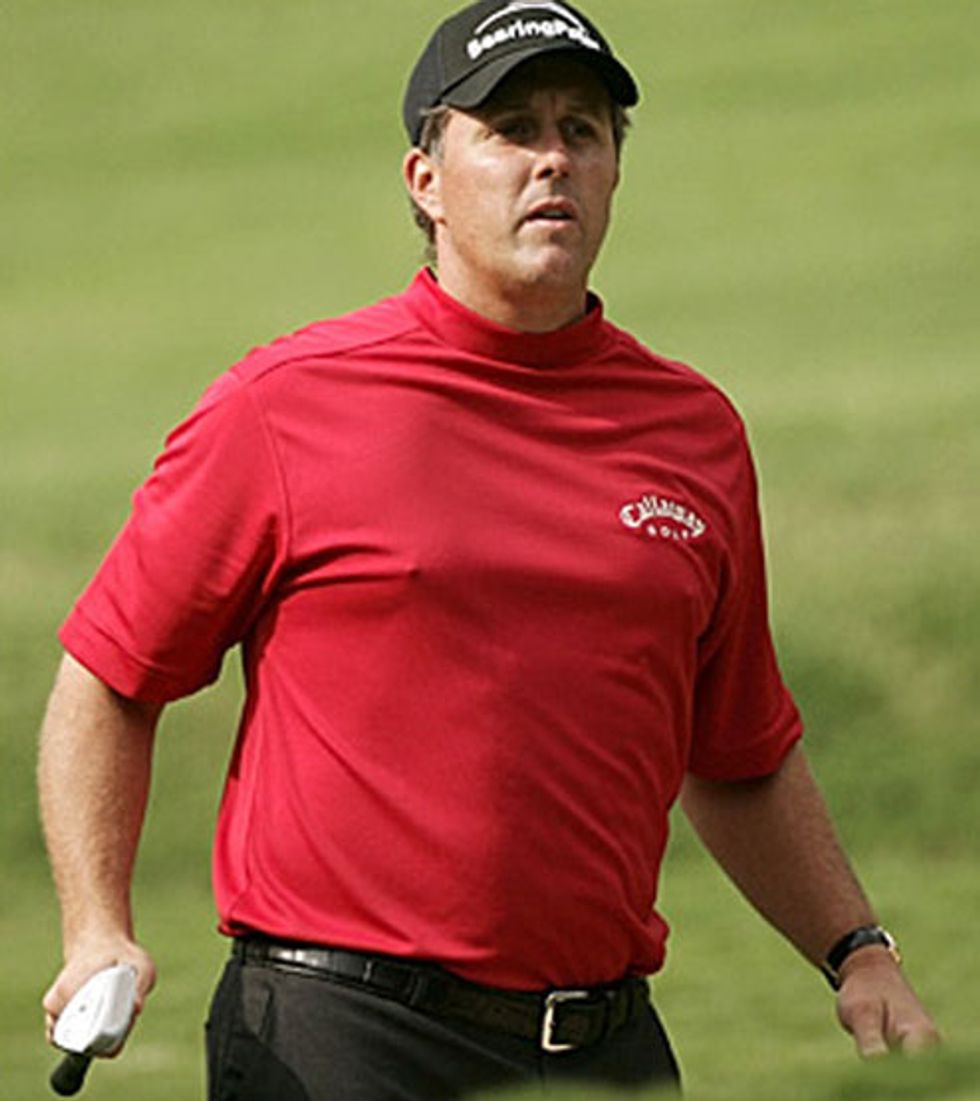 Sara S.
Oh lordy!
Jim N.
Phil Mickelson's wife is hot as shit though.
Sara S.
And yes, Barack Obama has definitely improved. He probably saw those photos and was mortified.
Jim N.
OH GOD
Sara S.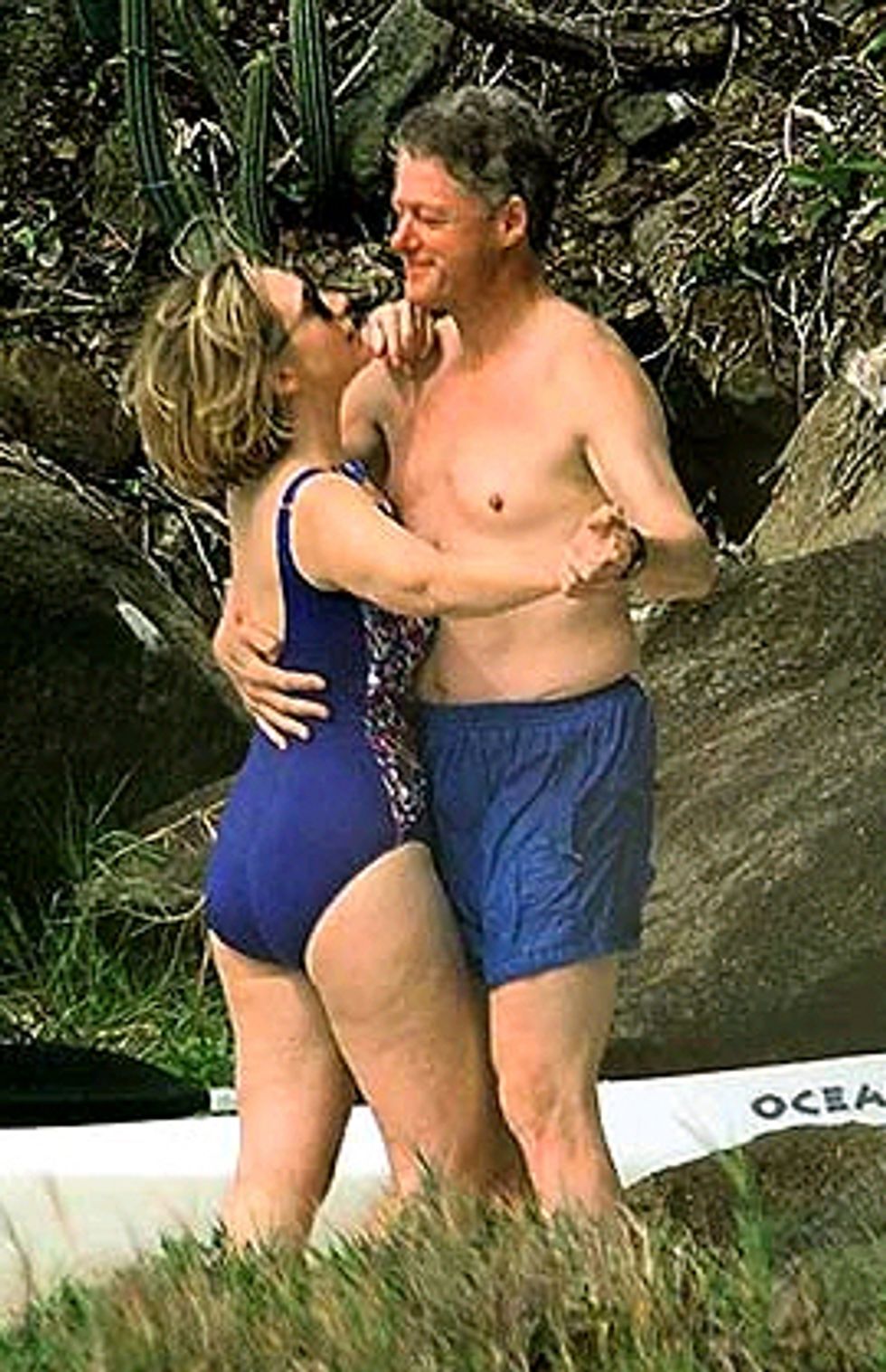 Jim N.
SARA
Sara S.
Bill Clinton has very dark nipples as well.
Sara S.
I do not like to think of presidents having nipples.
Jim N.
I just google imaged "man boobs," hoping to find a funny picture, right?
Jim N.
YOU MUST NEVER GOOGLE IMAGE "MAN BOOBS"
Sara S.
Oh no...
Sara S.
Ha!
Jim N.
You do not understand.
Jim N.
We have to end this, I'm going to be sick.
Jim N.
Wait.
Sara S.
Well, now I must try it.
Jim N.
Ha ha ok.
Jim N.
First column, second row, right?
Sara S.
Oh God I am weeping with horror/laughter
Jim N.
They take it quite literally, don't they, the Google search people, when you type in "man boobs."
Jim N.
I am vomiting.
Jim N.
I can't stop vomiting.
Ken L.
has entered the room
Ken L.
you are both gross
Obama Bodysurfs In Hawaii [Huffington Post]