Will Judge Matthew Kacsmaryk Outlaw Medication Abortion Tomorrow?  ¯\_(ツ)_/¯
Abortion
March 14, 2023 03:10 PM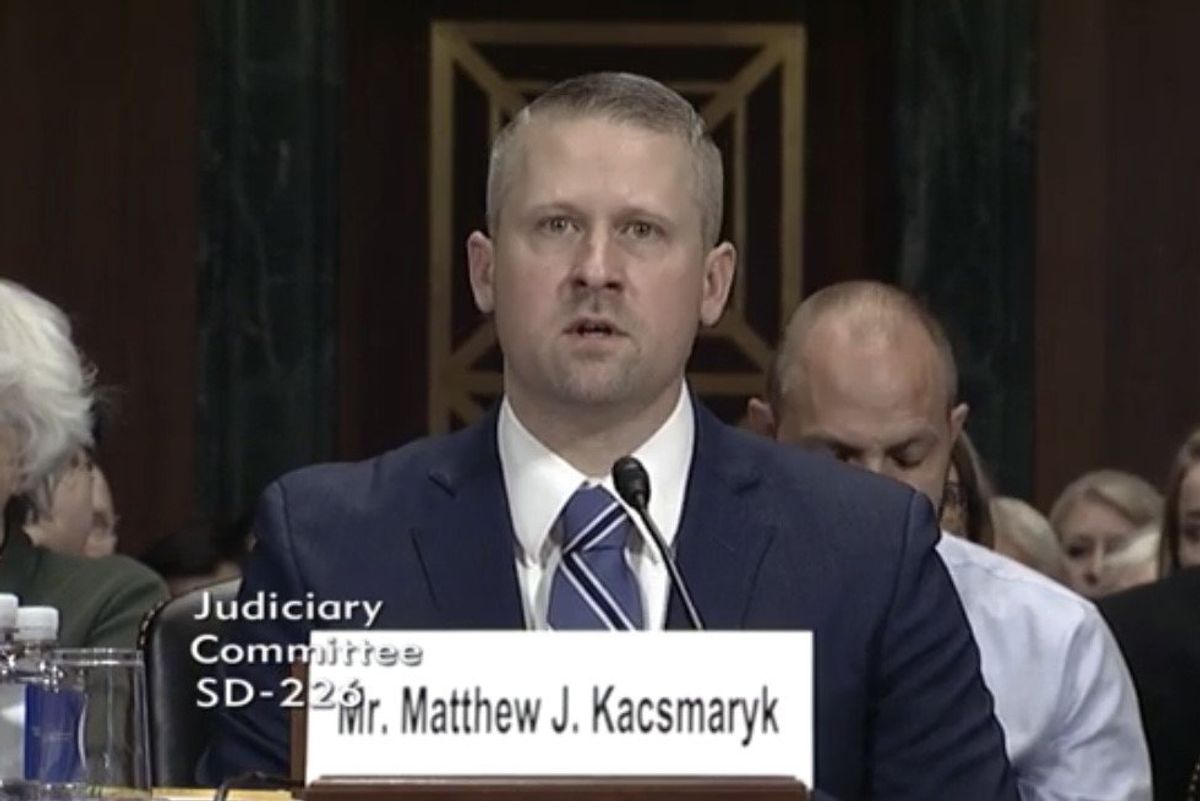 As soon as tomorrow, the commonly used abortifacient drug mifepristone might be banned nationwide, forcing women to resort to less effective, more painful misoprostol or even surgery to access the care they need. This is what happens when you elect a lunatic gameshow host and let him pack the judiciary with 40-something wingnut activists, and we're all going to be dealing with the fallout for decades.
There is perhaps no more dangerous winger jurist in America than Matthew Kacsmaryk of the Northern District of Texas. Kacsmaryk, who has called homosexuality "disordered" and transgender identity a "delusion," is parked in a single-judge division in Amarillo, making the outpost a destination for conservatives shopping for someone to roll back a generation's worth of gains for women, minorities, and anyone else despised by the followers of Capitalist White Jesus. Judge Kacsmaryk has already issued nationwide injunctions blocking protections for transgender workers and forcing the Biden administration to reinstate Trump's vile "Remain in Mexico" policy. So naturally anti-choice loons looking to make abortion as unsafe and inaccessible as possible made a beeline for his courtroom.
---
In fact, "beeline" rather understates it. To be accurate, a coalition of longtime anti-abortion groups such as the Catholic Medical Association and the American Association of Pro-Life Obstetricians and Gynecologists formed a coalition called the Alliance for Hippocratic Medicine just three months after the Supreme Court gutted abortion rights in Dobbs. They incorporated in Amarillo so as to be sure to get on Judge Kacsmaryk's docket in preparation to launch themselves into the warm embrace of the Fifth Circuit. These goons are not subtle. Nor was their complaint, which alleged that "the FDA failed America's women and girls when it chose politics over science and approved chemical abortion drugs for use in the United States," saying the FDA had wrongfully approved mifepristone because "pregnancy is not an illness, nor do chemical abortion drugs provide a therapeutic benefit over surgical abortion."
Yes, that is really their argument. These filthy ghouls are literally saying that there's no therapeutic benefit for women to taking a safe and effective pill in the privacy of their own homes over surgery in a clinic.
And speaking of unsubtle, Judge Kacsmaryk's efforts to hide the rancid salami here have been utterly shameless. This weekend the Washington Post reported that he held a Friday status conference with the parties at which he announced an in-person hearing for Wednesday morning to argue the nationwide injunction the plaintiffs are demanding. But he deliberately didn't docket the hearing to avoid "a barrage of death threats and protesters and the rest." He promised to put notice of the hearing on the public docket after close of business Tuesday, thereby ensuring that virtually no protestors or media would be able to get to Amarillo, which is a four-hour drive from any other major metro area, in time for the 9 a.m. hearing.
Forgive the use of sophisticated lawtalk, but the technical term for this is "hinky as shit." There is a strong presumption in favor of public access to judicial process, as Judge Kacsmaryk himself acknowledges on his own page on the Northern District of Texas's website. As legal columnist Chris Geidner notes, Kacsmaryk warns parties appearing before him that, if they want to file a document under seal, they will have to "(1) move for leave to do so; (2) brief the legal authorities indicating the risks of disclosure outweigh the public's right to know; and (3) explain that no other viable alternative to sealing exists."
Naturally, the same people who have spent decades insisting on the First Amendment right of anti-choice lunatics to stand just inches away hurling invective at women seeking healthcare demand to be shielded from protestors who might point out the cruelty of their plans. And while no courthouse wants to get death threats, protesting and media access are core First Amendment activity. FFS, we managed to try the Boston Bomber on the public docket, and no court would approve sealing a hearing to avoid "an unnecessary circus-like atmosphere." Which is why Kacsmaryk didn't come out and actually do it — he just kept it off the docket in an attempt to accomplish the same end by fiat.
But he got caught, since the Post figured it out almost immediately and all hell broke loose, with the Reporter's Committee for Freedom of the Press along with the Post and several local media outlets filing an objection citing multiple Fifth Circuit cases which reinforce the media's right of access to court proceedings. So yesterday Judge Kacsmaryk begrudgingly relented and docketed an order acknowledging both the Friday status conference and the Wednesday hearing. He did not acknowledge the Streisand Effect, although perhaps he will tomorrow when the courtroom is full of reporters from every major news outlet in America.
TPM got its hands on a transcript of the hearing, and it is predictably horrible, even aside from the whole Screw the First Amendment thing. Among the issues to be briefed are a Supreme Court case holding that there is no private right to challenge FDA enforcement actions (good!) and the Comstock Act which bans the mailing of indecent materials (JFC!).
Hang on to your uterus, girls. This is going to be a bumpy ride.
[TPM]
Catch Liz Dye on Opening Arguments podcast.
Click the widget to keep your Wonkette ad-free and feisty. And if you're ordering from Amazon, use this link, because reasons.
Liz Dye
Liz Dye lives in Baltimore with her wonderful husband and a houseful of teenagers. When she isn't being mad about a thing on the internet, she's hiding in plain sight in the carpool line. She's the one wearing yoga pants glaring at her phone.