Will Republicans Try To Block Nuke Treaty? If They Love America, Yes
News
April 08, 2010 03:19 PM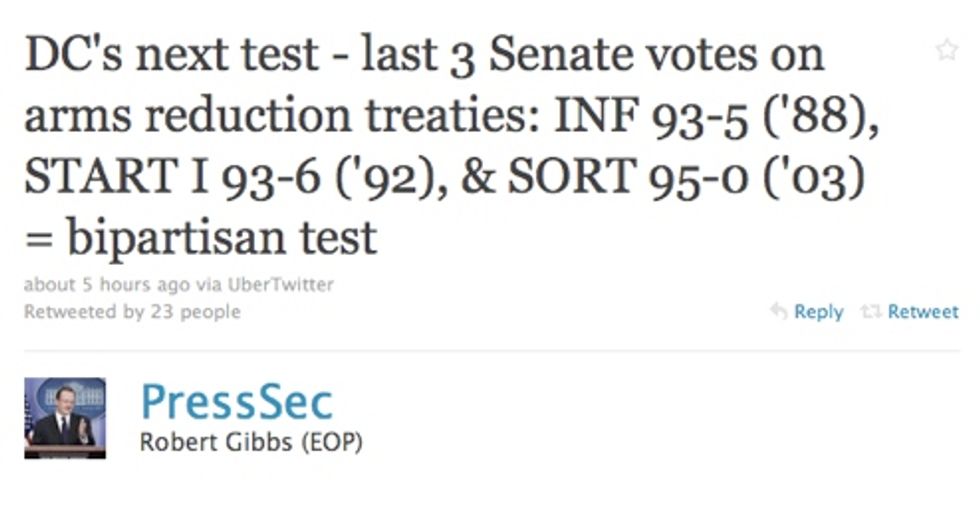 Today, in an Ancient Prague Castle, Barack Obama and Russian President "Michael Medved" signed their START II treaty, which is intended to loan all of America's weapons to Russia and other communist countries, permanently. Barack Obama strikes again! Will our brave Republican Senate heroes stand up against Obama and the Russian Bear?
---
Senate Republican leadership sources say Senate Republican leaders don't have a firm position because the leadership hasn't been consulted in any substantive way about the treaty by the Obama administration beyond some minor discussions.

Any treaty negotiated by the executive branch needs to pass the Senate by a two-thirds vote, as required by Article II, section 2 of the Constitution. Fifty-nine Senators caucus with the Democratic party, so assuming all of them support ratification, at least eight Republicans will need to join them to reach 67 votes.

Senate Democratic leadership sources suggest Republicans are waiting to see what the reaction is to the treaty from the conservative base of the party. Senate Majority Leader Harry Reid, D-Nev., is said to be hopeful that in the end the votes will be there, when a vote comes up in several months after several committee hearings.
PHEW! Harry Reid is hopeful. Let's all go get tacos and waffles.
It would be unbelievably embarrassing to the United States if Senate Republicans blocked this crucial nuclear arsenal reduction policy right now, especially since it doesn't have much teeth. For these reasons, it is likely that the Senate Republicans will block it.
WE DON'T NEGOTIATE WITH THE SOVIET UNION, IDJITS.
[ABC News]