Wingnut Congresswoman Demands To See Obama's Longform Skeet-Shooting Video
News
January 29, 2013 07:25 PM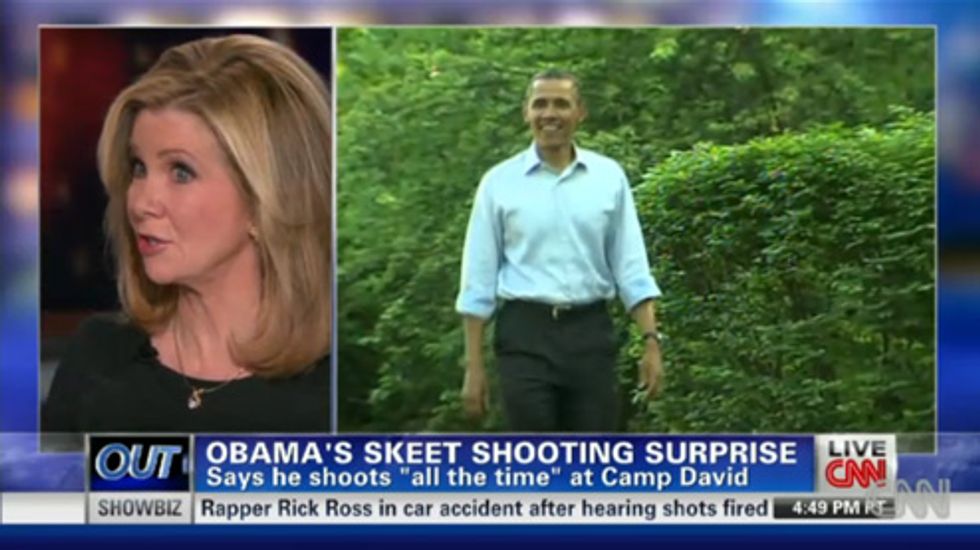 This might be the first time ever that right-wingers accused a black man of not having a gun.
---
OB (Original Birther) Rep. Marsha Blackburn (R-TN) appeared Monday night on CNN, and totally didn't believe that Obama goes skeet-shooting, as he told the New Republic.
"If he is a skeet-shooter, why have we not heard of this? Why have we not seen photos? Why has he not referenced it at any point in time?" said Blackburn. "As we have had this gun debate that is ongoing, you would have thought it would have been a point of reference."
"I tell you what I do think," she later added. "I think he should invite me to Camp David, and I'll go skeet shooting with him — and I bet I'll beat him."
We are sure the president is dying to invite random screeching wingnuts shooting ... CHENEY-STYLE. (We are saying he would probably like to shoot her, in the face, with a gun.)
In any case, there are now Truthers for everything. Obama ate breakfast? WHAR VIDEO? Obama sometimes likes to murder poor, defenseless clay birds? We will believe it when he goes back to Kenya, where he was born.
[CNN]