Mary Burke Just Might Kill Gov. Scott Walker's Dreams of Losing GOP Presidential Primary
Featured
September 02, 2014 10:42 AM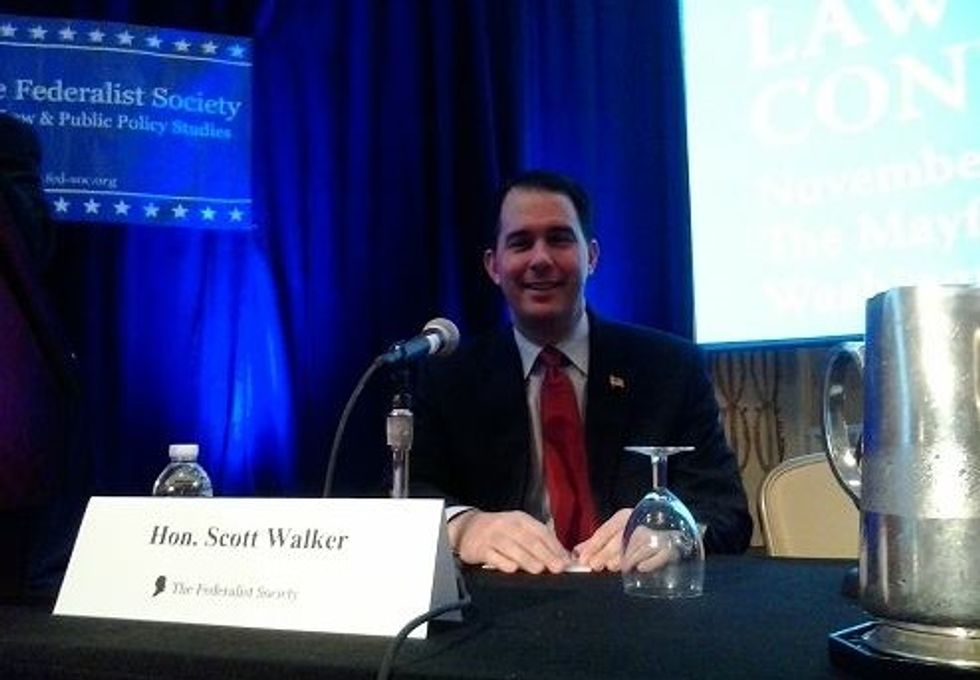 Scott Walker's job security as King of Wisconsin and Union-Buster in Chief appears increasingly precarious, even as he is road tripping to push for a promotion to that oval-shaped office in Washington. Marquette Law School just released a third consecutive poll showing the 2016 presidential hopeful in a dead heat for re-election with his Democratic challenger, former state commerce secretary and Trek Bicycle executive Mary Burke.
---
Gov. Walker, shown above pre-presidenting at the nation's foremost gathering of federalist lawyers, still has some conservative swashbuckler cred for his defeat of the syndicalists in the Wisconsin Union Wars, his effortless survival of his historic recall election, and his consistent dedication to pulling Wisconsin to the right on social issues like abortion and the gays.
There are problems for Scott on the home front, however: His program of union squashing and tax cuts has failed to produce the 250,000 jobs he promised, and now the state is facing a dramatic shortfall in revenue that his budget failed to plan for. Yet another fiscally responsible governor using GOP principles to put his state on the path to robust economic health!
Despite the looming prospect of being turfed out of office, Walker continues to show signs of acute Early Cycle Hope Syndrome. He can take comfort in knowing he is not alone -- it's common for sitting governors and senators of both parties to imagine they have a chance in hell to lead the country at this stage of the presidential derby. His story shows strong potential to turn into a cautionary tale since, in his rush to pick his preferred play-out music for the night he secures the Republican nomination, Scott Walker seems to have have forgotten one of the earlier steps in the Home Presidential Kit for Governors. Check between the strategic book tour and the casual swing through Iowa. See, there it is: win re-election. You spend one too many days in think tanks and hotel ballrooms in DC and next thing you know, the Cook Political Report is calling your race a toss-up.
Money has been pouring into Wisconsin's gubernatorial race from outside the state, and the lion's share of it is going to Scott Walker, shoveled his way by the likes of Sheldon Adelson and T. Boone Pickens. Donald Trump is a maxed-out donor to Walker's re-election fund, Wonketteers. The good news is that money is speech, which means all we have to do to shut up Donald Trump, for once in his life, is yell louder by raising even more money for Walker's opponent Mary Burke, who is just the Badger to put a stop to Walker's war on Wisconsin and presidential pipe dreams.
Please give a few bucks to help us help Mary Burke through our special Wonkpage at ActBlue so we can be big-time players in dairyland politics, then start planning your beer-and-cheese-themed victory parties for November! Burke for Wisconsin! Forward!
[Milwaukee Journal-Sentinel / ABC News / Cook Political Report  / Meet Mary Burke]
You can follow Beth on Twitter for tales from the old days, back during the Union Wars.