Wolf Attacks Theater: A Special BLITZER'S BLOG Review Of 'Game Change'
News
March 09, 2012 07:13 PM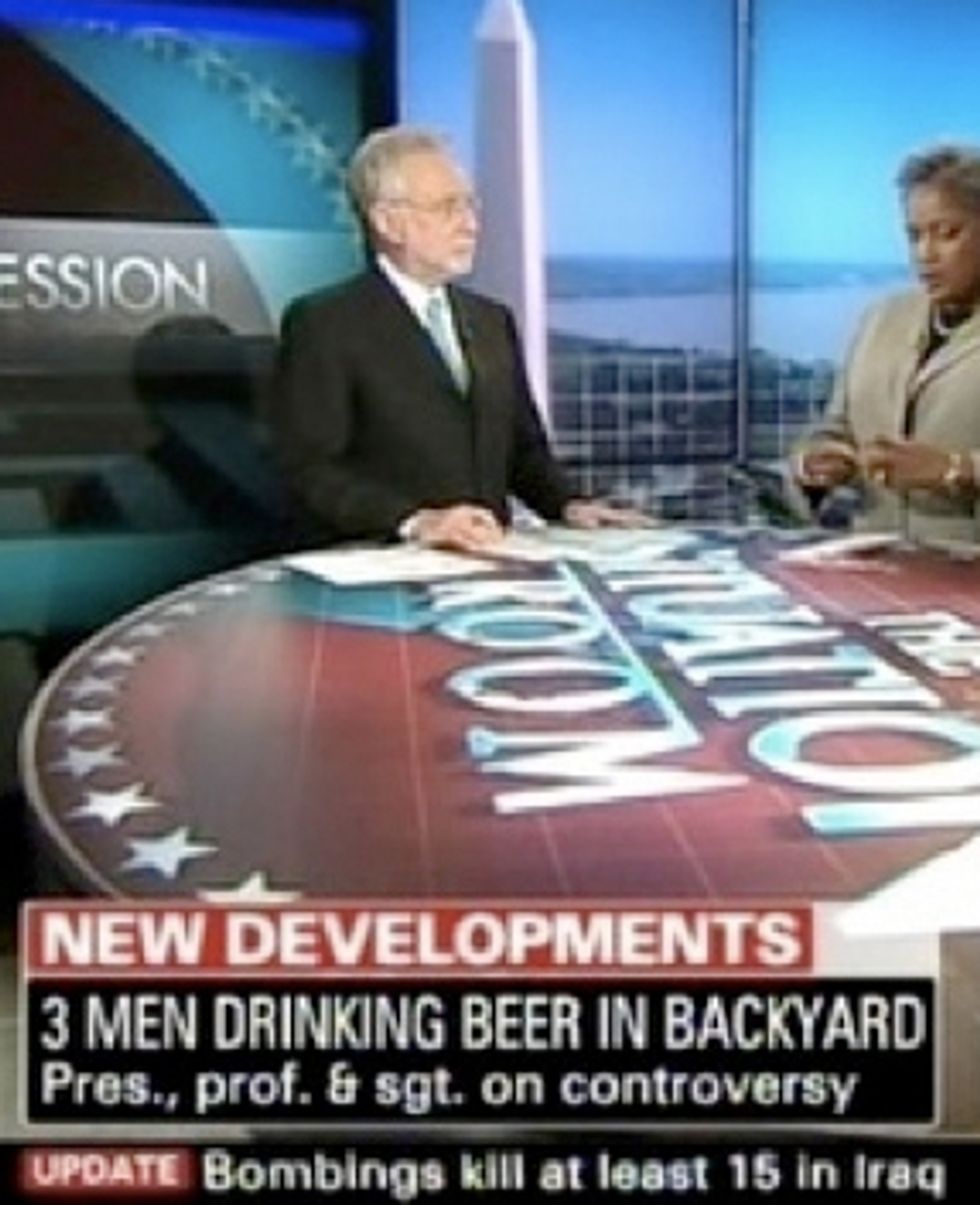 Your Wonkette woke up at 3 a.m. this morning and has been refreshing CNN's Situation Room blog every 9 seconds without interruption since, longing for that glorious moment of release when the page would load and there, sitting atop the earlier, lesser posts, would be a fresh new entry to BLITZER'S BLOG offering Wolf Blitzer's take on HBO's new film,Game Change. The adaptation of John Heilemann and Mark Halperin's collection of nutty and occasionally factual anecdotes from the 2008 McCain campaign debuts tomorrow night on HBO, and we've been holding off our decision on whether to watch it until reading BLITZER'S BLOG's take. So here, at long last, is the verdict of Wolf Blitzer's ghostwriter from the local kindergarten work-study program: Movie picture good not bad.
---
The closest thing to a critical thought in Blitzer's review is this radical theory that runs sharply against the grain of conventional aesthetic wisdom:
But a great book doesn't always guarantee a great film. Actually,
What???
Actually, I have been disappointed more often than not by film adaptations of wonderful books.
Oh dear, he's not going to like it... unless possibly a second shoe is about to drop? "But this film doesn't disappoint." The review is rife with similarly hyperbolic, effusive praise that may well make his colleagues in the high-end film critics' circles cringe: "It kept my interest for the entire two hours," he writes. Later: "I think you will enjoy it."
What else? There is a lady in the movie and she is good and so is the other lady who plays the lady on the other good thing. They're all great ladies.
Julianne Moore is amazing as Palin. Tina Fey is a very good (and funny) Palin on "Saturday Night Live," but Moore is even better. She is also a lot more serious.
Wolf also learned something quite interesting about himself during the screening: Apparently that thing he does everyday? Where he mutters nonsense at holograms in a robot room for several hours? This is broadcast on national television. Uh oh!
I will note that it was a bit strange for me to see various clips of my 2008 campaign reporting on the Big Screen. But that was fun and I was flattered.
And so we will watch Game Change, now that is has won BLITZER's BLOG's Palme D'or/Toronto Audience Award. Or, as Wolf would say about incoming election returns on a crucial election night, "we will pay attention to it."
[CNN]