You Wouldn't Like Him When He's Nice. Wonkagenda For Thurs., Oct. 25, 2018
Russia
October 25, 2018 08:59 AM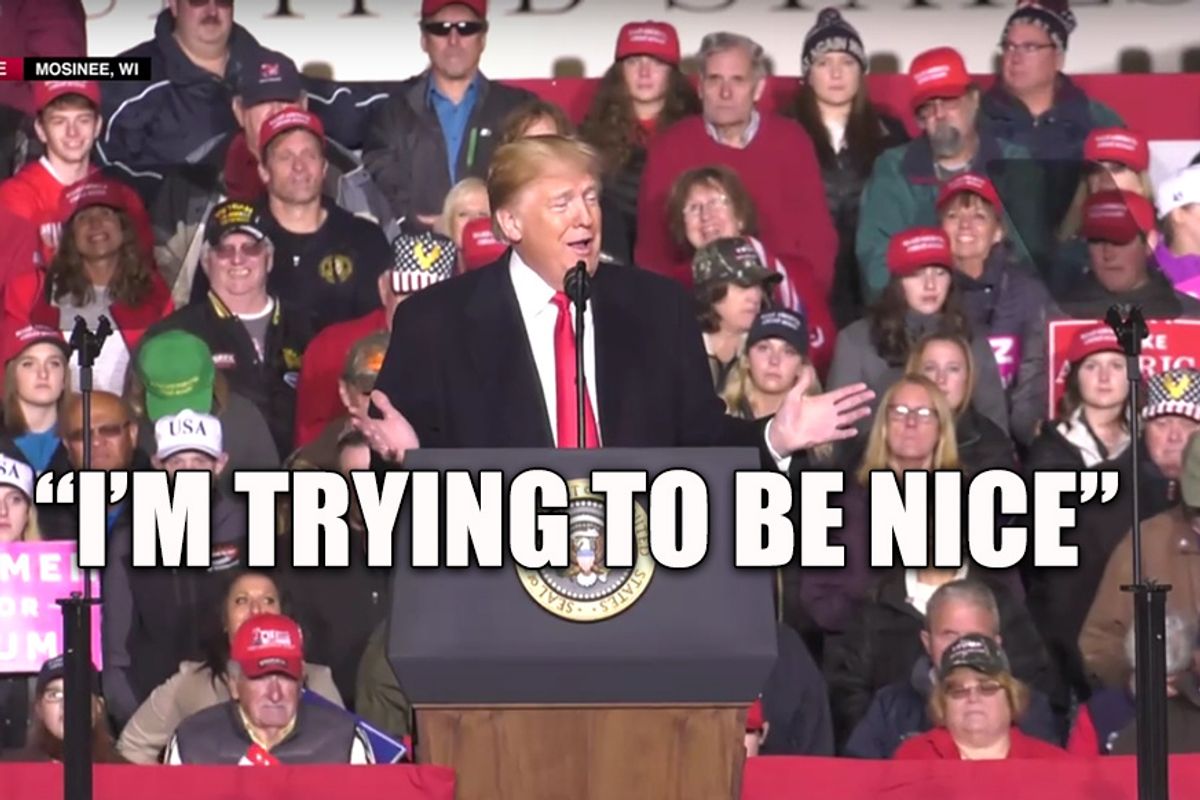 Morning Wonketariat! Here's some of the things we may be talking about today.
---
The NYPD is reporting another suspicious package was discovered at a New York restaurant owned by Robert De Niro in lower Manhattan. It's similar to the eight other packages discovered yesterday. The eighth package is still being investigated, but it's been found in Delaware and was reportedly sent to former Vice President Joe Biden. In a statement last night, federal investigators added two other packages addressed to California Democratic Rep. Maxine Waters to the list of Democratic targets.
The devices appear to contain explosives and shrapnel, as well as a parody ISIS/ISIL/whatever flag that reads "Get Er Done," a meme that appears regularly on right-wing shitposting forums.
This morning Trump tweeted that the bombs are "caused by the purposely false and inaccurate reporting of the Mainstream Media [sic]," and that it must "clean up its act, FAST!"
At a rally in Wisconsin last night, Trump patted himself on the back for not encouraging his minions to try and kill anyone else. Trump then joked he was "trying to be nice," and blamed the media to for being mean to him.

A number of Republicans have been coy about accepting responsibility for pushing violent rhetoric. Republican Sen. Orrin Hatch said, "A lot of things could have contributed to that," while Ted Cruz told a crowd they should reject the angry rhetoric spilling from vitriolic holes like his own.

Conservative crackpots have already started calling bombs sent to the the Obamas, Clintons, Eric Holder, and CNN a "false flag" and an astro-turf October surprise that takes focus off the Mexi-Muslim terrorist caravan.
Here's an emergency Nice Time!

Meet 'Kofi' our tree-kangaroo joeywww.youtube.com
Less than a day after somebody tried to bomb the home of super rich philanthropist George Soros, Republicans began airing ads in Minnesota against Democratic candidate Dan Feehan using Soros as a boogeyman. They're not exactly calling him a gold hoarding JOOO, they're just calling him a puppet master, which is not at all like the Republicans' relationship with the Koch Brothers, and Sheldon Adelson, and the Prince/DeVos family, and the NRA, and the defense industry, and Russia, and ...

The New York Times is reporting that the Chinese and Russians are listening in on Trump's phone because he refuses to abide by basic national security procedures. The report claims they have been listening to Trump bitching to "the best people," and using those conversations to gain leverage over him. Further, the report claims Trump is refusing to comply with the Presidential Records Act by using insecure phones, and he often leaves his phones lying around on his golf courses. In a tweet this morning, Trump called the story "so incorrect," and says that he only uses "Government Phones [sic]."
US markets tumbled off a cliff (again) yesterday, virtually wiping out all the economic gains of 2018. Asian markets followed suit overnight, leading to reports of investors becoming paranoid about a jittery invisible hand.
The Trump administration intends to announce a plan to overhaul Medicaid in an effort to kick out "foreign freeloaders" by negotiating drug prices. However, the administration also wants more than $1 trillion in cuts to state Medicaid programs in 2019, and healthcare leaders fear that those cuts will exacerbate the opioid crisis.
Interior Secretary and grifty bastard Ryan Zinke approved plans for oil companies to drill six miles off the coast of Alaska, and one oil company with a history of leaks is already planning to build an island near the Arctic National Wildlife Refuge. Yayy.
Last year ICE launched a tip line for all the BBQ Beckys to snitch on undocumented immigrants. Sadly, the tip line was flooded with prank calls of people reporting space aliens.
The Georgia gubernatorial race between Republican Secretary of State Brian Kemp and Democratic nominee Stacey Abrams is effectively tied if you add the Libertarian spoiler. If no candidate gets more than 50 percent, the election heads into a run-off.
In another debate between Andrew Gillum and Ron DeSantis, Gillum stated, "I'm not calling Mr. DeSantis a racist, I'm simply saying the racists believe he's a racist." If the shoe fits, throw it at someone. [Video]
North Carolina's Lt. Gov. Dan Forest is in a new ad titled "Voter Fraud 101" that details how "easy" it is to commit voter fraud in the state of North Carolina. Forrest's own PAC sponsored the ad; a spox says the video wouldn't be a problem if the state had Voter ID laws. [Video]
Anger at Tea Party Republican governors could tilt more of the electorate in favor of Democrats in the future. With the 2020 census quickly approaching, governors will have veto power over congressional redistricting maps.
In yet another reversal, Saudi Arabia's public prosecutor says that the death of journalist Jamal Khashoggi was planned all along. It only took them a month to admit it.
CIA Director Gina Haspel has reportedly listened to audio of Jamal Khashoggi being tortured and murdered by the Saudis. So nothing new for her then.
UN Investigators say the genocide in Myanmar against Rohingya Muslims is continuing despite public condemnation. The US, UK, France and other countries tried to call for a public debate, but they were blocked by Russia and China (as usual).
Breitbart wants to sue "Sleeping Giants" for killing their ad revenue. According to Breitbart, a secret cabal of internet JOOS (led by George Soros) are slutshaming advertisers who don't want to be associated with anti-Semitism and hate mongers.
Megyn Kelly may be booted off TV over her blackface stupidity. Yesterday she apologized on her show for being A Idiot, but she's now lost her talent agency, and isn't expected to return to her show anytime soon. SAD
Former pro skateboarder and member of the US Skateboarding Olympic Committee Neal Hendrix has been suspended pending a sex crimes investigation. According to the allegations, Hendrix used to give "sex lessons" to a then-14-year-old.

Science nerds fixed the Hubble Space Telescope by turning it off, and then turning it back on again.
A USMC pilot flying a training mission over California's Salton Sea appeared to be caught in a holding pattern when suddenly aircraft trackers noticed the pilot was whipping out a giant SKYPENIS.
And here's your morning Nice Time! CATS WITH JOBS!
Follow Dominic on Twitter and Instagram!
We're 100% ad-free and reader-supported, so consider buying us coffee, or get a subscription!
Dominic Gwinn
Dominic is a broke journalist in Chicago. You can find him in a dirty bar talking to weirdos, or in a gutter taking photos.