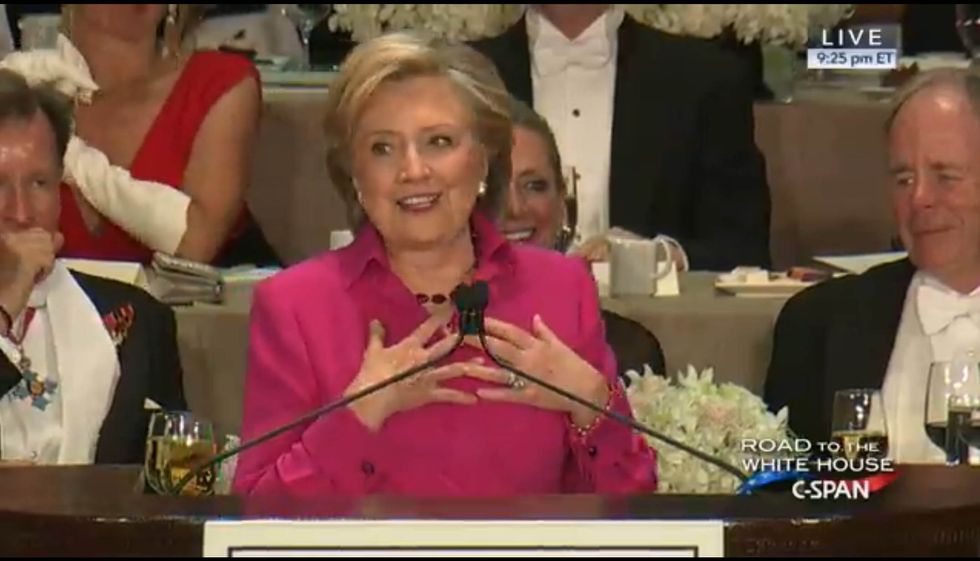 Someone stole Trump's phone; now he doesn't know what to do with his hands.
---
Good Morning there, Wonkers! Did you enjoy your post-debate hangovers yesterday? We certainly did! Here's some of the stories Yr Wonkette may be writing about today!
Donald Trump and Hillary Clinton traded barbs at the the 71st Alfred E. Smith Memorial Foundation Dinner, an annual fancy feast for presidential candidates and super-rich political and Jesus-types who can afford expensive suits and long white gloves. Trump dug his grave just a bit deeper when he stopped telling jokes and went straight to calling Clinton corrupt. Haha! (The joke is that she's corrupt!) (Video)
Donald Trump really is dipping his toe into owning a media company. Evidence: Trump used Facebook's live streaming video service to push his own media narrative after Wednesday's debate.
Old Handsome Joe Biden is at it again! While giving a talky-speech thing in support of Hillary Clinton, Biden called Trump stupid, and wondered if he knows what the hell he's doing. Oh, Joe, you so know how to make us swoon!
According to new FEC filings, Trump and Clinton ramped up their spending in September, and it looks like that Trump may be the least well-funded presidential candidate in recent history. Poor bastard.
The worst cop in the country, Trumpkin Sheriff Joe Arpaio, is trailing behind his Democratic opponent, Paul Penzone, by a staggering 15 points according to the most recent polls. It's only a matter of time before Arapaio starts arresting voters and pollsters.
A private Interwebz security firm is saying Russia was most definitely behind all the DNC hacks, like releasing John Podesta's emails, because they sort of watched it happen.
The Nevada Senate race is insanely close, and those desert people would be really steamed about all the campaign mailers, teevee ads, and door knockers, but it's a dry heat.
Cuban-American immigrants are running from the GOP like it was the plague, probably because it's been infected with a virulent strand of white power. [Archive]
News flash: Newspapers are losing money because people aren't buying newspapers now that they have the freaking Internet in their butt-pocket. [Archive]
Peggy Noonan was sitting in her beautiful, high-class home, swimming in old lady bug spray perfume and wondering what the world would be like if Donald Trump wasn't a crazy person. Maybe newspapers could save money by not paying for obtuse and out of touch columnists whose only value is as fodder for mockery?
Former RNC Chair and Lieutenant Governor of Maryland, Michael Steele, went before some Not Republican people and said he isn't voting for Trump or Clinton, and that he wanted to puke during the debates. Of course, Michael Steele regularly makes people want to puke every morning now that he's a stale teevee talking head, so fair's fair.
Nobody could have seen this coming: Streaming of Janet Jackson's "Nasty" is up 250% since Donald Trump said that thing about Hillary Clinton Wednesday. "Madame President" if you're nasty.
Messicans tricked a bunch of Trumpkins into buying cervezas (that's Not American for beer) for an anti-Trump party thrown by a brewery in Mexico City. "JAJAJA! Gringos estúpidos!"
Here's your morning Nice Time: It's Weird Al leading Clinton and Trump on a super awesome music video rendition of the third debate. Let's dance!
Dominic Gwinn
Dominic is a broke journalist in Chicago. You can find him in a dirty bar talking to weirdos, or in a gutter taking photos.