Wonkagenda: Friday, October 28, 2016
Elections
October 28, 2016 09:25 AM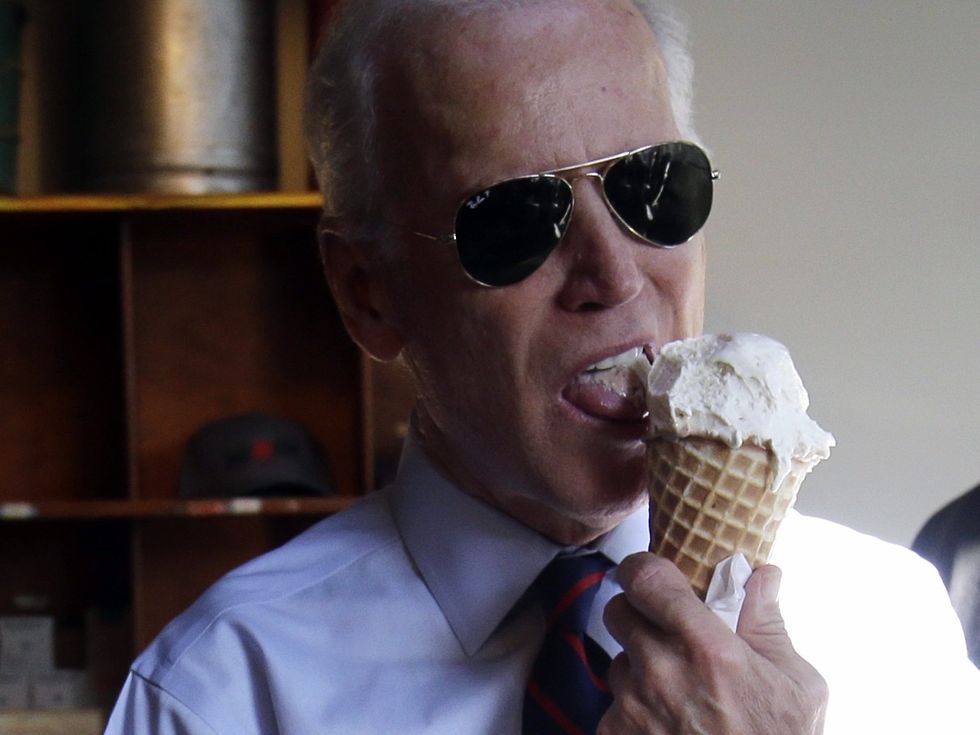 He's there to kick ass, eat ice cream, and maybe be secretary of State.
---
Well hi there, Wonkers! It's Friday, and there's 10 days of pre-election craziness left! Here's some of the stories we may be 'splainering today!
Say it IS so, Ol' Handsome Joe! The Capitol Hill rumor mill buzz says that Hillary Clinton might tap Joe Biden for Secretary of State, which we all know is just a back door to the presidency.
Them rootin', tooin', land lootin', semi-automatic rifle shootin', Bundy clan has been acquitted in its takeover of a federally protected Oregon wildlife sanctuary.
D.C.'s famed head hunters on K Street are salivating for November 9 so they can start snapping up the most well-connected people on Capitol Hill for lobbying jobs.
Some LIBERAL lobbying groups are preparing for a Hillary Clinton presidency by making blacklists and researching the no-good, double-plus bad candidates eye-balling positions in a Clinton administration.
Illinois Sen. Mark Kirk opened his mouth and spewed diarrhea again. During a debate Kirk said that the parents of his opponent, Illinois Rep. Tammy Duckworth, "came all the way from Thailand to serve George Washington." [Video]
You guys want to hear some secret hot mic audio of Trump's spawn bragging about how his dad poured gasoline on the birther movement, and other awful things? Of course you do!
UGH! This stupid election, it's so long, and everyone is being a huge jerk to Donald Trump for no good reason! Donald Trump thinks we should just cancel the election and crown him god-emperor president already.
GOOD NEWS EVERYONE! The FCC has issued new privacy rules for the Internet that gives you a better say in how your ISP shares your sexy, secret alone-time browsing habits. Thanks, Obama!
SPORTSBALL UPDATE! Chicago alderman are super pissed that they can't get free World Series tickets like all their other kickbacks! It's probably because the some of the family thatowns the little baseball bears team are secret Trumpkins. It might also have to do with that time Trump got booed at Wrigley Field for butchering the national anthem.
Here's your Morning Nice Time! Polar Bear cubs! Aren't they cute?
Dominic Gwinn
Dominic is a broke journalist in Chicago. You can find him in a dirty bar talking to weirdos, or in a gutter taking photos.