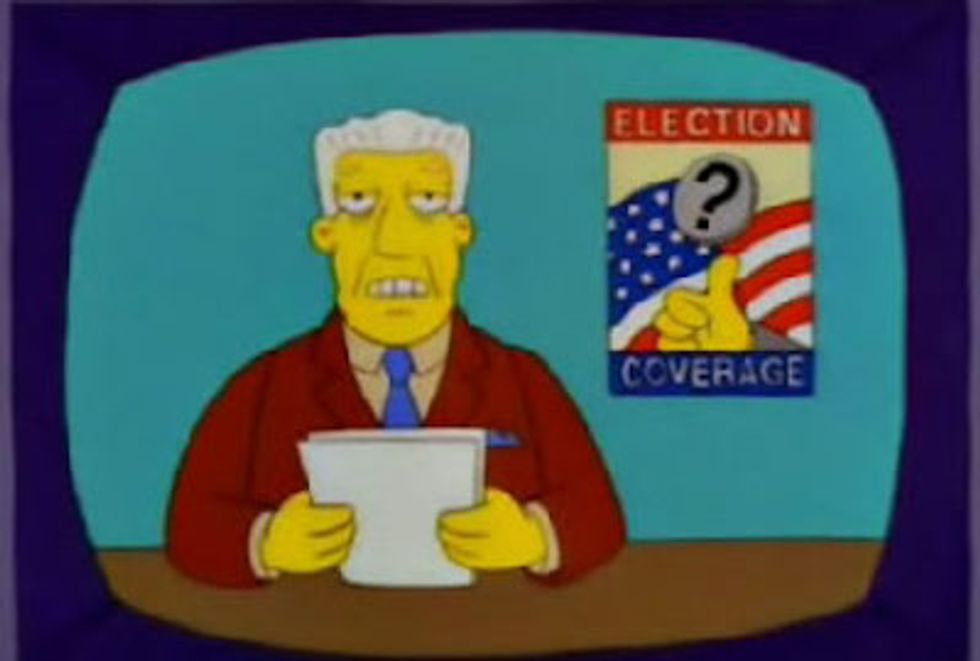 Wonkette newsroom
---
Hey there, Wonkers! It's Friday, and that means in just a few short hours you can recklessly embrace alcoholism and smoke all your mary-juanas without the ever present fear of waking up late!
Chris Matthews went completely ape shit on Rudy Giuliani, and the two grumpy old men fell into a bitchfest about Hillary Clinton's health.
Donald Trump's intelligence briefing was pathetic disaster because Trump's minions acted like babies.
Trump's not going to give up his new best friend and puppet master, Vladimir Putin, because he's Donald Trump and the rules don't apply to him.
Wells Fargo has some splainering to do now that it's been caught using fake information to create fake accounts for real people so the employees could steal a lots, and lots of customers' real money.
If you like charter schools you're going to love Donald Trump's education plan because it's going to send all the poor black and brown children down the shitty public-private piss trap.
 Mitch McConnell wants to pass a law that lets GOP senators duck out early because they're lazy S.O.B.'s that don't think they should be accountable for actions they're not taking.
Trump says that Russia will absolutely 100%, not dick around with U.S. elections (except for those times it's already dicked around with U.S. elections). He even went on Russian teevee to say it! Why would he lie?
A Trumpkin Stepford clone, Tomi Lahren, thinks the U.S. will be great again after Donald Trump starts "kicking ass and taking names" of the Muzzies it intends to kill.
U.S. super special ghost soldiers made an attempt to rescue some dorky professors in Afghanistan, but they failed because timing is a bitch.
Some nerds in the U.S. an England are accused of breaching classified FBI and CIA data in the name of lulz. (Yes, most of them still live with their parents.)
North Korea is screwing around with nuclear weapons again so be careful the next time you make fun of them, because they banned sarcasm. That 'ought to do the trick!
Former Virginia governor Bob McDonnell, (AKA Mr. Transvaginal Ultrasound) is free to go suck corporate wee-wees for cash again now that the Justice Department has said that it doesn't care about all those bribes he took.
And here's your Nice Time, baby foxes! Look how adorable they are!
Dominic Gwinn
Dominic is a broke journalist in Chicago. You can find him in a dirty bar talking to weirdos, or in a gutter taking photos.