Wonkagenda: Thursday, October 27, 2016
Elections
October 27, 2016 09:14 AM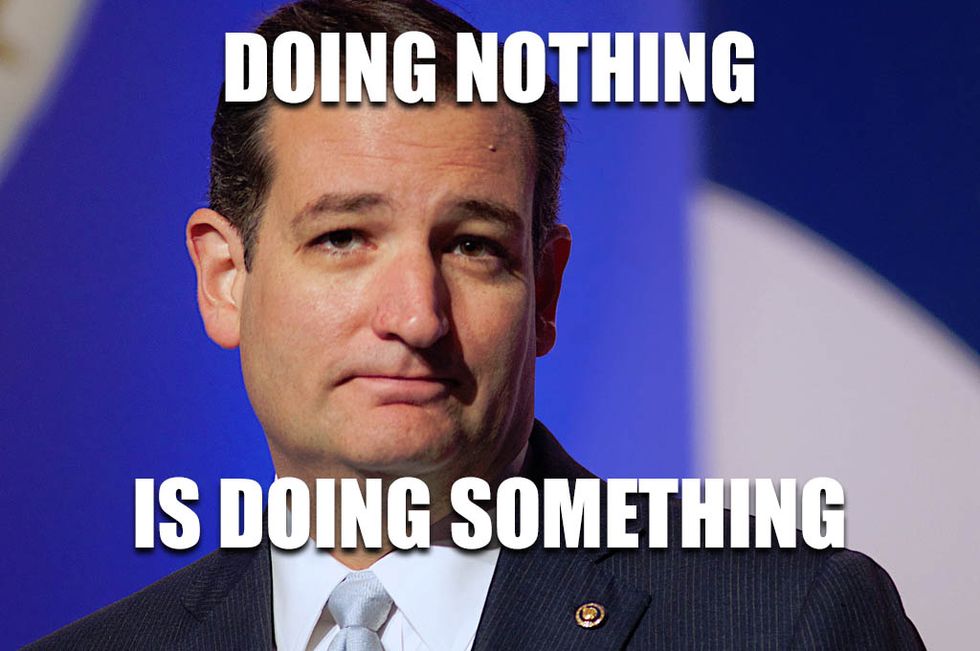 Morning, Wonkers! We got lots of stuff to cover, so here's some of the things Yr Wonkette may make jokes about today!
---
The DNC is suing to continue a 1982 court order banning voter intimidation tactics used by the GOP, which just so happens to be set to expire. Good thing Trump isn't calling for poll-watchers, or rigged elections, or stoking the fires of stupidity.
Utah Rep. Jason Chaffetz has decided that maybe Donald Trump isn't the greatest guy, but is he really so "bad"? Chaffetz has pulled his #undorsement and still doesn't endorse. He's just voting for him is all.
Ted Cruz may be go down as one of the most obnoxious and disruptive politicians in history for the things he DIDN'T accomplish. Cruz is sticking to his old Texas six-shooters and saying that the GOP may actually continue to block the nomination of Merrick Garland if Hillary Clinton is elected.
Here's some more nerdy 'splainering about Twitter's role in this election, like the revelation that of the 252 negative tweets in which a Republican candidate was "punching down," all but 10 come from Donald Trump.
Poor Jeb Bush just can't catch a break when it comes to mean Donald Trump. While addressing a crowd in North Carolina, Trump took a moment to throw some jabs at Jeb. Please, laugh.
Donald Trump is just so mad at people asking him questions! Trump is not leaving the campaign trail, so stop asking already! No matter how bad the polls are, or who undorses him, you need stop hurting his feelings already, CNN, FOX ABC, and NBC! It's so mean!
Donald Trump proposed a "new deal for black Americans" in front of a bunch of white people in North Carolina. He said, more or less, that he'll never, ever give them up, let them down, or make them cry, except for all the other well documented times that he's been blatantly racist.
Russ Feingold appears to be on track to defeat Wisconsin Republican Senator Ron Johnson, and basement dwelling wiener beaters, privacy advocates and fancy-pants tech companies couldn't be happier seeing as how Feingold believes that the government shouldn't indiscriminately hoover up duck-face selfies and dick pics.
Paul Ryan's primary opponent is challenging him for speaker of the House despite the fact he lost absolutely miserably (read: hilarious 68 percent margin) during the Wisconsin primary.
The NRCC is trying to paint Fordham University associate law Professor Zephyr Teachout as a "zany" hippie socialist who is running for New York's 19th District seat in this hilariously bad ad aimed at reminding the olds what it was like to have that cool, laid-back professor in college.
Poor Jill Stein! According to her FEC reports, Jill Stein has substantial investments in mutual funds that are heavily involved in industries she routinely rails against, like carbon, financial services, pharmaceuticals, tobacco, and defense contractors. So either Jill Stein really is A Idiot, or she's a really bad opportunistic liar.
Some Congress Critters are trying to be sneaky by introducing a bill to make Puerto Rico the 51st state, but people are super scared because it might mean more Messicans could get voting rights in America, and we wouldn't be able to exploit their labor!
People in California really love smoking their reefer cigarettes, including the Santa Ana police who now have to pay $100,000 for harassing a dispensary that coincidentally wasn't favored by city hall, and for consuming "evidence."
Give yourself just a moment and check out this absolutely terrible pitch by Trump to Indian Americans at a Bollywood event, and then giggle as Trump tries to speak Not-American.
Here's security camera footage of a guy in Wisconsin wearing nothing but his undies while he sets a Trump sign on fire only to get a fist bump from a passerby.
And here's your morning Nice Time: It's Will Ferrell's George Bush telling you to not vote for Donald Trump.
Dominic Gwinn
Dominic is a broke journalist in Chicago. You can find him in a dirty bar talking to weirdos, or in a gutter taking photos.