Bullsh*tting About Science With Rep. Don Beyer, Cool F*cking Guy
Congress
April 22, 2019 03:29 PM
Rep Don Beyer's Office
Hey! We talked to Don Beyer, US Representative from Virginia, about Everything Science Committee. IT WAS A GOOD TALK. Let's go!
---
Wonkette: You were born in the Free Territory of Trieste, with a surface area of 285 square miles. Later in life you were our ambassador to Liechtenstein with a surface area of 62 square miles. Do you have a soft spot for tiny countries?
Don Beyer: And I have one of the smaller congressional districts, I don't know the square miles on it, but it's not that big.
W: Any plans for moving to Monaco?
DB: No I don't, but I've been thinking about Andorra. That or San Marino.
When I was ambassador to Switzerland and Liechtenstein, most ambassadors also had the Vatican. Yeah, because Switzerland and the Vatican are the only countries with square flags. And of course the Swiss Guard protects the Pope. So I made the argument back to the State Department that they should eliminate the ambassador to the Vatican and let me do it, which would have given me another small jurisdiction, but they resisted my entreaty.
W: What made you decide to be a politician and particularly why make the move out of state government to the US Congress?
DB: Well, I grew up in Washington DC and three of my four grandparents were New Dealers working for Franklin Roosevelt. So I have a terminal case of Potomac fever. I just always imagined myself in public service of some kind. Now the move from state government was involuntary. I ran for governor and lost by 13 percentage points. That was 1997 and I spent many years after that just volunteering … helping other people. I then worked for Barack Obama and he actually won which gave me the unexpected opportunity to go to Switzerland. And then when I came back I really thought I'd be in the family business but my congressman decided to retire after 24 years and I thought, well, I live 12 minutes from the Capitol and if I could ever win it, it would be wonderfully fulfilling to be able to do public service at the national level.
W: Do you have a mentor or idol that inspired you early in life? Scientist? Politician?
DB: My best mentor was my grandmother who lived to 98 years old. She was born on a chicken farm in Northern California, of Danish immigrants. She was one of two women to graduate from UC Berkeley in 1915. She was recruited to Washington in 1917 and spent 50 years in the federal government. She was the grandmother who was the inspiration for all of us in terms of our commitment to community, to public service, politics and public affairs. She lived long enough to see me elected to lieutenant governor. She sent me clippings throughout the campaign. I like to think that since I'm the only one of the 12 grandkids who ran for public office, that I became her favorite grandson.
W: You're on both the Ways and Means Committees and the Committee on Science, Space and Technology. Obviously, I'm biased towards the latter, so let's focus on that bunch. Something like 40 members, right? How do you guys get anything done with that many?
DB: Yeah, it's pretty big now. We have at least one hearing a week and I'm on three of the subcommittees. I'm including "Space," which is the coolest one. The subcommittees also have at least one hearing per week.
I just love the committee. Now "Ways and Means" is one of those exclusive committees in that you're not allowed to be on any other committee, but I asked for permission to get on the Science committee which happily they granted.
Last week we had a chance a to meet with four of the scientists who photographed the black hole. Last year or the year before we had a chance to meet all the folks that discovered gravitational waves. And as you know, I had the chance to fight for WFIRST in the budget, because the president and Mick Mulvaney keep trying to zero it out.
If you're a science nerd, it's the coolest place to be. I'm not a professional scientist like Bill Foster, but I might be the biggest non-professional science nerd on the committee.
W: Do you just deal with funding issues and projects for the agencies under your purview or do you deal with other, broader science issues?
DB: Yeah, very much so. Obviously the original stuff is the authorizing bills and there's always little fights over whose jurisdiction is it. We often try to expand the range of what we're looking at and wait until somebody says something. There's enough work to go around and I don't think there's a lot of fighting over turf.
W: I'm a big fan of Rep. [Eddie Bernice] Johnson, your chair, and she has a medical background and so does the Vice Chair, Rep. Ami Bera. You also have two engineers, a physicist, an OB/GYN, a surgeon, a dentist, an actual rocket scientist in Bill Posey ... but the majority of your committee do not have science backgrounds and there are a lot of lawyers. How do you deal with that when you have to make recommendations on funding for our science agencies? Do you guys defer more to the science savvy types?
DB: No, I don't think so. All of them, whether they are lawyers, political scientists or mathematicians, they all have science people on their personal staff and certainly we have science people on the professional staff, the one led by Dick Oberlin, that are really sophisticated.
W: What are the top three priorities for your science committee in the next two years?
DB: I can tell you that my number one priority will be increasing our US federal budget commitment to science and research. The NSF and the NIH in particular … they talk about how a generation ago they could fund 30 to 40 percent of projects rated "excellent," now they're at 8 to 10 percent. There's so much good science out there waiting to be done, but they are dependent on the federal government for the investment.
Priority number two (and I may get my priorities wrong) is going to be the contribution we make to climate change, I mean, we won't be the committee that argues about carbon pricing, but we'll be looking at everything else. Can you do carbon capture from the air or the water or with much more sophisticated smoke stacks? Obviously, a lot of the genetic stuff and while some of it, CRISPR and such, is obviously health related, some of it is going to be energy related. Can you do a very short carbon cycle with algae that can be converted into fuel?
And then obviously a third priority is going to be space and space science. What's happening with dark energy and exoplanets and how far back into the universe can you see … there's just lots and lots of fascinating knowledge to be discovered and deployed out there.
One of my personal priorities, unfulfilled, is to try and develop a body of law and protocol around artificial intelligence and that comes from some REALLY interesting hearings we had last year with a variety of experts in neural net architecture and artificial intelligence talking about the positive prospects and the negative prospects for AI.
W: Do you think it's important to have more science-literate government officials?
DB: YES! Absolutely. Over the years there have been embarrassing incidents where members of the Science Committee had no idea what the scientific method was. And then people would ask really silly and embarrassing questions.
W: What worries do you have about the Trump administration and the current state of science in this country?
DB: Yeah, yeah, in every respect. [Scott] Pruitt was an absolute disaster at EPA, you know, the whole science advisory board …throw out the scientists and bring in the industry experts. There's still no presidential scientific advisor. This is clearly not an administration that has almost anybody in it excited about science, interested in science, perceives the contribution that science makes on our overall health and welfare. This is an administration run by real estate developers.
W: You are helping to battle climate change. Do you think it's practically, if not theoretically, too late to reverse it?
DB: I only know what I read, but I read a lot. Yes, it's too late to reverse or too late to avoid many, many of the inevitable effects of the carbon we've put into the atmosphere in the last 400 years. But that still leaves us with the obligation to make sure it's 1-2 degrees Celsius rather than four or five. Let's limit sea rise to three or four feet rather than 20 feet. Let's do everything we can. I'm a big fan of negative net carbon. Let's continue to look for the technological solutions to take the carbon out of the atmosphere.
W: What do you think about Vice President Pence's thoughts about wanting manned missions back to the Moon?
DB: You know, that was a really interesting debate that we were not the deciders on. Do you go directly to Mars or do you go to the Moon and gas up and then go to Mars. And the scientific consensus came down that: let's go to the Moon because that will make it easier to go to Mars. That seems reasonable. It also upsets me that we haven't been to the Moon since 1972.
W: And now for question one of my two question litmus test. Star Trek the original series or Star Trek the Next Generation?
DB: Next Generation. Clearly. There's greater sophistication in the Next Generation, and not just in production values. I also think the science is more interesting.
W: Part two. Star Wars or Star Trek?
DB: Oh, Star Trek, definitely. Star Wars is fun, but there's no science in it all. He just took a bunch of archetypes and threw them together.
W: What's the last book you read?
DB: I just finished the Bloomsday Dead by Adrian McKinty and I loved it. I'm reading The Border now, by Don Winslow, which is about the Mexican drug war. The last science book I read that I'd really recommend is Why We Sleep by Matthew Walker. It totally changed my life. I've given it away about 20 times. It's about the incredible importance of sleep in our lives. Another one I really loved is Gary Taube's The Case Against Sugar.
W: Last question. A pet peeve I have is when folks refer to representatives such as yourself as "Congresspeople" but not senators. I mean, Congress is both houses so senators AND representatives are "Congresspeople." Does that bother you and your peeps in the House at all or is it just a weird thing I have?
DB: Maybe just a weird thing you have. People can call me senator if they like. I'm too young to be in the Senate. I'm in the people's house were we get things done.
W: Closing thoughts?
DB: I don't know about this new class, but I like to brag that I'm the only certified automobile mechanic in the Congress. And I think that Bill Foster and I are the only two members of Congress that could explain special relativity to someone. But that may not be true now with this new class that are really smart and may have really good physics backgrounds.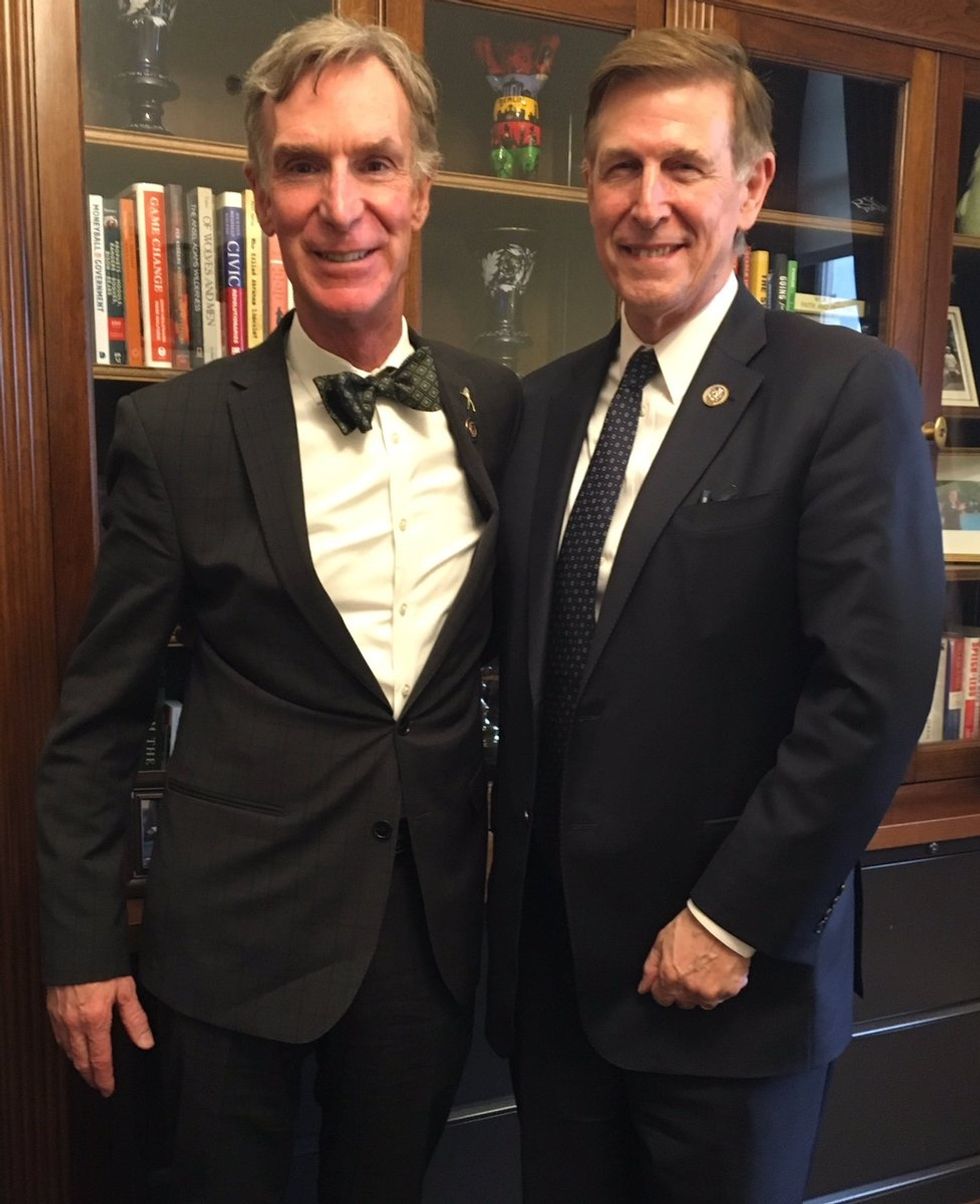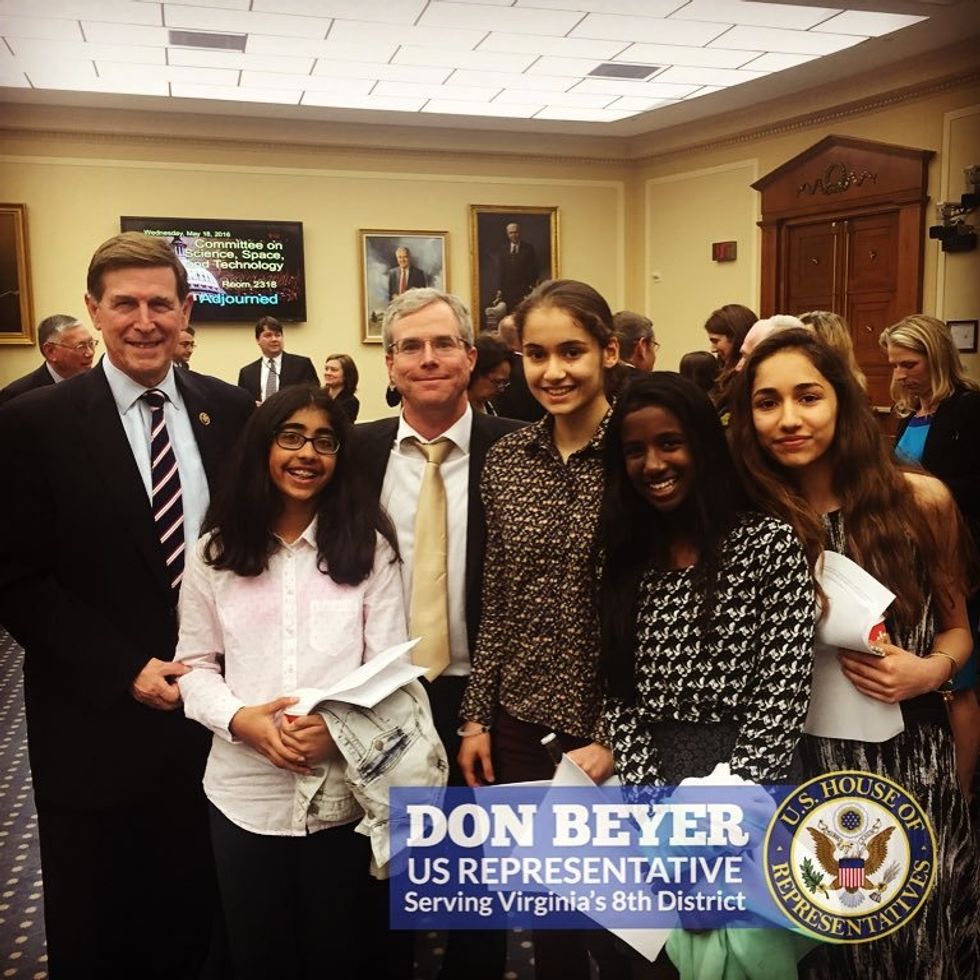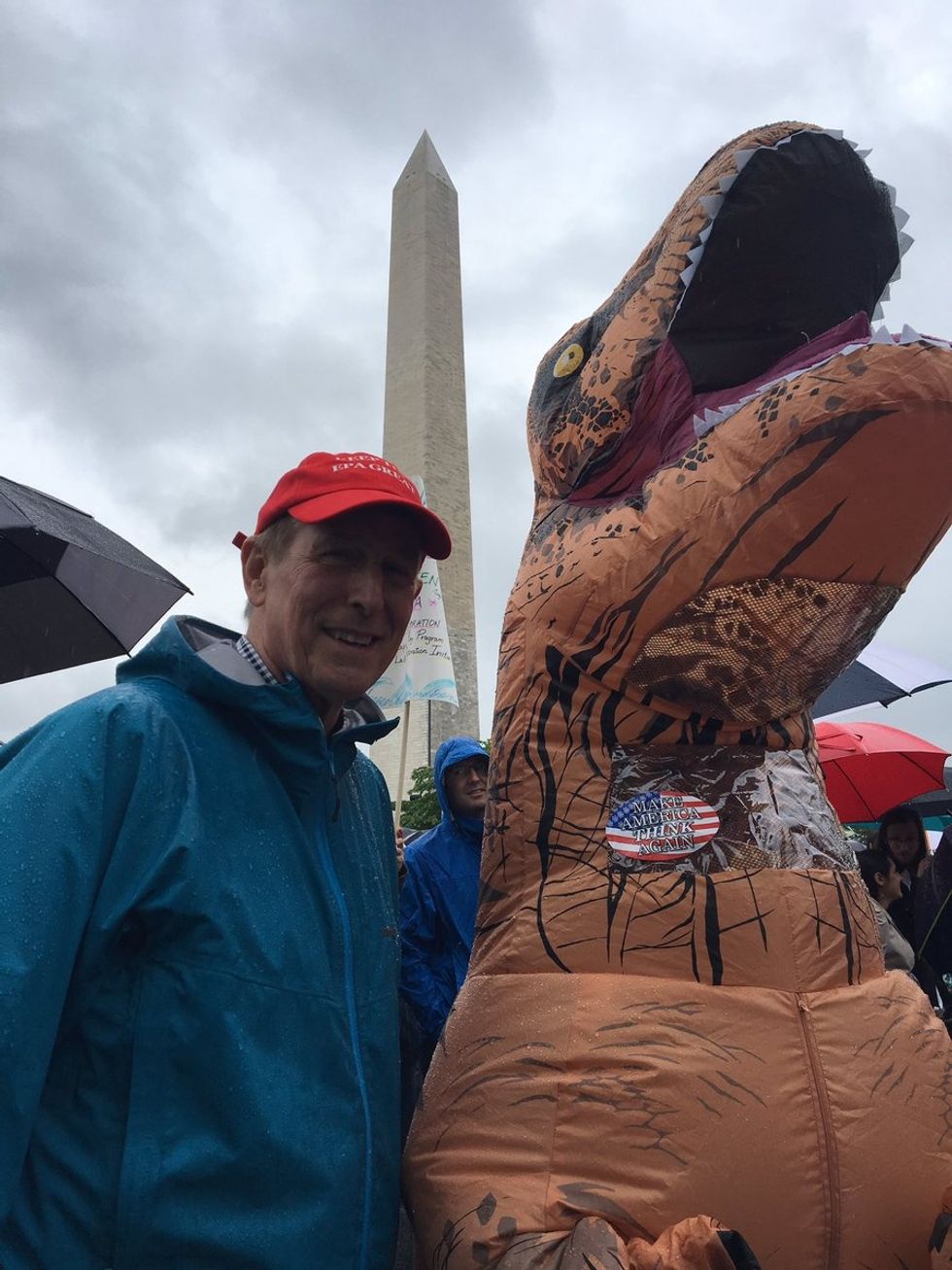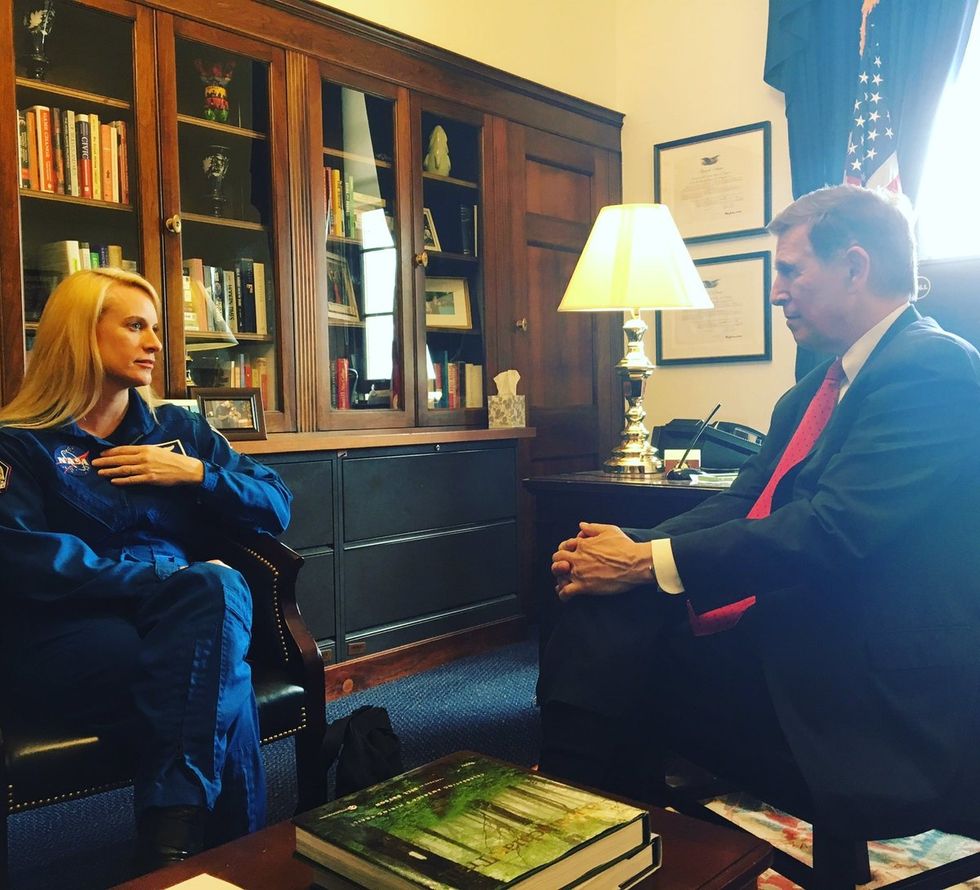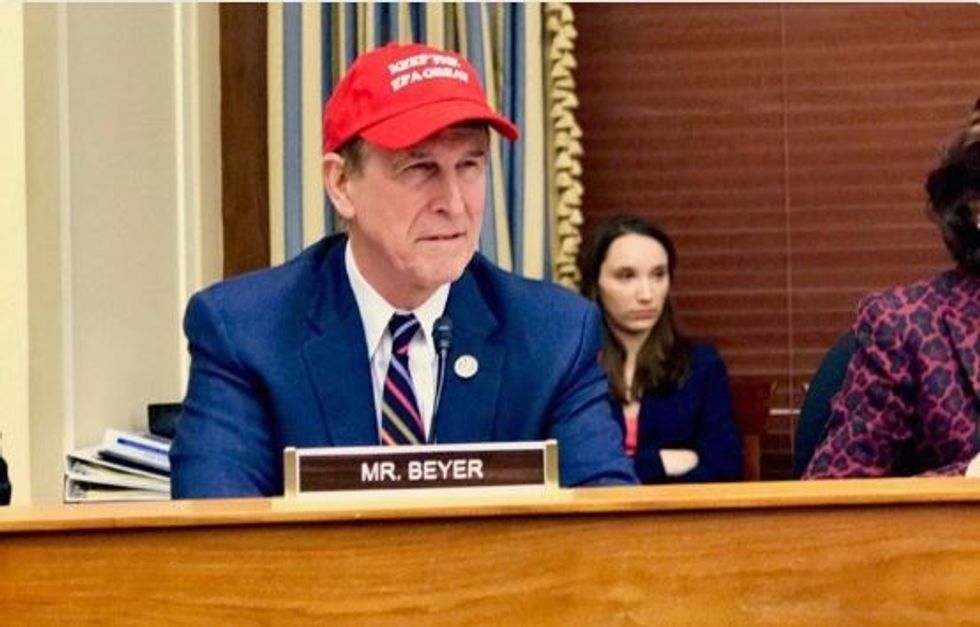 The hat reads "Make the EPA Great Again"
There, we're done. Give us money. FOR SCIENCE.

Carlos Sagan
I am a biochemist MexiCAN. I also write screenplays, ever hoping to get one made.
email me at: carlossagan2018@gmail.com
follow me at: @RealCarlosSagan