Wonkette Sexy Election Parties Coast 2 Coast & Around the World
News
October 29, 2008 04:08 PM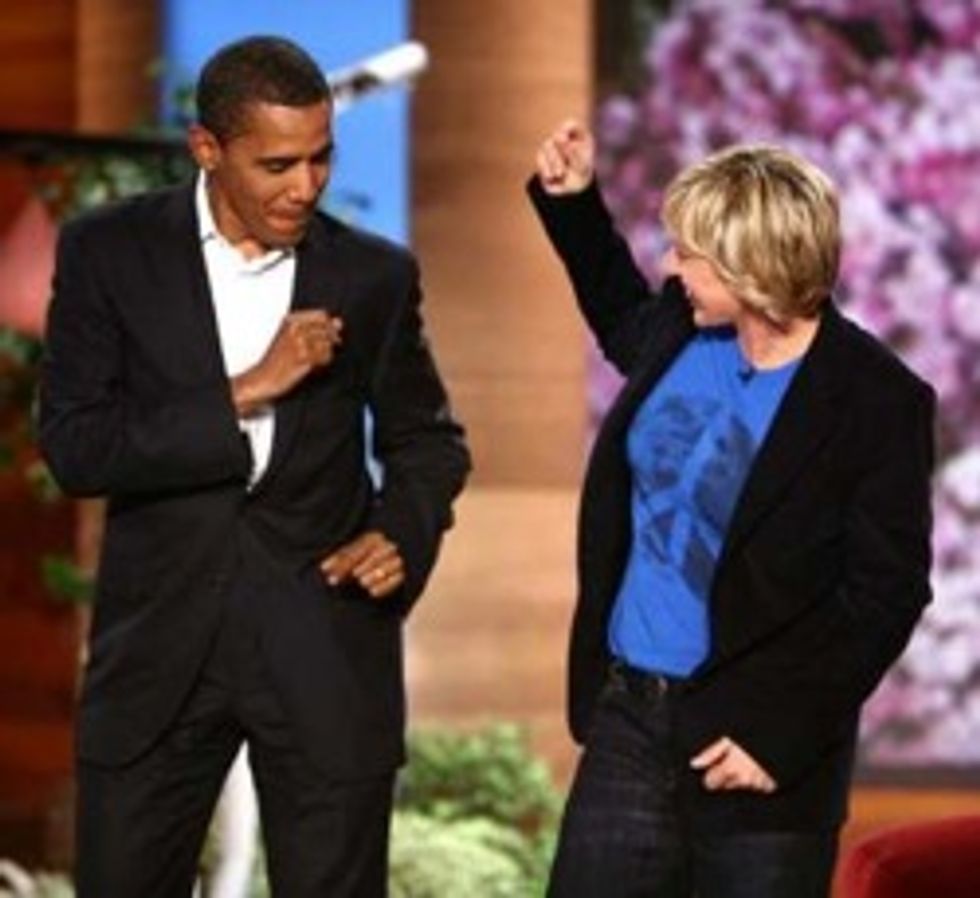 Good lord, Wonkette should just preemptively schedule a "recovery day" for Nov. 5, as none of you people will be in any shape to read words or process numbers next Wednesday. We asked for yourSEXY ELECTION PARTYTIME listings, and we have a couple dozen fine offerings from Washington D.C. to Washington State, Tokyo to Tacoma, Bridgeport to Boston, Dallas to Dublin, Ottawa to Quetzaltenango, Sarasota to Seattle, Memphis to, uh, Ho Chi Minh City ... plus Vegas and San Francisco and Brooklyn and MORE, MORE.
---
WASHINGTON & ETC.
Svetlana from BYT writes, "Our VERY sexy election night party is the obvious choice." BYT and Bohemian Caverns are throwing a full-on election night carnival: 5 bucks all night, three floors of fun: games/prizes/candy/lasers/hugs/disco/hijinks/piggy back rides/enjoyable conversation/merriment/piñatas/alcohol/bands/Sarah Palin effigy (true)

+ the Fatback DJ's, Adrian Loving, and The Return of Party Bros

+ Kuku, Clarence "Bluesman" Turner, N'Digo Rose, Jessica Chambliss, Will Rast & the Funk Ark

+ Projectors full of real time critical electoral stats and polls and JOHN STEWART OMG

+ awesome restaurant

+ $6 Gentleman Jack

+ Some other drink special with Diageo in it

+ Check out the parade in the streets when Barack is elected

3pm election day until they restore order on U street outside (2am+). Bohemian is on the corner of 11th and U St NW, as in directly between the U Street green line metro stops, as in heart of U street, as in you already know where it is.

WNDC Election Night Party

Hosted by the Woman's National Democratic Club

1526 New Hampshire Ave. NW

Washington, DC 20036

2 buffets

2 bars

MANY large TV's positioned throughout our historic house.

Non-members: $20

Members: $15

The buffet will open at 6:30. Cash bar will open at 5:30.

P: 202-232-7363

PITTSBURGH
Election Day Soul Party, Ya Dig? get your booze on and watch the the election returns to exquisite and 2008 election-appropriate soul, jazz and funk musics ("Signed, Sealed, Delivered...he's ours...) played by DJ Edgar Um (who is much less likely to punch a wall this election party) with your host, the unbeatable cocktail mistress, the mighty MegF.

free

8pm til late

KELLY'S BAR and LOUNGE

6012 Penn Circle South

(Center Ave. at Highland Ave.)

Pittsburgh, PA 15206

BROOKLYN
Justin T. writes:

Election Night at Union Hall (Bar)

Union St. & 5th Avenue

Brooklyn

My friends and I are planning to take over the bar to watch election night coverage and we will either celebrate or begin planning our emigration strategies. Meet-up 9pm. Facebook infos.

CONNECTICUT:
OH YES. Wonkette commenter LoquaciousMusic will be hosting his own ELECTION PARTAY at the following locale:

Ash Creek Saloon

2895 Fairfield Avenue

Bridgeport, Connecticut

Perhaps we will partake of an early dinner of delicious MEAT at 5:30 followed by a return to my house for arugula and expensive imported Heineken as we watch the election returns? The only way you'll know is if you mark your calendar NOW!

RSVP to electionparty@loquaciousmusic.com if you'd like to come check it out.

NEW JERSEY
We're on tour for vote day, so we're having an elections return party aspart of our nerdcore hip-hop performance at Mexicali Live in Teaneck NJ. Audience members will hear race returns from the stage, win worthless candidate-related crap, play Obama Takes A State Bingo, and run for incredibly local offices such as Deputy Minister Of Buying The Band Another Round. It'll be a flag-wavin' good time for all. Ten bucks advance, twelve at the door, which opens (we think) around 8p. Thanks!

MC Frontalot

PS -- Anyone who IDs themselves as a Wonkette reader gets a Certificate Of Awesomeness.

MEMPHIS
Josh writes: "I'm refusing to drink the whole case of beer by myself this year.

2241 Monroe, Memphis, TN. 7pm until Brokaw calls it. Just bring booze -- we'll supply the hope."

SAN FRANCISCO
We are hosting an election night party:

Barack the Vote

Elixir, San Francisco, CA

16th & Guerrero

6:30 pm

Patriotic Attire Requested

Read all of the details here:

http://www.yumsugar.com/tags/Election+Night

Thanks!

Katie & Annie

WASHINGTON STATE
KevoTron here -- That is my facebook group page invite thingie. Please post a link if that's okay

Party details:

Lava Lounge 7 o'clock- ?

2nd Avenue North in Belltown between Blanchard and Bell

Seattle, WA

All are welcome. No Paultards or Republicans please.

Lascauxcaveman says: Why, Ken. I thought you'd never ask!

Here's the invite my teacher wifey and I are sending out to her emailing list:

Election Night Returns Party For Port Angeles Area Educators, at the Downtown Hotel, right in the heart of (you guessed it) downtown Port Angeles. Come and drop in anytime after 4:30pm, party goes 'til whenever.

The hosts are providing a salad bar, couple cases of wine and beer and some pizzas. This is a semi-pot-luck event so bring anything else you'd like to have on hand to eat/drink, or bring nothing at all. Elitist Liberals should bring white wine and arugula, Hard Core Conservatives are encouraged to bring red meat. Guys named Joe should bring a six-pack (or be an unemployed plumber). Call or email us at the hotel if you need directions or more info.

http://portangelesdowntownhotel.com/

(We're having the party in the lobby and the largest guest room, since it's the slow season for little tourist hotels in our town. Like the invite says, this is mostly for teachers, but Wonkettes in the Port Angeles area are certainly welcome too! I'll be the one in the shirt with the hotel logo on it, 'cause I'm the boss.)

There will be an election night bash at The Mixx in Tacoma, WA at 629 St Helens Ave. We would be honored beyond all sense if you put our humble Tacoma party on your list. http://www.myspace.com/themixtacoma -- Marguerite Giguere
CORVALLIS, OREGON
Benton County Democrats Headquarters

116 SW 4th

Corvallis, OR

Party begins around 6 PM, free food. Alcohol available next door at the Platinum, which will also serve as spillover room for our awesome celebration!!!

Come one, come all!

FLORIDA
Mattison's City Grill

1 North Lemon Avenue

Sarasota, FL 34236

7:15pm to 2am

All Welcome

Co-hosted by the Sarasota-Manatee Young Democrats and sexy fancy Wonkette Readers.

Bud & Alley's

Seaside, Florida

6:30pm

Hosted by Happy Democrats for Obama and the Walton County DEC

Open to all, special VIP section for GOTV volunteers!

Jacksonville Florida Obama Victory Party

Mavericks at the Jacksonville Landing Downtown

6pm until we've drunk all the booze and the DJ goes home

(I am aware of the irony of the party location, I did not pick it. I am however making buttons that say "I branded the Mavericks/Victory Night 2008", with a picture of an elephant with an Obama sunrise branded on his ass. -- IslandGirlFL)

BOSTON
Boston New Net's Election Night "Political Party"

November 4, 2008, 8 PM until Last Call

Doors & Bar open at 7:30

At the ImprovBoston Theater

40 Prospect St.

Central Square, Cambridge

Tickets $20 / $15 Students or General Admission after 10 PM

Group Discounts Available (call 617-576-1253)

Calling all news junkies and election freaks: Boston News Net is the source for live, hilarious, up-to-the-minute coverage on Election Night. Boston's only live news satire show presents a one-of-a-kind evening of comedy and camaraderie, featuring some of the city's most irreverent comedic minds -- all eager to keep you entertained as the election results come in.

Food, drink, prizes and live music will accompany the comedians, commentators, and special guests, making it an ideal destination for those looking to watch the returns with like-minded revelers, or just those who need a pork barrel of laughs to get through the night.

LAS VEGAS
Dino's Neighborhood Bar in Las Vegas

aka Dino's Lounge

1516 Las Vegas Boulevard South

Contact: Heidi Swank -- TheFlamingoClub@yahoo.com

From 6pm PST, though anyone who shows up before the polls close at 7 will be sent back out to knock on doors for Obama. Technically a "non-partisan" event but c'mon.

DALLAS
ELECTION NIGHT PARTY

November 4, 2008

6:00 PM - 11:00 PM

Bishop Arts District at the intersection of

N. Bishop Ave. and 7th St.

Dallas, TX 75208

Election Night Watch Party In the Bishop Arts District Watch the outcome of a historic election with your Democratic candidates, elected officials, and fellow Texas Democrats at a street festival in Oak Cliff's historic Bishop Arts District! Large screen televisions airing election returns will be scattered throughout the the District, as well as inside restaurants and shops. Live music by the Lucky Pierres, the Happy Bullets, and the Ackermans will keep the energy going all night long!

Street Festival begins at 6:00 PM

Watch Party and Rally begins at 9:30 PM

There will be PLENTY OF SECURE FREE PARKING. We will have shuttle buses running every 15 minutes from area parking lots.

For more information please visit these sites:

OTTAWA
Here's one from Canada:

The Arrow and Loon

99 Fifth Avenue

Ottawa, Ontario

CANADA

TOKYO
Address: 1F Emerald Nishiazabu Garden;

1-8-21 Nishiazabu,

Tokyo, Japan

Time: 10:00, JST, Wednesday, Nov. 5th. (21:00, EDT, 4 Nov)

Entry: Y2,000 at the door. Mention Wonkette and, well, you don't get a discount, really, but it would be good to know if anyone in Japan hitched up to this party from the site.

Theme: Election Returns Morning in Japan

Thanks - John

MEXICO
Change We Can Believe In

DEMOCRATS ABROAD MEXICO – LAKE CHAPALA CHAPTER

NOVEMBER THE 4TH AT THE EVENT HALL ADJOINING THE JARDIN RESTAURANT IN AJIJIC PLAZA, AJIJIC MEXICO.

FESTIVITIES START A 7:00 PM, AND GO TILL...... THREE GIANT SCREEN TV'S AND ROOM FOR 300 OF YOUR FRIENDS.

A 50 PESO DONATION INCLUDES BOTANAS. THERE WILL BE A CASH BAR.

Marci

GUATEMALA
For the ex-pats or whoever living in Quetzaltenango, Guatemala...

Centro Cultural Los Chocoyos

7 Calle 15-20, Zona 1

Quetzaltenango, Guatemala

No Cover unless you're a Republican

DUBLIN
Aidan writes:

Private party

Address: Ashtown, Dublin, Ireland

Time: Midnight, Irish time (after pubs close)

Entry requirements: Must be a bit drunk, also argumentative, jokey,

slightly annoying

Theme: Being Irish. See "Entry requirements"

Contact: drinkforobama@gmail.com for more info.

VIETNAM
James Patrick Ortmann writes:

Democrats Abraod--Vietnam!

Come be apart of history with DAVN!

When: Noon till late

Where: O'Brien's Pub 74/a2 Hai Ba Trung

Your nationality is of no matter

20k Tiger drafts all afternoon!