WonketteMart's Very Last Shirts Now Just $5.93 Each!
News
February 16, 2011 12:04 AM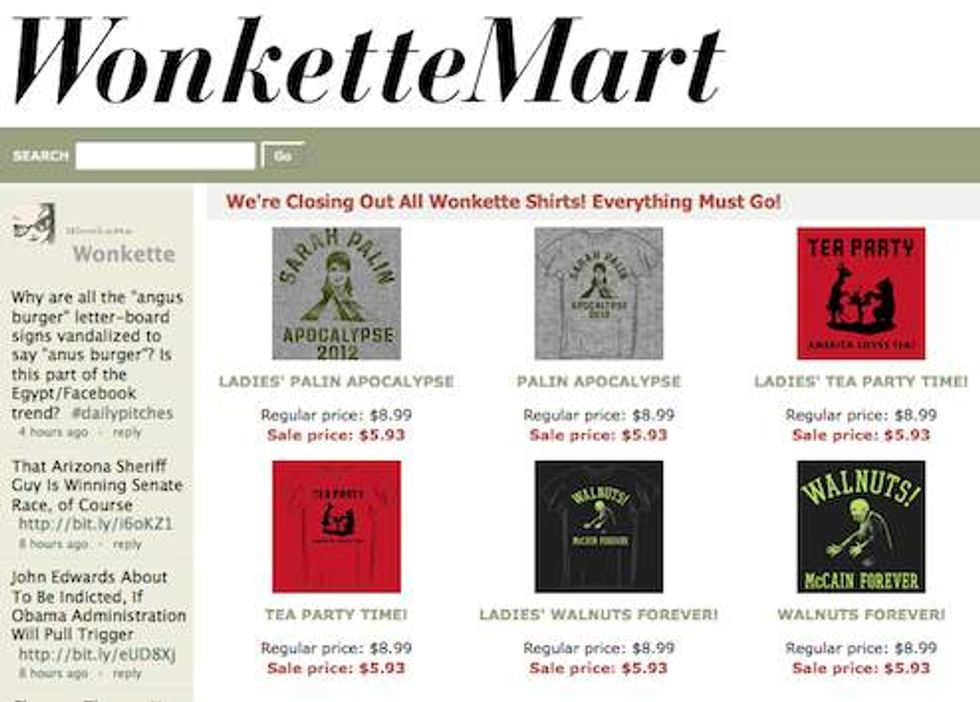 THANK YOU, Wonkette friends and operatives, for your kind support of theWonketteMart T-Shirt Emporium. Not only did you sexy peoples buy out our entire first run of Wonkette shirts, but you've nearly run off with the last of our second run. Honestly, if we didn't have to edit and write and manage this daily political absurdity, we would probably be very happy making a new batch of T-shirts and coffee mugs or whatever, a few times a year, and spending the rest of our hours in leisure and meditation and a scholarly haze of Pinot Noir.
---
But, well, anyway. We have a Wonkette.com to run, and our WonketteMart experiment has been educational, but it also takes way too much time and we don't know how to use spreadsheets and it is TERRIFYING trying to do state sales tax and inventory and all this stuff, so we are going back to what we know how do, barely: Type things for you, on the Internet, in America.
ALL THIS IS TO SAY: Got about 60 shirts left, and when they are gone we can shut the doors. We are SLASHING the price on this last batch to the bare minimum that will cover PayPal fees and our Fulfillment Center in Austin and the "Yahoo Merchant" fees we still can't comprehend. $5.93 each, in limited sizes and limited designs. If you want one, this is your Last Chance. Store closes when February ends ... and the remaining inventory will be worn by Wonkette writers when they sleep on grates in DC. [WonketteMart]