Wonkette's Handy-Dandy, Real-American, Late-Summer Travel Guide
News
August 17, 2010 10:30 AM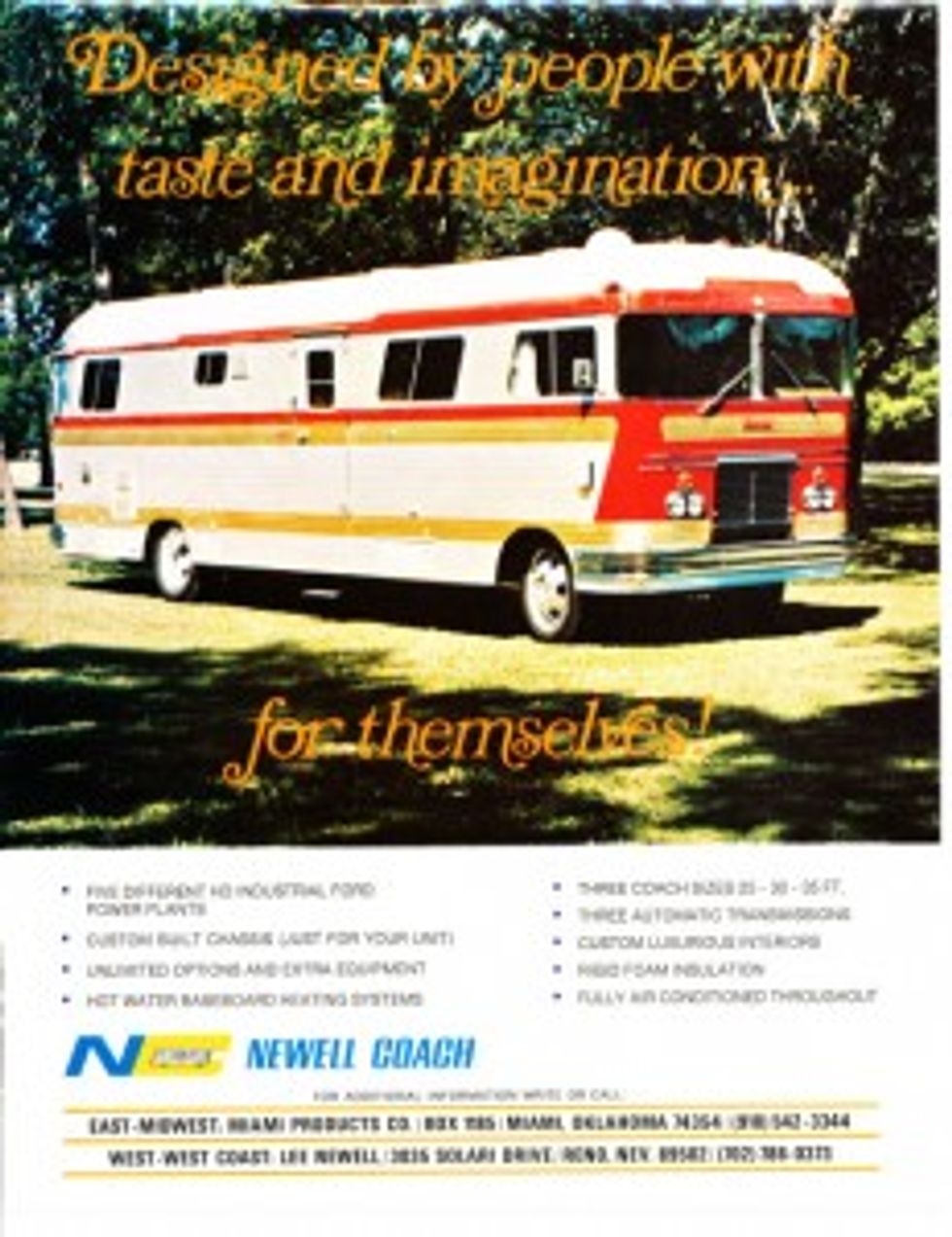 If you've got free time, a Newell Coach or other vehicle of some sort, a heart swelling with love for your country, and a buck or two left in your bank account, you are already luckier than 90% of Americans, most of whom lack one or more of those things. Consider capitalizing on your fortunes by taking a fabulous vacation to one of the many upcoming Tea Party/conservative/wingnut events happening soon in our great nation. Your Wonkette has created a convenient guide to the best of these parties. Take our hand as we explore the many options, together!
---
Not everyone was lucky enough to catch Foxy News analyst Dick Morris hosting a Republican fund-raiser down at the Spread Eagle Tavern in Youngstown, Ohio this past weekend. But don't worry: He'll appear alongside feisty fun-machine George Will at the Americans for Prosperity Foundation's "Defending the American Dream" summit, taking place August 27 and 28 in Washington, D.C. All of America's best free-market friends will be there, and there will be a liberty-loving film show with free lard-buttered popcorn, buckets of pure high-fructose corn syrup to drink, and a defibrillator. A "Tribute to Ronald Reagan" dinner featuring the spirit of Ronald Reagan himself is the highlight of this unforgettable event.
Everybody's "taking back" something this year. It's what is "IN," as the young people say. Some people are taking back their states; more ambitious folks, "the country" or "the House." Philosophically-inclined people want to take back "our freedoms." And people who are eating too much lard-drizzled popcorn want to take back "these too-small clothes, to the Walmarts, to get bigger clothes." Riding this wave, the Utah Shared Access Alliance is hosting a Take Back Utah! Parade and Rally -- a protest against the government's management of federal public lands. They're gonna ride ATVs and probably some horses/raptors to the state capitol -- sounds like fun! Judging from the travel video, you have to be white and at least 65 or older to participate:
If you wear a big felt beard you should fit in well, though. The event is dedicated to Abe Lincoln, who also wore a fake beard. Lincoln compared the injustices faced by ATV riders to slavery in an 1862 document called "The Emancipation of Vroom."
Too bad Take Back Utah! falls on August 28 -- that's the same day as Glenn Beck's Restoring Honor rally in D.C. Sarah Palin's going to be there, as is Ted Nugent. If only science could find a way for people to be at two political rallies at one time! Option paralysis is setting in, ohhhh, feeling dizzy.
If you'd like to road-trip through the south and southwest, meeting like-minded Patriots along the way, hitch a ride on the Nullify Now! caravan tour kicking off September 4 in Ft. Worth and stopping in Orlando, Chattanooga, and Phoenix. You will learn how to say "No!" to federal laws such as "you have to pay taxes" and "you can't use a mannequin of President Obama as a target in your church festival game, or the media will report it and the Secret Service might get involved." Mix and mingle with other people who don't believe in the constitutionality of anything.
"Never forget" about the big Manhattan mosque rally: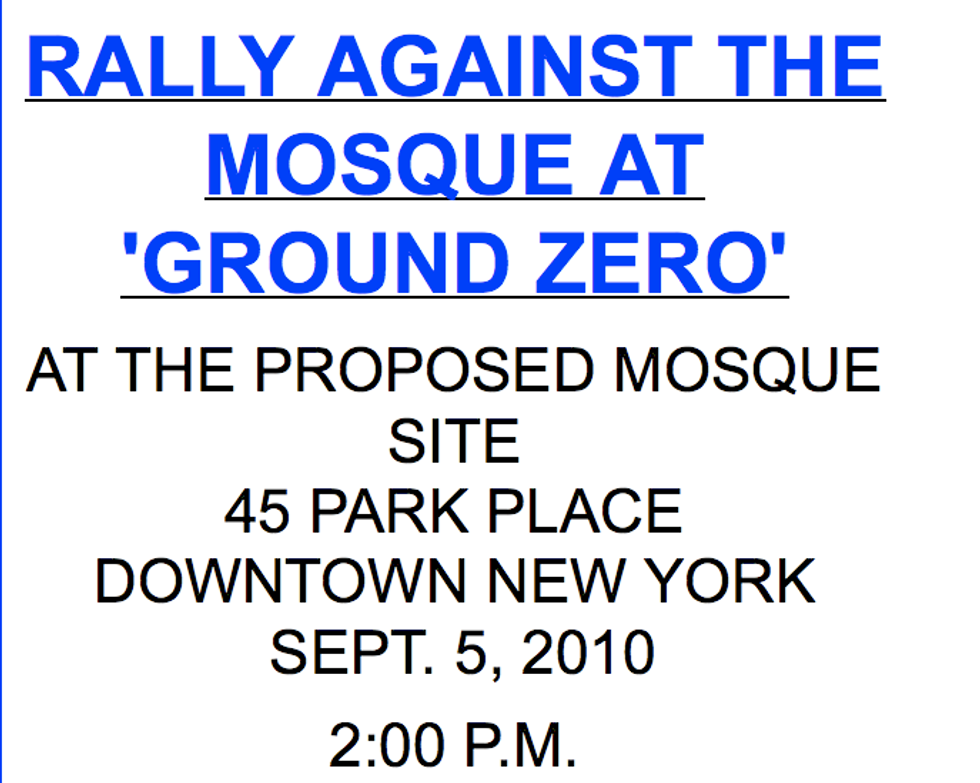 Or the other one on September 11, starring Nazi-talkin' Newt Gingrich and Shirley Sherrod's personal star-maker, Andy Breitbart.
Sometime after Labor Day, the Republican National Committee's top moo cow, Michael Steele, will host a Fire Nancy Pelosi bus tour. The agenda isn't finished yet because of Steele's standard incompetency, but whatever this thing ends up becoming, Steele will wear a red "Fire Pelosi" hat for it.
In honor of himself, and money, Erick Erickson's hosting a RedState Gathering in Austin from September 17-19, where he'll launch a new book and also overwhelm the local communists with his charisma. The event features "no fancy podiums and stages" whatsoever, and scheduled speakers -- including Gov. Rick Perry and GOP gubernatorial candidate Nikki Haley from South Carolina -- will have to camp out in shared tents. Haley is very excited about the accommodations.
Also occurring that weekend is Right Nation 2010, an all-star conference in the northwestern suburbs of Chicago -- which the event's organizers are calling "Obama's backyard," even though Obama lived nowhere near the northwestern suburbs. Featured patriots include Glenn Beck, Breitbart again, Freedom Worker Dick Armey, and the inspiring voice of Ronald Reagan -- beamed in from the afterlife to remind participants why they are fighting so hard to Take the Country Back:
ACK! Another scheduling conflict, as the American Family Association's Values Voter Summit ALSO is taking place that weekend, in Washington, D.C. This is the party you've been waiting for! Michele Bachmann's gonna be there, and Mittens, and Chris Christie with his spray-tan and cans-of-Crisco snack packs, and anti-Messicano Lou Dobbs, and America's baby machines The Duggar Family, and Pennsylvania baby machine Rick Santorum -- this thing is just star-studded to the newsmax*.
America is the land of choices! At least for now. Be free while you can.
*Old Valley-Girl slang.