Yes, Trump Is Stealing Children. But You Can DO Something.
Post-Racial America
June 18, 2018 05:06 PM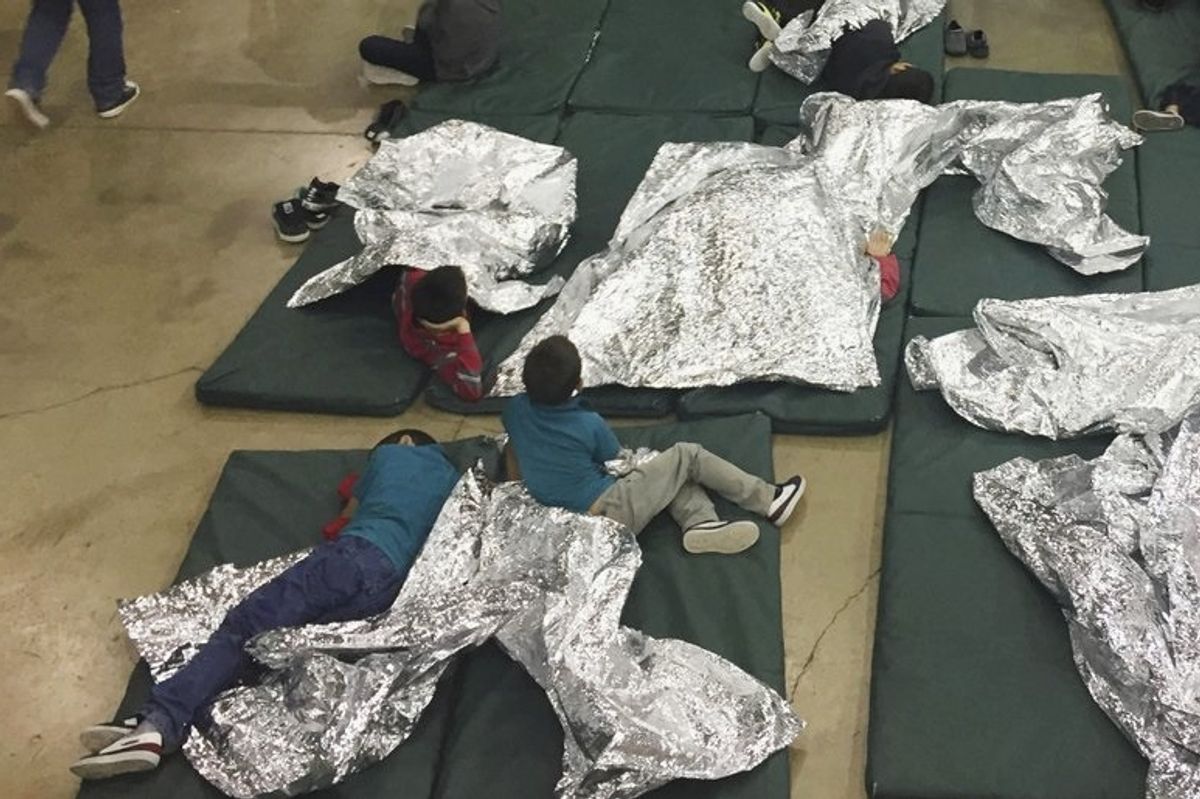 Border Patrol photo
Fellow Wonkers, this last week of horror has been wearing on us all, because here we are in a world where the "president" of the United States has ordered that migrant children be taken away from their parents at the border, and is simultaneously proud of it (for his base) and cravenly blaming it on Democrats because even he knows it's morally reprehensible. But what the hell can we do about it, we are all keening, beyond calling our senators and representatives and posting sadness on Twitter, the latter of which is of dubious utility to anyone, and mostly depressing?
---
Resist the urge to disappear into a bottle. The kids and the families need you.
Slate has compiled a great list of places to start, which we will liberally summarize for you right now:

The thing these folks need most is LAWYERS. If you're an immigration lawyer, you're probably already swamped. But on the off chance you have time and expertise to spare, the American Immigration Lawyers Association is building a list of volunteers.
Yr Dok Zoom has given money to the fine folks at RAICES, a San Antonio-based group that has two major projects. They're getting lawyers for migrant families (and for the kids when possible) and raising money to pay migrant parents' bond so they can be out of jail and with their families. If you're in Texas, then click here to volunteer!
Update: RAICES is also holding a "what you can do" webinar this Thursday:
Outraged by family separation? You can do something to help. Tune in to our webinar Thurs June 21 2-3pm CT for info… https://t.co/TTOVMrSFjq

— RAICES (@RAICES) 1529355902.0
Also for folks who are in Texas:
The Texas Civil Rights Project is seeking "volunteers who speak Spanish, Mam, Q'eqchi' or K'iche' and have paralegal or legal assistant experience."
There's also CARA -- an umbrella organization for the Catholic Legal Immigration Network, the American Immigration Council, the Refugee and Immigrant Center for Education and Legal Services, and the American Immigration Lawyers Association. Together, they provide legal services at immigration detention centers.

To help kids who are already in immigration detention, there's Kids in Need of Defense, which provides children with representation in immigration court and also lobbies for children's legal interests. Donate here.
If you're not quite sure where to give, ActBlue has bundled several immigrant rights groups into a single donation button -- see the list and donate here.
Remember, there's always the ACLU, which is fighting family separation with a federal class action lawsuit.
You want to march? Former top government ethics lawyer Walter Shaub, who gave up trying to tell the Trump administration what ethics even are, will be announcing the details of a national march (think DC and local affiliated marches) tonight on MSNBC's "All In with Chris Hayes." We'll make noise here, too.
Good people are coming together to put an end to this cruelty. EVERY Democrat in the Senate is now co-sponsoring Dianne Feinstein's bill to stop family separation.
And hell, we'll even give the last word to Jennifer Rubin, who seems to have reassessed some of her previous political views. She has a reminder for all of us:
If you are incensed to the point of tears about children snatched from their parents remember this feeling on election day.

— Jennifer 'pro-voting' Rubin (@Jennifer 'pro-voting' Rubin) 1529349843.0
Damn straight. Remember it every damn day between now and then.
It's your open thread. Don't boo -- organize. Time to RESIST.
Follow Doktor Zoom on Twitter

Don't take for granted that the institutions you love will always be there, like democracy, and Wonkette. Click to save at least one of them!
[Slate]